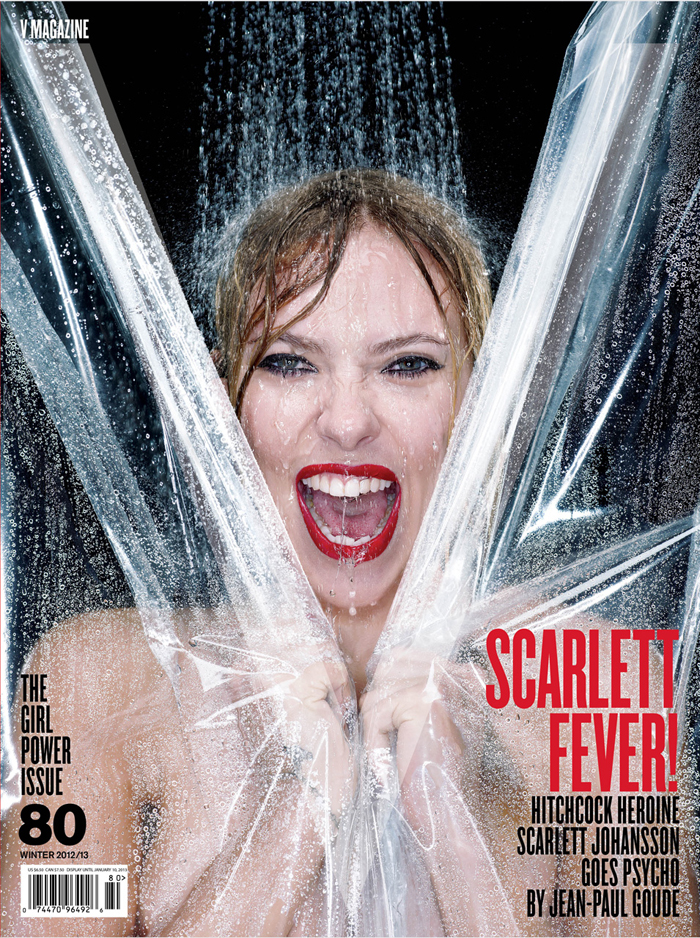 Scarlett Johansson covers the winter 2012 ("Girl Power") issue of V Magazine, and she's obviously promoting her role as Janet Leigh in Hitchcock, so photographer Jean Paul Goude has dutifully recreated the Psycho shower scene in tribute. I love how the shower curtain is drawn in the "V" shape, and yes, Scarlett looks a bit ridiculous, but that's sort of the point here. She's going balls-out campy for this role because as the trailer indicates, Hitchcock isn't a scary movie but a funny one, and the infamous Psycho shower scene is played for laughs as well. More and more, I am convinced that Scarlett was absolutely the right actress to play Janet Leigh in this "making of" take on Hitchcock's life while filming Psycho, but Scar certainly could have used some voice lessons. Her voice is as inexplicably unchanging as her penchant for awful tattoos, but maybe her voice is part of the joke too.
Throughout her career, Scarlett has often been criticized for a lack of range, but she's grown much more comfortable and has branched out quite a bit in her abilities. She's also taken some risks and made some smart moves in the past few years, especially after accepting a low-balled salary to play Black Widow in Iron Man 2, thereby locking herself into The Avengers franchise. She'll also head back to Broadway soon to star (as Maggie) in Cat on a Hot Tin Roof. Odd how we've already forgotten that Scarlett is a Tony award-winning actress (for A View from a Bridge), right? Here's an excerpt from the interview:
On shooting the shower scene: "We only had the luxury to shoot the scene for a day, and everybody was feeling very nervous because it involved water and nobody wants the actor to get wet. They were concerned with modesty and all these things — but I don't care about any of that stuff and Janet Leigh never did either.

"You have got to be brave, get into the shower, and face Anthony Hopkins as Hitchcock jabbing you in the face with a 12-inch kitchen knife. As much as Anthony Hopkins is a pussycat, he's terrifying. Maybe I watched Silence of the Lambs too much many times when I was a kid. Maybe I was having some flashbacks. So I didn't need to much preparation for the scene."
[From V Magazine]
I would think it would be awful to try and "act" while showering, but then again, I'm an awful mess in the shower as it is. Usually, half the bottle of shampoo ends up in my eyes, so yeah, forget pointing a camera at me without getting a big middle finger in the process. This magazine cover is intriguing though, and I like that Scarlett's crooked bottom teeth are showing. The photoshop artists didn't attack her either. That's kind of refreshing.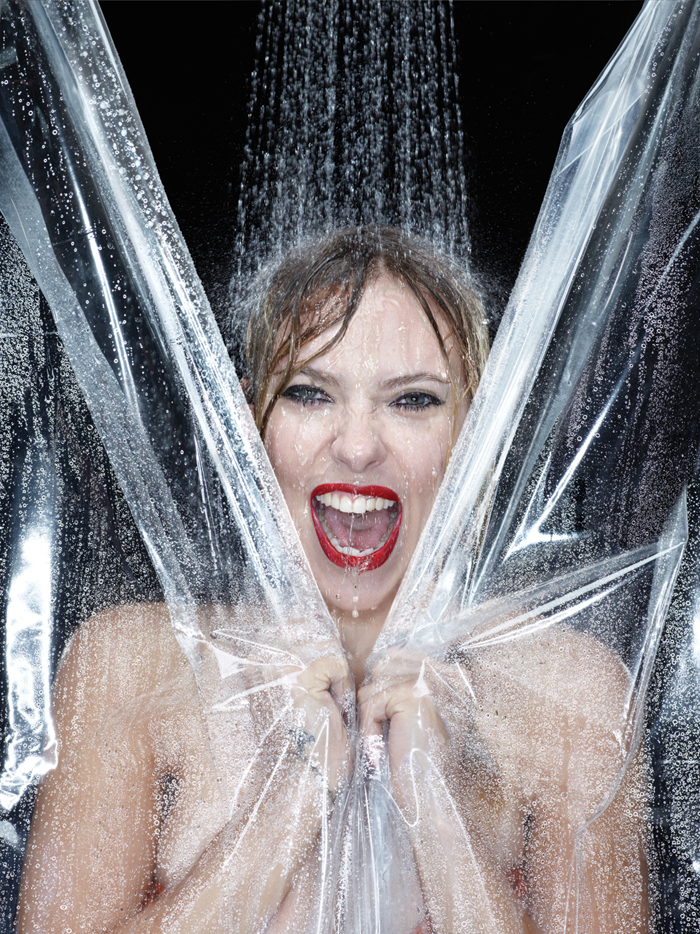 Photos courtesy of V Magazine