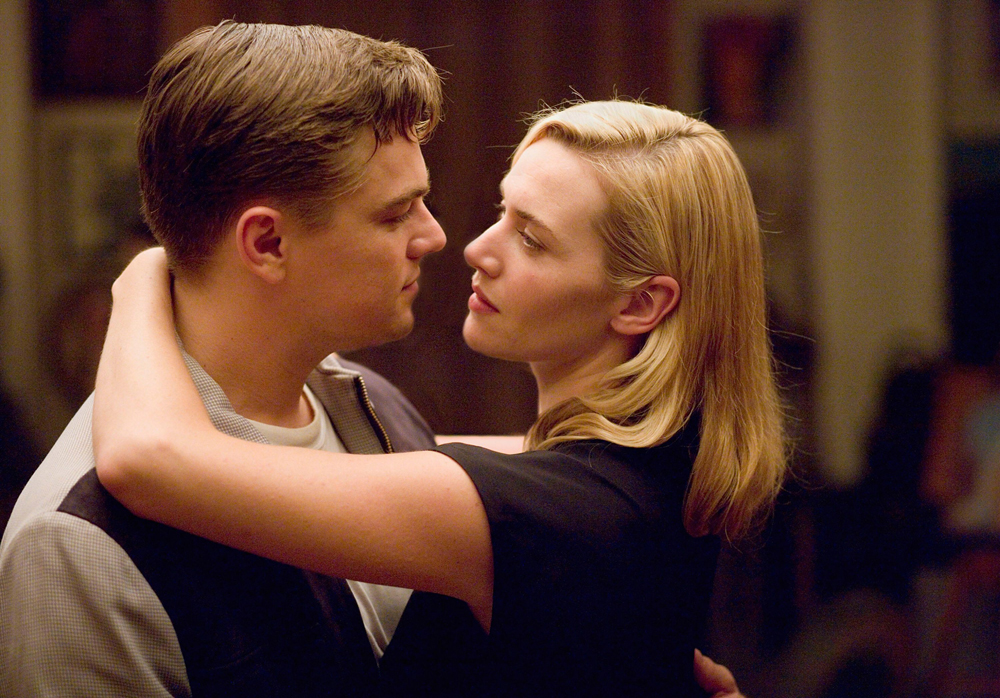 Kate Winslet and Leonardo DiCaprio gave just about the cutest interview ever to Entertainment Weekly. The two are promoting their film "Revolutionary Road" but ended up talking much more about "Titanic." What was so adorable is the way they act like brother and sister around each other. Kate pecks a bit over Leo and he has to ask her to recall what films he did and when. It's very cute, but you can tell it's also very platonic – which they say is what they've always been.
A few excerpts from their interview:
On how lucky they are to work together:
"The thing that is amazing for me is they started off on equal footing and they're still on equal footing," says Winslet's husband, Oscar-
winning director Sam Mendes, who took the helm of Revolutionary Road. "If you think about Star Wars — there's an example of a movie that was seismic in the culture at the time — there's a big difference between what happened to Harrison Ford and what 
happened to Mark Hamill."

When Winslet talks of luck, DiCaprio bends toward her and barks in a creaky patrician 
accent: "Key word, dear. Lucky! Keep using it." She elbows him as if he's her rascally little brother, and they're off. Enjoy their banter while you can. "I think they'll go on doing a movie together only once every 10 years," says Mendes.

On their success after Titanic
DICAPRIO: Honestly, it was so bizarre. I just didn't work for a couple years. I think I did one small cameo? [Looking at Kate]
WINSLET: You did [Woody Allen's] Celebrity.
DICAPRIO: Then I did Man in the Iron Mask, but that was before Titanic had been released. I think?
WINSLET: Yes, you did Man in the Iron Mask and then you did Celebrity.
DICAPRIO: Thank you, Kate! [Laughing] I think it's hilarious that I need to ask her.
WINSLET: May I? [Reaching over and rubbing her finger over DiCaprio's nose] You've scratched the top of your nose! Oh, no, we're literally doing everything we said we wouldn't do.
DICAPRIO: I know, this is a little too cute. It's like out of one of those —
WINSLET: Don't say it!
DICAPRIO: — one of those scenes from When Harry Met Sally… with the old couples. "And I met her in the park in 1992! And she was…" "Eating a hot dog!" "And I was scratching my butt!"
WINSLET: Oh, my God, and look at me fussing over your face. I've literally turned into a combination of your mother, your sister, and, I don't know what, your wife!

On their relationship:
Speaking of your private life, do you ever look at Kate and just think, "Damn, she's the one who got away." [They look at each other and burst out laughing.]
WINSLET: Say it!
DICAPRIO: [With a weary groan] We've always been completely platonic.
[From Entertainment Weekly]
The thing with Leo's bleeding nose was pretty funny. At one point later in the interview Kate scolds him not to pick at it and tells him he's rubbing his skin raw. You can tell they've remained close friends all these years, and it's pretty clear they've always seen each other in a platonic way. It's nice to see a case of a man and a woman who can be good friends and nothing more. It's clear Winslet's husband respects DiCaprio but definitely isn't threatened by their friendship. They do have great chemistry together, both on screen and off. Hopefully they really will make a film together every ten years.
Here's Kate and Leo on the set of "Revolutionary Road" in New York City in February 2007. Images thanks to WENN.