This news came out a few days ago but this is the first time I'm seeing video of this mess (above) so we may as well report on it. Apparently Michelle Duggar got a haircut and blowout as a plot point in her reality show which otherwise revolves around her eerily calm life with her family of 19 kids. (18 of whom are still at home, her oldest boy is off with his new wife working on their own child army.)
Michelle has previously described her late 80s hair as some kind of appeasement to her husband. She wrote a treatise earlier this year on how women should accept their husband as their leader, basically. Some highlights: "Discover and conform to your husband's real wishes; explain your hairstyle to others on the basis of your submission to your authority; separate your "rights" from your responsibilities." So to me that's a hint that she's not that pleased with her awful aqua-net curls and storybook bangs and that she's trying to explain it as Jim-Bob's preference.
In the show, when she got a glimpse of herself with decent hair, she seemed shocked and started stammering about Jim-Bob. While she was explaining the makeover she was back to her awful old hair. Anyway there's a story on People Magazine claiming she's used to it now and switches back and forth between her new normal hair and her old nasty curls, but I doubt that's true. Michelle admitted the hairdresser was a friend of hers and I think she's just trying to sound like she likes her new hair when she can't stand it like that. She said it looked like she just got out of the shower.
Reality star Michelle Duggar of "19 Kids and Counting" recently got a makeover for the first time in her life. Thanks to her childhood friend Cindy, Duggar lost her curly cut and got a slick modern 'do.

At first, Duggar wasn't sure she was happy about it. Upon seeing her new style, she said, "Wow, it's definitely different." When asked if she loved it, Duggar said she'd "learn to love it."

And now, it looks as if she really has. Duggar spoke with People magazine about the haircut, which she got as part of her 46th-birthday-party-surprise.

"Going from curly to totally straight was a shock for me," Duggar said, "but I am loving it and I have been doing both styles, curly and straight, since the cut." She said her husband Jim Bob is also adjusting. "I know Jim Bob likes it long and I am trying to impress him — what he likes is what I want," Duggar said. "I think he was a little shocked at first, it was so straight and so different. But he does like it."

It couldn't have been easy to get a different hairstyle after nearly four decades, but Duggar said she had faith in her friend Cindy. "I can trust Cindy," she said. "But my back was to the mirror and I didn't know how much I got taken off. It was too funny when I realized how much was gone! And it felt so light."
This woman is stuck firmly in the early part of the 20th century when it comes to her life's role, it's not like she's going to accept a 21st century hairstyle without kicking and screaming. It's a shame because it made her look 10 years younger. Almost as if she was fertile again. Too harsh? You know that's the only way she'd accept a change, if it came with more BABIES. As she said what she wants for herself is whatever Jim-Bob likes, and he likes her with that God-awful hair.
After: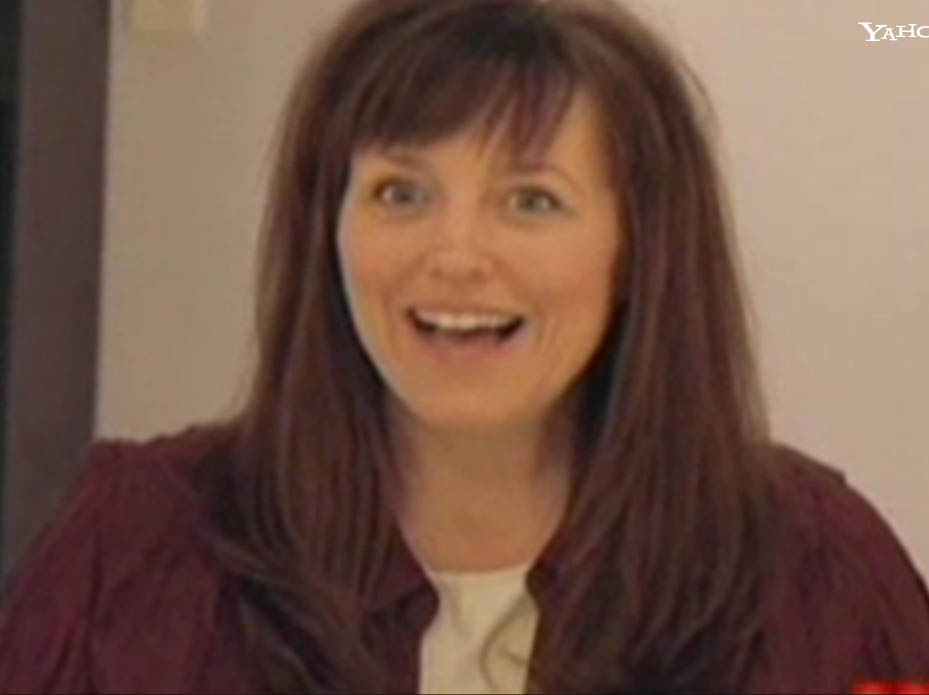 Before: