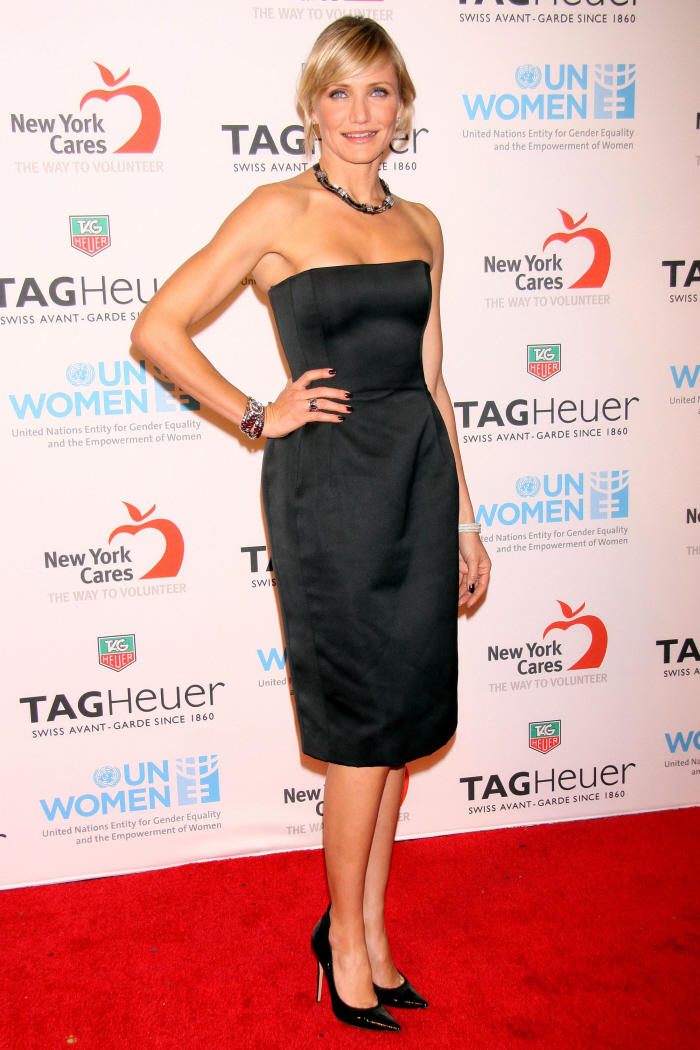 Here are some photos of Cameron Diaz on Saturday night at the launch of her signed, limited edition TAG Heuer watch. I guess she's wearing the watch? It looks glitzy. The launch event was held at the American Museum of Natural History in New York City and I'm assuming this was some kind of lucrative endorsement deal for Camy, right? She doesn't just show up to shill anything – they must have paid her. Oh… I just saw this: the event was a fundraiser for "UN Women and New York Cares' Hurricane Sandy Relief Effort". So, Cameron wasn't paid to make an appearance, she was the big guest at a fundraiser. That's nice.
As for what Camy wore – it's Lanvin. It seems like Lanvin's take on a structured LBD, but it seems… off. It's not the way Cameron is wearing it either, it's a flawed design. Like, I think the structure of the top part is nice – it's just a tad too tight on Cameron, but it's okay. But then the skirt part is just kind of meh, and the wrinkles look kind of sloppy. Why not do structure and figure-hugging throughout the dress, you know? It would have been a much cleaner look.
A few more pieces of Camy news. Remember those reports that Cameron and Tom Cruise were giving each other a romantic side-eye? Well, obviously those reports were BS, but it's still funny that Cameron had to contradict them directly. While making a recent TV appearance, Camy was asked Tom and she said, "I happened to bump into Penelope Cruz, Javier, Tom and his son in a hotel and joined them for dinner. At midnight I said, `I`m 40`. So we took pictures and then said `Goodnight, see you later, blah, blah, blah` and I haven`t seen him since. But the next thing I know, apparently I am dating him and it`s full on and he is coming after me." Yeah. For the record, I believe her. For what it's worth.
Also: Cameron is the cover girl for the December issue of Elle UK – I covered most of the quotes from her interview here. I just saw another one I wanted to discuss though. Camy was talking about food and diet and stuff, and she discusses how she sometimes packs her lunch when she's on the go:
"If I'm out for the day, running around taking care of errands, especially in Los Angeles, most of the time I show up with my own food. It's my body – I don't have to have somebody else make my choices for me. So I take it with me and I set up my life so I can do that. I've built it into my schedule so that I have food that I can just grab out of my refrigerator and pop into my cold pack and take it with me for the day. I'm a woman, I carry a purse so another bag isn't really a big deal."

She told Britain's ELLE magazine: "[Good nutrition] about controlling something so you can have more. 'With good nutrition you actually get to eat more food because when you're eating empty calories, a massive plate of food that does nothing for you, all it does is feed sickness, heart disease, diabetes, obesity, high blood pressure, lethargy, issues with your digestive system…"
I don't remember Cameron ever being photographed with a cold pack lunch. I mean… I don't doubt that she brings food with her, or that she believes in good nutrition and all of that. But I think she's trying to retroactively make herself sound a lot healthier than she's been historically, you know? This is the woman who has publicly declared her love of all kinds of food and beer, hard liquor, etc. There's nothing wrong with that, I just have a problem when she's now trying to get all Goop-y on us and act like she's always been so super-healthy.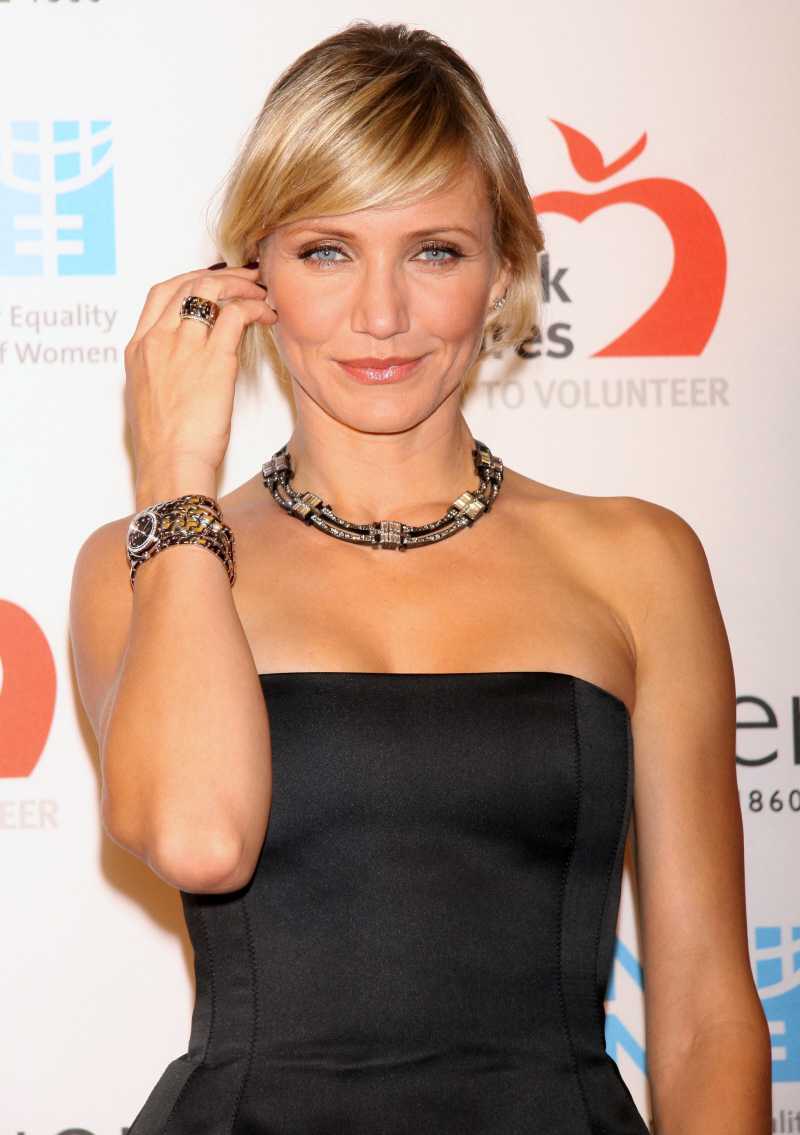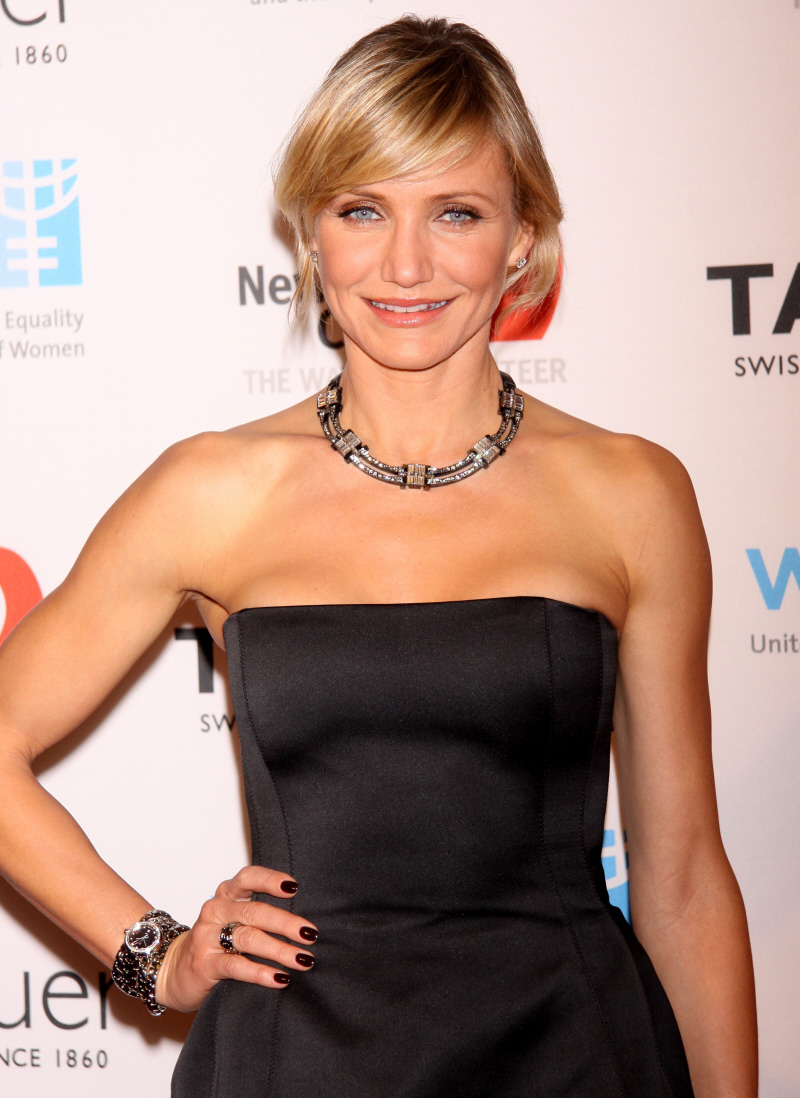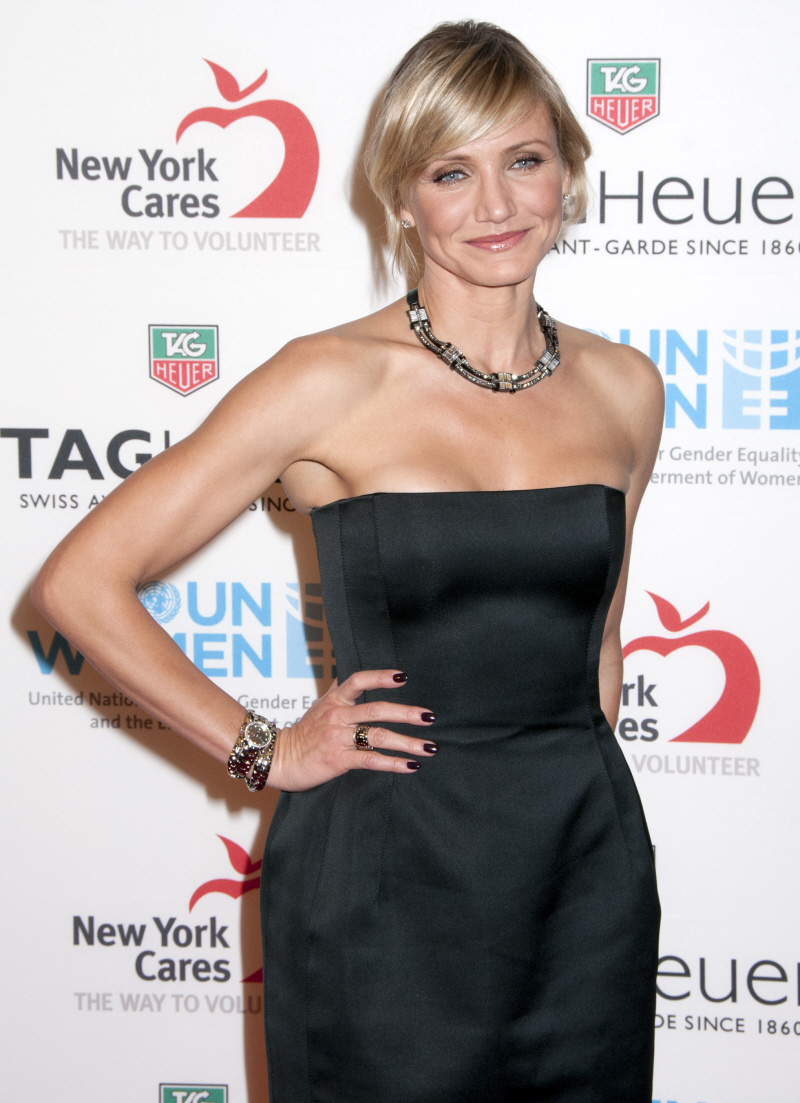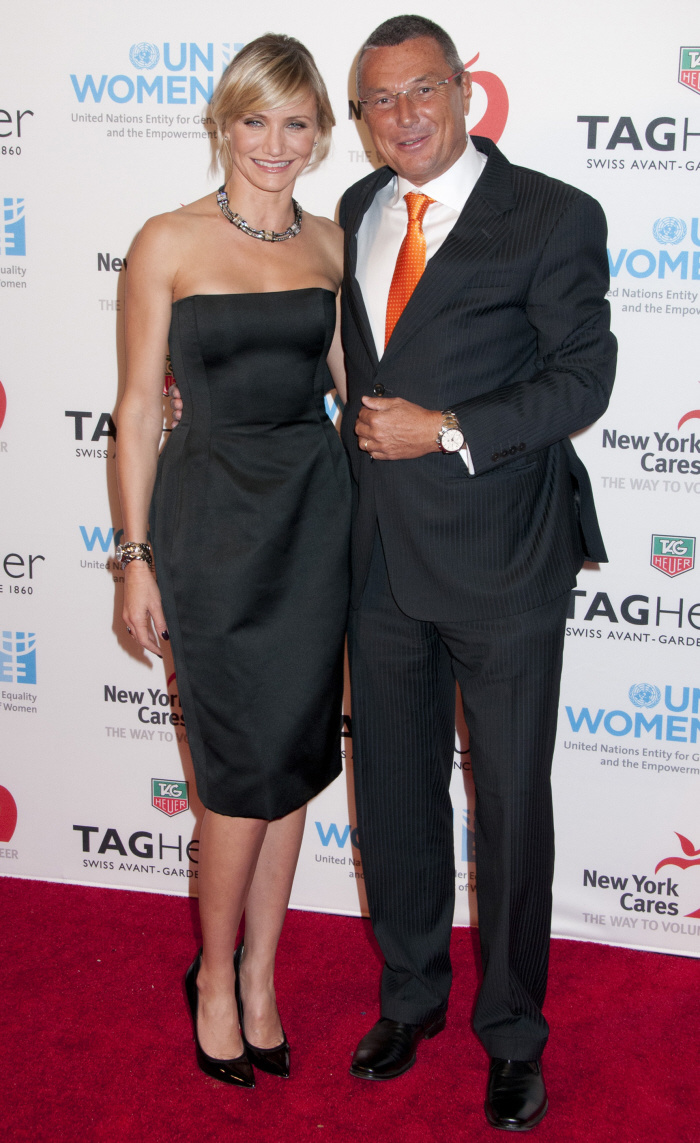 Photos courtesy of WENN.