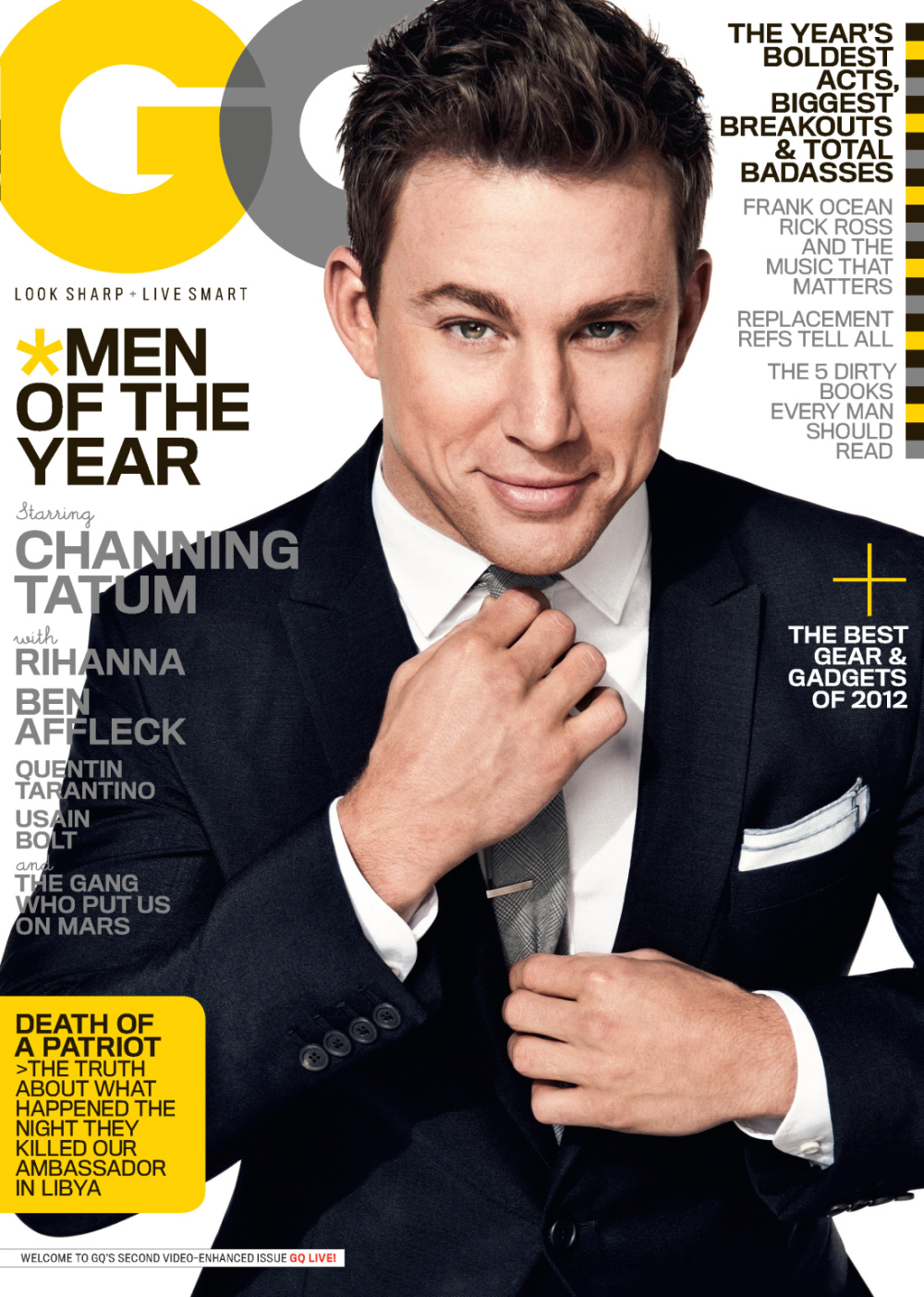 As I discussed earlier this morning, Rihanna scored her own GQ cover for their annual "Men of the Year" issue. I thought that Rihanna was just going to have her own solo cover and that would be it for the Men of the Year issue, but GQ just sent us the other two covers. They're nice too! Channing Tatum is named GQ's "Movie Star of the Year" and Ben is GQ's "Filmmaker of the Year" (for Argo). Rihanna is the "Obsession of the Year" and I've included another GQ pic of her – a butt shot. She does have a great butt. For real. You can see additional photos of the cover stars here.
I think Channing and Ben are both good choices for "Men of the Year" – and I think they're both going to make a lot of "Best of" lists for 2012. Channing has just proven himself to be a true movie star in 2011/2012 – Haywire, 21 Jump Street and mostly Magic Mike were all great additions to the Tatum Brand. He's also going to be People Magazine's Sexiest Man Alive (probably). I personally think he's going to end up being a Bruce Willis-type figure, only he might be even more beloved. As for Ben… Filmmaker of the Year? Sure. I guess Steven Spielberg wasn't available. Or Sam Mendes.
Thus far, the Rihanna interview is the only one that's been released – you can read it here at GQ. Some highlights:
Rihanna on what she wants in a relationship: "I like to feel like a woman. I have to be in control in every other aspect of my life, so I feel like in a relationship, like I wanted to be able to take a step back and have somebody else take the lead."

…on love: "Love makes you go places you probably wouldn't ever go, had it not been for love. But I think everybody still has their limits."

…on how she sees herself: "Sometimes a person looks at me and sees dollars. They see numbers and they see a product. I look at me and see art. If I didn't like what I was doing, then I would say I was committing slavery. "

…on the fight between Drake and Chris Brown: "There's no proof of that being for my love. That's my answer to that question."
For the love of God. "I look at me and see art. If I didn't like what I was doing, then I would say I was committing slavery." Girl, sit down. We need to talk. You can call yourself an artist. That's fine. But you're super-commercial and you are a product and that is NOT slavery. That's the real world. That's capitalism. Saying that it would be "slavery" to be paid millions of dollars to do something you weren't enjoying… that's like comparing the paparazzi to rapists. It's not hyperbolic. It's just dumb.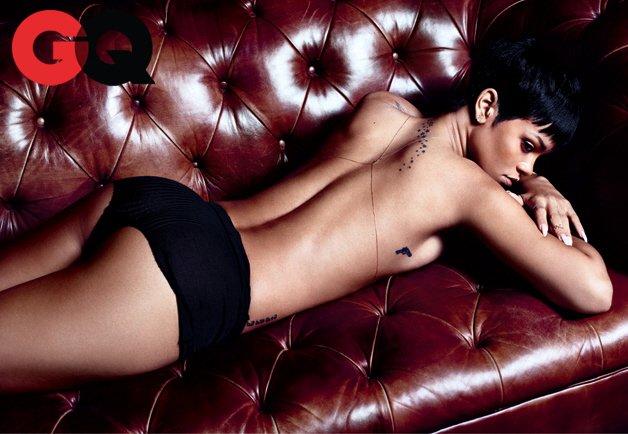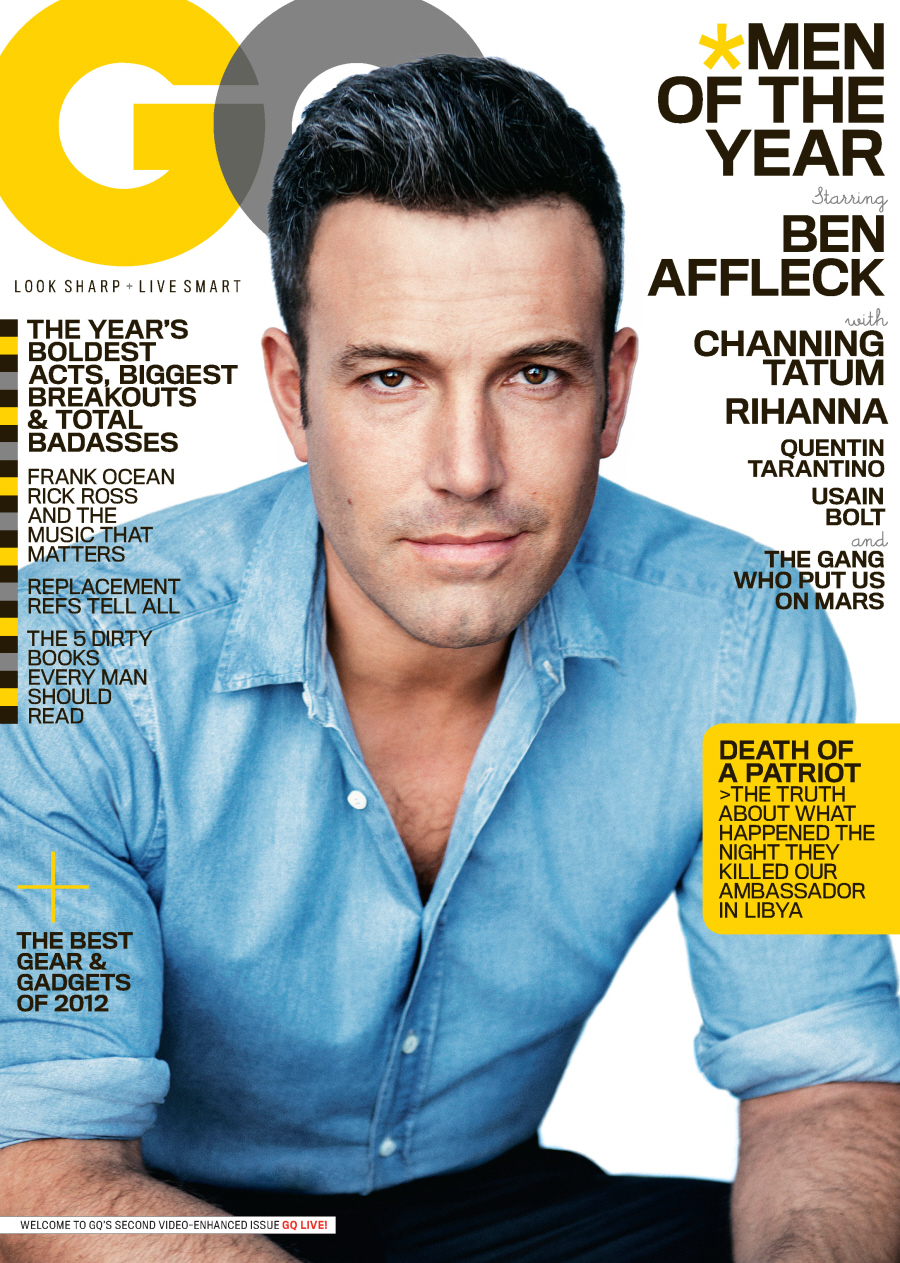 Rihanna cover photo credit: Mario Sorrenti / GQ. Channing Tatum and Ben Affleck photo credits: Sebastian Kim / GQ.