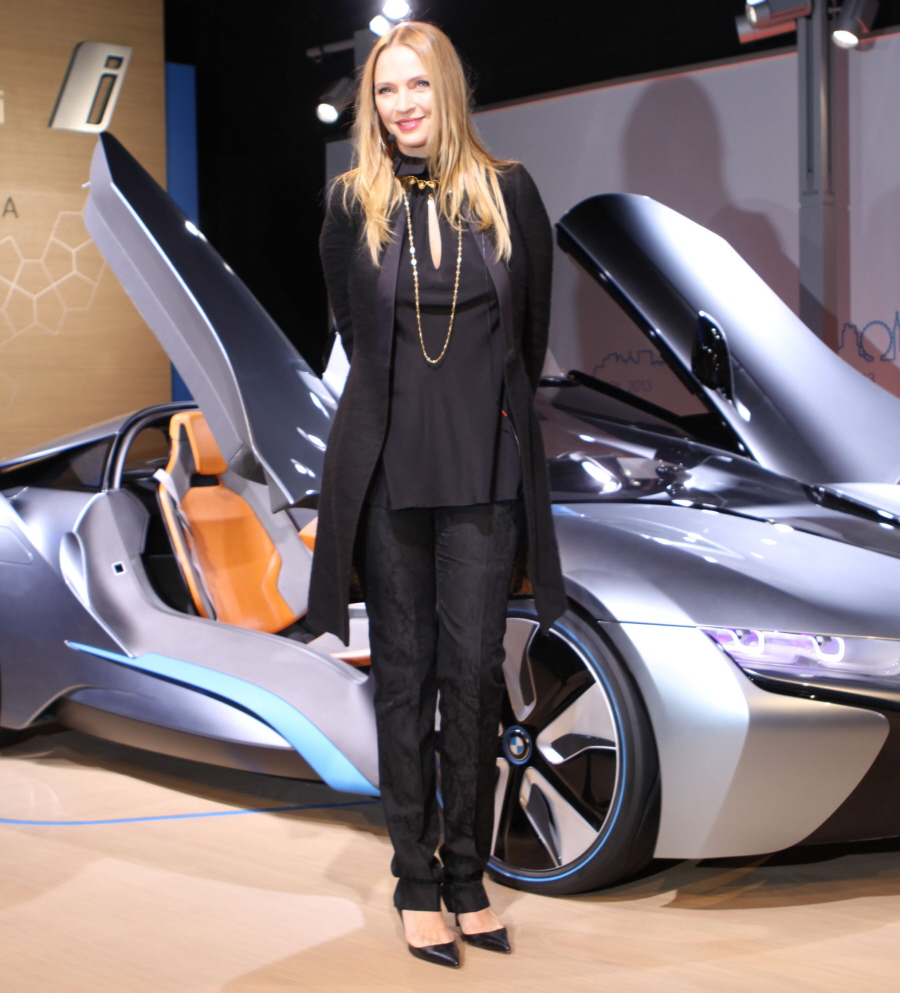 Here are some new photos of Uma Thurman doing what I can only imagine was a paid gig for the launch of BMW's new i8 Roadster. It's a gorgeous car. And BMW has enough money to spread around, so why not pay Uma Thurman to come and shill for the new car? Uma's baby Rosalind Arusha Arkadina Altalune Florence Thurman-Busson has gotta eat! Speaking Rosalind Arusha Arkadina Altalune Florence Thurman-Busson, some people are wondering if Uma is engaged to her baby-daddy, Arpad Busson. Throughout the past five years or so, Uma and Arpad have been on and off so many times, and I think they were legitimately engaged at one point, but the engagement ended. Uma was flashing a huge diamond ring at this event – but it was on her right hand. So…? I don't know.
Uma Thurman couldn't have looked more Bond Girl if she tried. The actress unveiled the new BMW i8 Roadster in New York on Monday and to add to the already dangerously glamorous proceedings was spotted sporting a whopper of a diamond ring.

Thurman star looked right at home as she posed in the new concept car, harking back to the days when she played the beautiful but deadly assassin Black Mamba in the Kill Bill series. The 42-year-old looked every inch the smouldering bad girl as she gracefully emerged from the sleek sports car and proudly showed off the mammoth sparkler on her finger.

The ring was not worn on her left engagement ring finger however so it does not necessarily mean Thurman is planning to tie the knot right now – but it could be a hint of things to come. It is also not unusual for high profile female celebrities to become engaged but to wear their engagement ring on another finger to throw the public and the press off the scent.

Thurman is in a relationship with London-based financier Arpad Busson and in July this year she gave birth to their first child, a daughter named Rosalind Arusha Arkadina Altalune Florence Thurman-Busson. Thurman and Busson, who have been on and off again since 2007, were engaged at one time but ended their romance in 2009. It was 2011 before it was confirmed they were back together again.
I'm really not sure if Uma wants to get married again – I kind of think she likes her life as-is, she enjoys being in NYC with her kids and Arpad gets to come and go as he pleases. I realize some dudes do like to propose when their lady gets knocked up… and Arpad was "engaged" to his other baby-mama Elle Macpherson for five years. But they never did get married. It could be that Arpad is gun-shy about marriage, but he likes to give his ladies a nice piece of jewelry.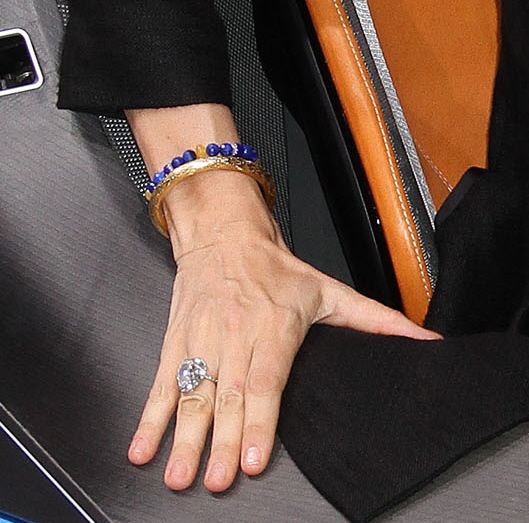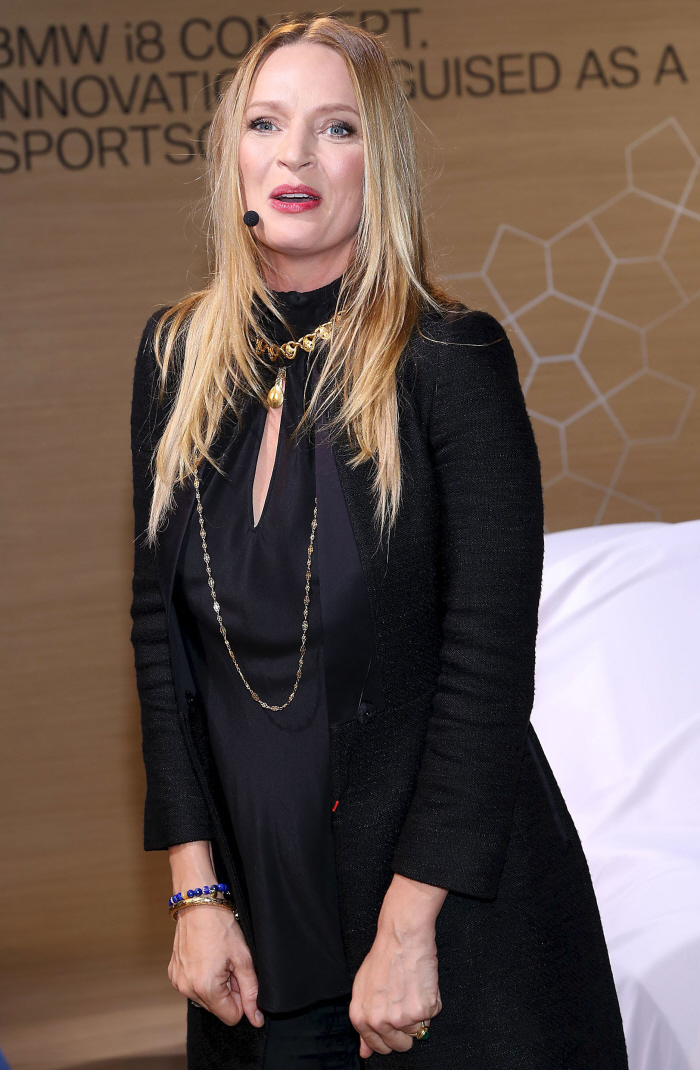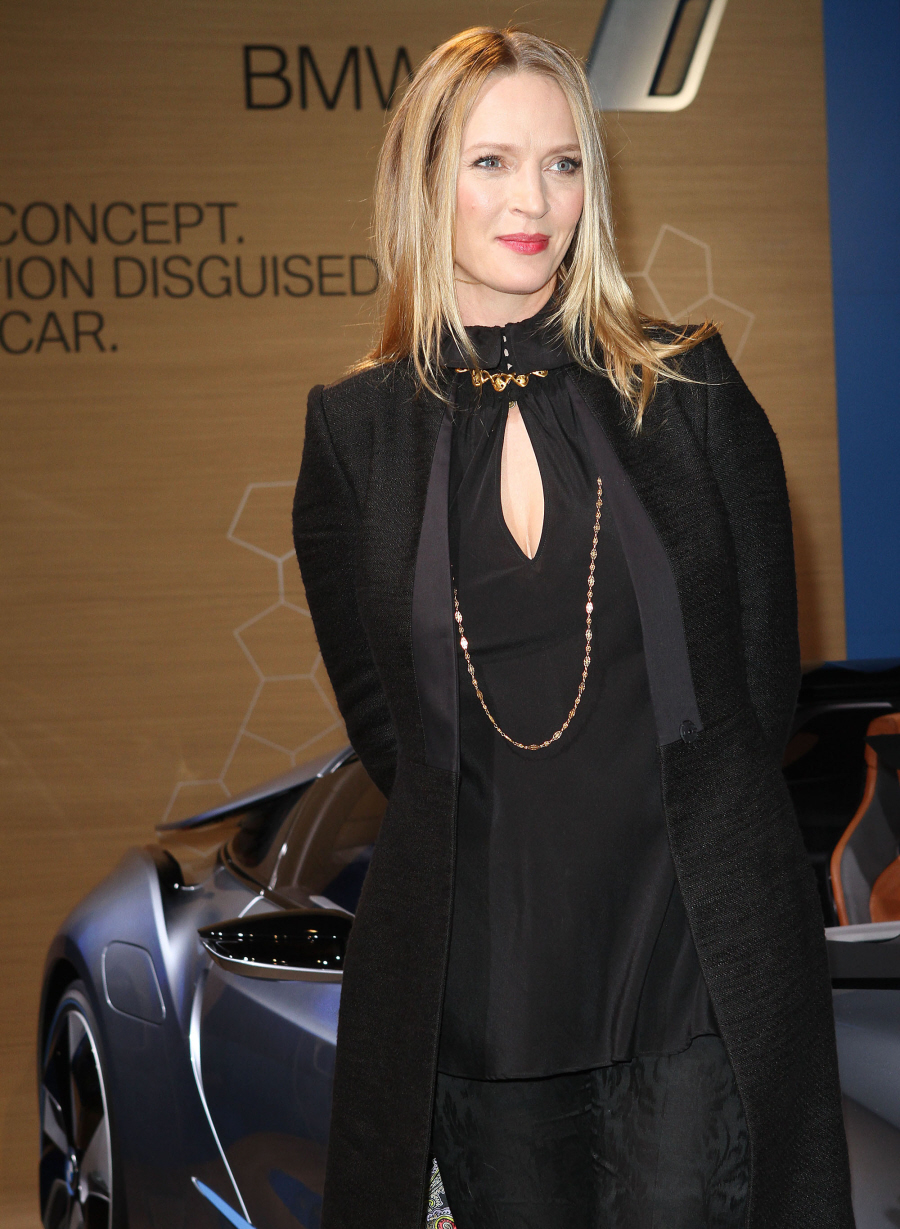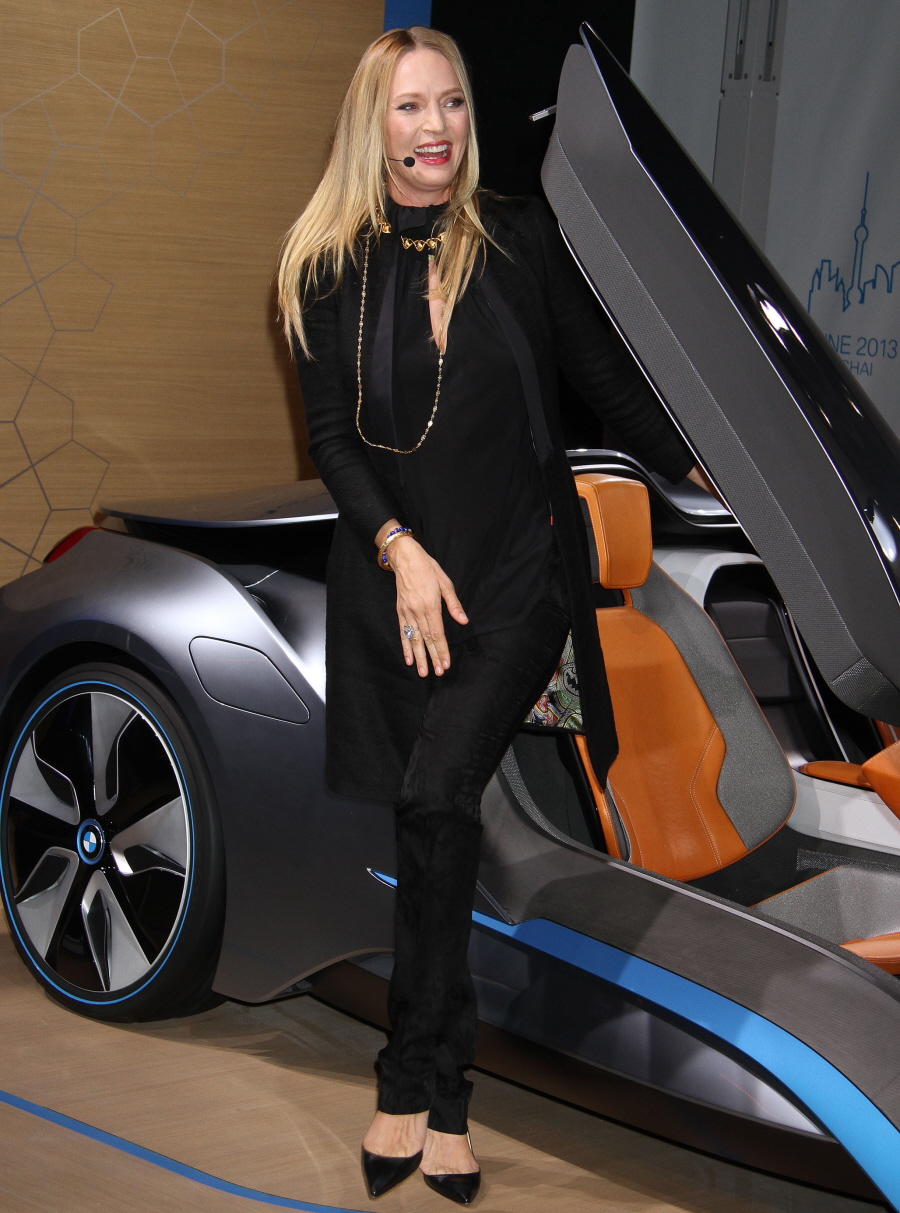 Photos courtesy of Fame/Flynet and WENN.