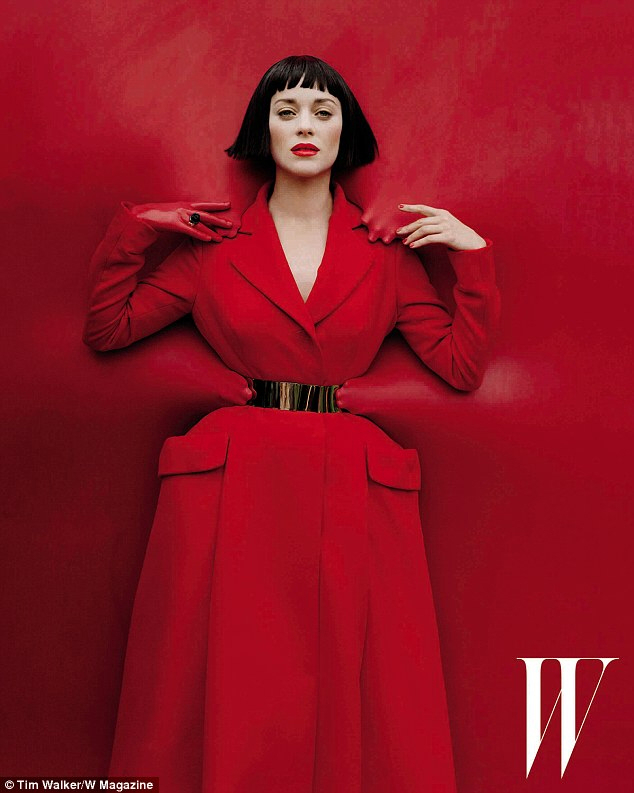 Marion Cotillard is promoting her much-hyped film Rust and Bone. I think the movie sounds kind of bizarre and sad, but it's getting good reviews and people say Marion will get another Oscar nomination for it, so what do I know? To promote the film, Marion covers the new issue of W Magazine, and good God is this a weird photo shoot. The thing about Marion is that I feel like most people don't have strong feelings about her either way. Yes, a lot of you like her, but I often wonder if there's anyone who thinks "Marion is MY girl, my #1." Nor is there anyone who is like "I hate her and everything she represents." Because… she's not controversial. Most of the time, she comes across like a ditzy hippie in interviews (no disrespect to ditzy hippies), and physically she's beautiful. So… why this strong "look" for a photo shoot? Why a dominatrix/Nutcracker theme? Why make her waist look like that? Are they just trying to make it controversial and weird? Eh. Anyway, you can read the whole W Mag piece here, and here are some highlights (incidentally, this is one of the best Marion interviews I've ever read):
Marion on not winning Best Actress at Cannes this year: "I think I may have been on too many magazine covers. In France, they like the underdog. In America, they appreciate success."

But she's still so French: "It is much easier for me to understand something vast and complex than something light and uncomplicated. Perhaps that makes me very French." She laughed. "Tragedy is almost always interesting to me."

Getting respect in France and America: "I had costarred in three commercial hits in France," Cotillard told me in 2007. "To have your place in French cinema, you have to prove that you are a serious actress in a noncommercial film. When Tim Burton picked me, French critics were impressed. In France, they see Tim Burton as a kind of film doctor, and the movie was not successful—so voilà!"

What were her first film-going experiences? "Fantasia. The dancing hippopotamus made an impression on me. And, of course, E.T. I went totally mad in the theater. I was almost pulling my hair out when they took E.T. away. That's a deep memory of anger, despair, and pain. They had to get me out of the theater. I was screaming."

Dreaming in French and English: "I recently spent six months filming in New York, and all my thoughts were in English. I played a Polish woman, and I would have loved to dream in Polish. Mostly, I am confused—some people talk to me in French, and I answer in English. And some people talk to me in English, and I answer in French. I think I'm too tired to dream in any language."

What's worse, a sex scene or a death scene? "Definitely a sex scene. I hate sex scenes. The body is so important in this movie, but I hate being naked onscreen. It's very weird to imagine how a person would have sex. It cannot be your way. Otherwise, it would be super uncomfortable and overly intimate. Everyone has a way to have sex, so a character does too. I mean, kissing is very powerful. You feel something, you know? It's really intense to kiss as another person."

French people love Batman: "Oh, yeah, he's very popular. Not all superheroes are, but Batman is. He is human, so you can relate to him. The French like that. I loved the TV series. I was totally crazy about Catwoman. She was so witty and fun."

Her Oscar experience: "It was amazing. In France, we have a lot of actors, but you never get a chance to share your experiences. In America, you show the movie, and you talk about it with actors who know what it's like to open your heart, soul, and mind to another person and let them in. I especially feel very close to other actresses."
W Magazine also tells the story of Marion learning English so she could promote La Vie En Rose in America, and how she picked it up very quickly by immersing herself into the language. I hadn't heard that from her before, nor have I ever heard her talk so specifically about the differences between France and America as far what kinds of films are successful, etc. The Cannes quote is slightly out of context – Marion was set up with the premise that many, many people were surprised that she didn't win Best Actress this year in Cannes, and her explanation was that she was simply too famous or "on too many magazine covers" to be considered a serious dramatic actress in France right now. That's interesting, isn't it?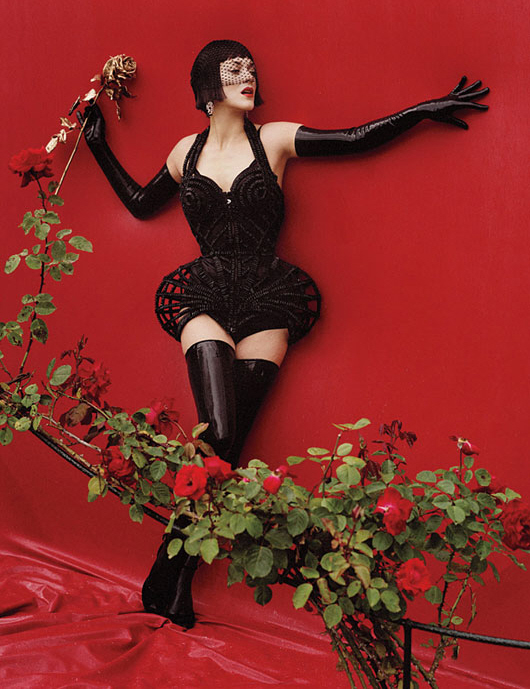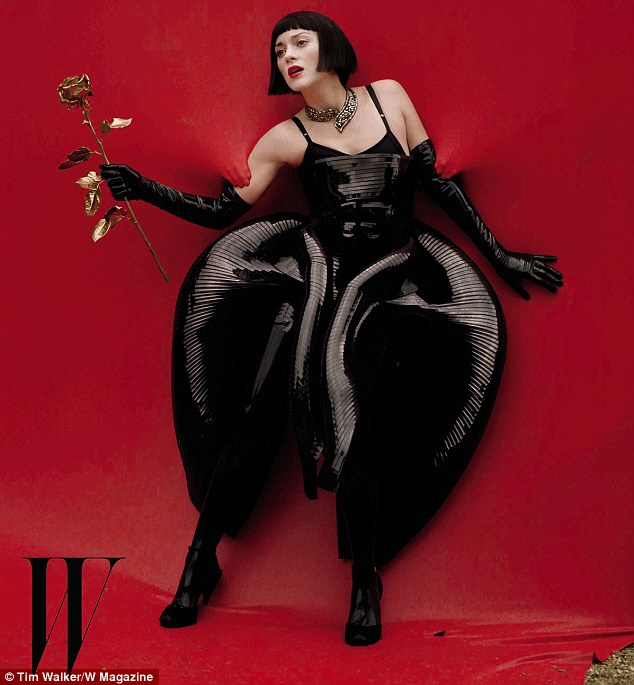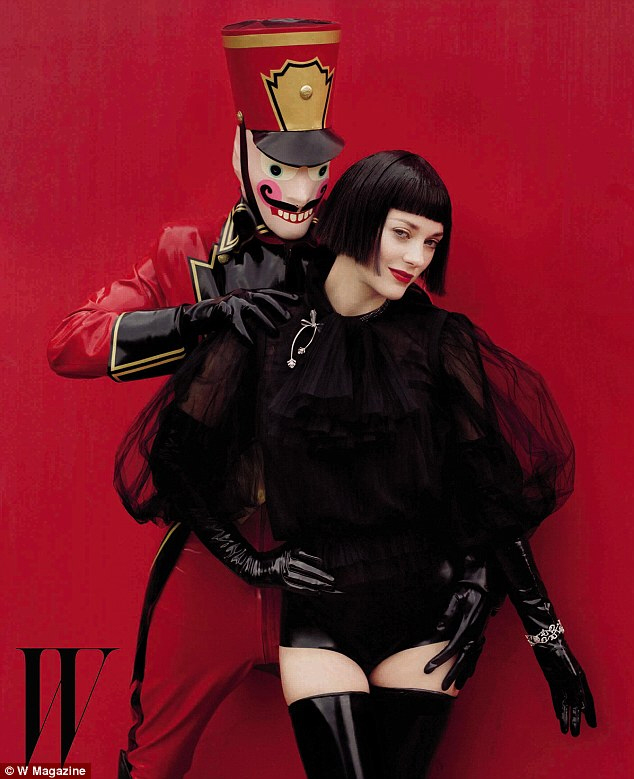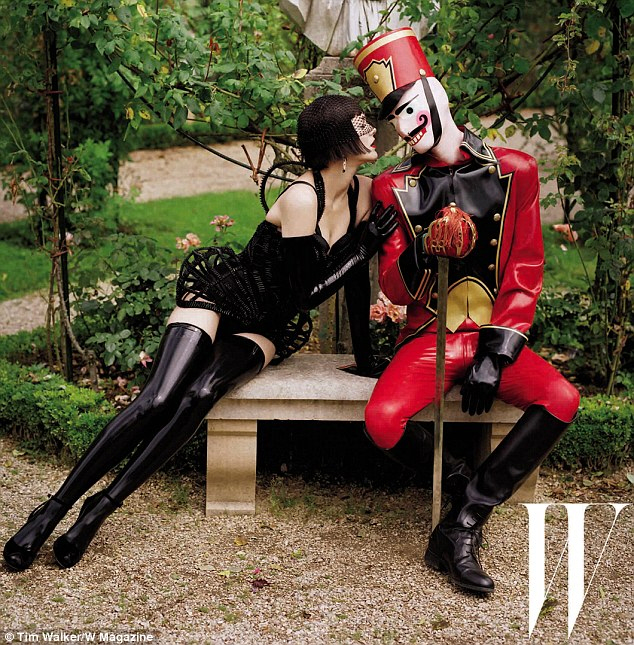 Photos courtesy of W Magazine.