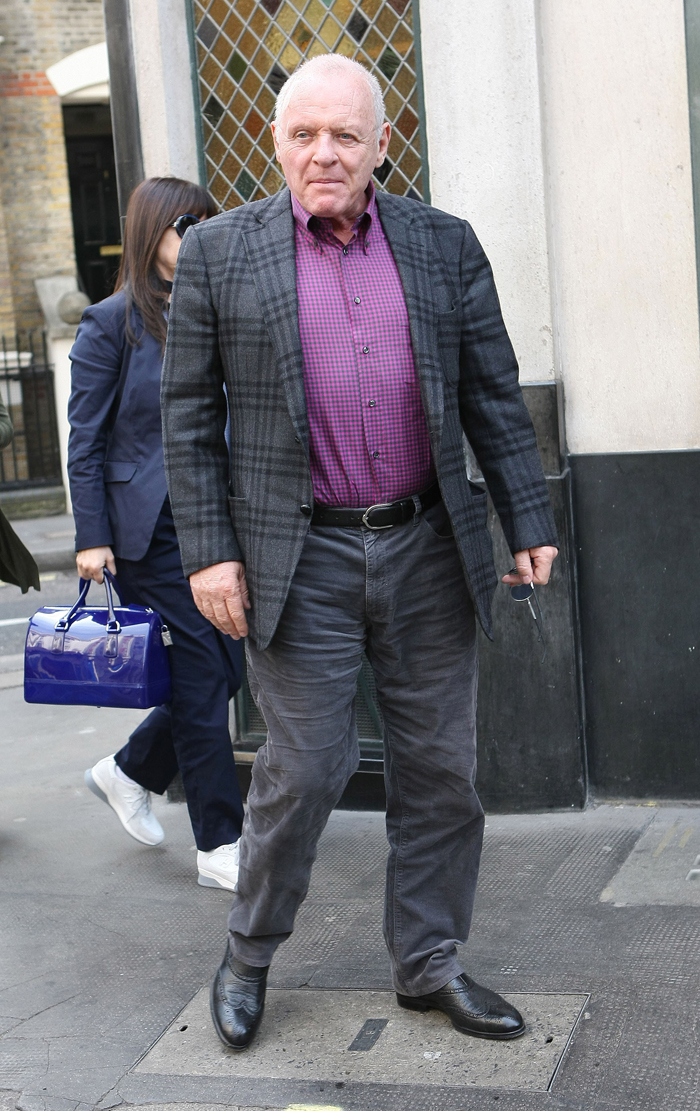 Anthony Hopkins is an utter curmudgeon, but he's a lovable one because he really tells it like it is. He's not complaining for the sake of it but makes some valid points in a new interview with HuffPo about those actors (and directors) who actively campaign for Oscars. From a gossip standpoint, I actually enjoy when celebs put themselves out there — like Anne Hathaway and Ben Affleck are currently doing — for those silly Academy Awards because we usually end up getting some good dirt in the process, you know? But I can see why it might be somewhat tiresome for these candidates' fellow actors to witness.
Also and for better or worse, Anthony Hopkins is no Daniel Day Lewis because he doesn't feel the need to immerse himself in a character to the point where he's living that life even while the cameras aren't rolling. Of course, this is acceptable because DDL and Hopkins are both very well-respected actors who do disappear in their roles where it really matters … onscreen. Here's some excerpts from the HuffPo interview within which Hopkins discusses his own "process" and much more: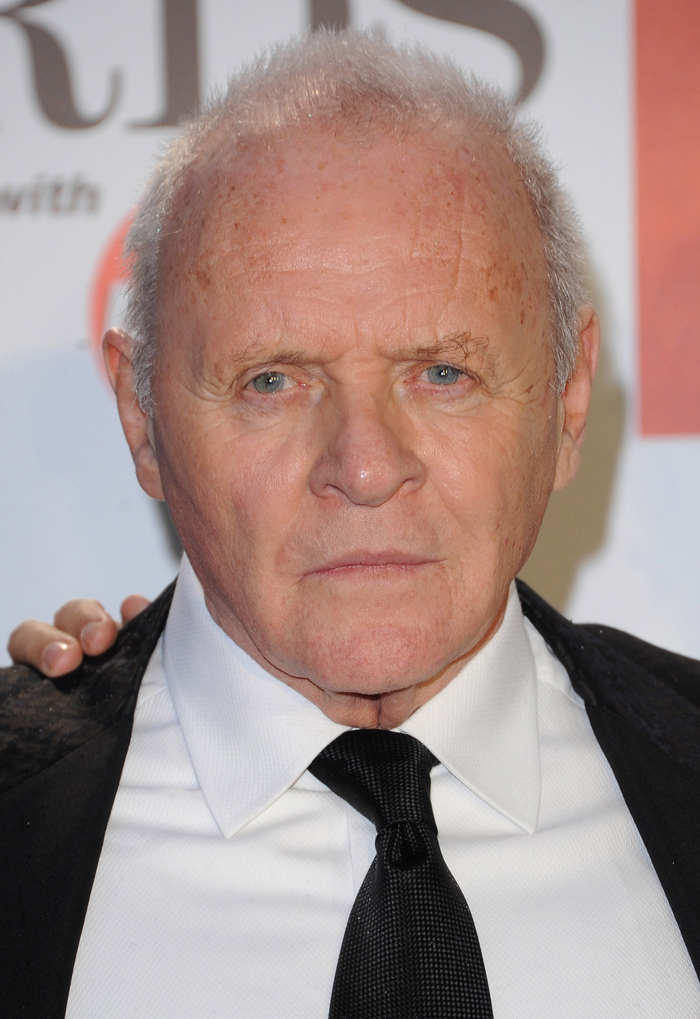 On Alfred Hitchcock: "I think later in his years, he could have retired because some of the films became terrible."

He loves Helen Mirren: "She was exactly what I expected. Very professional, friendly, very good. Excellent actress. No-nonsense."

Does he stay in character during production? "No, I don't. There's no such thing. Well, you can do it if you want, but I don't go along with being called 'Mr. Hitchcock.' I think that's a lot of crap. I just don't understand that. If actors want to do that, fine. If they want to be miserable, that's up to them. I'm not interested. It's a job. I do the job. I'm certainly not going to make my life miserable just to be a character. It's a pain in the ass. Who the hell wants to be with some miserable grump because he wants to get his performance right, so you have to call him this or call him that? It's so boring. I've been with actors like that and they're a pain in the ass, they really are. They're unpleasant to work with and I don't think they're always that good either. I go out of my way never to work with them again."

Does he ever want to retire? "No, I did a few years ago. I didn't actually plan it, but I thought, 'Maybe I should just slow down and call it a day.' My wife said to me, 'You do that, you will die. You can't retire. It's your work, it's your life. You love working.' When men retire — particularly men — if they get out too early, they usually die of stress or loneliness or they drink too much or their hearts give out. I think a certain amount of stress in life is good. The stress of just working, which takes effort — I think it keeps you going."

On Oscar campaigns: "You know, I've been around — I've got the Oscar myself for Silence of the Lambs — and having to be nice to people and to be charming and flirting with them … oh, come on! People go out of their way to flatter the nominating body and I think it's kind of disgusting. That's always been against my nature. You know, kissing the backside of the authorities that can make or break it; I can't stand all that. I find it nauseating to watch and I think it's disgusting to behold. People groveling around and kissing the backsides of famous producers and all that. It makes me want to throw up, it really does. It's sick-making. I've seen it so many times. I saw it fairly recently, last year. Some great producer-mogul and everyone kisses this guy's backside. I think, 'What are they doing? Don't they have any self respect?' I wanted to say, 'F#@! off.'
[From HuffPo]
Hmm, I wonder who the "producer-mogul" is that Hopkins is talking about in that last excerpt — Harvey Weinstein? He's a big player in the Oscars every damn year. Between the Oscars and Marchesa, I think it's pretty clear that everyone in Hollywood kisses Harvey's butt.
So the question remains: Will Anthony Hopkins catch heat for his negative Oscar remarks like Joaquin Phoenix did? Somehow, I can't see Anthony responding, "I guess I sound like a d-ck." It would be funny if he did though.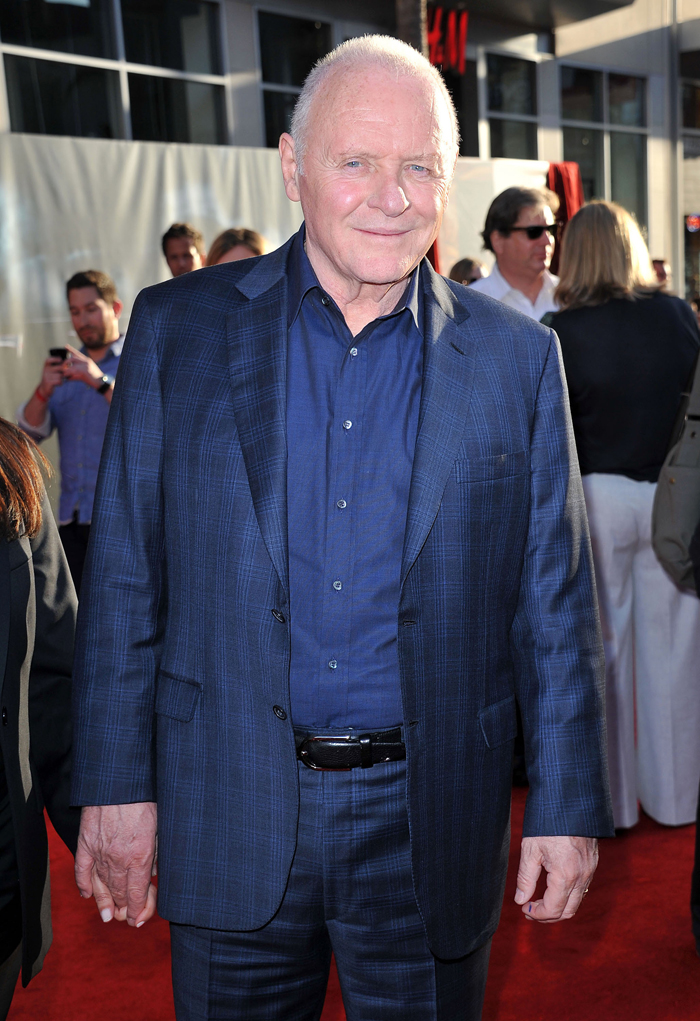 Photos courtesy of WENN