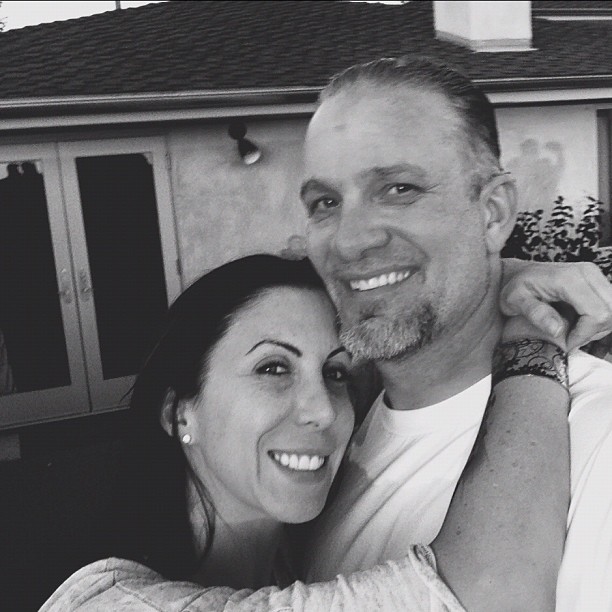 Jesse James has been married and divorced three times. He's been exposed as a serial cheater on both his famous Oscar-winning ex wife, and his less famous, tattoo-artist fiance, but he's not giving up on true love! James is engaged to his latest girlfriend, a drag racer named Alexis Dejoria who also happens to be the daughter of Paul Mitchell haircare founder John Paul DeJoria, meaning she's rich, bitch! The first mention I can find of these two together is in a late October article in Radar saying they've been together a month at that point. That means they've been dating about two months and are already engaged.
Hollyscoop broke this story about a week ago, but this is the first I'm reading it. I find it mildly interesting and thought you might too:
Following his high profile breakups with the likes of Sandra Bullock and Kat Von D, Jesse James has set his sights on a lesser-known vixen: drag racer Alexis DeJoria. And it turns out the couple has wedding bells in their near future.

Hollyscoop has learned exclusively that James and DeJoria are engaged. Insiders from the drag racing circuit confirm the news.

This will be Jesse's fourth marriage, and fifth engagement, and, no…we are not making up those numbers.

Along with Bullock, women that Jesse has been tied to via wedlock include both Karla James and adult actress Janine Lindemulder. Also, the West Coast Choppers CEO has three children between the latter two women.

If you're not familiar with the name "Alexis DeJoria," it's probably because you're spending more time watching E! news, rather than Spike TV. But, other than racing very fast cars, Alexis is also the daughter of John Paul DeJoria, aka the co-founder of hair care giant Paul Mitchell.
Well maybe he just gave her a promise ring but it's not official or something. I checked both of their Twitter accounts, and they have been tweeting each other and tweeting photos of themselves together. They didn't deny an engagement, and James tweeted the photo above less than a day ago. You can't see Alexis' ring finger, but in a photo he tweeted two weeks ago she's wearing what looks like an engagement ring so this is probably true. Also, Jesse has a Tumblr account. It's called But Pee. I'm not kidding. (I have to say that he has the cutest pit bulls. I love that breed so much. It humanizes James a little for me, but not much.)
I guess there's an unlimited supply of women who refuse to believe anything negative about the douche they're dating. Will Alexis ever wise up? She retweeting stuff like "Believe none of what you HEAR, and believe only half of what you see because Looks are deceiving. THAT IS OPEN MINDED." No, that's naive and delusional when you're dealing with someone with such a well documented history of screwing women over, and who admits and justifies their bad behavior repeatedly. Good luck!