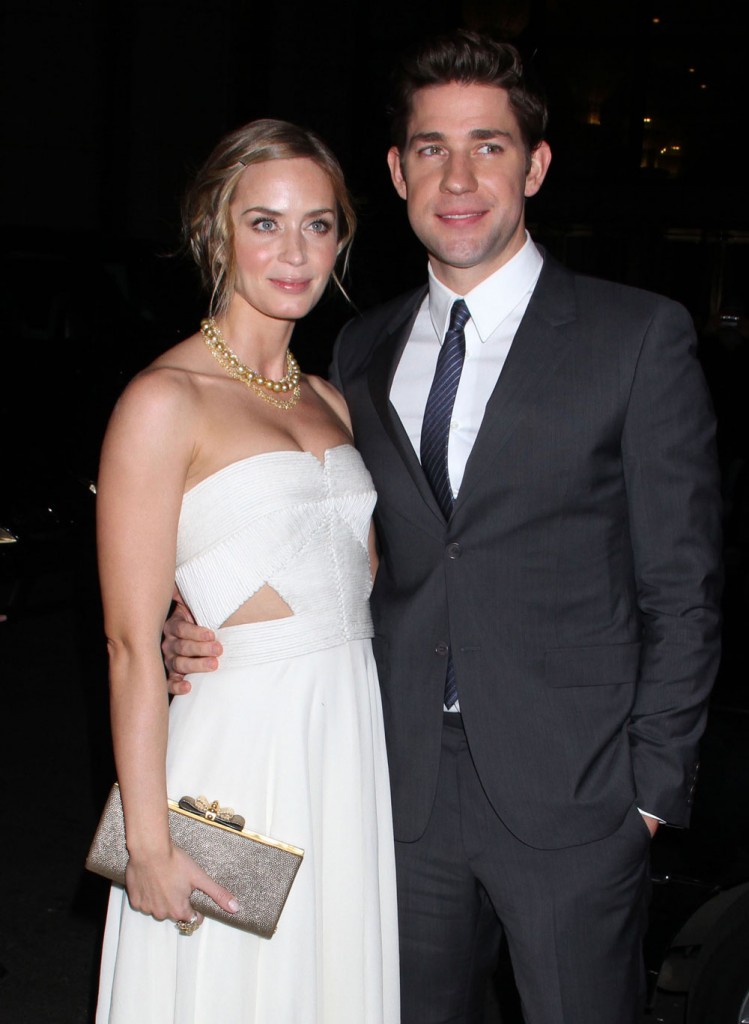 Here we have some photos from the Gotham Film Awards at Cipriani in NY last night, sponsored by the Independent Filmmaker Project, which The LA Times describes as "the largest organization of independent filmmakers in the U.S." The LA Times also has a list of the winners if you're interested.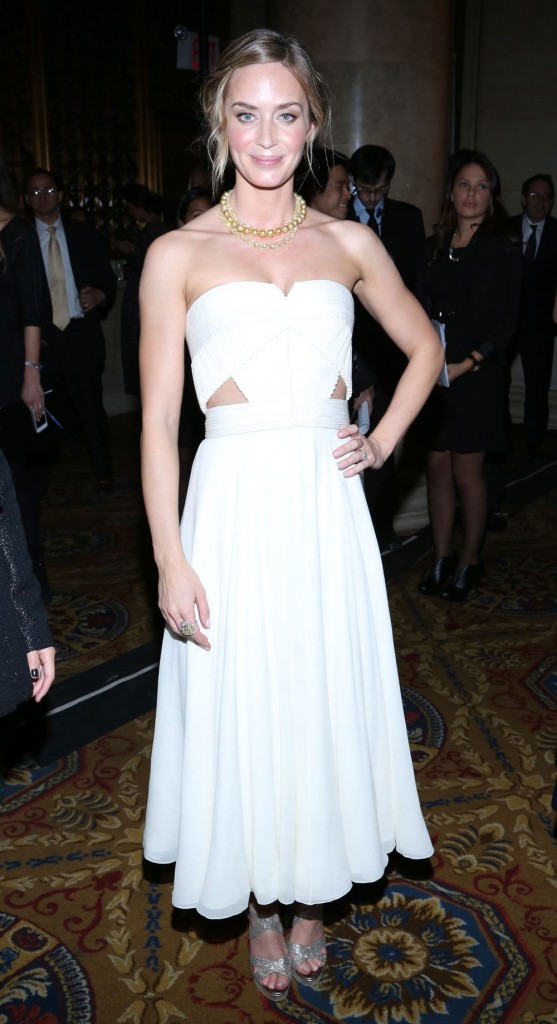 Emily Blunt took home part of the Ensemble Award for Your Sister's Sister, also starring Mark Duplass and Rosemarie DeWitt. (I haven't seen it, but it came out this summer and you can get the DVD through Netflix. If it's not on streaming I'm not likely to watch it.) As far as her fashion, she wore this bizarre, tight, paper white Calvin Klein cutout dress. I really dislike this dress and I especially dislike her silver Jimmy Choo sandal-like pumps. I guess there are worse cutout dresses, but overall this is very plain and underwhelming. Plus it's squeezing her girls in tight. Can she even take a full breath? Her hair and makeup are really pretty, though. She's had some Botox and it shows, but if she lays off it for a while it will settle.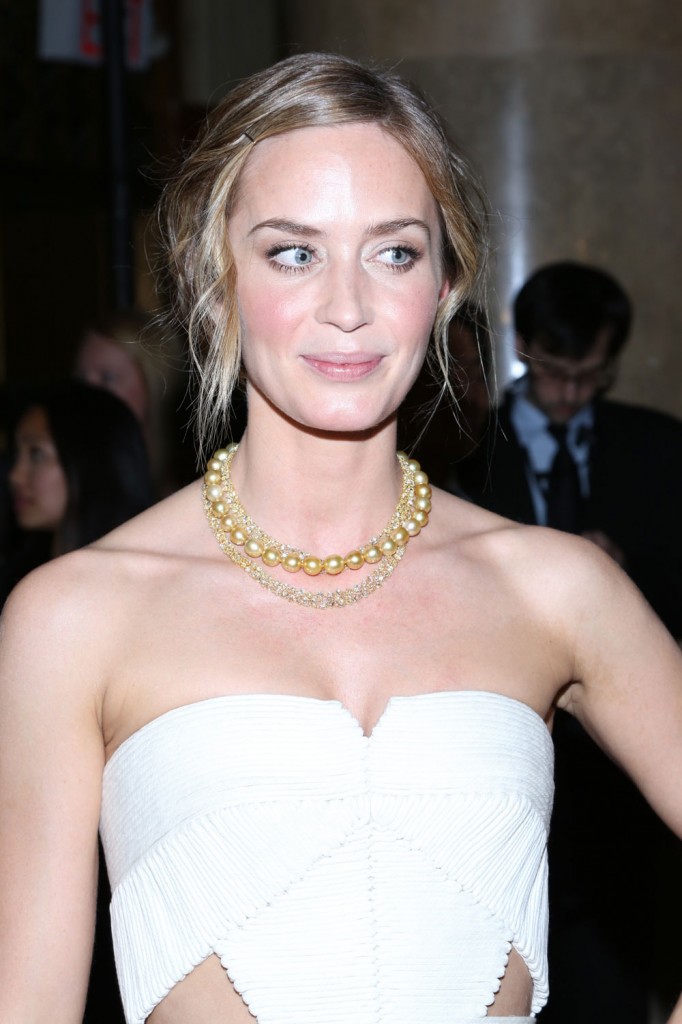 In contrast we have a radiant Amy Adams, whose dress I love but whose styling leaves something to be desired. Her eye makeup is way too heavy, including her blush. (Or it could be the lighting.) Still, it's Amy so I can't find too much fault with her look. I do love her Giorgio Armani black gown with that glorious structural detail at the bodice. This is how you do matching shoes without it looking like overkill. What a knockout she is.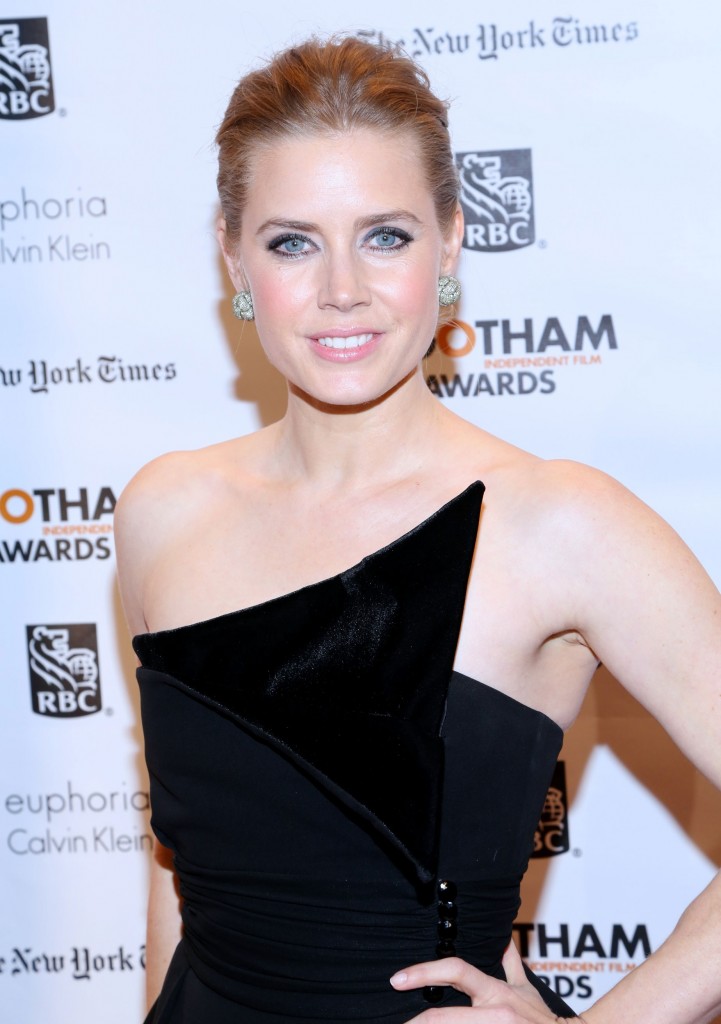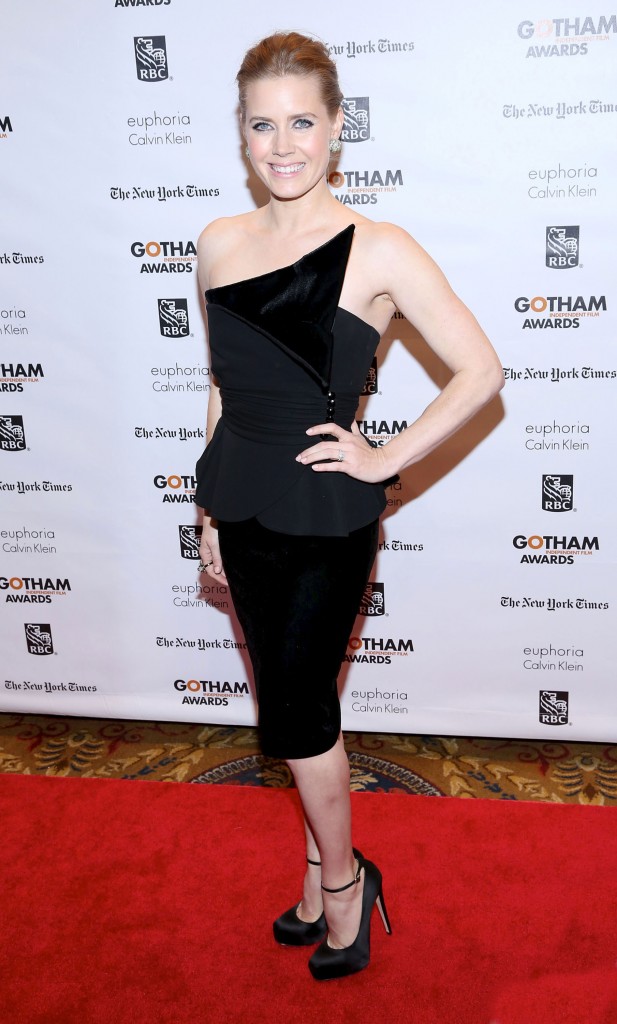 Here's Marion Cotillard, who was honored with a career achievement award at the ceremony. She's in a navy blue v-neck Christian Dior gown with a full skirt. The jacket collar falls flat for me, and overall this dress just looks very conservative. Still, she's Marion, she's not trying to show skin or be flashy.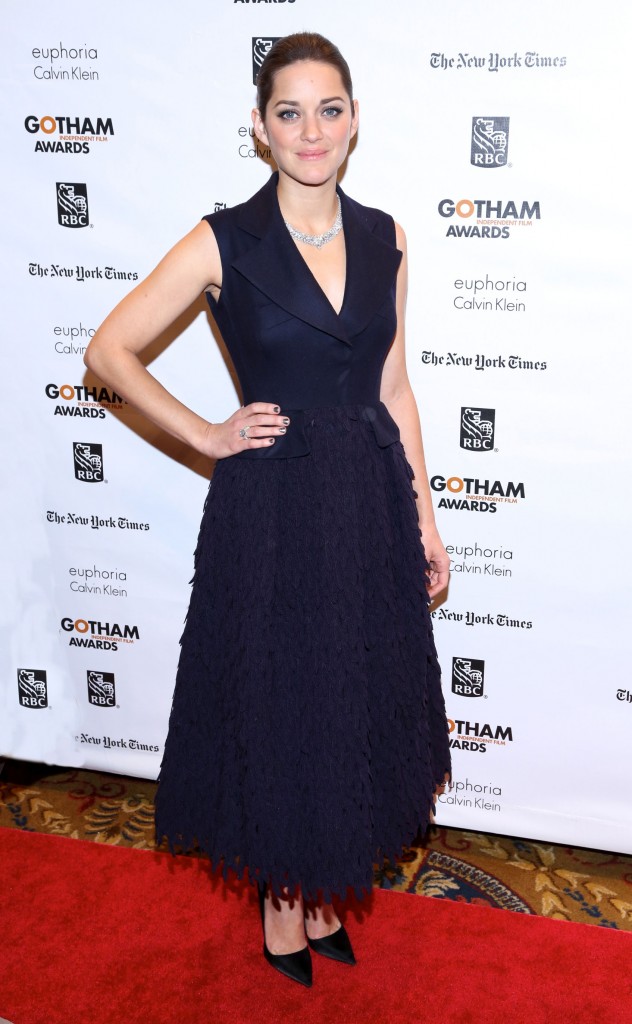 Look at how lovely she is. Dior probably has some of the most talented makeup artists in the world.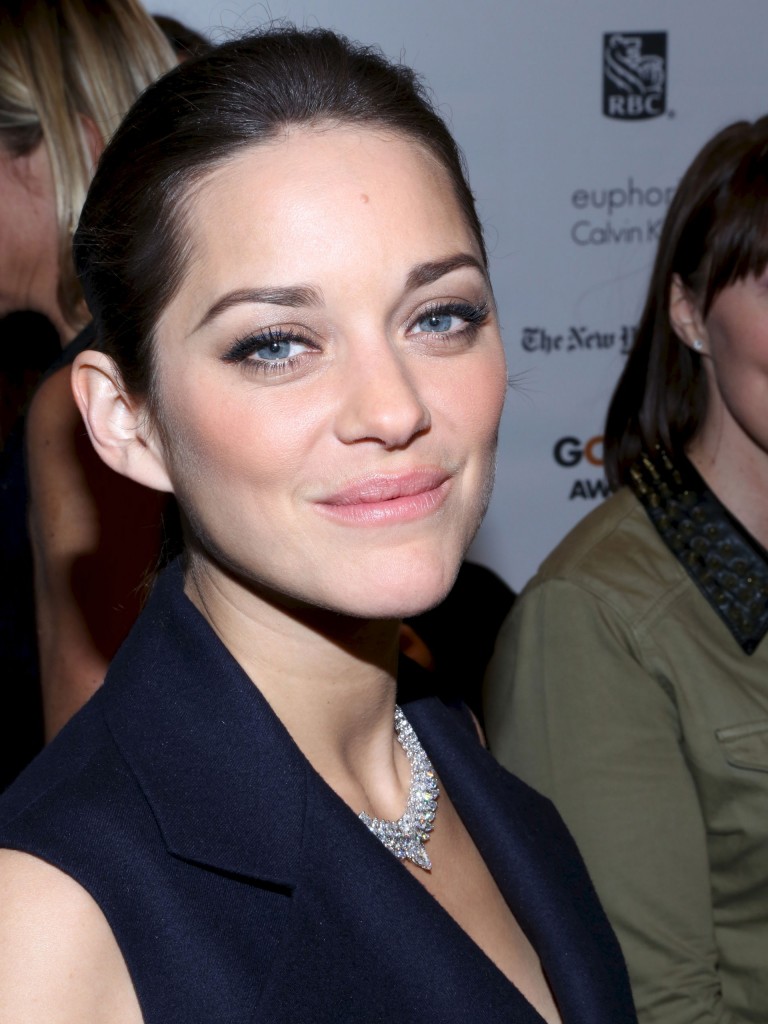 Here's Matt Damon, who was also honored with a career achievement. His wife Luciana's dotted 50s dress is both sexy and demure and I love her hair. If she has extensions, and I'm betting she does, they're very well done. One complaint: I don't love her contrasting shoes,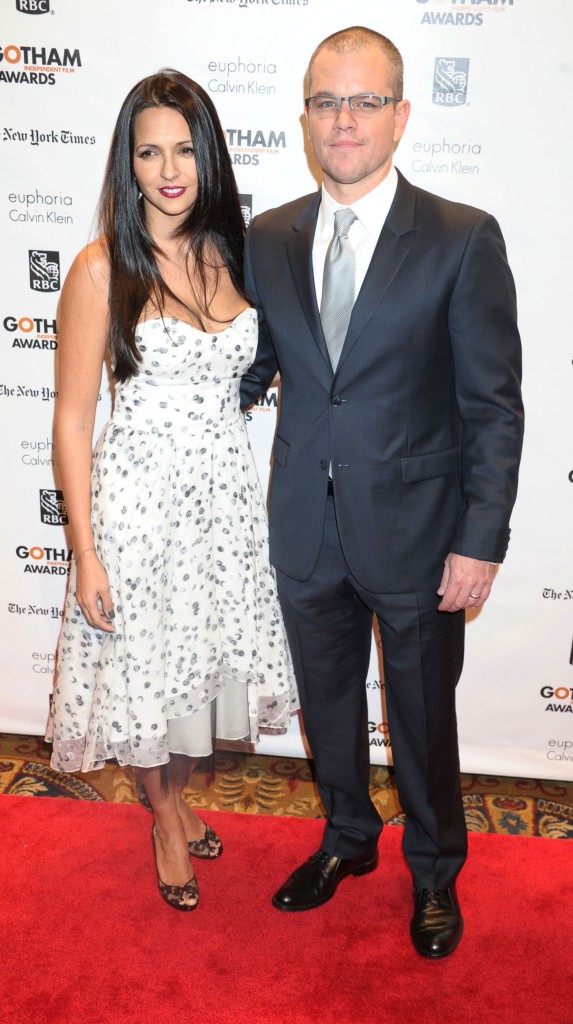 Matt looks good bald, doesn't he?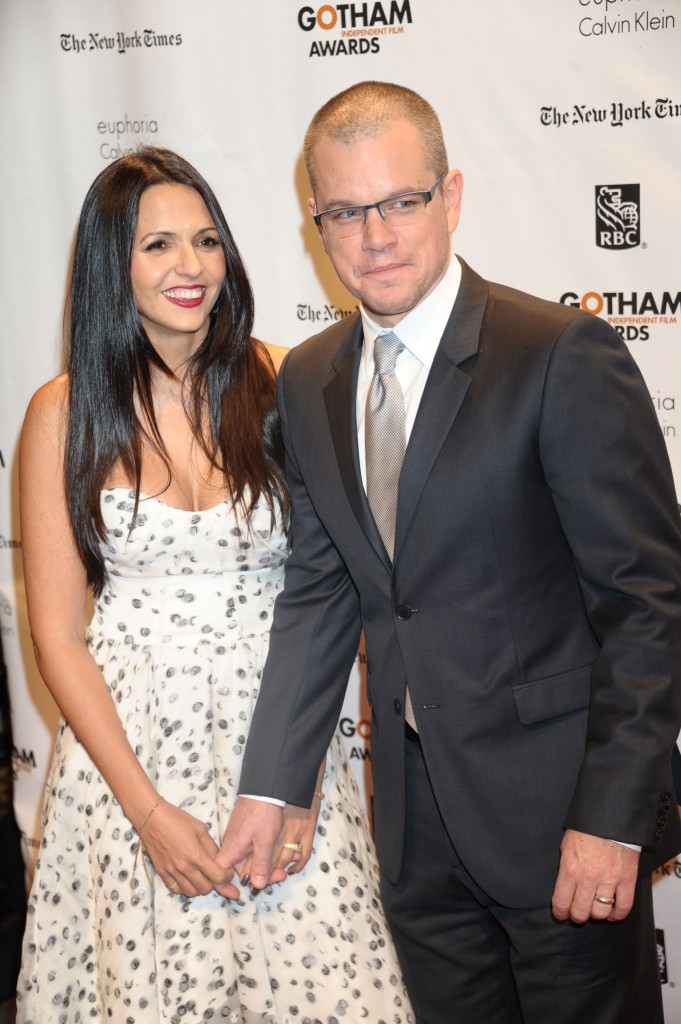 Matt's other BFF, John Krasinski, was also there last night. The anti-fracking film they wrote together, Promised Land, is out in the US in wide release on January 4th, but it's out in limited release on December 28th. Just in time for this year's awards.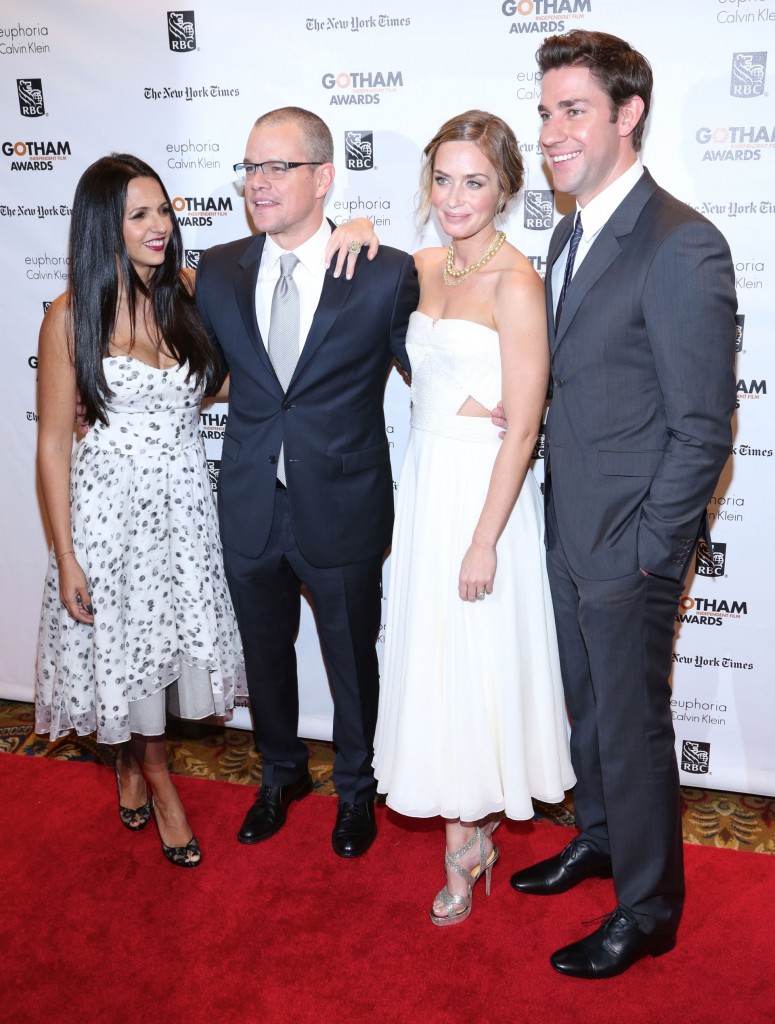 Look at this face for a moment and see if you can guess who this is…. Are you ready? It's Jared Leto! Yes he looks like a corpse, but he's starring in that movie filming now with Matthew McConaughey, The Dallas Buyers Club, and he's also playing an AIDS victim and transvestite. (Hence the eyebrows. Fill them with some powder when you're off set, Jared!) So this extreme weight loss is for a role. Jared sure knows how to yo-yo and he's been on both extremes now.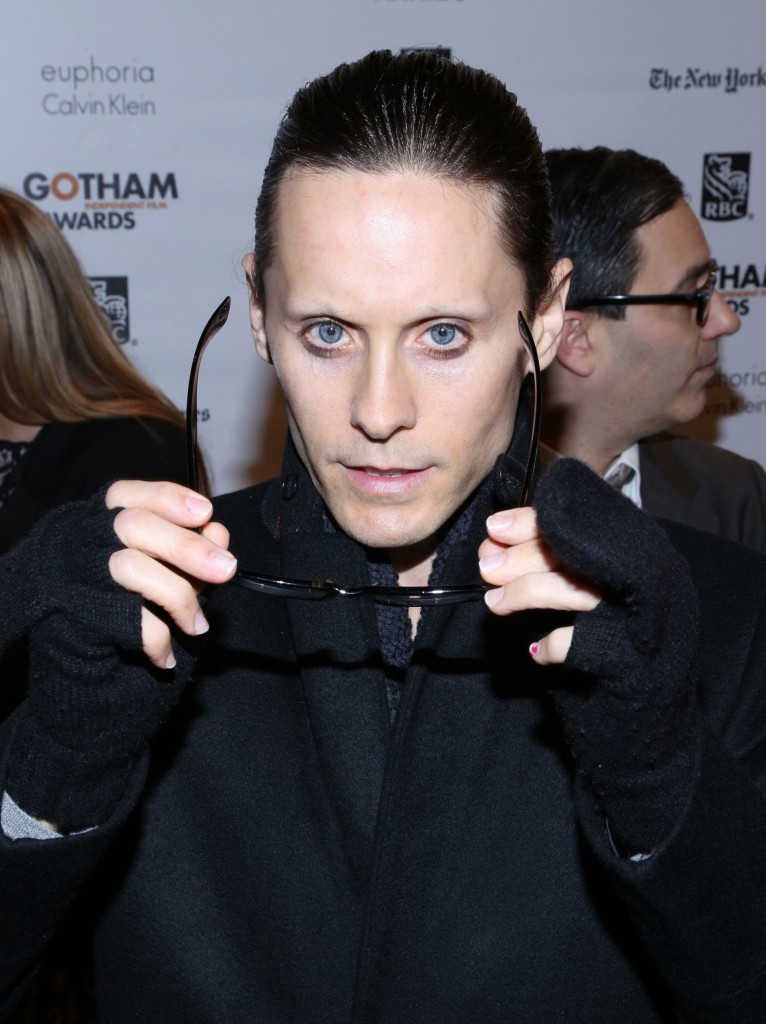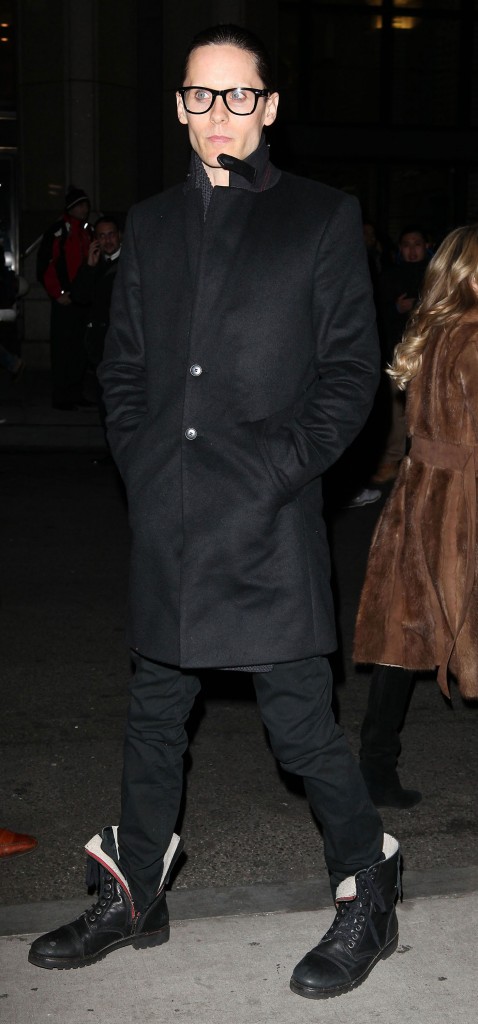 Photo credit: FameFlynet and WENN.com