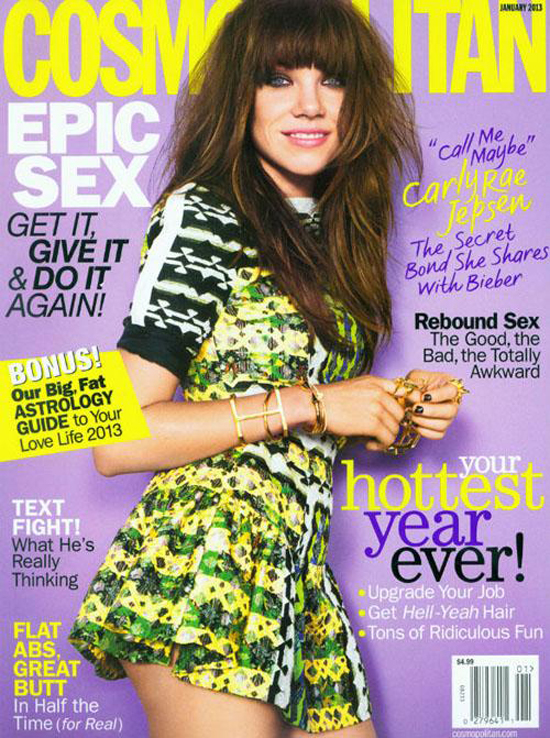 Carly Rae Jepsen covers the January issue of Cosmo, and before you ask who she is … you've probably heard her earworm of a song, "Call Me Maybe" on the radio or just about anywhere. They played it at some point during the Olympics too. It's kind of an annoying tune, but my daughter likes it a lot. She appeared on a season of "Canadian Idol," but her real break came when Justin Bieber became her "fairy godmother." Legend has it that Bieber was actually washing dishes for his mom (who knew he still did that?) when he heard Carly's song on the radio. He subsequently tweeted about it and introduced her to (the ever-enthusiastic) Ellen DeGeneres, and now she's opening for him on tour. Here are some excerpts from Carly's Cosmo interview: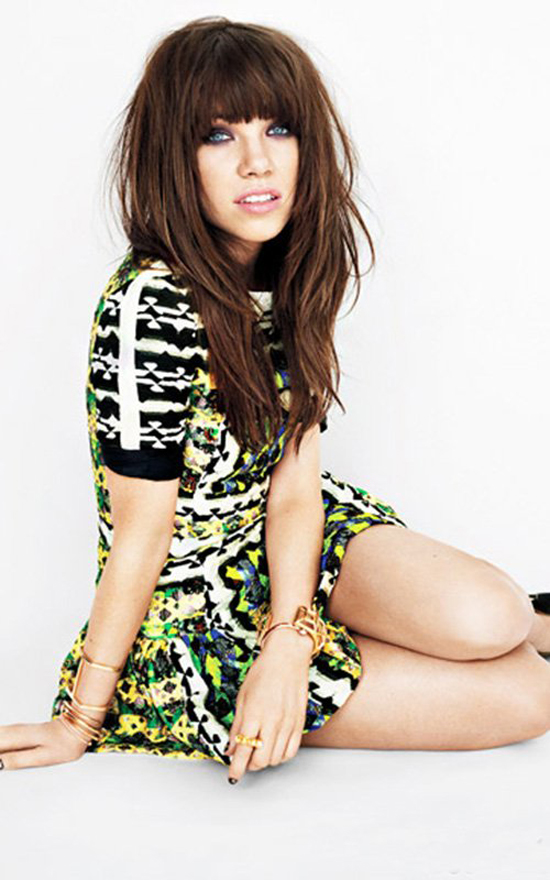 On the Bieber boost for her career: "I never get tired of being asked about him. I'm forever indebted to him for the lovely boost that he's given me."

People say she dresses too young for 27: "I love being classy and as elegant as possible in my apartment. But when I'm onstage, I can't dance in 4 1/2 -inch heels, so I'll generally sport flats. I'm 5 feet 2, so yeah, I'm going to look a little bit more playful. But I don't think that means I'm trying for an age younger than I am. If people think I look younger, then that's great; I'm stoked. But I turned 27 in November, and when I look in the mirror, I see all the years attached to that face, and I'm content with me."

Her future: "For me, the goal of music has never been 'I need to be the biggest superstar in the world.' It was 'I want to spend my life doing this, and I want to make a career that I can live off of so I don't have to tend bar and waitress to make this fly.' I don't want to be Cinderella for a night. I want to be Cinderella for life."

She loves life on the road: "Go to bed when you're supposed to and drink a little extra water and you'll be fine. When I was a little girl, my parents once asked me, 'Carly, where do you want to live?' I said, 'In hotels. They leave chocolate on your pillow, and you never have to clean your room.'"

On life post-"Idol": "Everyone says Idol's a competition. And I'm like, 'No, no….The real competition is when the show is over. That's when we figure out how to turn this opportunity into a real career.' Everyone else was trying to win the show–and the show would've been good to win–but I was looking at those contracts and asking a million questions, like, 'Whoa, that doesn't look too fair. You hold all our rights for how long?'"
[From Cosmopolitan]
Carly Rae seems like a relatively down-to-earth pop star, but I have to wonder about her longevity. She seems auto-tuned to death, but that's typical these days, so who knows? Few people thought Katy Perry would have a successful second album and $45 million dollar tour, so I guess it can happen to almost anyone with the right team.
Here are some pictures of Carly Rae live on the Believe tour (opening for Justin Bieber) on 10/23. She really does dress young for 27, but it's not in a fetishy way.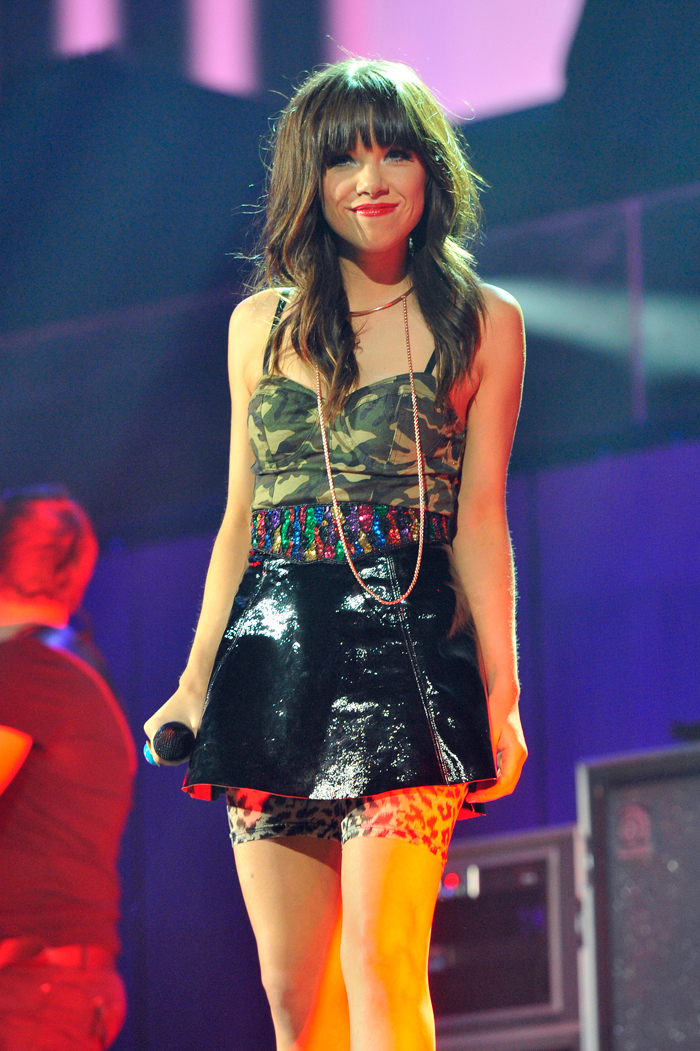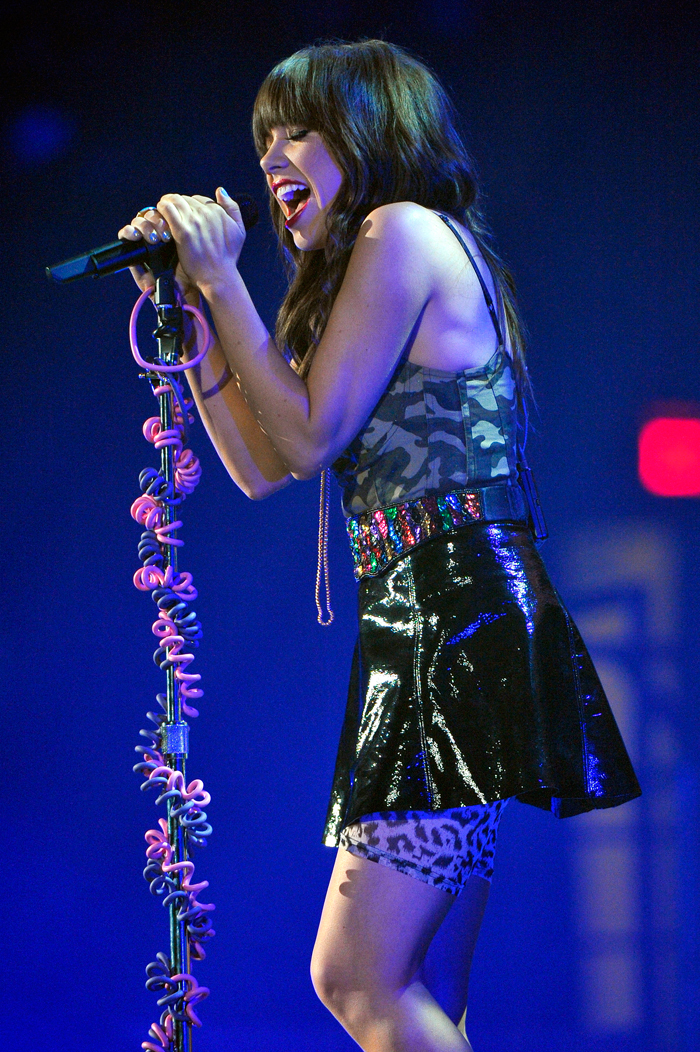 Photos courtesy of Cosmopolitan