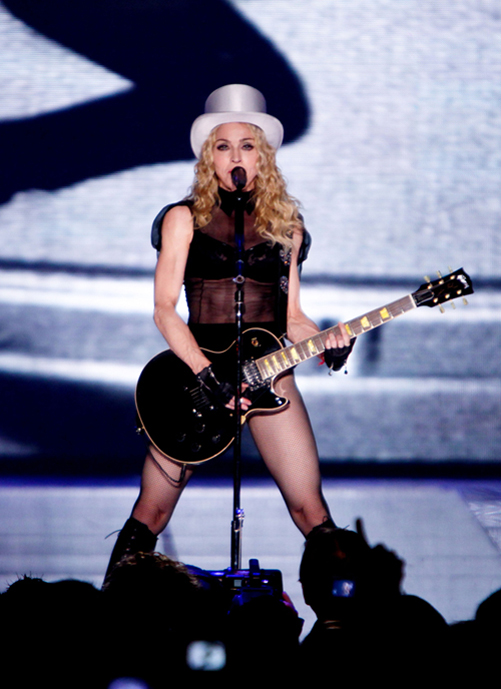 Of all the things I say about Madonna, I hardly ever note what a professional she is. I might mention her quasi-adultery, her control freak nature, or maybe something about the way she's Kabbalah obsessed. And while the mean part of me sort of enjoyed watching video of Madonna falling on her ass during her Rio de Janeiro, I have to at least give her credit for rolling with it. Sort of literally.
WHOOPS!

Madonna wiped out in the rain during her concert in Rio de Janeiro, Brazil on Sunday. She gamely played the show despite a downpour, playing her guitar while under an umbrella at times.

But, when it came to time to work the stage wearing sunglasses, she lost her balance and fell.

She eats it about 40 seconds into the video below.
[From the Huffington Post]
The website Made in Brazil pointed out that Madonna got rid of her usual spiked heel boots and was instead wearing flat, rain-appropriate combat boots. While it was a smart choice, it still didn't keep her from slipping. She sort of rolls around on the stage and does a few moves with her legs in an attempt to make it look like she meant to do that. There's no audible gasp from the crowd or anything, so it seems like she worked it pretty well and managed to keep from being totally embarrassed. Enjoy the video, nonetheless.
In other Madge news, Britney Spears' longtime choreographer Wade Robson says that Britney wants her to make some guest appearances on her own upcoming tour.
Britney Spears wants Madonna to guest star on her forthcoming tour.

The singer is in talks with Madge to make a series of appearances, according to Spears' choreographer Wade Robson.

'There's been talk of Madonna making an appearance, and there's so many places we could take that,' he said.

'At this point, the main issue is timing,' he added. The North American leg of Spears' Circus tour is due to start in New Orleans in March and she has also added six more nights to her June residency at the O2 Arena in London.
[From Metro]
They'd certainly get a lot of press for doing that. Britney recorded a video that's shown during Madonna's concerts and sang live with her in L.A., so it seems likely Madge would be willing to return the favor in some form. The two know how to work the media to their joint advantage, and they're each very talented performers. Hopefully they can both manage to stay upright. No guarantees though.