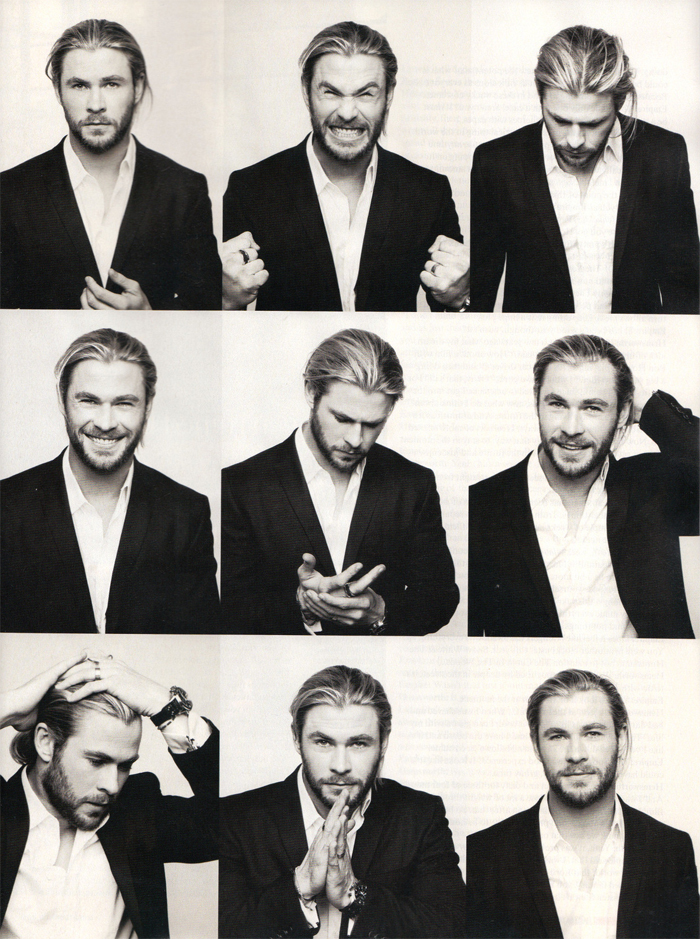 Good news, everyone! 2012 is officially the year of the Hemsworth! Chris Hemsworth to be specific. Liam, well, he's yet to prove himself as a box-office draw (on his own, not as the third wheel of a franchise), and Luke is still gently toeing his way into Hollywood waters. But Chris? He's so in to stay and is actually the reason that a lot of people have headed towards the theater this year. GQ Australia already named him their Man of the Year, and now Empire magazine has done so as well. As a result, we've received a hot and playful new photoshoot of Chris and an in-depth interview as well. Did you know that he loves to sexily giggle with Tom Hiddleston on set? I love that mental image, and I totally believe it. Here are some excerpts: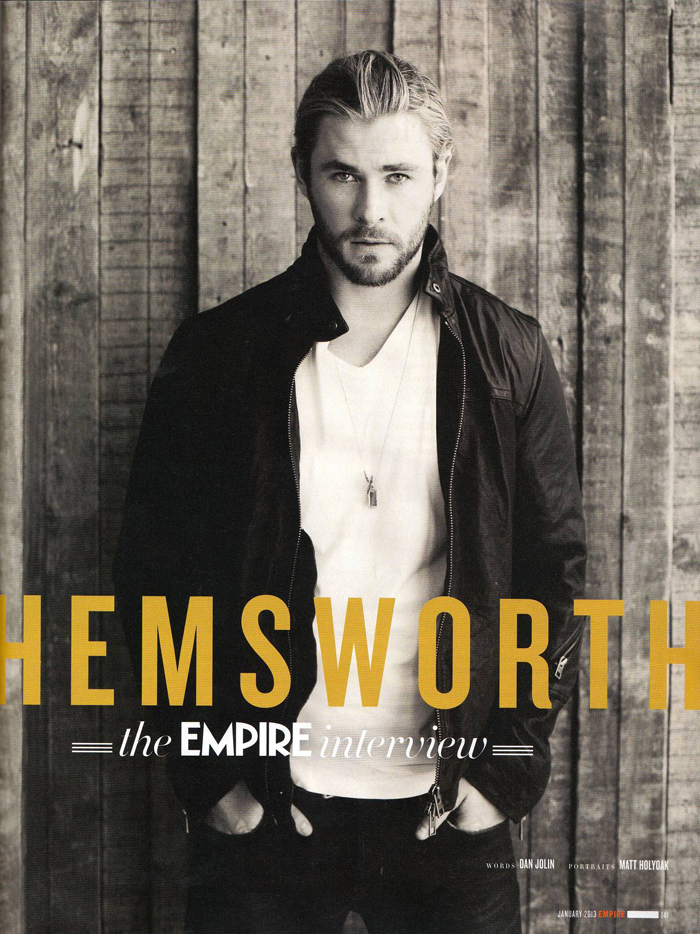 On Thor 2: "There's a lot more of an organic feel to Asgard now. And that Viking element of the Asgardian people, of Thor's history, is much more present. It's less science-fiction. I mean, if you look at 'Game of Thrones,' what I love about it is that it has that mythical element but you're always so grounded in the organic world. I think that's the goal second time round"

His chemistry with Tom Hiddleston: "It was kind of perfect, the way he and I were at very similar points in our career. We'd done bits and pieces but nothing that had ut us on a platform like this was about to. We were both as excited about the whole process and had the same sort of passion for films and these types of stories. We'd just be giggling: 'We were just on set with Sir Anthony Hopkins, can you believe this? And Kenneth Branagh directing! How the hell did we get here?' And on The Avengers it was the same thing: 'Oh my God, that's Robert Downey and Sam Jackson!' Some of the stuff I look most forward to are my scenes with Tom. We've had a hell of a lot of fun."

His overwhelming success is weird: "It is strange because you almost forget that this just doesn't happen that often. I was talking to Matt Damon and he goes to me, 'So Snow White did pretty good?' and I said, 'Yeah, I think it'll probably hit $400 [million], but it's not Avengers numbers.' And he goes 'Man!' and he shook his head. 'You're f***ing ruined — 400′s huge!' It's like my brain thinks, 'That's the norm now, that's the benchmark.' Which, Jesus, I don't think anything will ever come close. It's almost as if I've been ruined for the rest of my career regarding box-office expectations."

On being 'Man of the Year': "It's pretty funny. It's very nice and thank you very much, firstly. I was just discussing this — like, what does that mean? Man of the Year? I'd love to be man of the house but with my wife and now my daughter I don't think I'll ever hold that title! They certainly run the show. But any sort of indication that people like what you're doing, and which in turn allows me to keep doing it, is a huge plus."

Why the rush of Australian actors succeeding in Hollywood? "I could throw out a bunch of maybes. A producer once said to me once, "America really relates to that Western, cowboy culture because it was their history and Australians still have some of that.' I don't want to say something that would be offensive to other bountries like, 'Ah, it's because we're more manly…' But I'm sure there is some cultural… swagger."

His thoughts on KStew's fans being interested in her on a personal level: "I am, in my everyday life, most of the time, not looking like Thor. Whereas her character she played in Twilight and her walking down the street, they're pretty similar — they're both human and relatable. I think for that reason, yeah, it's when the character is even more relatable and closer to who you are in your everyday life, the line gets blurred."
[From Empire Online]
Yeah, I don't know if Chris really knows what he's talking about when it comes to the controversy that surrounds Kristen Stewart. I think he's actually just being diplomatic, or maybe he's not aware enough to realize that KStew's crummy attitude weighs in heavily on how people feel about her. Otherwise, it's a pretty great interview. Chris isn't the brightest bulb out there, but he seems genuinely grateful for his own success.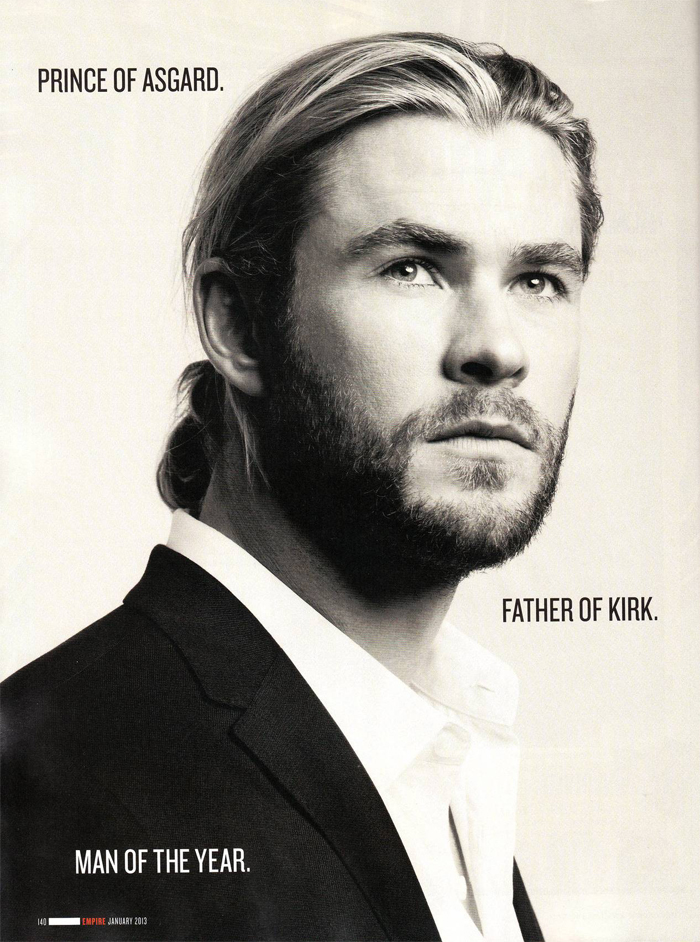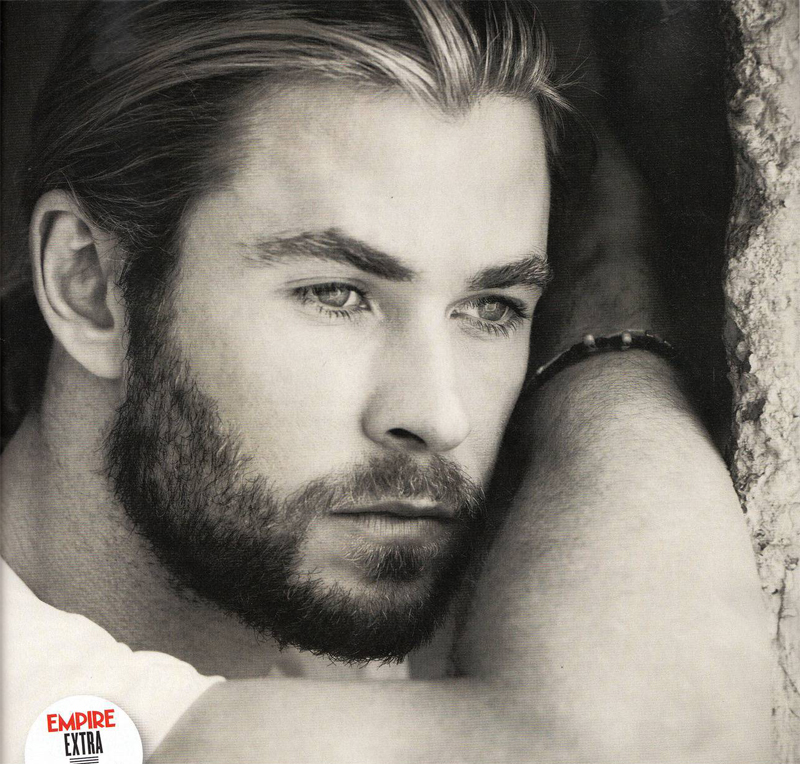 Photos courtesy of Empire