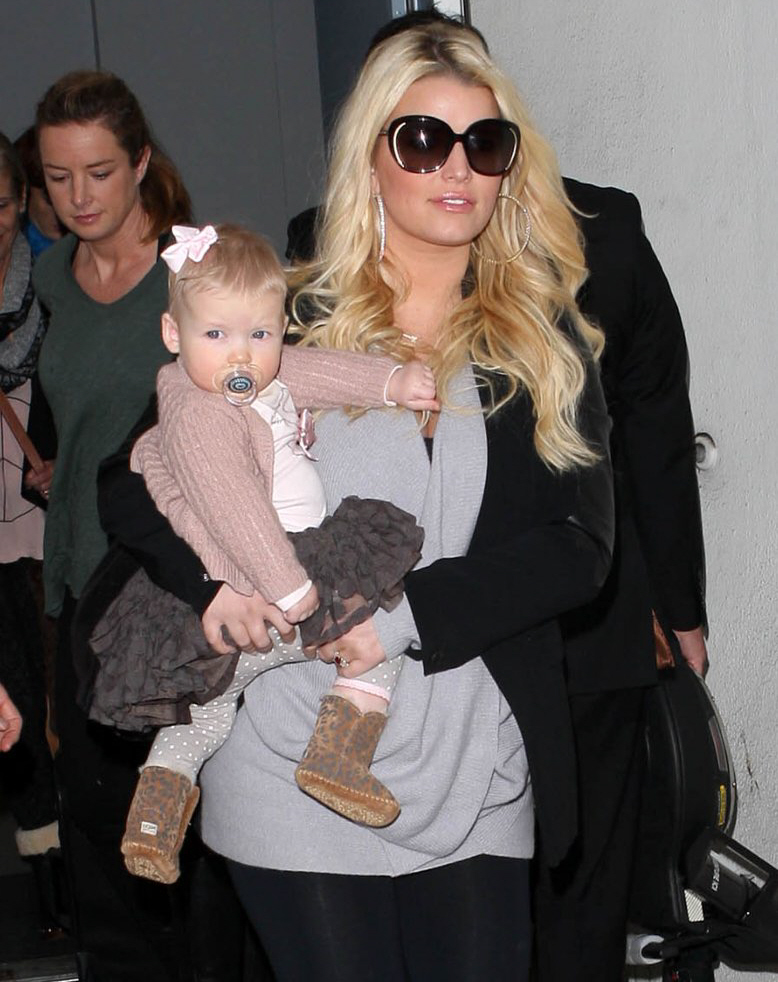 These are some new photos of Jessica Simpson, Eric Johnson and baby Maxwell at LAX yesterday. I guess they were… arriving? Probably. These are the first pics we've had of Jessica since Us Weekly proclaimed – in their cover story this week – that Jessica is knocked up again. The Enquirer has a big story about it too, for all of you prissy anti-tabloid people who endlessly cry "Why are you using the Enquirer as a source?!" Because the Enquirer is right sometimes, that's why. The Enquirer says Jessica is nine weeks along, and Us Weekly only says that she's still in her first trimester. Considering there hasn't been a hardcore denial from Jessica or her people, I think it's accurate. Plus, she's making sure her midsection is pretty covered up in these photos – and we remember her first pregnancy, don't we? She started showing, like, ten minutes after conception.
As we discussed yesterday, Jessica's pregnancy will definitely mess up her Weight Watchers contract, which never fails to amuse me (how many times did I say that WW was going to rue the day they signed Jessica?). But this pregnancy might have also messed up Jessica's nuptial timeline. Many thought that Jessica and Eric were waiting to marry until she lost the baby weight, so what now? Well, Radar says it might happen sooner than we think:
A surprise second pregnancy isn't enough to deter Jessica Simpson's wedding plans. RadarOnline.com has exclusively learned that the singer-turned-actress-turned fashion-designer still wants to get married before she has her second child.

Simpson, 32, had planned to walk down the aisle with former NFL beau Eric Johnson before Christmas – but is now delaying her big day because her best friend Cacee Cobb is getting married in December instead!

"Jessica wanted to get married before Christmas and was thinking of a date in December," a source close to the Simpson family told RadarOnline.com. "But then Cacee set a date with Donald (Faison) for December, her father was caught up in the gay scandal and then she found out she was pregnant. Her plans were derailed and the wedding became a secondary detail with everything that was going on in her life."

"However, she still wants to get married soon and is seriously considering marrying Eric before her baby is due. Jessica isn't concerned about her baby bump showing in the wedding pictures and feels she has put off her nuptials for far too long. Date-wise, she's thinking before next summer, possibly February or March," the insider divulged.

As RadarOnline previously reported Jessica is expecting baby number 2, just seven months after she gave birth to her daughter Maxwell. The National Enquirer revealed that Jessica and Eric recently discovered The Dukes of Hazzard star is pregnant again.

Jess gave birth to Maxwell on May 1 and has been over the moon in love with her baby, but the Enquirer says she's nervous about becoming a mother again.

"Jessica is only nine weeks into this pregnancy," a source close to the Simpson family told the Enquirer. "She's trying to keep it a secret until she makes it safely through her first trimester."
I don't really get why it wasn't a big deal to get married before Maxwell was born, but suddenly it's a big deal to get married before this one comes out. But sure, sooner rather than later, why not? I would love to see Jessica and Eric get married. Mostly because I just want to know what she'll serve. Ten kinds of cake! Nachos! Brownies! Pop Tarts!
By the way, how cute is Maxi? She's enchanted by the cameras. She's a very photogenic baby too.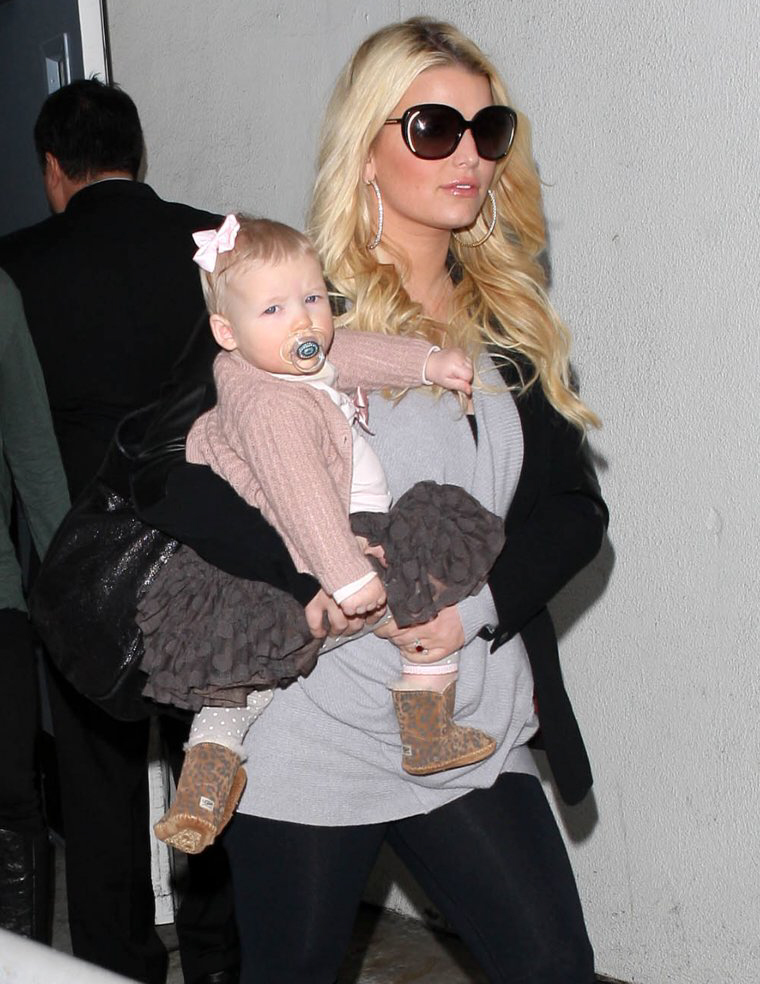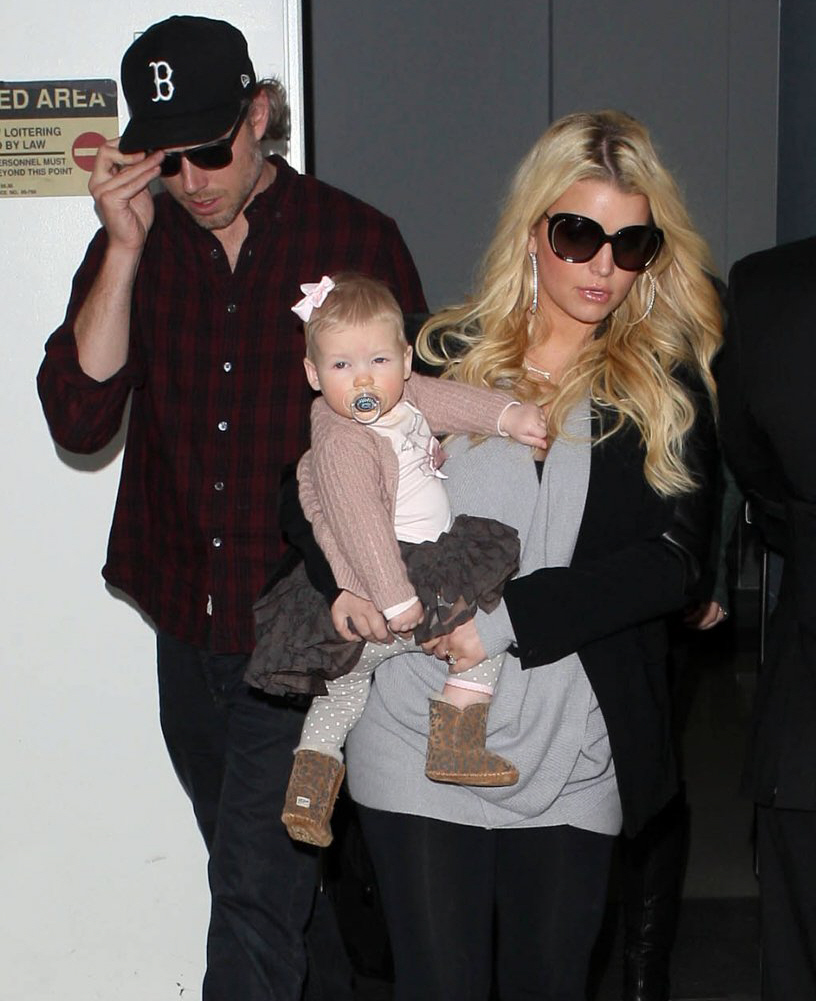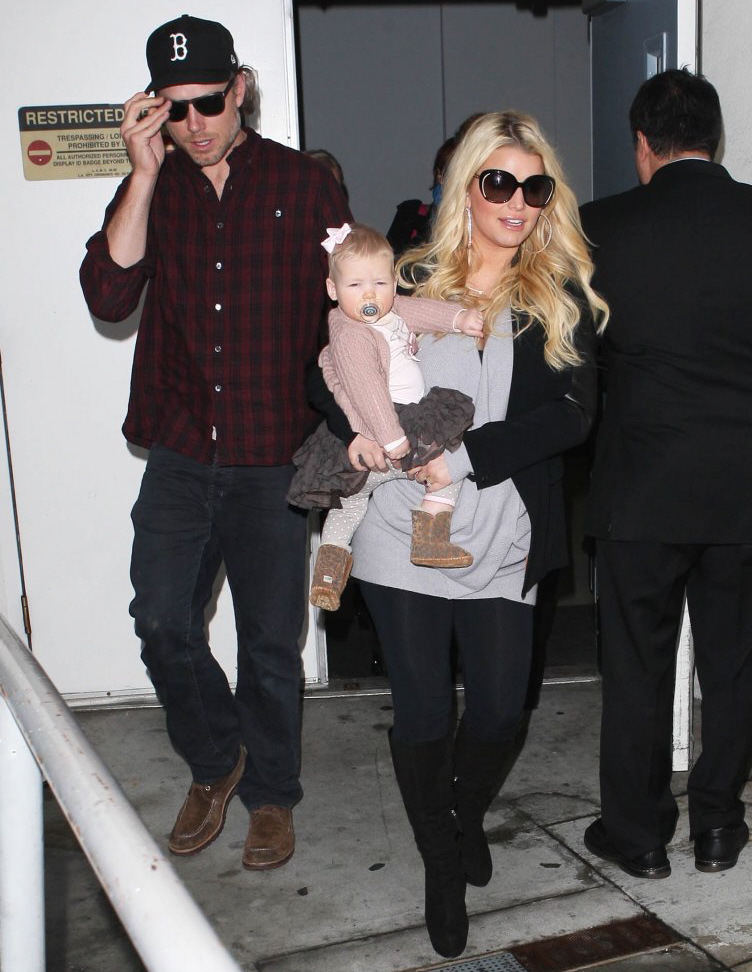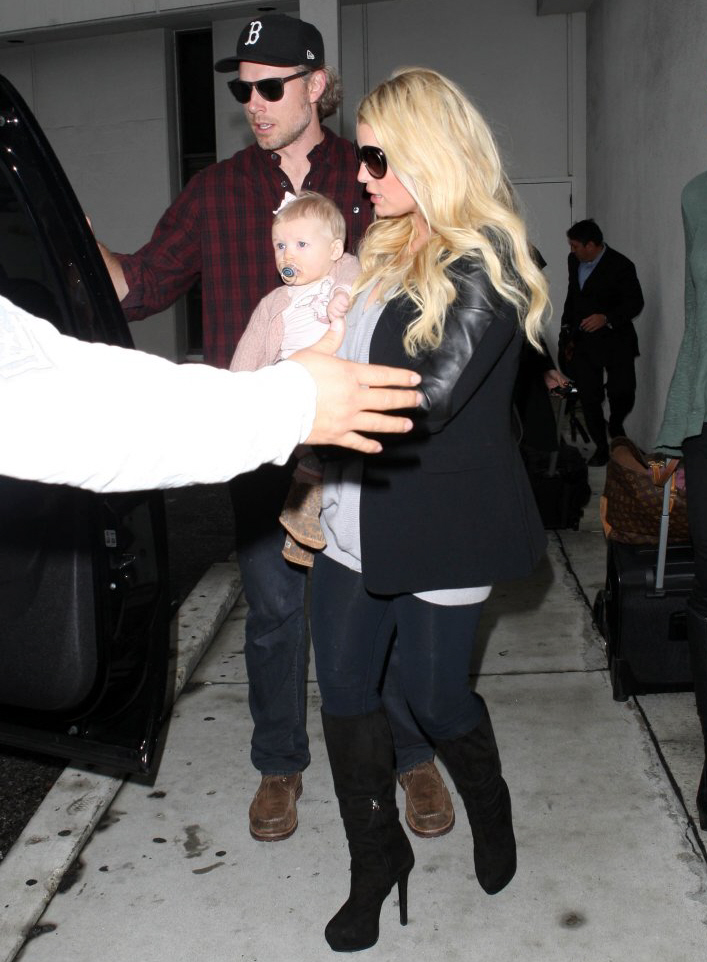 Photos courtesy of Fame/Flynet.