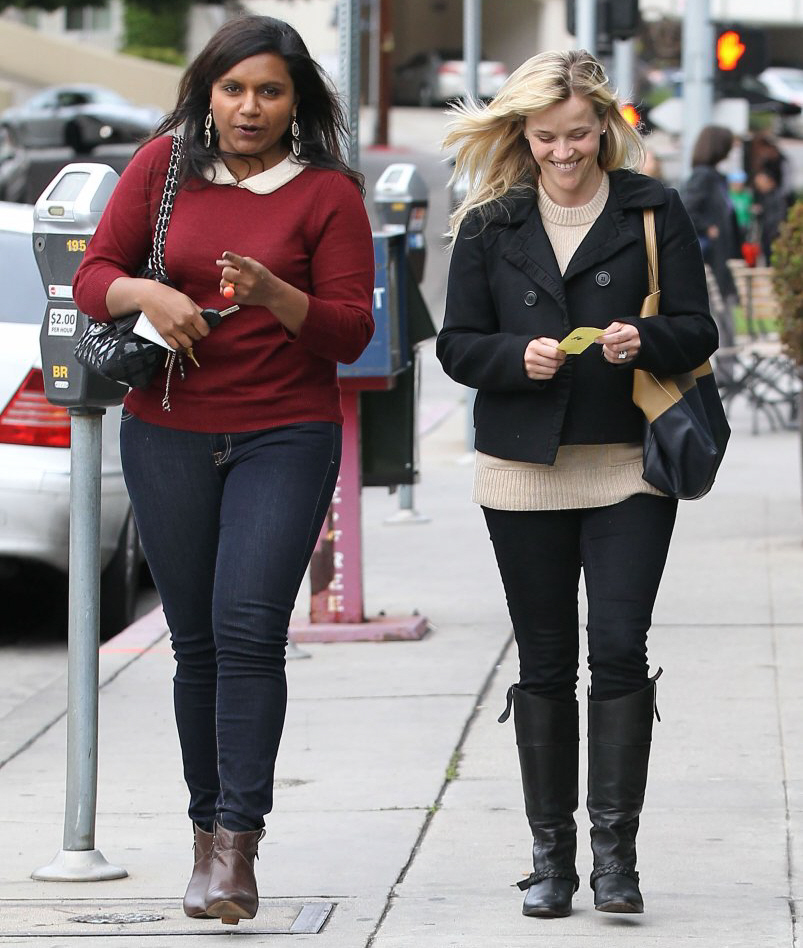 Did you know Mindy Kaling and Reese Witherspoon were friends? I didn't. These are pics of Mindy and Reese having lunch on Saturday in Brentwood. Mindy has her own successful sitcom – Reese is rebooting her successful film career post-baby. Maybe it was just business, like a project in the works or something. Maybe Mindy wrote a rom-com script for Reese. Maybe Reese has a project for Mindy, with Reese as a producer. Maybe Mindy is being hired as a script doctor. Maybe it's the real world and the adorable blonde is the lead and the "minority actress" is just "the best friend" of the lead. In Mindy's secondary storyline, she's madly in love with the hipster across the street, but she can never work up the nerve to say anything to him… until Reese needs a ride to the airport and Mindy finally speaks to him and BAM! The secondary love story is resolved wordlessly. Mindy will have witty comebacks for all of Reese's problems, and Mindy's bridesmaid's dress will be appropriately horrible/funny. BAM! That's the script.
Have you been watching The Mindy Project? I have. It comes on after New Girl, so on Tuesdays, I have my girlie-girl's TV night with Zooey Deschanel and Mindy. I have to say… I find the writing on both shows to be very strong, especially when you consider that they're network comedies with "unconventional" female leads with surprisingly strong ensembles. New Girl gets away with some wonderfully dirty stuff, and I like the way The Mindy Project has been developing some of the central characters, especially the Danny character. The "Danny Castellano Is My Gynecologist" episode was really incredible, especially because the central drama revolved around a pap smear and a breast exam.
Also: even though I love Mindy and I identify with her and her body type, I just have to yell at her for a minute. This is why girls built like Mindy (and me) should not wear skinny jeans, especially when we're standing next to Reese Witherspoon. How are Mindy's jeans cute? HOW? They are not. That is a really unflattering outfit on Mindy.
PS… Mindy and Reese are totally doing an old-fashion rom-com "walk & talk". Like they did on Sex & the City!!!!!!!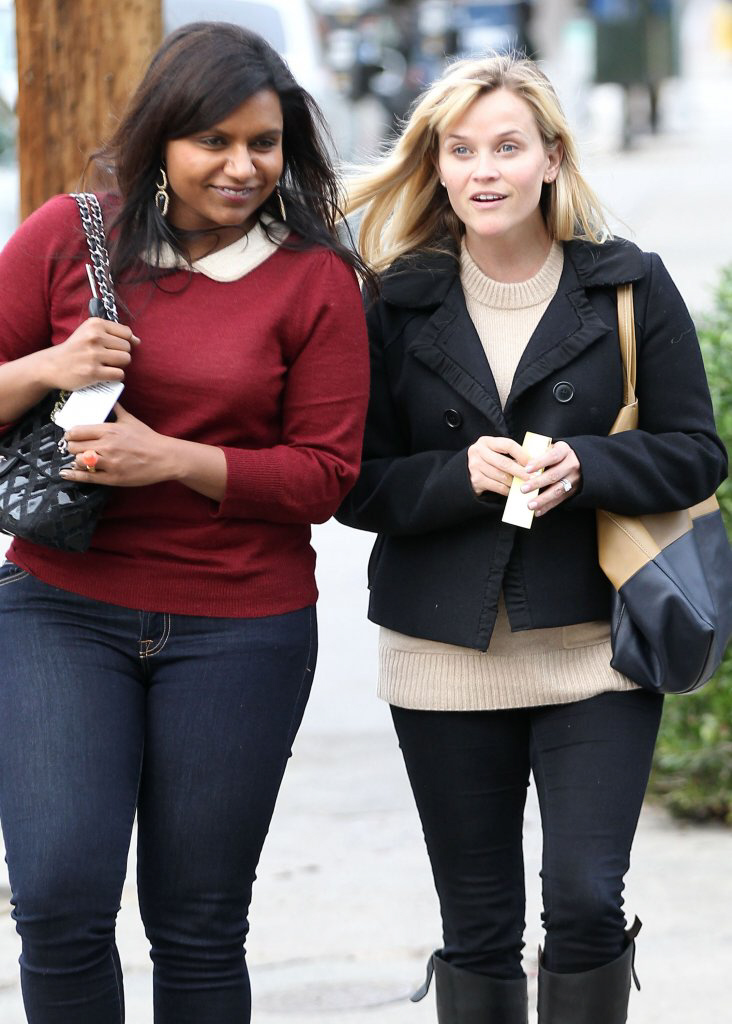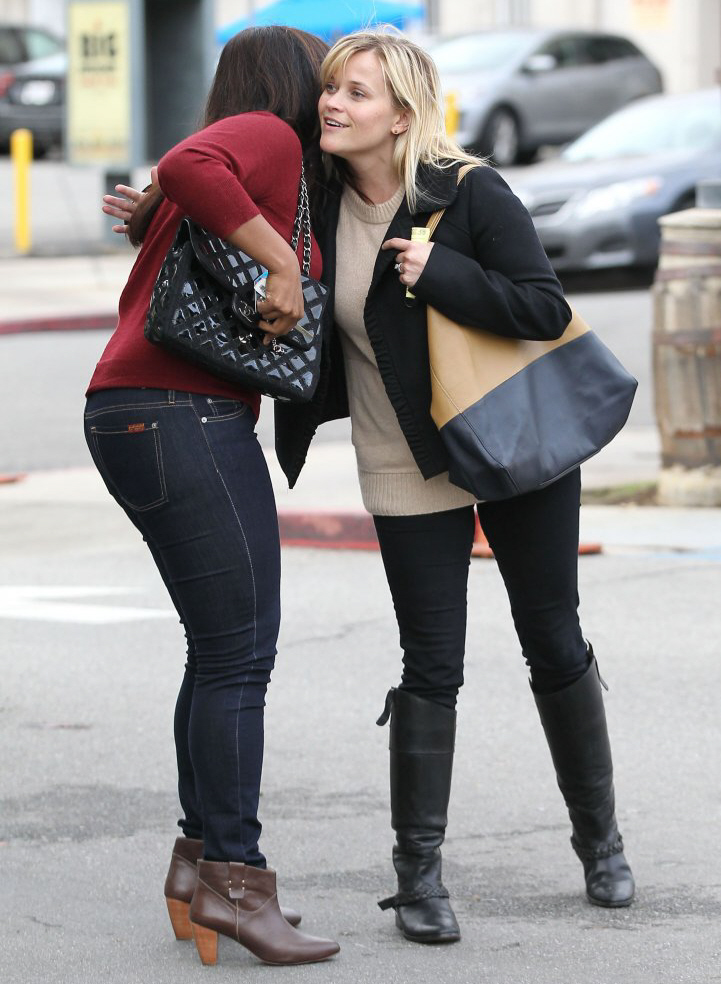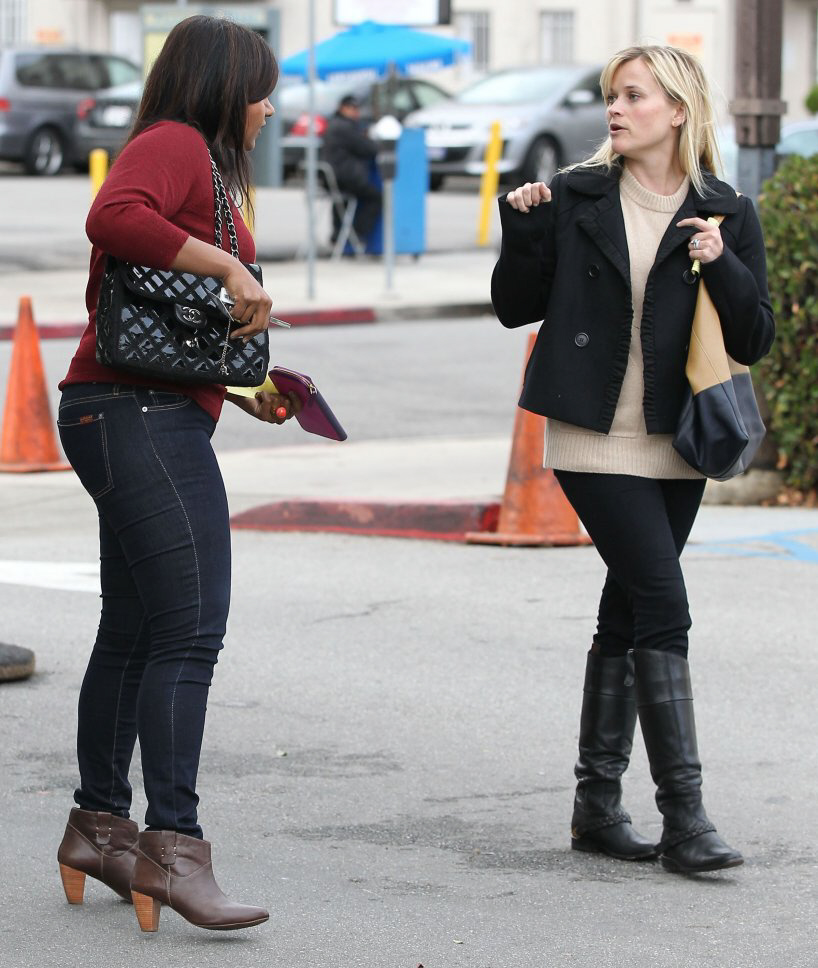 Photos courtesy of Fame/Flynet.