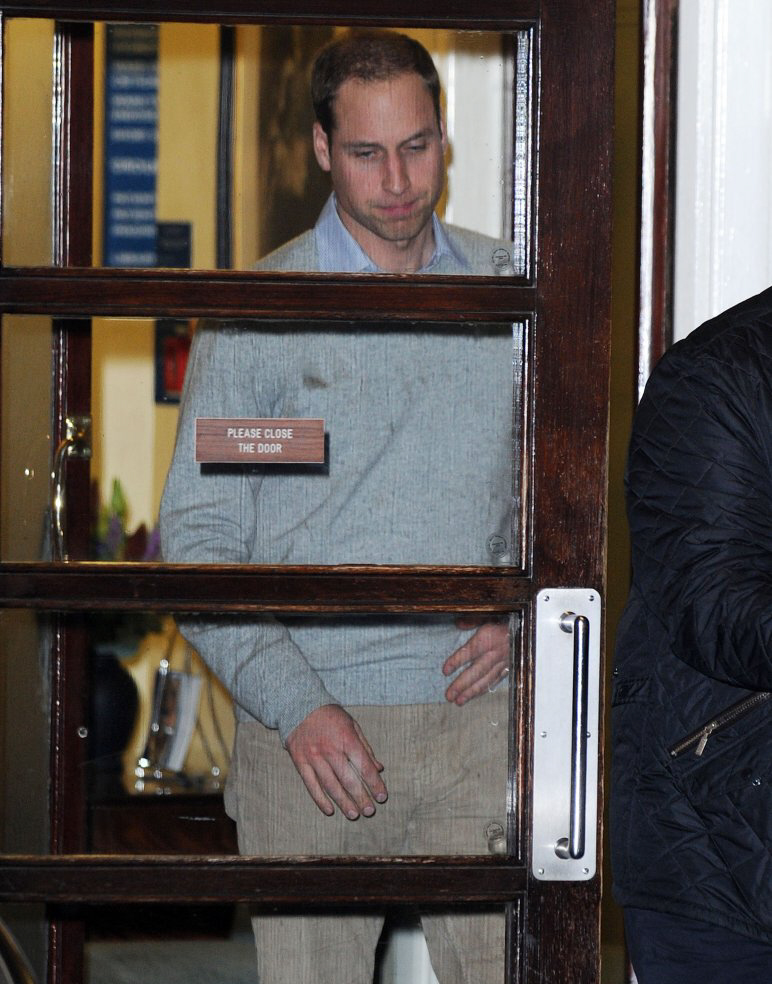 Here are some new photos of Prince William leaving the King Edward VII hospital yesterday in London. These are the first pics of William since he and Kate announced her pregnancy, which, according to the super-official statement, is in the "very early stages." According to sources, Duchess Kate got progressively worse over the weekend with her violent morning sickness, and she was checked into the London hospital Monday morning by her husband. I don't know if William spent the day at her bedside, covered in her vom, or if he just stopped by for a quick visit or what. I'm guessing that the visit was substantial.
As the original statement said, "As the pregnancy is in its very early stages, Her Royal Highness is expected to stay in hospital for several days and will require a period of rest thereafter." First, let's parse the "very early stages" thing. In my post yesterday, I did assume that they were announcing while Kate was on the cusp of the end of her first trimester, but everyone keeps emphasizing the "very early stages" part, so I'm guessing that she's probably not even two months along. The Mail says Kate and Will were hoping to make a Christmas announcement, which puts my timeline for the date of conception probably around early to mid-October at the earliest, wouldn't you say? I'm doing the math… will it be a June baby? I think so.
A lot of people are saying that Hyperemesis Gravidarum is actually super-serious and that Kate is likely to be sick as dog for the whole nine months. In which case… huzzah! Kate has a perfectly good reason to cancel all of her engagements for the next year, right? See what I boon this pregnancy is for Kate? She has a perfectly legitimate and above-board reason for not working, and if anyone brings up her lack of work, they'll be made to feel like a complete bitch (which is how I feel!). See, I can't even get any joy out of pointing out her lack of work now. This baby thing is a genius PR move! So, obviously, Kate and Will's office has already announced that Kate has canceled her next three public appearances. Here are more details:
Pregnant Kate Middleton is taking every precaution to make sure she and her baby-to-be are as healthy as possible — and that includes rearranging her royal schedule.

Hospitalized at King Edward VII Hospital in Central London with Hyperemesis Gravidarum, an acute form of morning sickness, Middleton — who confirmed her first pregnancy on Monday, Dec. 3 — has canceled three upcoming public appearances as she gets back on her feet.

A St. James's Palace representative confirms to Us Weekly that Prince William's wife, 30, will bow out of ICAP Charity Day in London (December 5), Winter Whites Gala in aid of Centrepoint (December 8) and the British Military Tournament at Earl's Court, London (December 9), while she rests and recovers from her hospitalization, which is expected to last a few days.

While 70 to 80 percent of pregnant women experience some type of morning sickness, Hyperemesis Gravidarum afflicts between 0.03 and 0.1 percent of expectant mothers. The condition is characterized by severe nausea, vomiting, weight loss, dehydration, lightheadedness and fainting. Typical treatment methods include hydration, medication and bed rest.
The Mail also has a story chock full of juicy little pieces of gossip. According to their sources, Kate is "barely eight weeks along" and she and William hadn't told the Queen before Monday – they were planning to tell the whole royal family over Christmas. Even Charles didn't know before Monday! And neither did Harry – someone sent Harry an email a few hours before the news broke. The Mail says that Kate told her parents this weekend, when she was staying with them and when Kate got progressively more and more ill. William wasn't there at first – he was at a "shooting party" with the boys somewhere else, but he came to check on her on Sunday. William drove her to the hospital himself, declining an offer of an ambulance, and Kate is said to have walked into the hospital herself.
And here's my favorite sentence ever published in The Mail forever and ever: "Royal mothers are usually looked after by the Queen's gynecologist – currently Alan Farthing, the former fiancé of murdered TV host Jill Dando." ONLY IN ENGLAND. Only in England could you write a sentence that is so amazingly brilliant and hilarious. Poor Kate is going to have to see her grandmother-in-law's gyno and he used to be engaged to a murdered TV hostess. Kate's poor duchessy biscuit.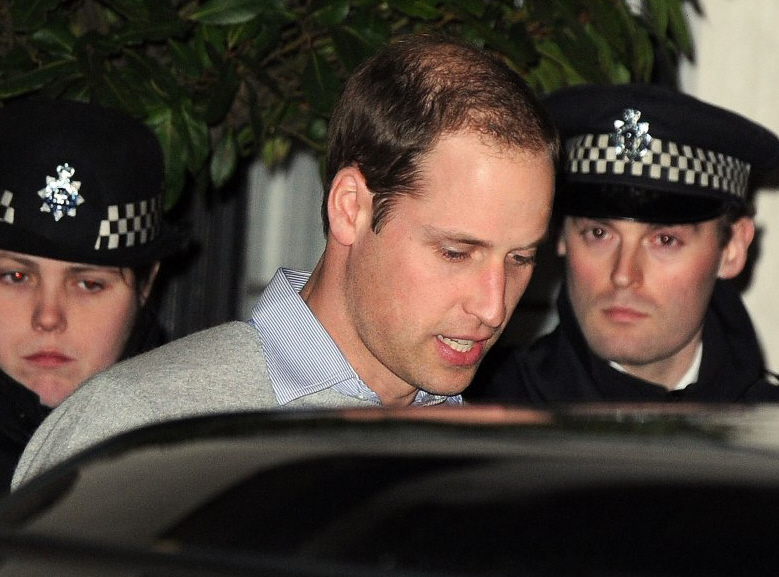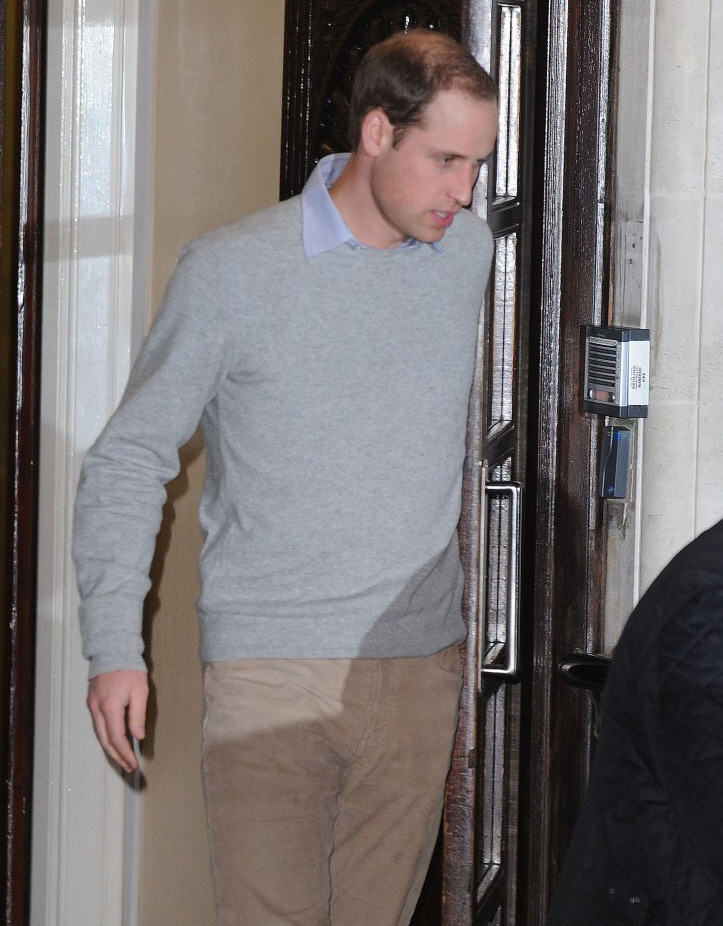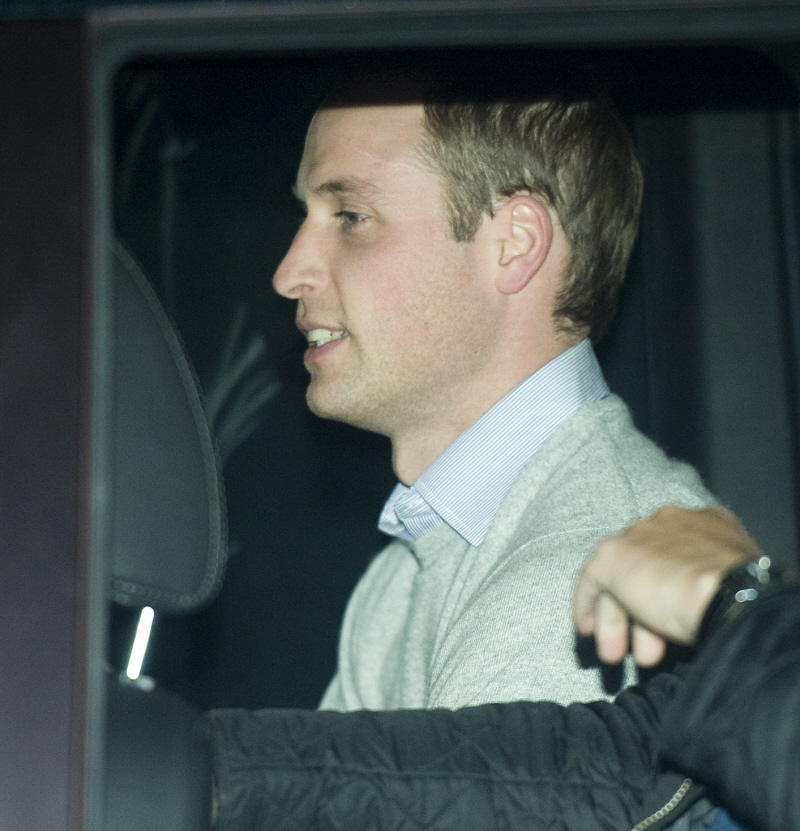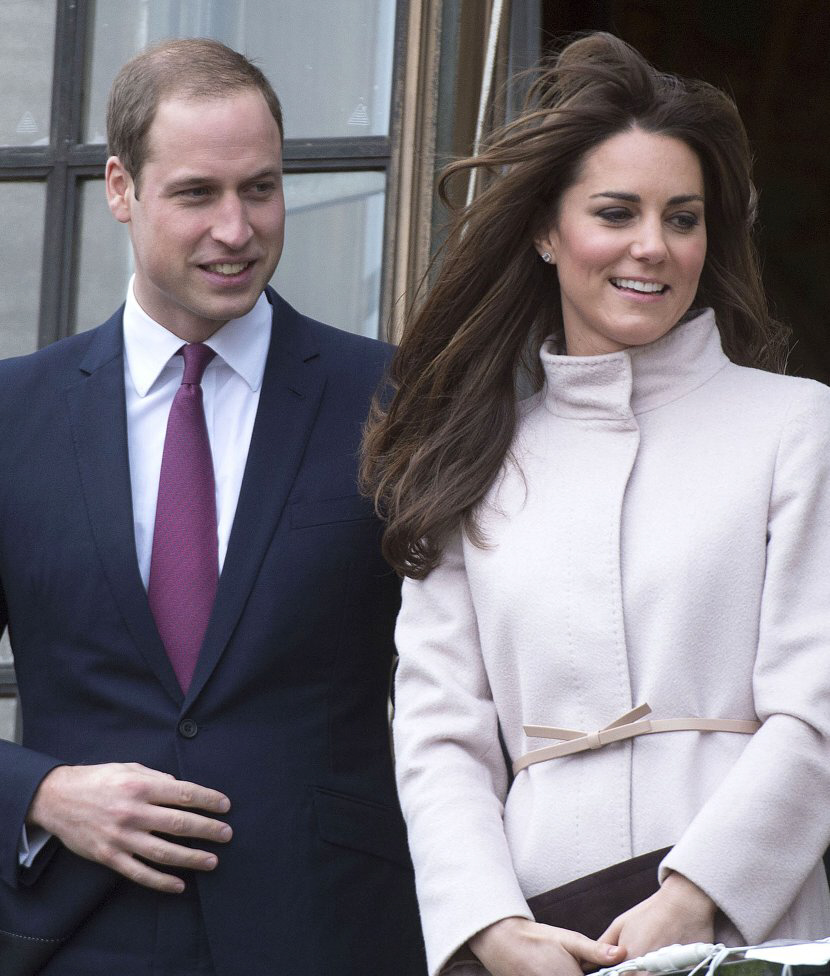 Photos courtesy of WENN and Fame/Flynet.