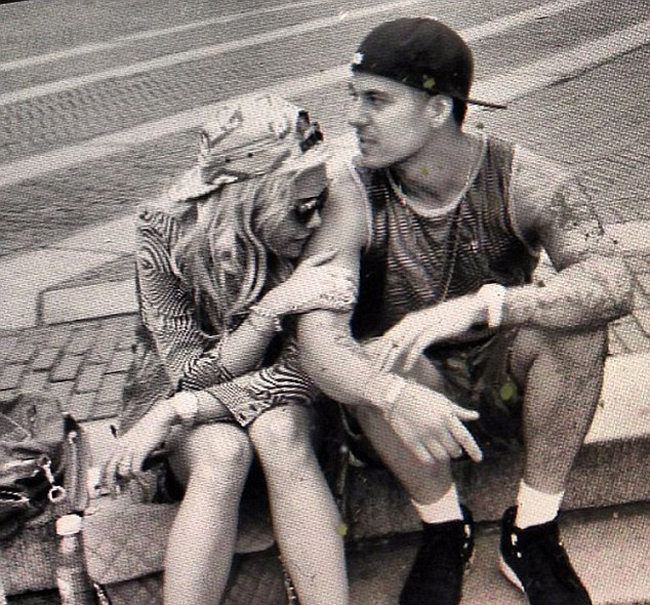 I am vaguely aware of Rob Kardashian (Jr.) as one of the peripheral members of the "Keeping Up with the Kardashians" reality show of doom. Yeah, I'll admit to having an episode or two on in the background at some point while drinking too much cheap red wine; and Rob, well, he's definitely not the brightest member of the family, which is saying something because (collectively speaking) their vapidity knows no bounds.
Rob's been working hard to further secure his status as (quite possibly) the least classy Kardashian sibling though. For the past few months, the guy's been dating Rita Ora (a.k.a., "Rihanna Lite"), and their world was one of fleeting bliss and sweet twitpics posted to Rob's Twitter page. Now, it's all over as soon as it began, and Rob has been tweeting such sweet nothings as "She cheated on me with nearly 20 dudes while we were together, I wonder how many she will sleep with now that we are apart." Sounds like someone's a little bit bitter about gettig dumped, right?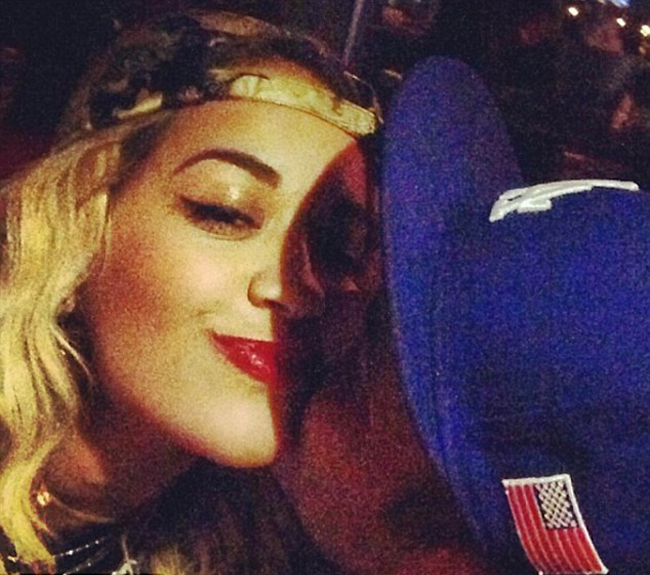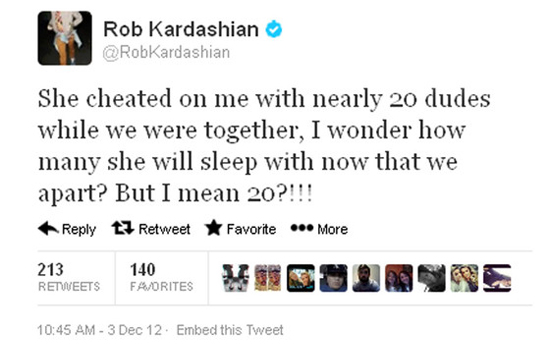 Kris Humphries isn't the only one who's found it tough keeping up with the Kardashians.

Rita Ora and Rob Kardashian have broken up.

The couple called time on their relationship last week after struggling to juggle work schedules.

And in the 2012 version of chucking out a couple of mix tapes, Rob has now unfollowed the singer on Twitter and deleted all of his tweets and pictures on Instagram relating to his ex-missus.

A source said: "It's really sad – they really liked each other but with him living in LA and her over in London, it was becoming impossible to maintain a relationship.

"They'd only decided to go public with the romance a couple of months ago so as not to put any pressure on themselves but they've already split. Rob has now deleted everything on Twitter that reminds him of Rita."

The reality star was due to fly over for Rita's birthday bash at London's DSTRKT nightclub last week. But after serious talks, the pair decided it was better to call it a day. All of the Kardashians have rallied round Rob – with none of the family texting or tweeting Rita to wish her a happy birthday.
[From The Sun]
Luckily, there is one Kardashian who is willing to step up and tell Rob that he's acting like a douche. Khloe took to her own Twitter account to chime in, "Rob be nice kiddddd. Social media is so much drama. Hehehe thank goodness there was no social media when I was younger. Too much drama in the LBC." Poor Khloe just doesn't fit in with the rest of this family, right? And she's trying in vain to educate a brother whose only vague measure of success lies within his own designer sock line.
Doesn't Rita look so much like Rihanna? Apparently, they even share the same bad taste in men.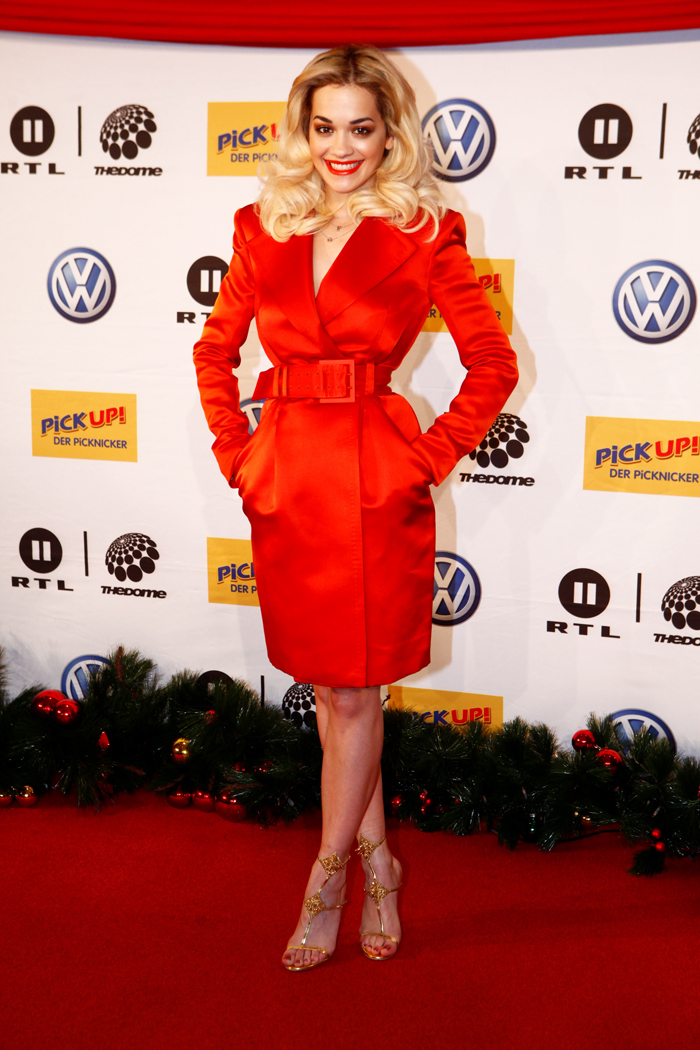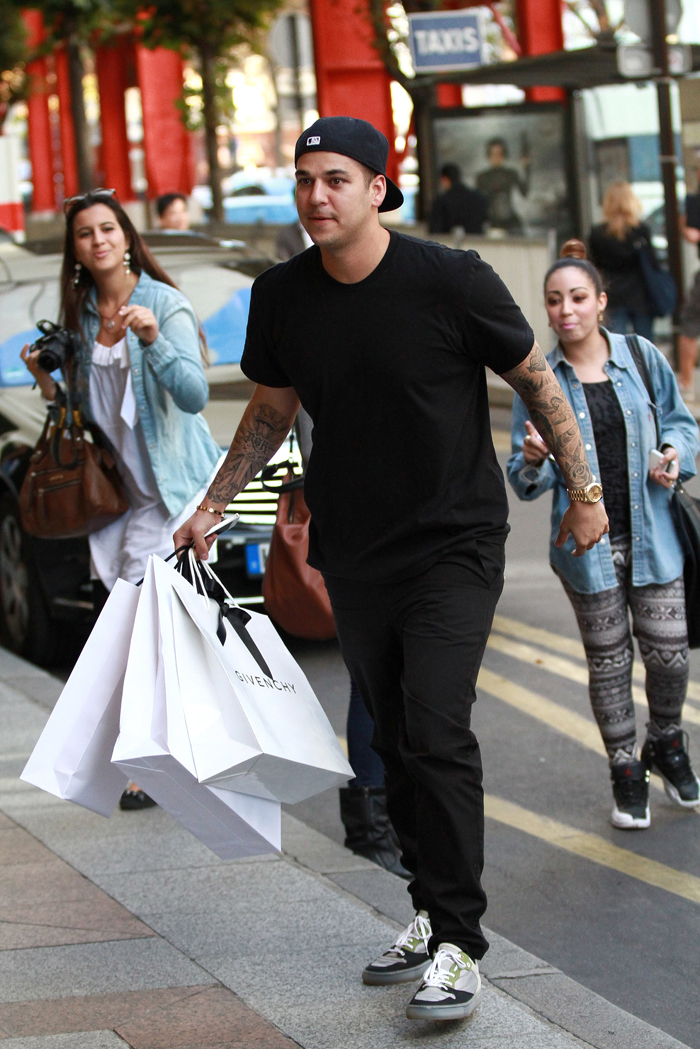 Photos courtesy of Twitter and WENN