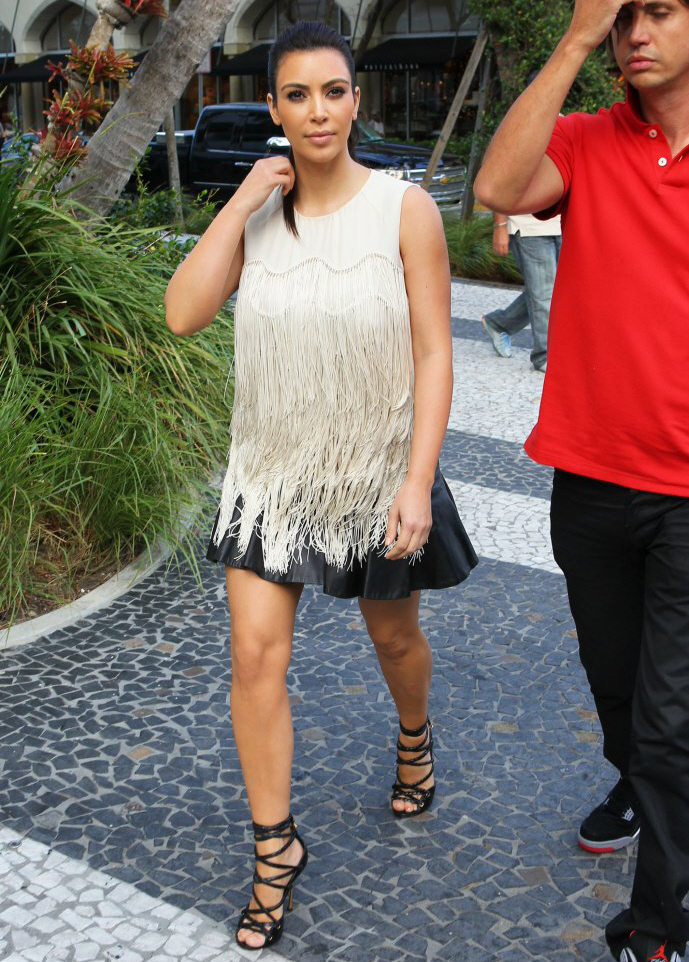 Here are some new photos of Kim Kardashian out to lunch with her BFF Jonathan Cheban in Miami yesterday. Kim and Jonathan are super-tight, aren't they? I swear, they spend more time together than Kim spends with Kanye. Is Jonathan like an honorary Kardashian at this point? Can we start calling Konathan Kardashian? Anyway, look at Kim's horrible fringed blouse. WHY? Why does she do this to herself? Maybe some of you will like it. We seem to be disagreeing all the time on Kim's fashion these days.
In other Kim K. news, do you remember how Kim wants to be, like, America's Duchess Kate? True story. This isn't even based on random tabloid speculation – when Kim married Kris Humphries last year, she came out and called herself an American princess and said that she wanted to be like Kate Middleton. This is how Kim thinks of herself. So it's not such a stretch to think that Kim was trying to get a one-on-one meeting with Duchess Kate a few weeks ago, and none of this is unbelievable either:
After visiting London to promote her fashion line, Kim Kardashian has become quite the anglophile, and now she's hoping to hold an elaborate wedding across the pond. Though Kardashian is still mired in stalled divorce proceedings with her ex husband Kris Humphries, her boyfriend Kanye West is reportedly hoping to ask her to marry him as soon as the divorce is final. And when he does, friends say Kardashian already has plans for their nuptial ceremony.

Her vision is similar to the royal wedding between Prince William and Kate Middleton, and the reality star is hoping to carry out her big day as royally as possible.

"Kim would love to wed at Westminster Abbey like William and Catherine, but that won't be possible. Instead she's been looking at castles near London," an insider said. "She wants the most spectacular wedding and she's talking about having guests like Jay-Z and Beyonce, Eva Longoria, Lindsay Lohan, Rihanna and Katy Perry arrive in horse drawn carriages — just like the royal wedding."

Kardashian and West have also been shopping for a home to share together in London. Kim reportedly fell head over heels in love with the city during a trip there to launch the Kardashian Kollection for Dorothy Perkins, and she thinks it would be the perfect place to settle down with West.

"[Kim and Kanye] are just fascinated with British culture. They so welcome in England and now feel ready for a change … and a new challenge outside of the U.S," a source said. "Kim K. especially loves the idea of a cute, nice three bedroom townhouse located close to one of London's beautiful family parks."

And though they haven't chosen a home just yet, the couple reportedly already has some design ideas for what they want their lavish digs to look like.

"'It's going to be huge — at least 2,000 square feet. And luxury is top priority from the carpet to the light fixtures," the source revealed. "Kim and Kanye love Old Hollywood so that's going to be a theme with lots of white and cream with splashes of butter yellow and black and some leopard print."
Her first marriage was an elopement, right? And her second marriage was some budget affair in California, correct? Ah… I remember. Kleopatra Kardashian with a diamond headpiece. God, I completely blocked that out. So… why wouldn't you believe that Kim would want to marry Kanye in England and try to "out-do" Duchess Kate? I would love to see Kim try to schedule her wedding at Westminster. I would LOVE it. I would love to see a gaudy, Kardashian Katastrophe go down in England.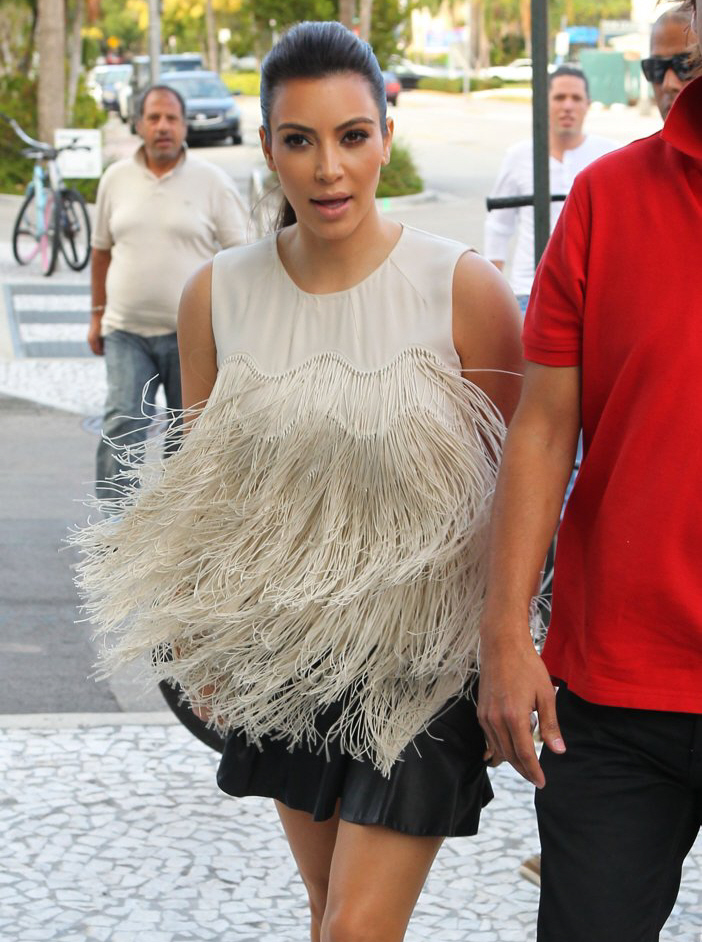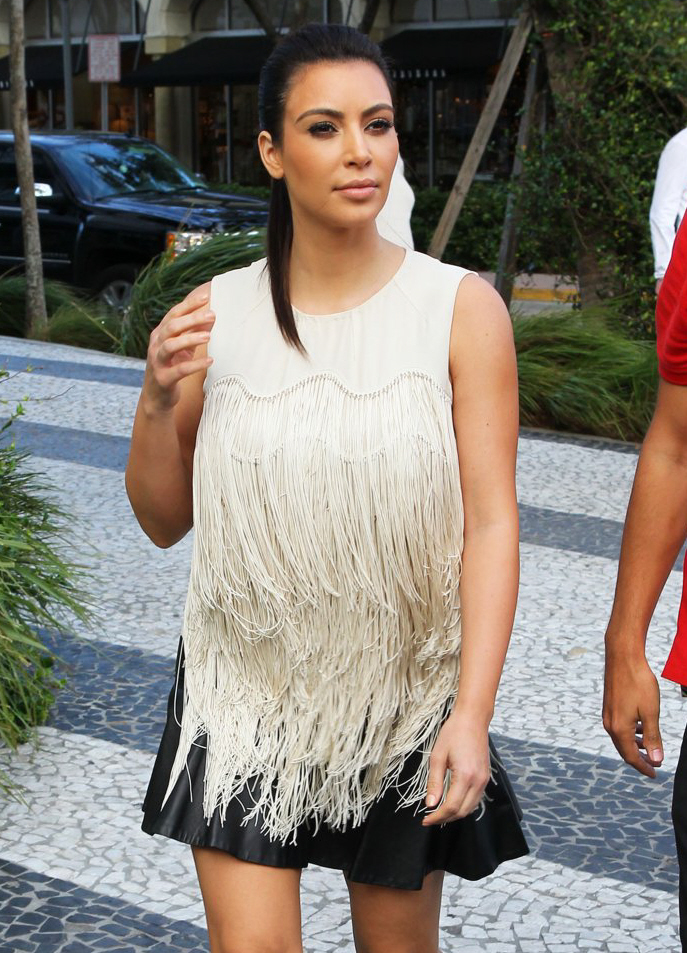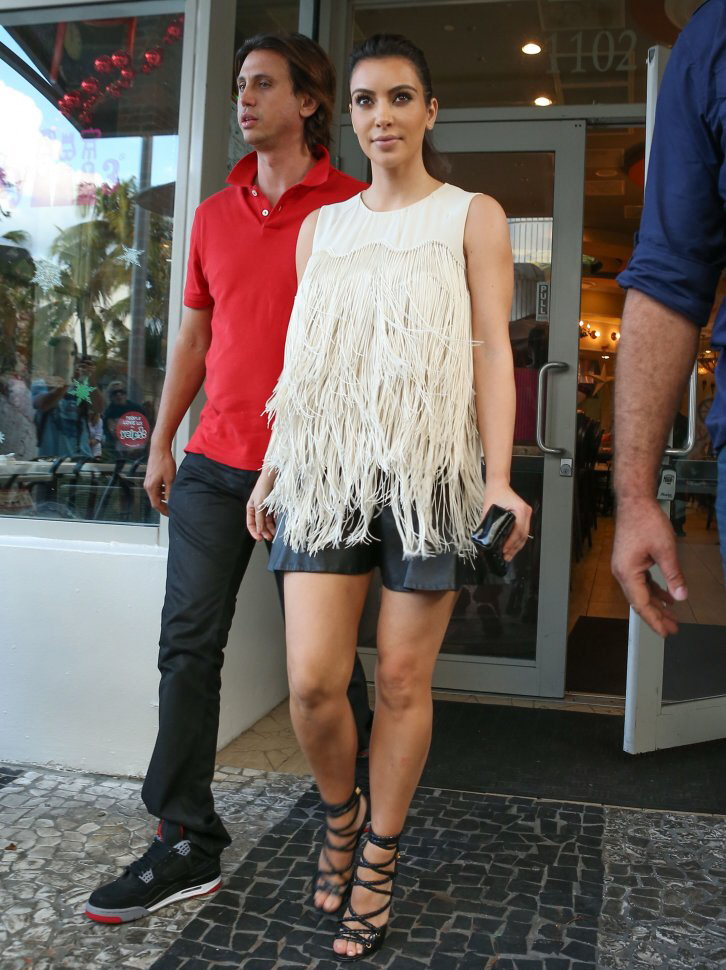 Photos courtesy of Fame/Flynet.