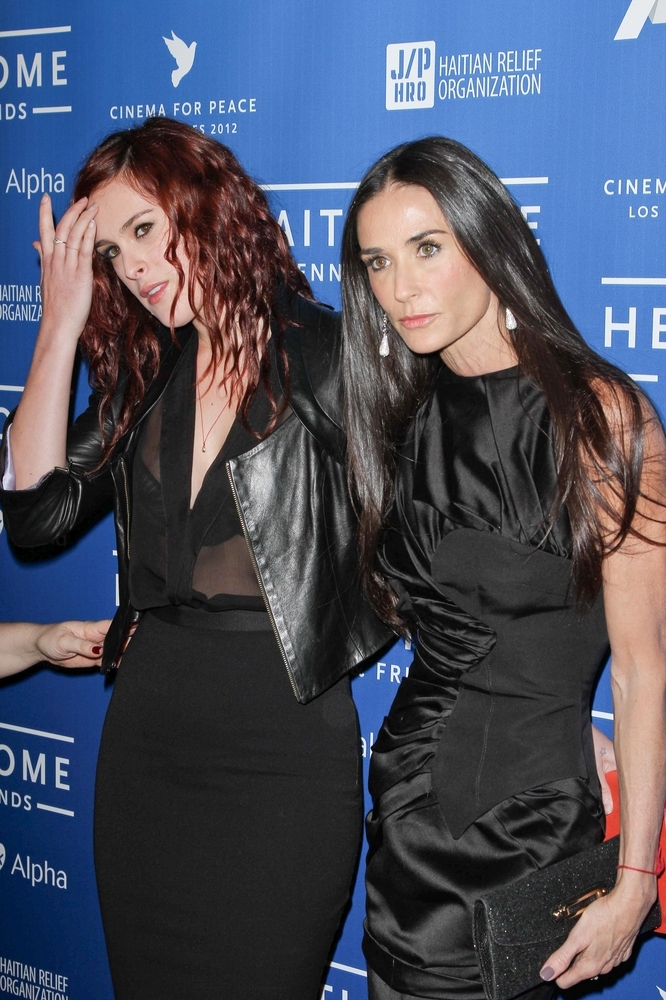 We heard just last week that ultimate sad cougar Demi Moore, 50, was dating a 26 year-old art dealer named Vito Schnabel, the son of painter Julian Schnabel. (At 61 Julian Schnabel is closer in age to his son's new romantic interest. But of course the elder Schnabel has a 30 year-old model girlfriend, go figure.)
Anyway Demi was seen grinding all over young Vito at a celebrity party, and they've been "quietly spending time together" if that's what you call it when Demi makes sure the press know every detail about her love life. It turns out that Demi's daughter Rumer, 24, is in the same social circle as Vito and is said to be very concerned about her mom's new relationship. This of course has made the already-strained relationship between Rumer and her mom much worse. Here's more, thanks to Hollywood Life:
Demi Moore is back in the game, putting her failed marriage to Ashton Kutcher behind her and moving on with 26-year-old hottie Vito Schnabel. There's just one problem: Vito is friends with her 24-year-old daughter Rumer Willis — and according to a new report Rumer is not happy that her mom is dating her peer!

Fifty-year-old Demi first met Vito in November when they both attended a birthday party in India, where they spent the night dirty dancing. Now things are heating up, as it looks like she will attend Vito's annual Dom Perignon party in Miami on Dec. 6. However, there is one person who is not happy with Demi's budding romance, and that is her daughter Rumer, 24, as she and her sisters Scout, 21, and Tallulah, 18, know Vito well.

"Rumer was pretty annoyed to hear any of it because all of them know Vito," a source tells People magazine. "They have friends in common. It's too close to home."

Demi has had a strained relationship with her daughters as of late, as they felt neglected following her emotional breakdown after her marriage ended.

"Demi's trying [to mend their relationship]" the source adds, though we'd argue that dating her daughter's friend isn't the best way to do that.
Note that Hollywood Life's source is People Magazine, which probably got this news straight from Rumer's people. I think HL is overstating it by calling Rumer and Vito "friends" when People just states they were in the same social circle. This sounds totally likely. Can you imagine your mom or dad dating someone you sort-of knew who was right around your age? It would take a lot of getting used to, especially if you didn't have the best relationship with that parent to start with. Then again, Rumer's dad Bruce Willis was 54 when he married the 30 year-old model, Emma Hemming. I have to play devil's advocate for a moment – Demi's age difference with her new beau is nearly the same as Bruce and Emma's. It just probably stings Rumer more because she sort-of knows Vito. This is just going to push Demi and her daughters farther apart.
Vito with his dad in August. Credit: WENN.com. Demi is shown with Rumer in January. Credit: PRPhotos