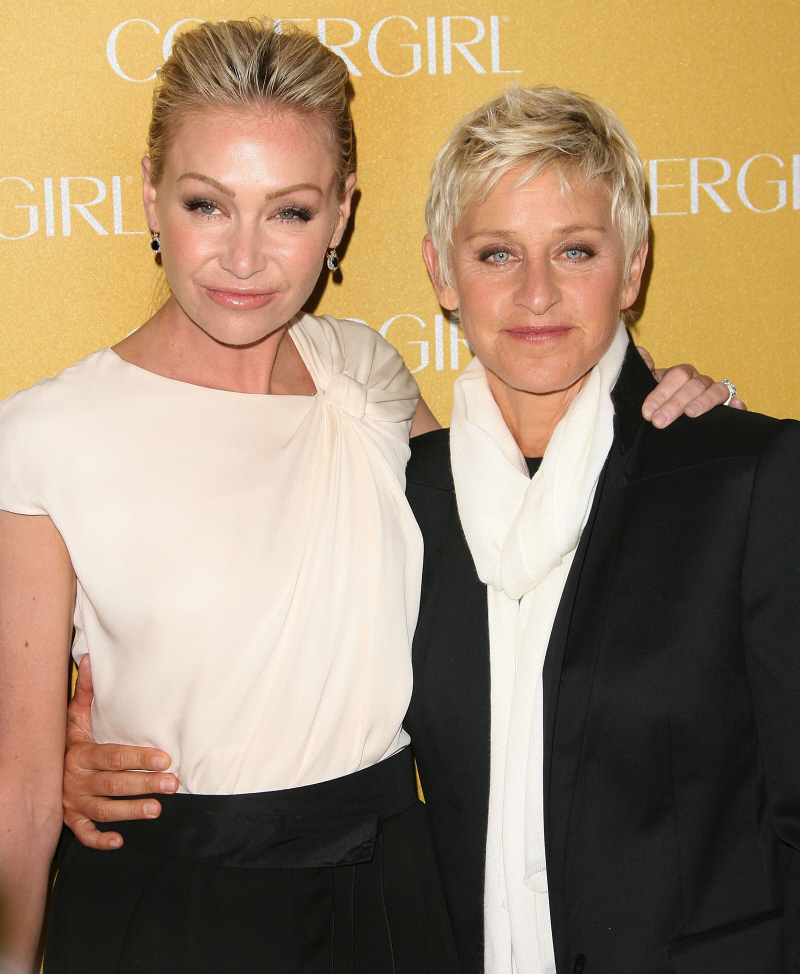 You know what I kind of love? I love that the tabloid/celebrity/media culture has quickly accepted that gay couples are exactly the same as straight couples as far as potential for drama/controversy/scandal etc. I kind of like that Ellen DeGeneres and Portia de Rossi aren't "above" getting some juicy breakup rumors, and that they're not put on some pedestal as "the lesbians who are perfect because they have to be because they are the representation of all gay couples who want to get married." Because real life is complicated, and gay married couples have drama in their marriages too, and why not talk about it? The Enquirer says Ellen and Portia are having problems. Sure. I'll believe that:
Ellen DeGeneres is now TV's highest-rated and most beloved talk-show host – but her incredible success is destroying her marriage to Portia de Rossi! Insiders say Ellen and Portia are being driven further and further apart as Ellen's career continues to soar to new heights.

"Sadly, Ellen and Portia's relationship is quickly becoming just another typical Hollywood cliché," a source close to the couple told The ENQUIRER. "The more success and wealth they accumulate, the deeper the wedge between them."

As The ENQUIRER REPORTED in June, Ellen, 54, who rakes in a reported $45 million a year, has become obsessed with purchas­ing real estate as a way to fill the void in her relationship with Portia, 39. A year ago, she shelled out $12 million for Brad Pitt's former Malibu home – then sold it in August for $13 million. She also dropped another $18 million for an 8,500-square-foot mansion in Beverly Hills after selling her massive estate, also in Beverly Hills, to Ryan Seacrest.

"Ellen is grasping at straws in her desperate attempt to keep Portia happy by amassing all of that wealth, but it's becoming blatantly obvious that it's forcing them further apart," said the source.

"At this point, the only thing that's going to save Ellen and Portia's relationship is to find a way to make Ellen's success secondary to what really matters – their love for each other."
Gossip Cop has a competing "source" who claims that Ellen and Portia are "completely happy" and the Enquirer is made of lies. I'm prepared to accept something in between, but maybe that's just coming from a place of me always liking Ellen more than Portia. Though I will always have a soft spot for Portia because of Arrested Development, she's become something resembling a lesbian trophy wife. She looks 'Toxed and blitzed most of the time, and she bugs. Maybe she's super-supportive of Ellen and maybe they're totally making it work, but I would guess that they have problems. Just like everybody else.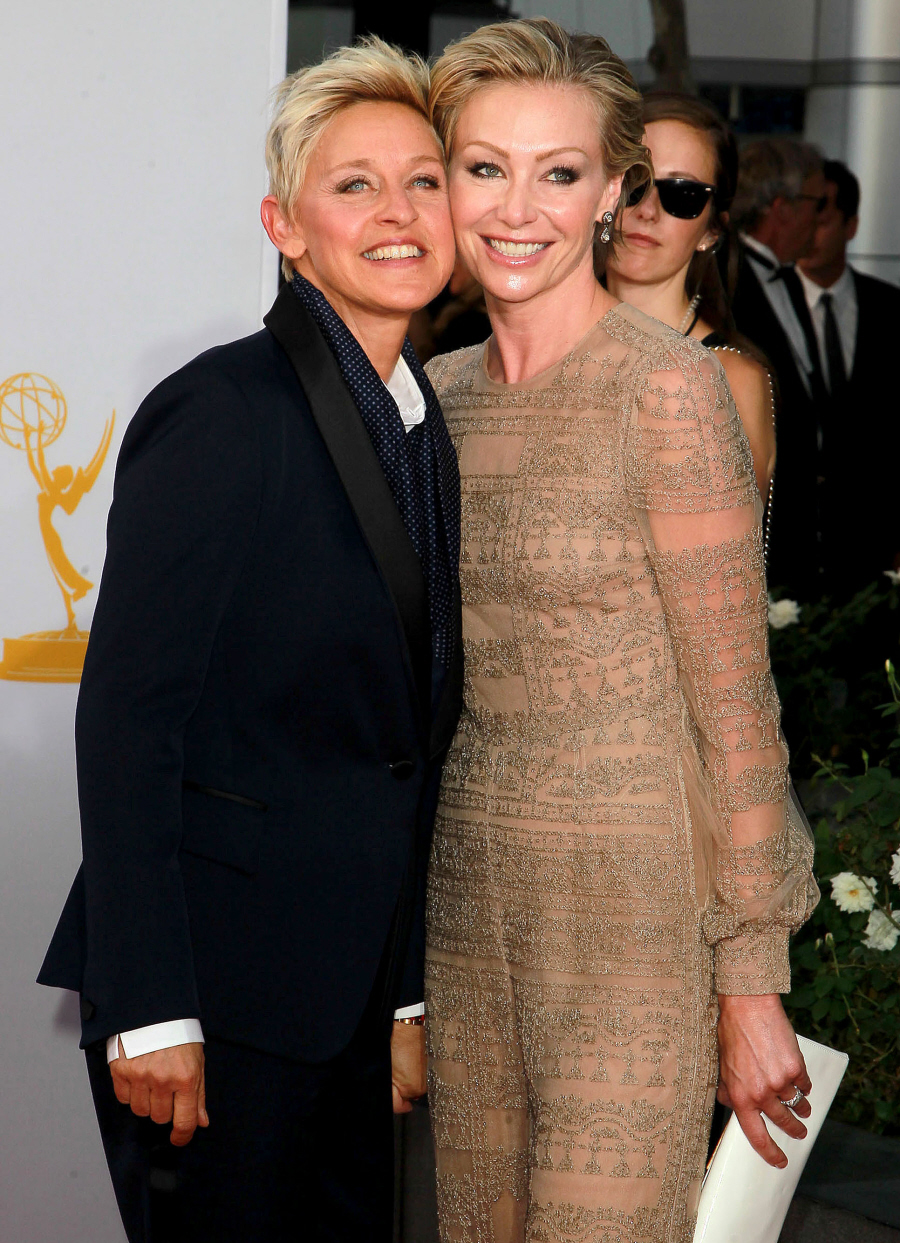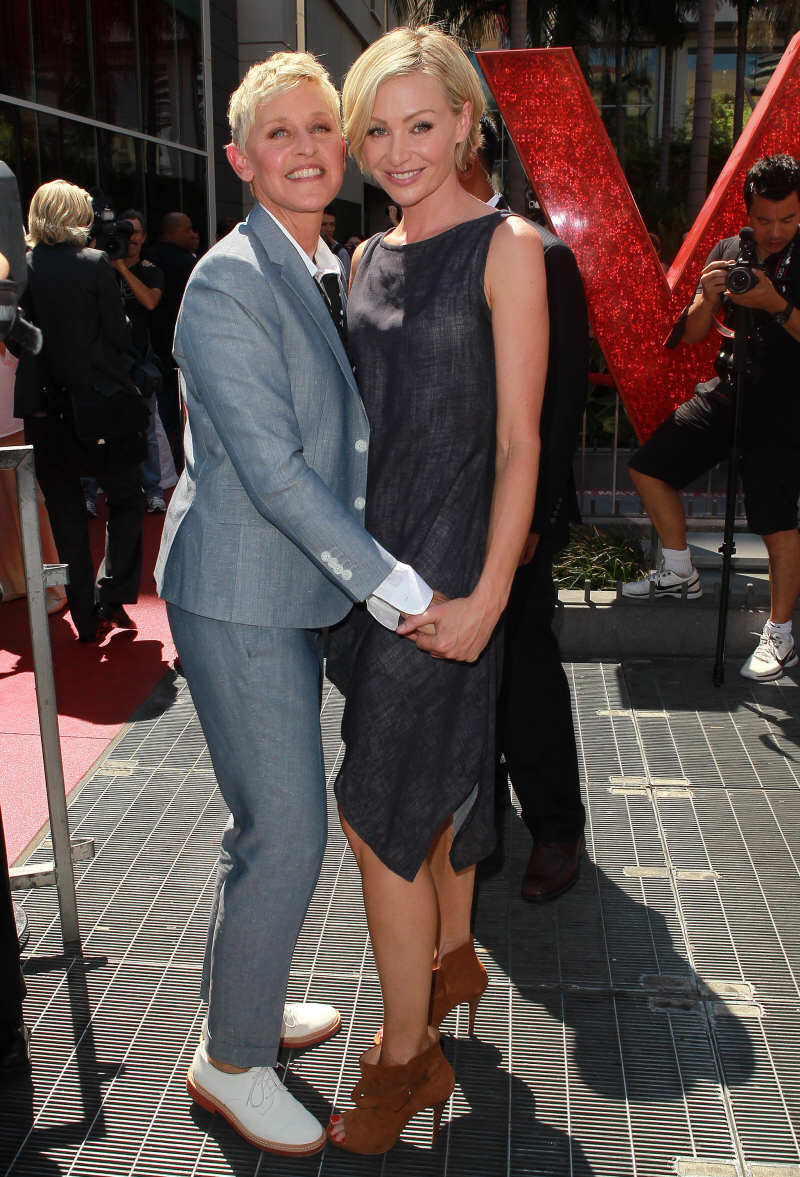 Photos courtesy of WENN.