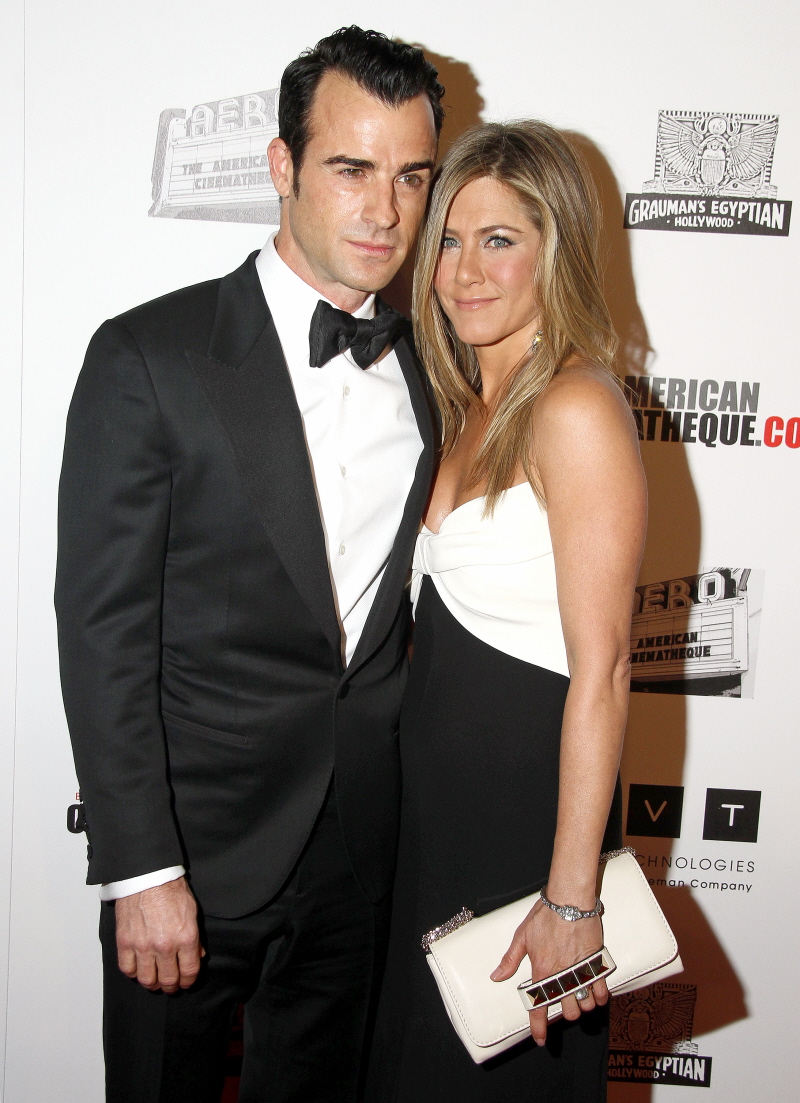 My goodness, this current round of "Jennifer Aniston is pregnant, for real real real REAL this time" is really happening. I have a theory to explain it, actually. Something similar happened last year around this time, and I allowed myself to be dragged into the speculation, even feeding the speculation at one point. My theory is now that Jennifer just liked to "hibernate" during the holiday season. She barely goes out, and when she does, she dressed in layers, and everyone freaks out and cries "BABY BUMP" when she's just wearing a bulky sweater. Anyway… The Mirror (UK) claims that Jennifer has broken up with sushi and booze. Obviously, that means she's knocked up.
Jennifer Aniston raised eyebrows at her engagement party with fiance Justin Theroux, 41, last Sunday, when she passed up on the chance to enjoy her favourite alcoholic drinks and stayed well away from the raw fish on the giant sushi platter. The actress has also cleared some of her work for next year from her schedule.

And now these pictures of Jen wrapped up in bulky clothes have emerged, many people Stateside believe she'll be making an announcement any day now. At 43, Jen's biological clock has been ticking louder and she will finally catchup with her old Friends Courteney Cox,48, who has an eight year old daughter, Coco, and Lisa Kudrow, 49, who has a 14-year-old son, Julian.

Jen and Justin are due to marry at the end of the year after getting engaged in August, so any potential addition can only be an added bonus.

A source said: "Jen loves a party, so it was definitely noticed at her engagement event that she was only on water. People have also been commenting on her changing her work plans for the foreseeable future – she said it was to concentrate on planning the wedding and to be closer Justin, but now it's being suggested it's to make way for a baby. It would be a fantastic piece of news for the couple to end the year on – she seems so happy recently."

Jennifer pulled out of her involvement in the film Getting Rid of Matthew last month and now it's been reported that she no longer will be appearing in Miss You Already, which was due to be filmed in London.

Jennifer has previously said she can't wait to be a mum: "I'll be singing from the mountain top. Let me have the moment where I get to say, yes, in fact, I'm having a baby. I just want to say, "Everybody, relax! It's going to happen"."
If and when Jennifer gets pregnant, her people won't be leaking to The Mirror. I'm just sayin'. A "well-placed source" (and that's exactly what he'll be called) will tell People Magazine that Jennifer is "glowing" and "she's been looking even more beautiful lately" and that "friends wonder if something is up." That's the way her team writes this crap. Anyway, if she is knocked up, God bless. If she isn't, she really needs to stop playing this f—king game.
Also, did you know that Aniston is a horrible daughter? True story, at least according to Star Magazine:
Jennifer Aniston's mom has been in the hospital for over a month, but the former Friends actress still hasn't found time to call or visit and see how she is feeling, according to a new report in Star magazine.

As RadarOnline.com previously reported, Nancy Dow was admitted to Glendale Memorial Hospital and Health Center on Nov. 6 after breaking her shoulder in a nasty fall. During surgery, the 76-year-old suffered a stroke, her second in just over a year, and she's said to be in a very fragile state.

But, as of yet, Jennifer, 43, has reportedly shown little concern over her mother's recovery, a source tells Star.

"She hasn't talked to or visited Nancy once since she was admitted," the family friend told the magazine. "She should've been there for the shoulder surgery alone! And the stroke is really serious. Nancy is an old lady, and she's very sick; it's breaking her heart that Jen is ignoring her."

The pair had a very public and bitter falling out in 1999 after Nancy released a tell-all book about her strained relationship with her movie star daughter. Jennifer branded the memoir "a mistake" while Nancy said it was a "healing exercise."

They were estranged for six years until Jennifer's heartbreaking split with Brad Pitt saw them briefly reconcile.
I've said before that I don't think Aniston is in the wrong for keeping her mom at arm's length. Her mom seemed like a piece of work, and Nancy's screwed-up, Dina Lohan-esque parenting style probably still affects Jennifer to this day. I mean, of course Aniston should make more of an effort nowadays, with her mom having so many medical problems. But it's a complicated relationship, and I'm not going to slam Aniston for it.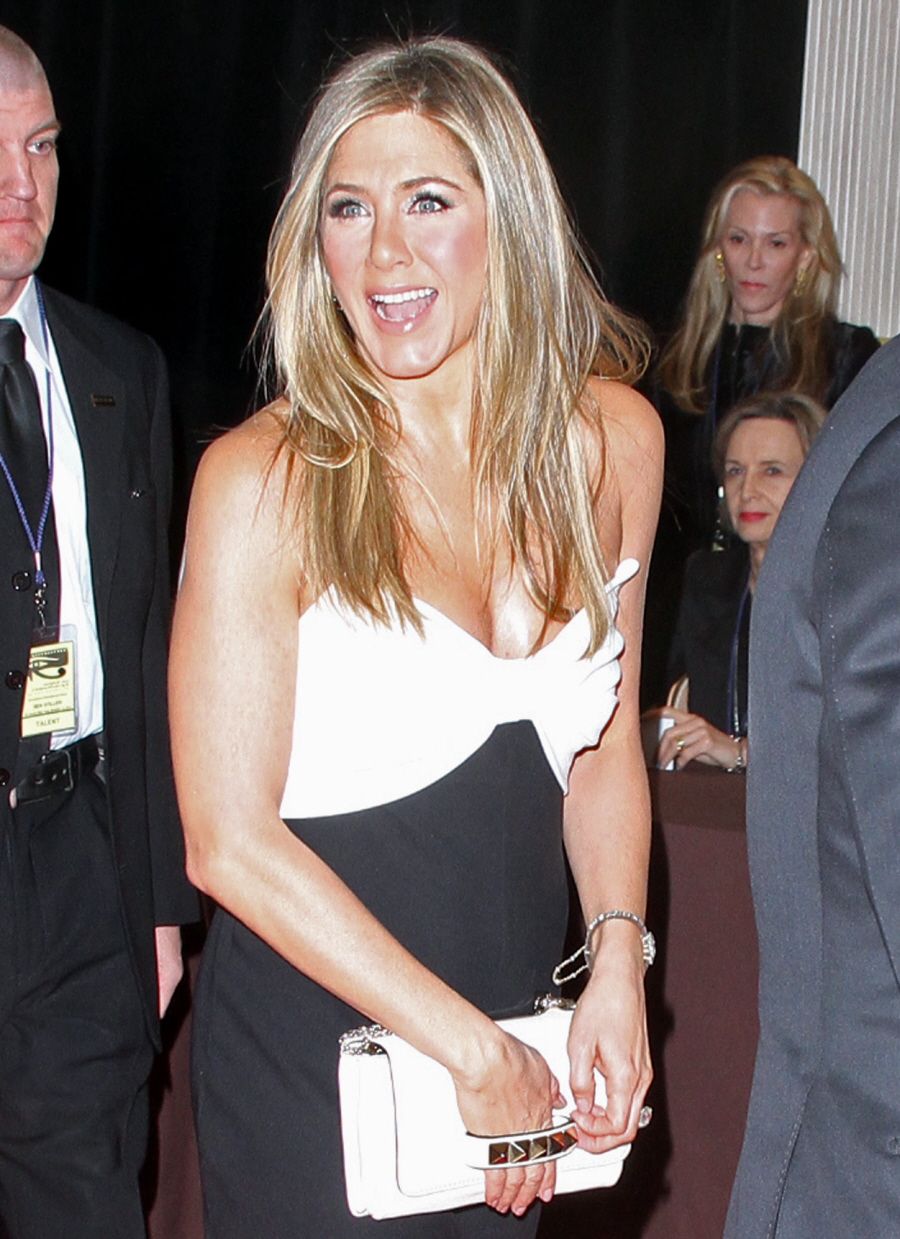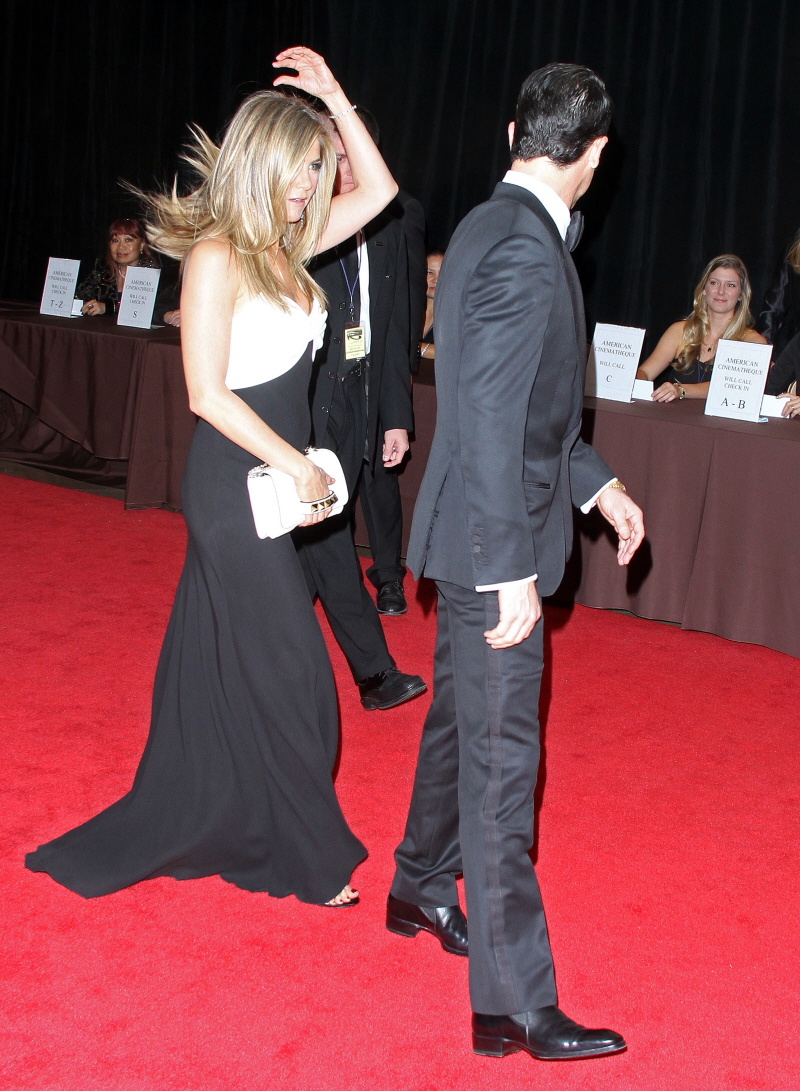 Photos courtesy of WENN.