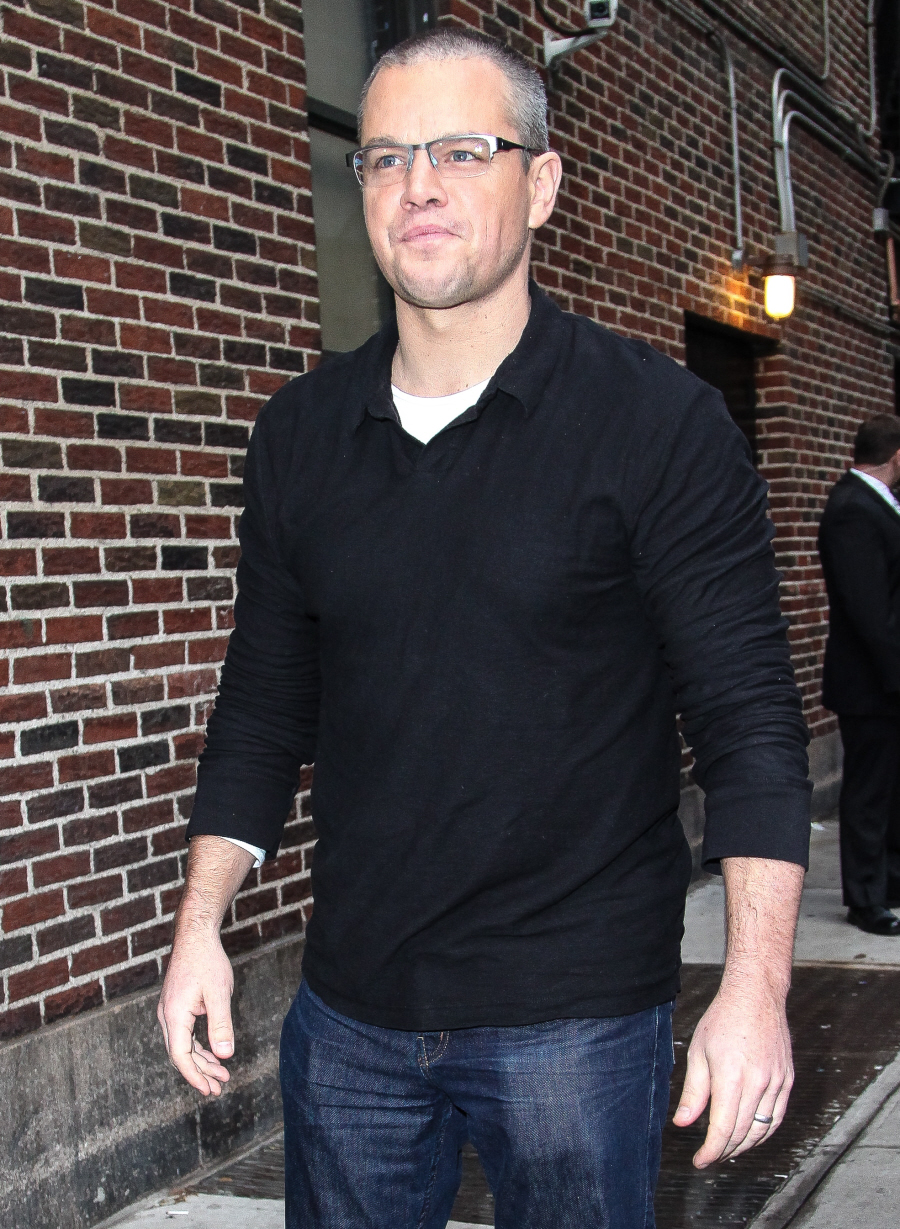 You know that Matt Damon is CB's Forever Dong, right? True story. What I feel for Michael Fassbender, she feels for Matt Damon. It's a heady mix of lust, longing, stalker-obsession and general warmth. So you might ask yourself, "How is it that you came to write about CB's Forever Dong? Wouldn't you try to cut a bitch if she tried to write about Michael Fassbender?" Excellent questions. I'm writing about Matt because CB is in the midst of some holiday traveling, and because she can't slut-shank what she can't see. I'm actually a big fan of Damon, I just never get to write about him because CB is always like "MINE MINE MINE!!"
So Damon has a new, long, extensive, HARD interview (I'm so hot right now) in Playboy's January issue. He's promoting Promised Land (the anti-fracking film) and Beyond the Candelabra, that HBO movie where he plays Liberace's long-time, live-in lover. Liberace is played by Michael Douglas. So, if you want to stay hot when Matt Damon is talking about "straddling" and "kissing" Liberace, just replace Michael Douglas with Javier Bardem or Benedict Cumberbatch in your mind. My general thought on the interview? It's really, really good – Matt is a delightful interview. But he is a shameless name-dropper. He name-checks EVERYBODY. You can read the full Playboy piece here and here are some highlights:
On Tom Cruise in Mission: Impossible Ghost Protocol: "Seeing Tom Cruise running down the side of that building was the most incredible thing. I went, "Okay, you win. You are the greatest of all time." He didn't just appear to do it for the movie; he actually did that. I, literally, could never do that."

Raising his daughters: "I don't know, but Lucy and the girls can definitely bring me to my knees. They just know. My wife gives me s–t because it's harder for me to discipline my girls, probably because they're girls. With boys, I could relate more and it would probably be easier. Growing up, girls are so mysterious to us. Even as a grown man, they remain mysterious. My kids came into the world with a kind of hyper obsessiveness and stubbornness that I know I have. I've always been competitive. I used to be out-of-control competitive, like when I was playing games, maybe because I grew up with my brother, Kyle, who is three years older. I was always smaller, and it was harder for me to win."

His fans and signing autographs: "I've never had a woman say, 'Sign my ass,' but I've drawn the line at autographing women's skin. The people who are crazy enough to throw themselves at you tend to be so young that I'd be way too old for them. The ones who are slicker are probably interested in somebody else anyway. Besides, the narrative about me kind of goes, "He's a boring married guy," which is great, because I don't get any of that other stuff like Brad Pitt and George Clooney do. Lucy doesn't have to worry anyway."

He's been with Lucy for 10 years: "This is the first relationship I've had that wasn't like work to be in. I never knew it could be like this. There's always stuff you can work on, of course, but being married and having kids, for me, there's a lot of romance, but it's a much bigger endeavor with a lot of nuts-and-bolts problem-solving you have to do together. It's like building a company.

He's not good with romantic gestures: "No, I'm sh-tty at that. I wish I were better because my wife deserves somebody who surprises her with a gift or flowers or some wonderful idea. I've never been good at that, and she's really good at it, which makes me feel even more like sh-t."

The roles that got away: "Having to say no to Avatar was tough because I particularly wanted to work with James Cameron, and still do, because he's fantastic. He knew he was the star of that movie and that everyone was going to go see it anyway. When he said, "Look, I'm offering it to you, but if you say no, the movie doesn't need you," I remember thinking, Oh God, not only do I have to say no because of scheduling, but he's going to make a star out of some guy who's going to start taking jobs from me later. Milk was another hard one because I was excited it would have been for Gus Van Sant, and I would have had the chance to do scenes with Sean Penn. They pushed the schedule and it ran into the slot for Green Zone. Steven Soderbergh's mantra is "The movie gets the right person; the right actor gets the part," but I was like, "Sh-t, no. That was my part." But when I saw Milk, Josh Brolin was so f–king good that I knew Soderbergh was right. Way back, Gus and I talked about my doing Brokeback Mountain with Joaquin Phoenix, but I had just done The Talented Mr. Ripley and All the Pretty Horses, so I said, "Gus, let's do it in a couple of years. I just did a gay movie and a cowboy movie. I can't do a gay cowboy movie now." The right actor got the part. Heath Ledger was magnificent."

He voted for Obama again after being critical of Obama's first term: "Definitely. I assume there will be some Supreme Court appointments in this next term; that alone was reason to vote for him. I don't think I said anything a lot of people weren't thinking. It's easier now more than ever in my life to feel the fix is in, the game is rigged and no matter how hard you work to change things, it just doesn't matter."

On moving to the same neighborhood as Ben Affleck and Jennifer Garner: "We lived in the same neighborhood this summer and had no problems at all. Granted, we didn't look for attention by parading our kids down the Third Street Promenade in Santa Monica, but scandal and sex are what move most of those publications anyway. That's not us. Ben and Jen are both famous, and people are interested in her and how she parents, which makes them a target. If we had gotten it like that, I wouldn't have gone to Los Angeles. It's just not worth it."

Nudity and playing Liberace's lover: "Well, normally I'd say no to nudity, but I just did a lot of it playing the long-term partner of Liberace, Scott Thorson, in Behind the Candelabra. I mean, it's tastefully done. Steven Soderbergh directed it, and Michael Douglas plays Liberace. But this movie's not going to be for everyone. These two men were deeply in love and in a real relationship—a marriage—long before there was gay marriage. That's not an insignificant thing. The script is beautiful and relatable. Their conversations when they're dressing or undressing or having a spat or getting ready for bed? That's every marriage. It feels like you're witnessing something really intimate you would normally see with a man and a woman, but instead it's two men, which was thrilling. There's stuff I think will make people uncomfortable. Great. It's HBO—they can change the channel."

Doing gay sex stuff: "We both have a lot of gay friends, and we were not going to screw this up or bulls–t it. It wasn't the most natural thing in the world to do, though. Like, for one scene, I had to come out of a pool, go over to Michael, straddle him on a chaise longue and start kissing him. And throughout the script, it's not like I kiss him just once. We drew it up like a football plan… I remember asking Heath Ledger after Brokeback Mountain, "How'd you do that scene with Jake?"—meaning the scene where they start ferociously kissing. He said, "Well, mate, I drank a half case of beer in my trailer." I started laughing, and he goes, "No, I'm serious. I needed to just go for it. If you can't do that, you're not making the movie. Michael was a wonderful kisser. My concerns ended up mattering a lot less once we were filming. The dynamic between the men was complex and interesting. Liberace was very powerful and adored, a great showman making $50,000 a week doing his act in Vegas. Scott was much younger and grew up in foster homes, so there was a lot to play."

Gay rumors and supporting the gay community: "I never denied those rumors because I was offended and didn't want to offend my friends who were gay—as if being gay were some kind of f–king disease. It put me in a weird position in that sense. The whole thing was just gross. But look, there have been great signs of progress—the fact that Anderson Cooper and Ellen DeGeneres can come out so beautifully and powerfully, and it's a big f–king deal that it turns out nobody gives a s–t. If Liberace were alive today, everybody would love his music and nobody would care what he did in his private life. Like with Elton John."
He's pretty awesome, right? There's a lot to analyze but this post is already crazy long, so let me just say: I buy that Matt is actually friends with all of the people he name-drops, but he still might want to keep the Goopy-esque name-drops to himself sometimes. And I think he knows that Ben Affleck and Jennifer Garner like to be pap'd, especially when they have something to shill, and I think it bugs him. Oh, and the dude loves his wife. Sigh… perfection.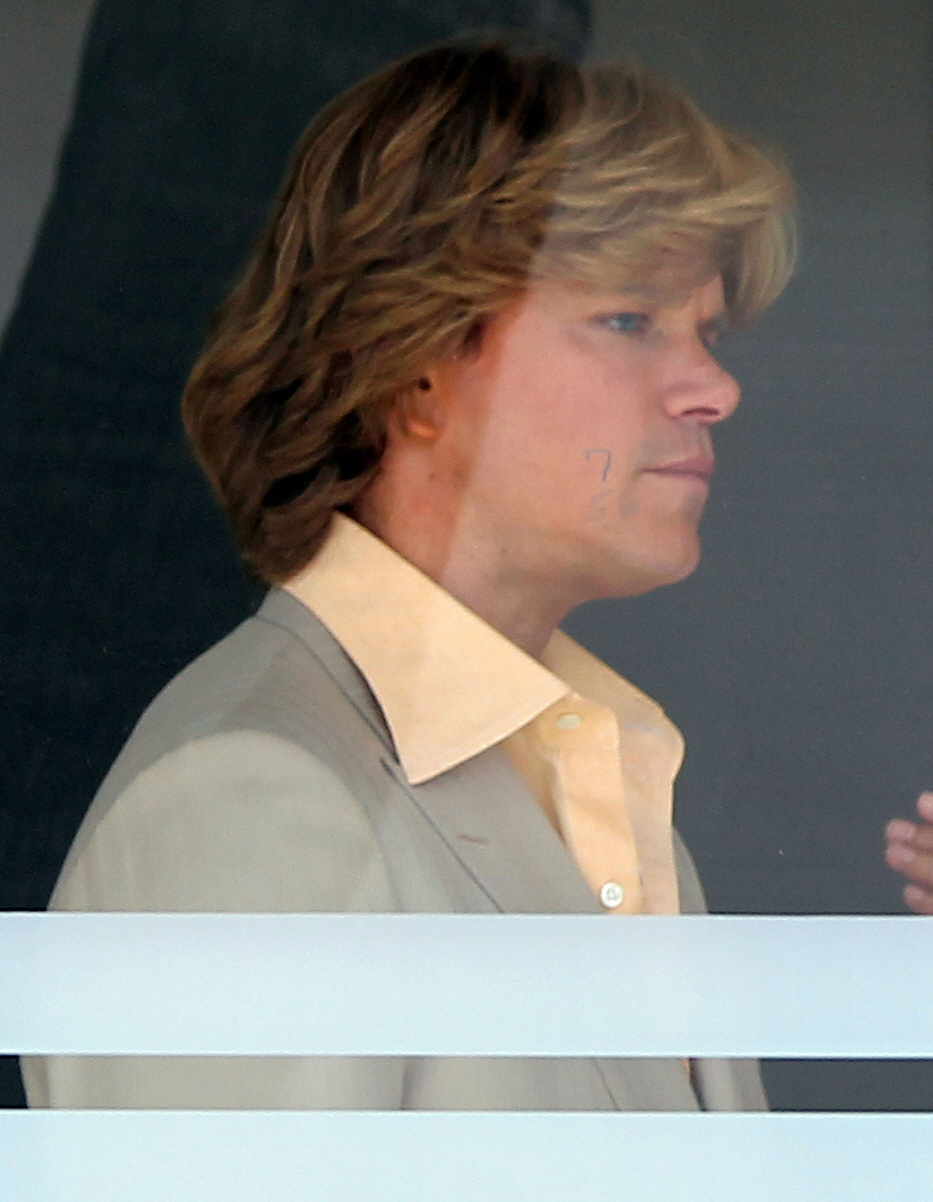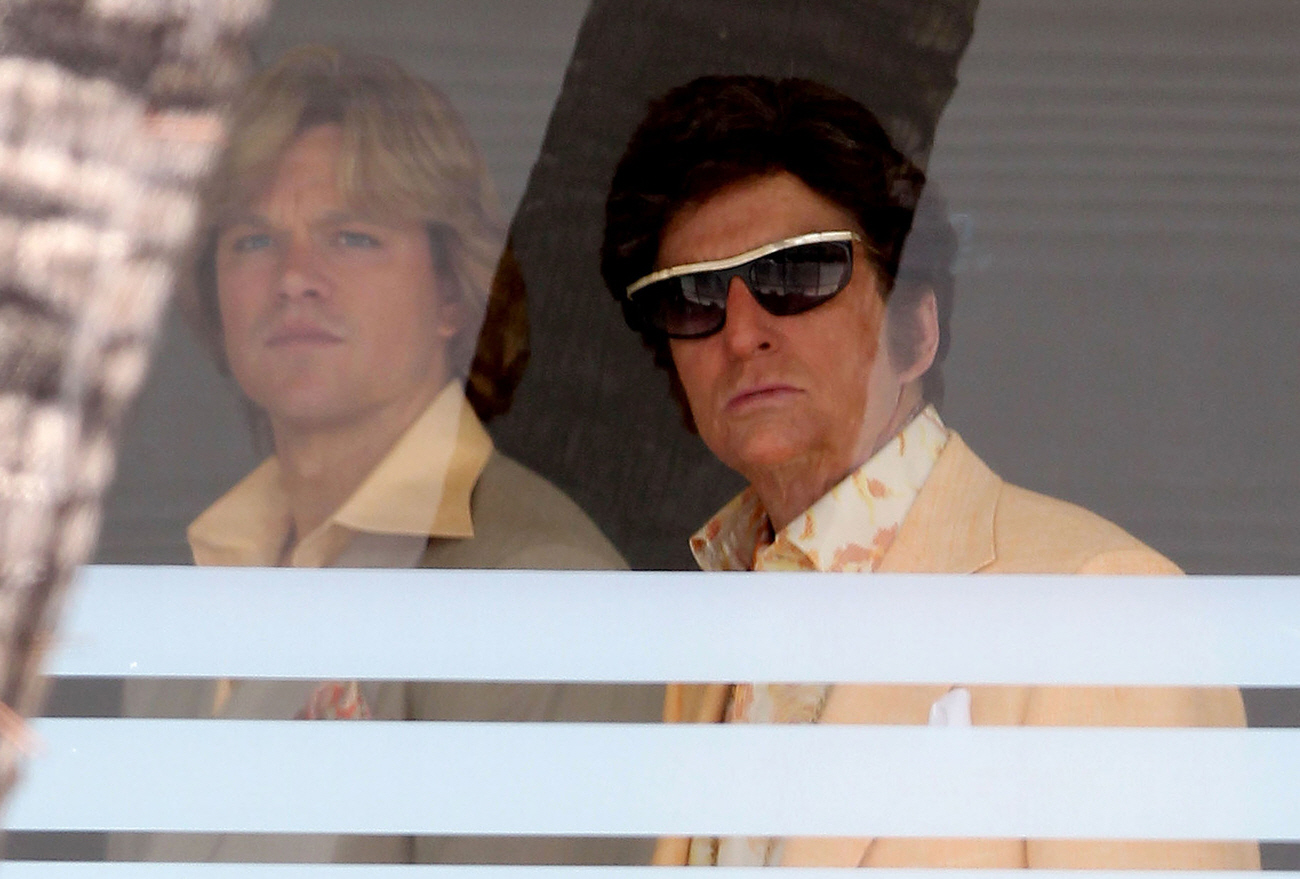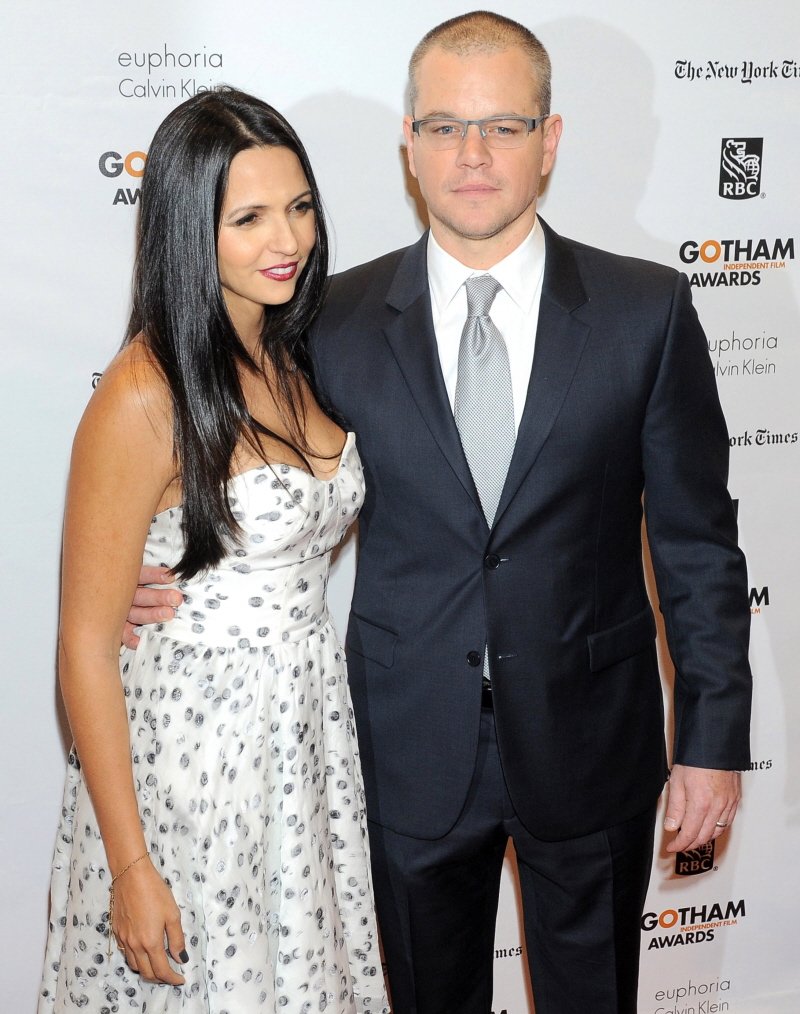 Photos courtesy of Pacific Coast News, Fame/Flynet and WENN.