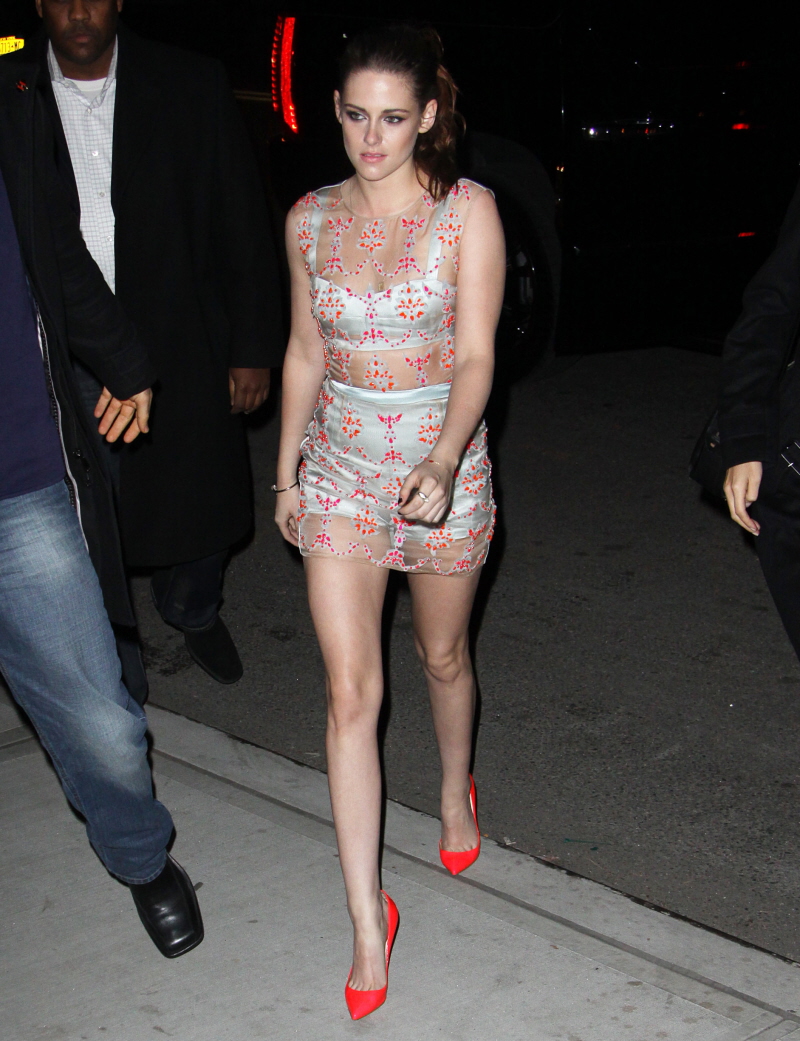 As many of you noted last week, poor Kristen Stewart failed to receive SAG or Golden Globe nominations for her role in On the Road. TWI-SOB! I'm not sure if Kristen was really in the running for a SAG nomination or anything, but I do think she was probably angling for a Globe nomination – the girl did TWO Hollywood Foreign Press events in the span of a month, you know? She was definitely angling for something. Unfortunately, the HFPA decided to recognize Nicole Kidman's performance in The Paperboy rather than reward the wanton trampire. Sexism! Or something. Anyway, Hollywood Life's "exclusive" sources claim that Kristen is sad that she didn't get a Globe nomination but that she's determined to do better next time:
Kristen Stewart may be the star of Twilight but that's not enough for her. The actress feels her On The Road performance was snubbed because she wasn't nominated for a Golden Globe, HollywoodLife.com is exclusively reporting.

"Kristen, like any actor or actress, wants their work respected and rewarded," a source reveals to HollywoodLife.com. "Not being honored with a nomination has just lit a fire under her to be work even harder in the future."

Our source, who's an insider in the movie industry who thinks Kristen a talented actress, goes on to add that "all the [nominations] haven't been announced for other awards shows, so she may have missed the Golden Globes, but that doesn't mean she has missed out on everything else."

The Snow White and the Seven Huntsman star is currently working on the new movie Focus, about a veteran grifter who takes a young, attractive woman under his wing but things get complicated when they become romantically involved.
It would be easy to mock Kristen and say that she had delusions of grandeur, but honestly, I really do wish she had gotten a Globe nomination just for gossip's sake. Plus, maybe I'm becoming jaded and cynical or something, but I'm really tired of seeing the same list of actors nominated time and time again. The HFPA, the SAGs AND the Oscars need to get better at nominating younger people and emerging talents.
Meanwhile, would you like to have a healthy dose of Twi-dramz? HL also reports that Kristen "begged" Robert Pattinson to come to NYC with her this past week (as she promoted On the Road), but he outright refused! A source says, "Of course Kristen wanted Rob to be there with her. Kristen asked Rob repeatedly to go with her, she was practically begging. They always supported each other at their respective projects. They always went to each other's premieres, but this time was different. She was very upset about it." So what was the big deal? Rob isn't sure about their future, apparently: "Rob and Kristen still fight, he really doesn't know if he can trust her. He didn't want to make some grand gesture of showing up to her premiere and let alone walk the carpet with her if he's not sure about their future." And that's not all! HL also says that Kristen was angrily texting Rob after the premiere:
Kristen Stewart attended a screening of her new film On The Road in NYC on Dec. 13. Afterwards, she spent the night with her co-stars at the Boom Boom Room in The Standard Hotel, and her iPhone was glued to her hand all night! Was she texting Robert Pattinson to guilt him for not attending the event with her? Read on to hear ALL the EXCLUSIVE details from the after party!

Kristen attended the after party in The Standard's fancy roof top bar, and she was joined by her co-stars Garrett Hedlund, Sam Riley and Kirsten Dunst. However, Kristen initially chose to keep to herself.

"Kristen arrived around 11pm and she sat in the corner at a reserved table with a group of friends," says an onlooker. "She posed for quite a few photos with fans; she seemed really nice. She was wearing boots, jeans, a vest and a black hoodie. When she went outside to smoke, she put on her leather jacket. She had a white iPhone in her back pocket, which she took out several times to check, and she seemed to be texting a lot."

Kristen seemed to be having a pretty good time, all her personal worries aside.

"She just had one drink – Grey Goose vodka and cranberry juice," says the onlooker. "Then, she was drinking water. She was chatting and being friendly with other people who worked on the movie, including Walter [Salles] and some crew members and Beatnik scholars."
I have several theories. One, Kristen and Rob are close to a breakup because he's over it. Two, Rob realized that Kristen was trying to take the power back in the relationship by acting like a moody bitch, so now HE is trying to out-moody-bitch HER. Third theory: Kristen wasn't even angrily texting Rob. She was texting some other dude. Maybe Rupert Sanders. God knows.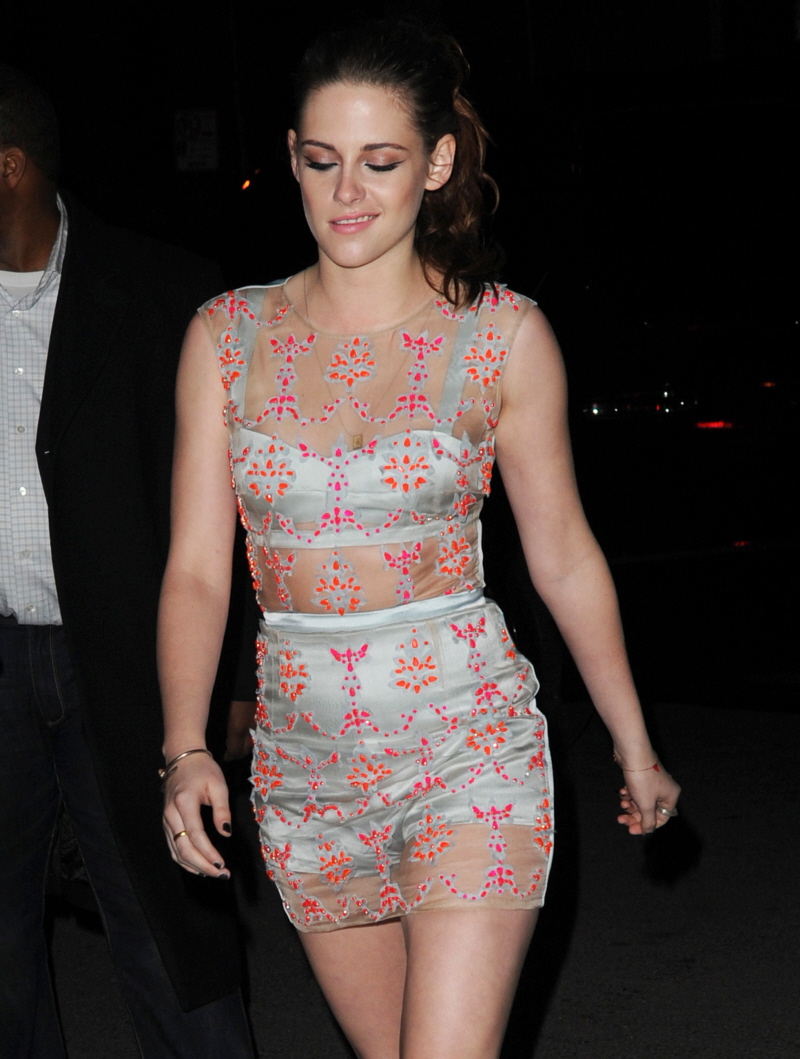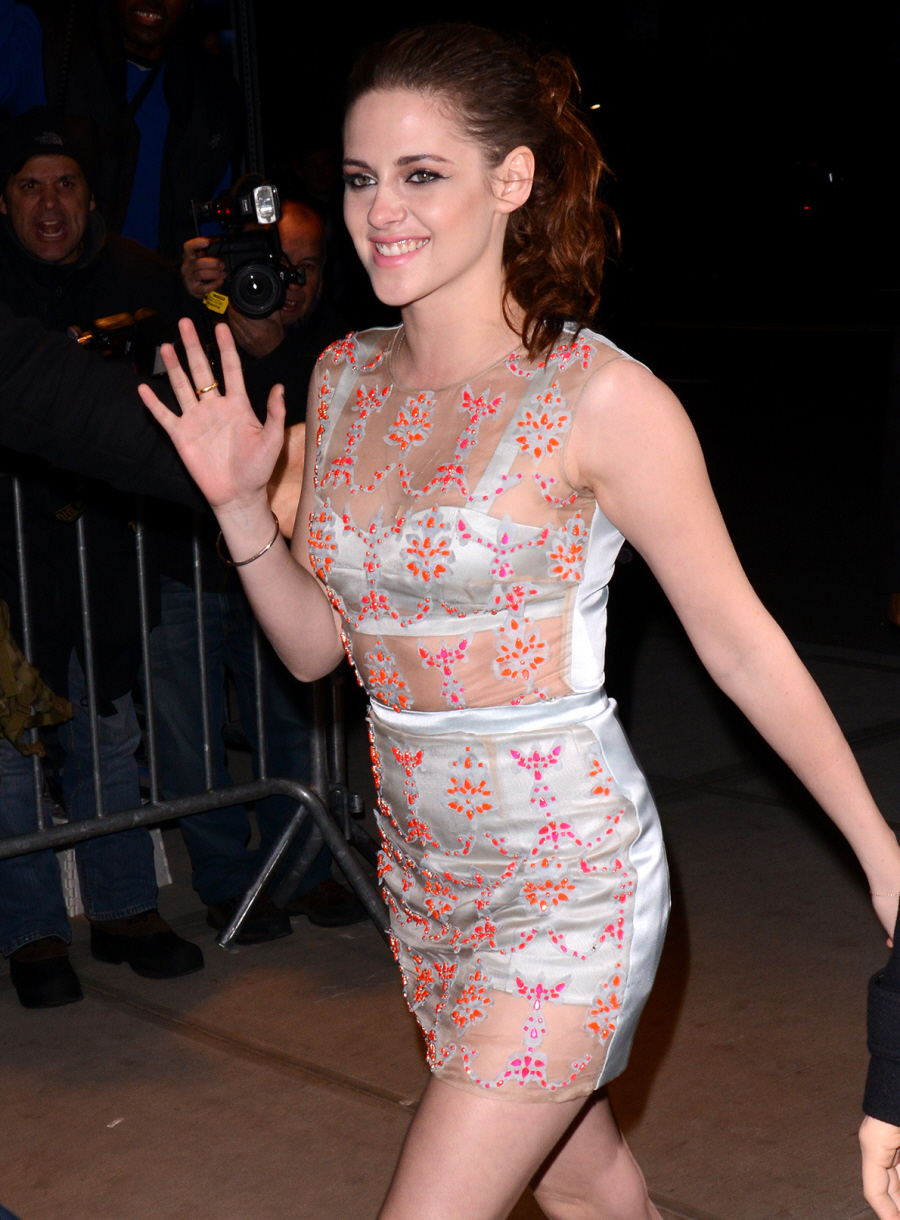 Photos courtesy of Fame/Flynet and WENN.