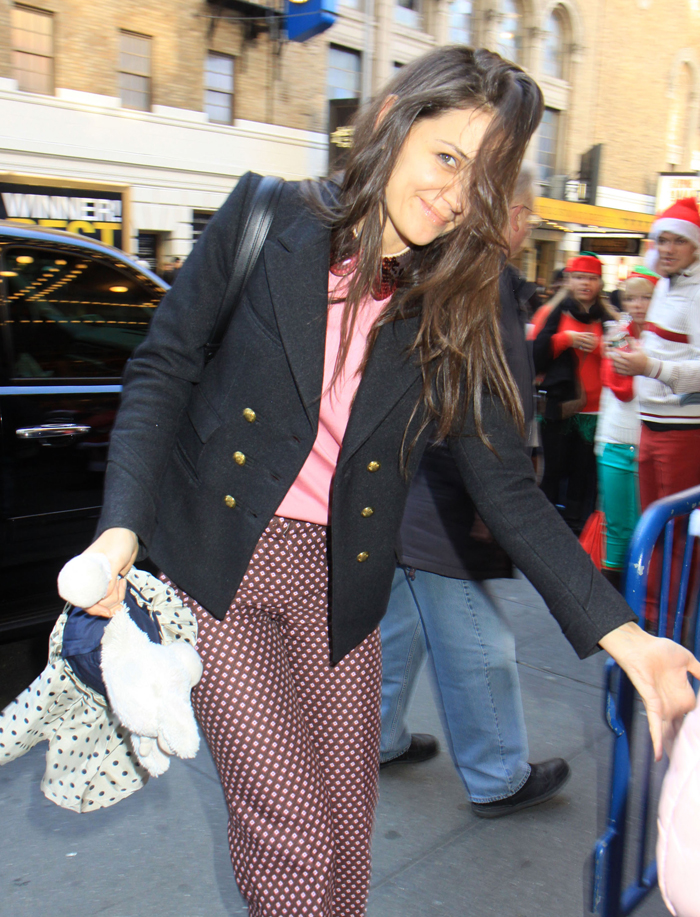 Year-end lists are due to start pouring in at any moment, and these lists generally mean nothing at all but are fun to talk about from a gossip standpoint. For once, I'm actually not looking forward to the year-end movie lists because I've seen very few movies this year that are worth bragging about at all. It's been a decent year for popcorn flicks though, and it would make me sound very unintelligent to talk about how The Avengers kind of rocked my year, so I won't go there right now. Even though I just did. Dang.
These are some photos of Katie out and about with Suri in New York City over the past week. Katie's butt looks pretty cute in these pants, right? Now (the most recent) ex-Mrs. Tom Cruise been named "Best Revenge Body" in the wake of her very dramatic divorce from the Xenu disciple in lifts. God, this list of "Bests" is so incredibly silly, but here we go with some more entries: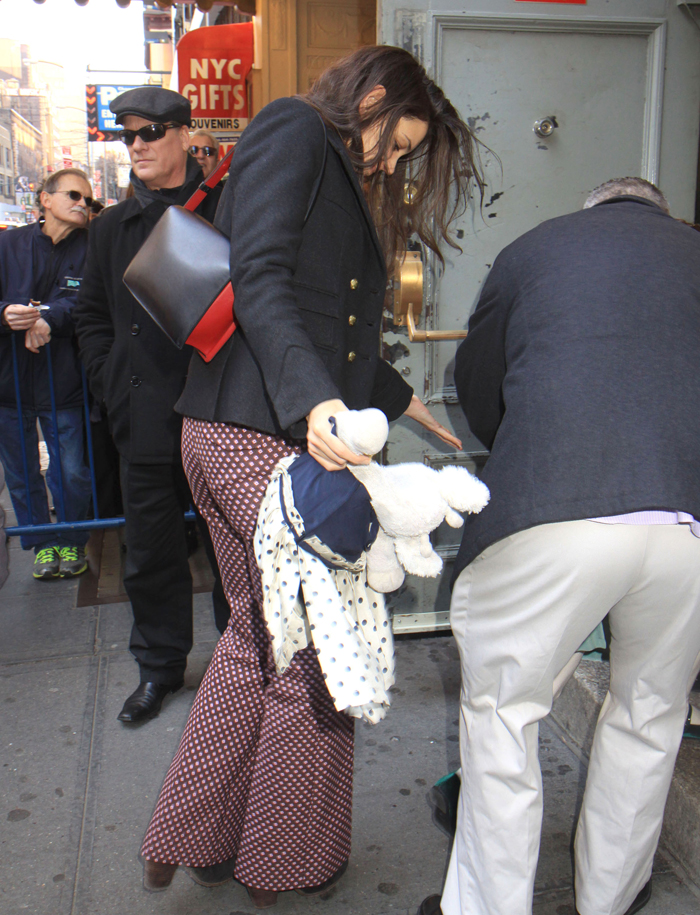 Eat your heart out, Tom Cruise.

According to Fitness magazine, Katie Holmes, the Jack Reacher star's ex-wife, is in possession of the "Best Revenge Body" of the year.

Their reasoning? "This Broadway star and overall badass mama keeps her shape in check with frequent SoulCycle classes," they explain. "She was even spotted at a class on her 32nd birthday. Now that's dedication."

Suri's newly-single mom, 33, wasn't the only A-lister recognized by the publication for her impressive physique.

Jennifer Aniston received the honor of "Best Bride-to-Be," while Homeland's Claire Danes nabbed "Best Baby Bump." (FLOTUS Michelle Obama, meanwhile, was named "Best Arms," and Blake Lively "Best Legs.")

Newlyweds Jessica Biel and Justin Timberlake were deemed the mag's "Most Fit Couple," thanks to their shared love of all things sporty.
[From Us Weekly]
Should Katie have won over Katy Perry? Sure, why not. Katy still has the same banging body that she always has (like a cartoon character, basically), but Katie has made some newfound efforts to dress better for her own shape, and she's a spinning freak too. I think Katie actually has a pretty nice body, and I appreciate that she places a priority upon fitness but also indulges in her cupcakes and Starbucks concoctions as well. Meanwhile, Tom has been spotted "getting revenge" by chatting up a blonde in a nightclub after "inviting a group of young women into the darkened [VIP] section." Oh, Tom. Katie totally wins this one.
On another note, isn't it nice to see Suri wearing a coat in frigid NYC? That school uniform is not very practical in the winter though — those poor little legs.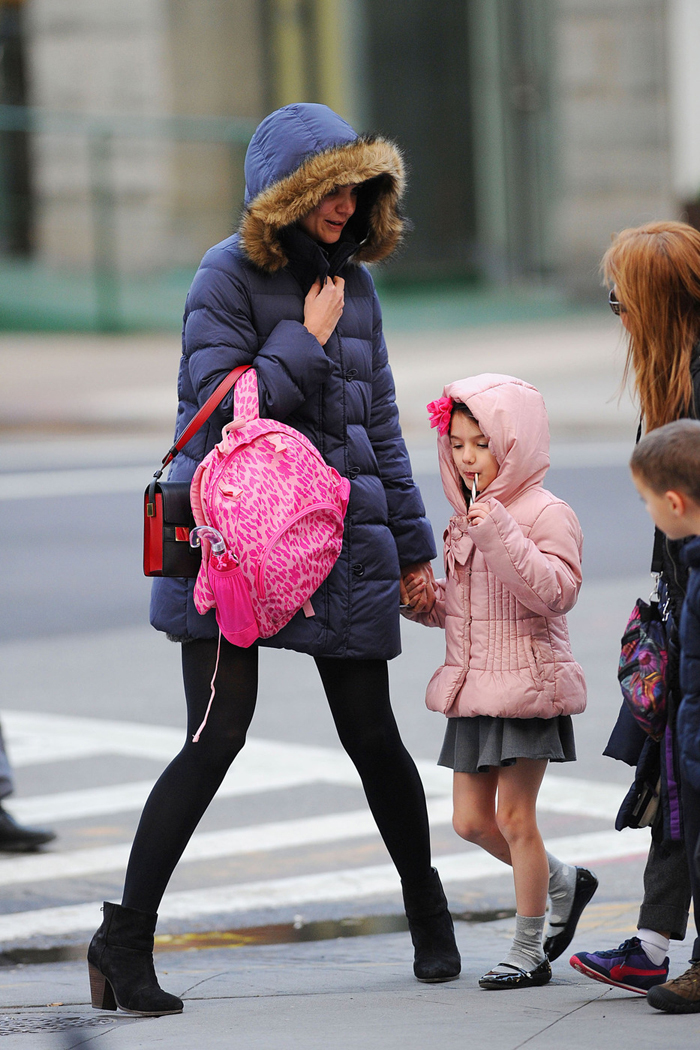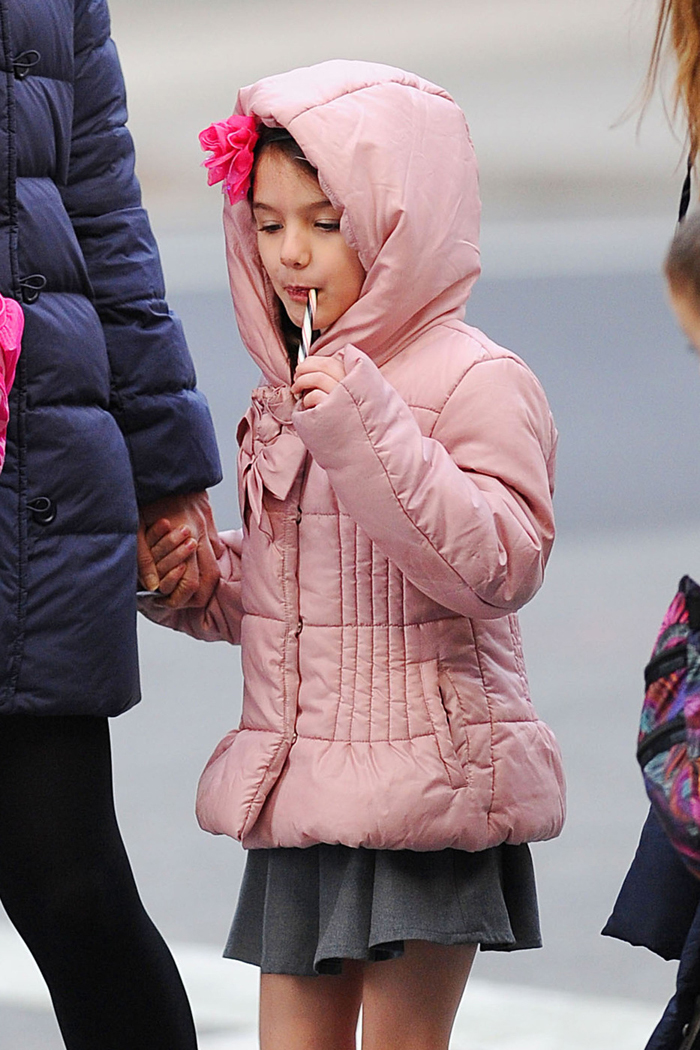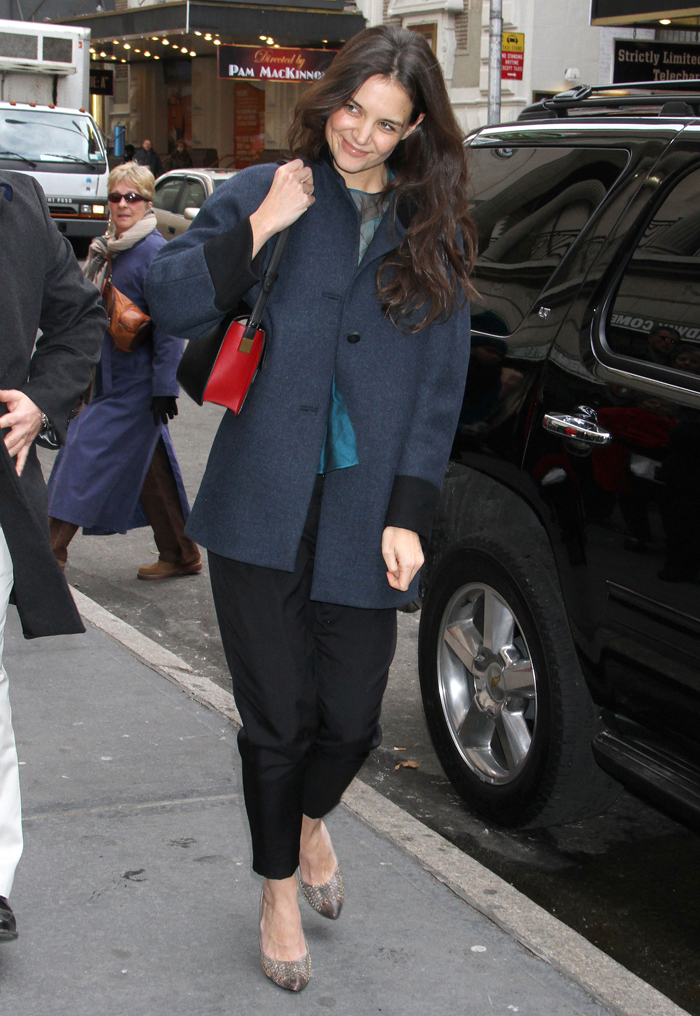 Photos courtesy of Fame/Flynet, Pacific Coast News, and WENN