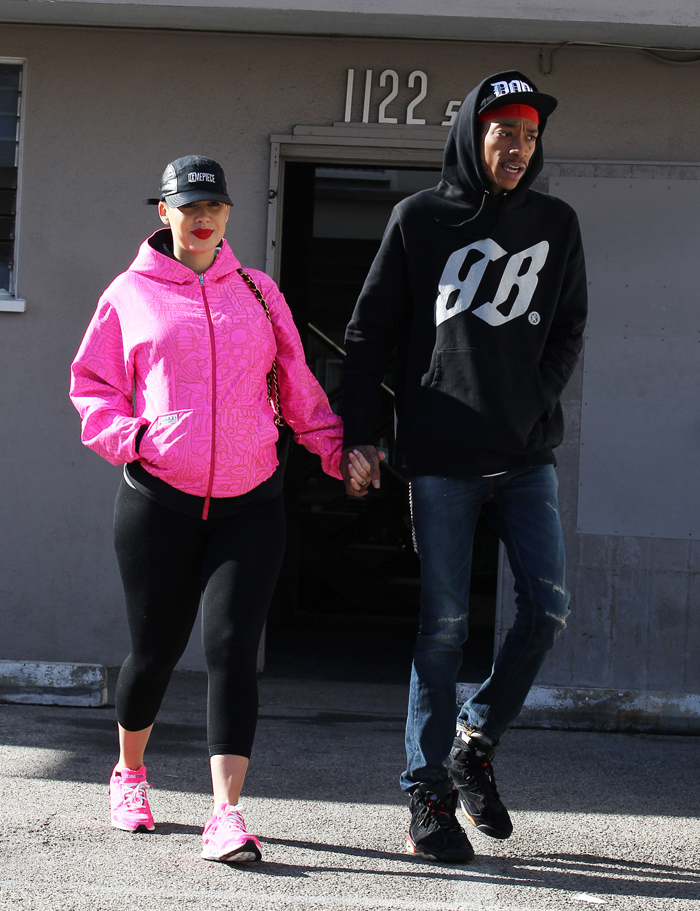 Here are some photos of of Amber Rose out and about with Wiz Khalifa in Beverly Hills over the past few weeks, and Amber looks like she's about ready to have that baby any second now. Recently, Wiz revealed in a radio interview (via Us Weekly) that Amber suffered a miscarriage just prior to this pregnancy, and the two were eager to try for this baby in the aftermath during their sadness. It sounds like both of them really want to be parents in a huge way.
Of course, Amber has been very outspoken throughout her pregnancy about her plans for the labor and her experience in general. Quite dubiously, she claimed to be planning for a natural birth just for the bragging rights, and Amber also revealed that she's been very senstiive to the smell of marijuana while she's been pregnant, so Wiz made a huge sacrifice by not smoking in front of her until their child is born. Now it seems that things will basically go back to normal after the baby is born, and Wiz and Amber both plan to expose their baby to marijuana (figuratively speaking, I think) once the kid is old enough to comprehend it. Bad idea?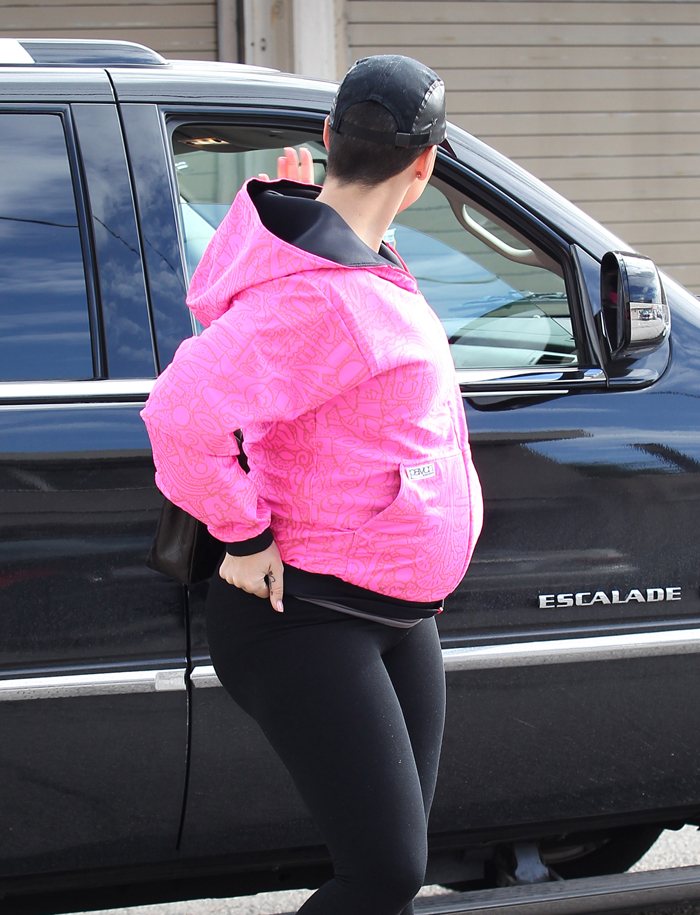 Amber Rose and Wiz Khalifa have been candid about their preparations for welcoming their first child – a son – into the world. In October, Rose took to Twitter to reveal that they were having a boy and she's happily uploaded pictures of her bare bump.

And now Rose, 29, and Khalifa, 25, are opening up about his well documented love of weed smoking. When E! News asked Khalifa if he was planning to stop smoking, he said: "I think it's all about how you're raised with it." He then added: 'Before there was a much more negative outtake on it. You know, pot and what it can do, and the effects of it.'

"Of course, I'm not going to be smoking right there over the baby, because smoke in general and being high is not good for a kid. None of that. But definitely he's going to know what it is – and he'll know the difference between being a child and not being able to use it and being an adult and knowing how to use it."

Rose concurred: "It's just like alcohol, basically. That's how I feel about it, you know. When you're a kid, you know that you're not supposed to drink alcohol, that it's for adults and that's it." She added: "Our son is just going to know that daddy likes to smoke."

Khalifa has always been honest about his affinity for weed, in 2010, he told MTV: "I thought weed was bad for a minute. When I was younger, I thought it was bad, but I got to a point where it worked for me. It don't work for everybody else.

"People gotta stay free, people need jobs, people got parents that probably wouldn't be with it, so don't ruin your life trying to be like me. That's my advice."
[From Daily Mail]
Okay, so I think Wiz is at least being wise by claiming that he won't be smoking weed right in front of the kid. But if he's doing it in the other room, the kid's still going to get more than a whiff of the stuff. I had a friend in high school whose friends were big pot smokers, and she was always so embarrassed whenever we'd come and pick her up because you could smell it wafting out from inside the house while standing on the front porch. At the same time, she really didn't have a choice in the matter either. So I don't know. It's one thing to be an adult and choose to have the drug in your home, but the kid doesn't really have a say. Is it fair to Wiz and Amber's child to be so openly exposed to marijuana at a very early age?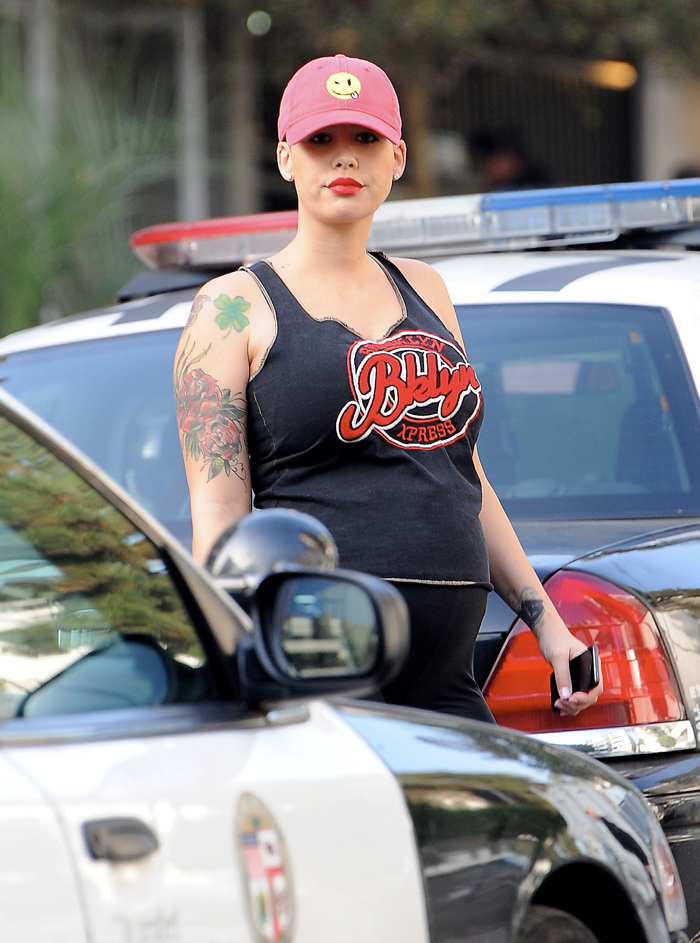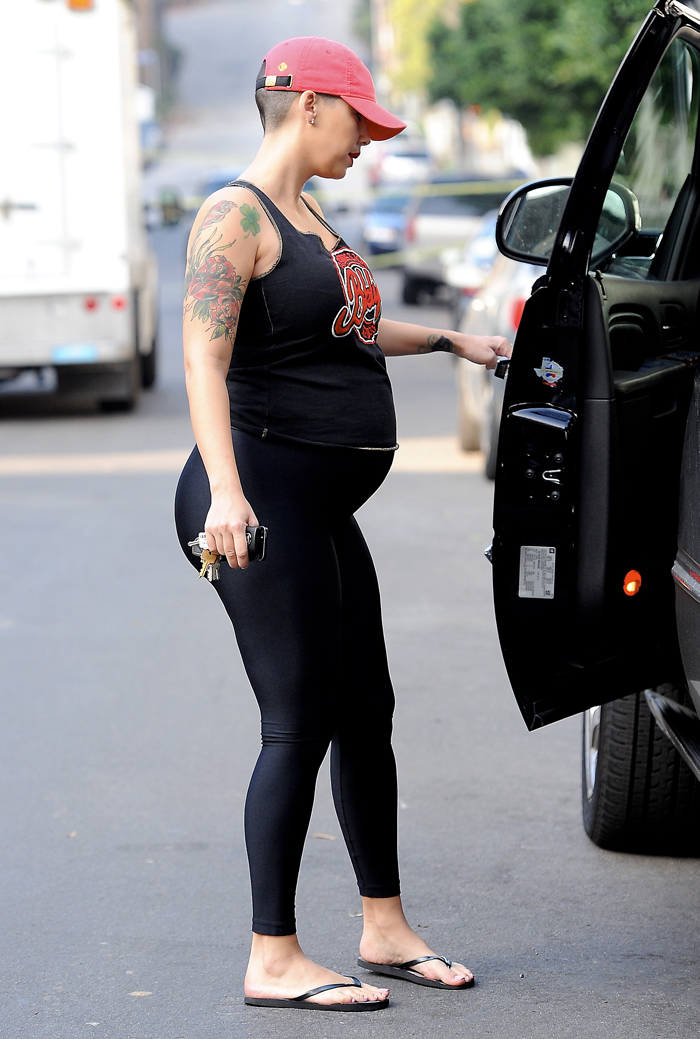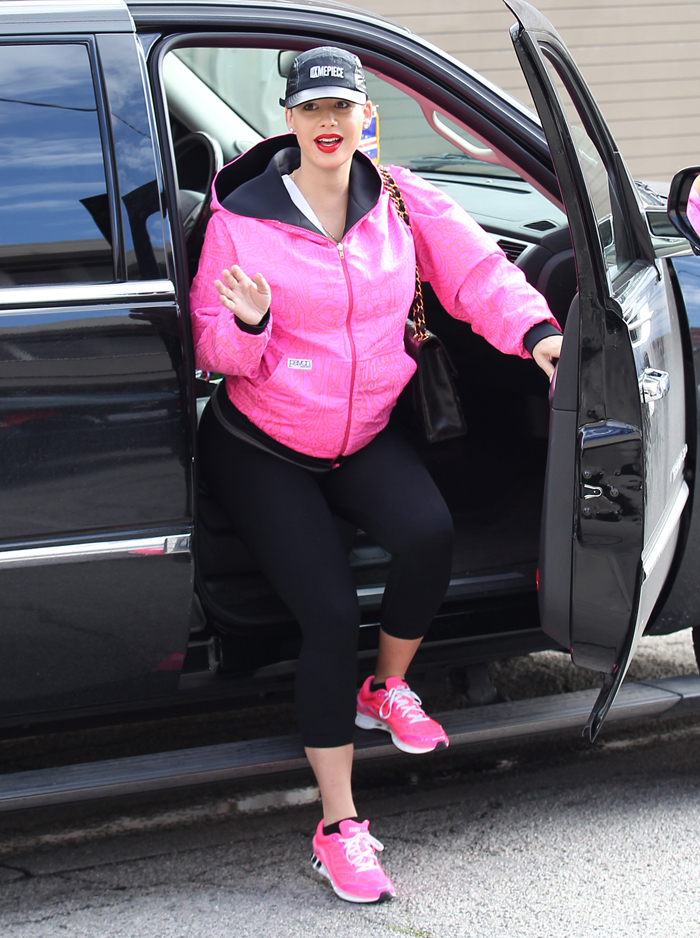 Photos courtesy of Fame/Flynet