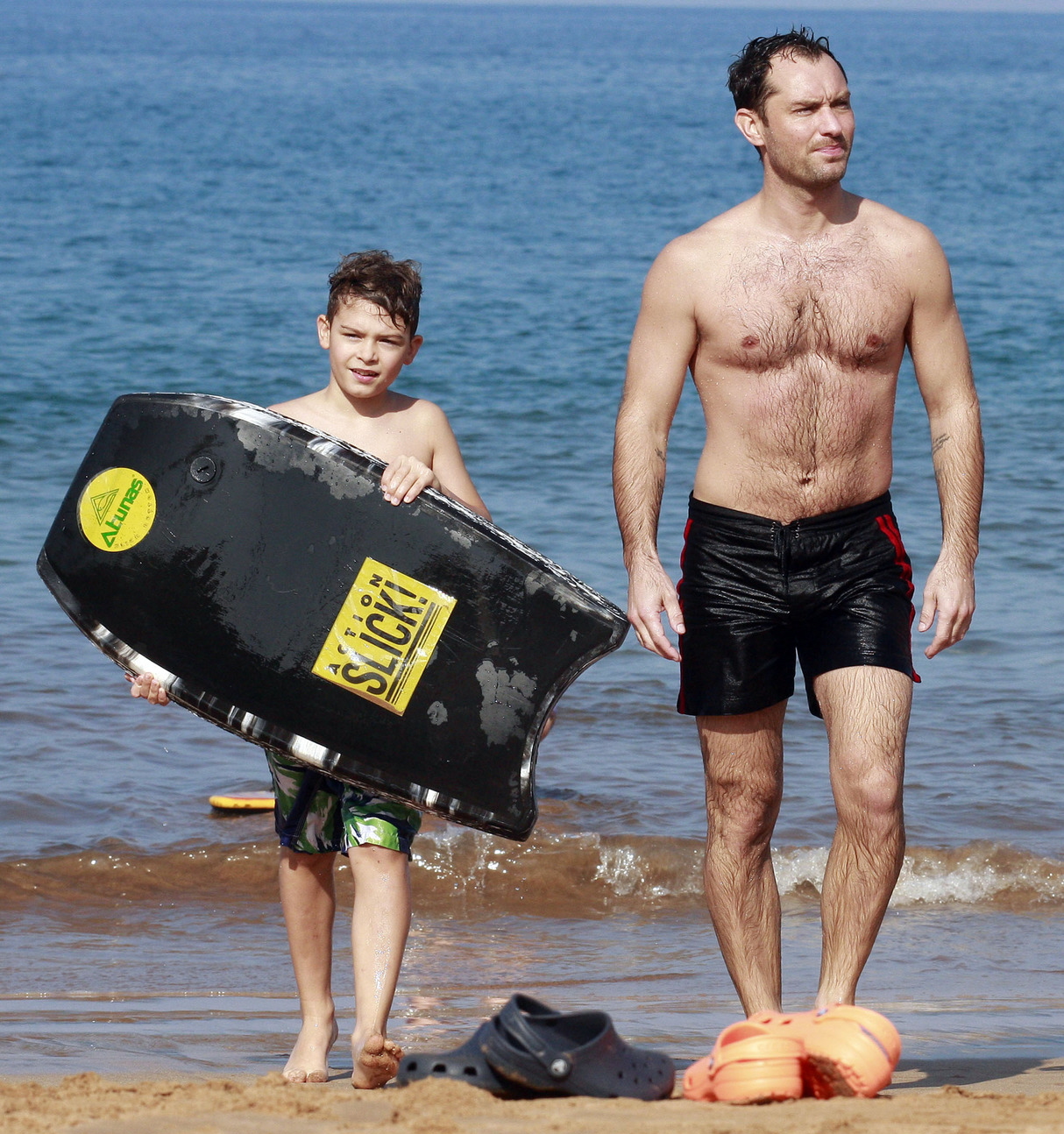 Long story short: YES I WOULD HIT IT. These are photos of Jude Law on vacation in Hawaii with what appears to be a larger group which includes his children with Sadie Frost and several adult friends. Jude was photographed on the beach, having a grand old time body-surfing and laughing with his kids and friends.
Is it just me or has Jude really gained a lot of weight? Okay, not "a lot" but all of a sudden he really looks "filled out" right? In his 20s and early 30s, he always had that whippet-thin, lean and hungry look. Model-thin, like he still had a teenager's metabolism. But I guess it caught up with him in his late 30s…? He just turned 40 years old last weekend. Now he "looks good for 40". Which is probably fine by him, considering he was often thought of as "too pretty" in his youth. And yes, again… I would hit it. I never mind a little paunch or a wonky hairline, just as long as the dude owns it. And Jude is kind of owning it here.
Also: The Mail says Jude has a new girlfriend named Charlie Hayes-Jones. She's only 26 years old. You can see a photo of her here.
Most men at risk of a midlife crisis treat themselves to a flash new sports car – but not Jude Law. The Hollywood star has found himself a new girlfriend 14 years his junior – who is in California during his 40th birthday celebrations.

Jude jetted off to Los Angeles to spend his birthday in the sunshine state just at the same time as 26-year-old PR executive Charlie Hayes-Jones, who once caught the eye of Prince Harry, touched down. She has also dated Isaac Ferry, the son of crooner Bryan Ferry. It's been an eventful few months for Jude.

It was recently revealed he was enjoying a fling with wardrobe assistant Ellen Crawshaw, 31, whom he met on the set of his upcoming film Dom Hemingway. Jude grew close to Ellen during filming in the South of France and East London. She told friends at the time that she was worried their romance would fizzle out as soon as filming stopped and earlier this month, Jude turned his attentions to Charlie.

According to spies, the pair were spotted snuggling up on a sofa at London's Playboy Club. They were also heard discussing their holiday plans. 'Charlie has been overheard excitedly talking about spending Christmas and New Year in Los Angeles and Las Vegas,' says my spy. 'They seemed really happy.'

The couple later decided to drop Las Vegas from their itinerary and Jude has been keen to point out to friends he is in LA with his children and no one else. A friend of leggy Charlie added: 'She is in PR and so is savvy enough to know how to keep her relationship with Jude quiet but it was plain to see they were a proper couple at the club. They have also been spotted at a Mayfair club together.'

Charlie has posted updates about her trip to California on Facebook, including a picture of her feet with the caption: 'California is for lovers.' But she made no mention of Jude.
It's kind of crazy that young, professional 20-something ladies view Jude Law as some kind of "catch" in which they must angle themselves correctly to make it work. I mean, he's 40, he's fathered 4 children already and he has moobs! I'm just saying, you don't have to work it so hard, Charlie. You're 26 years old, have some fun with it.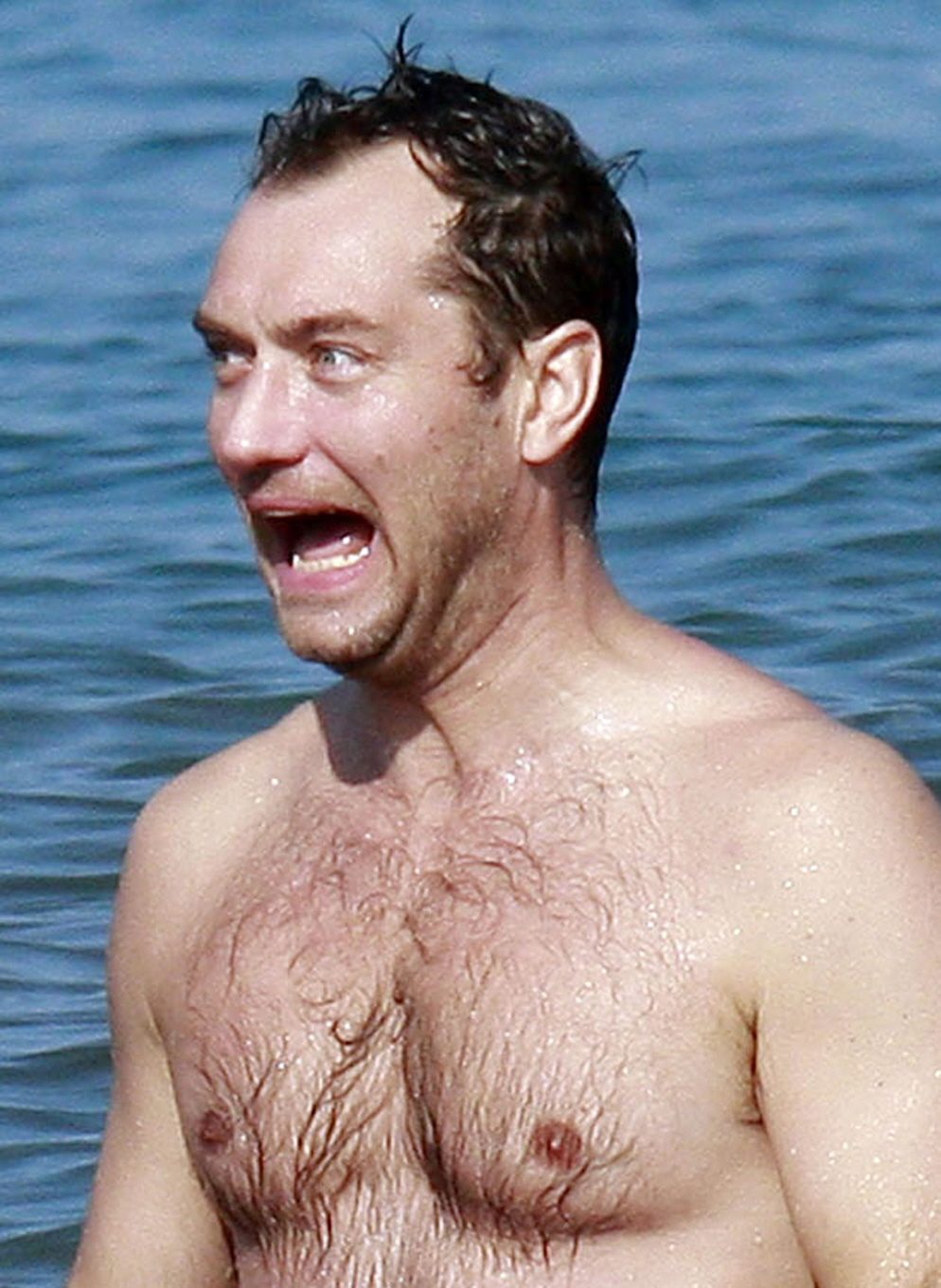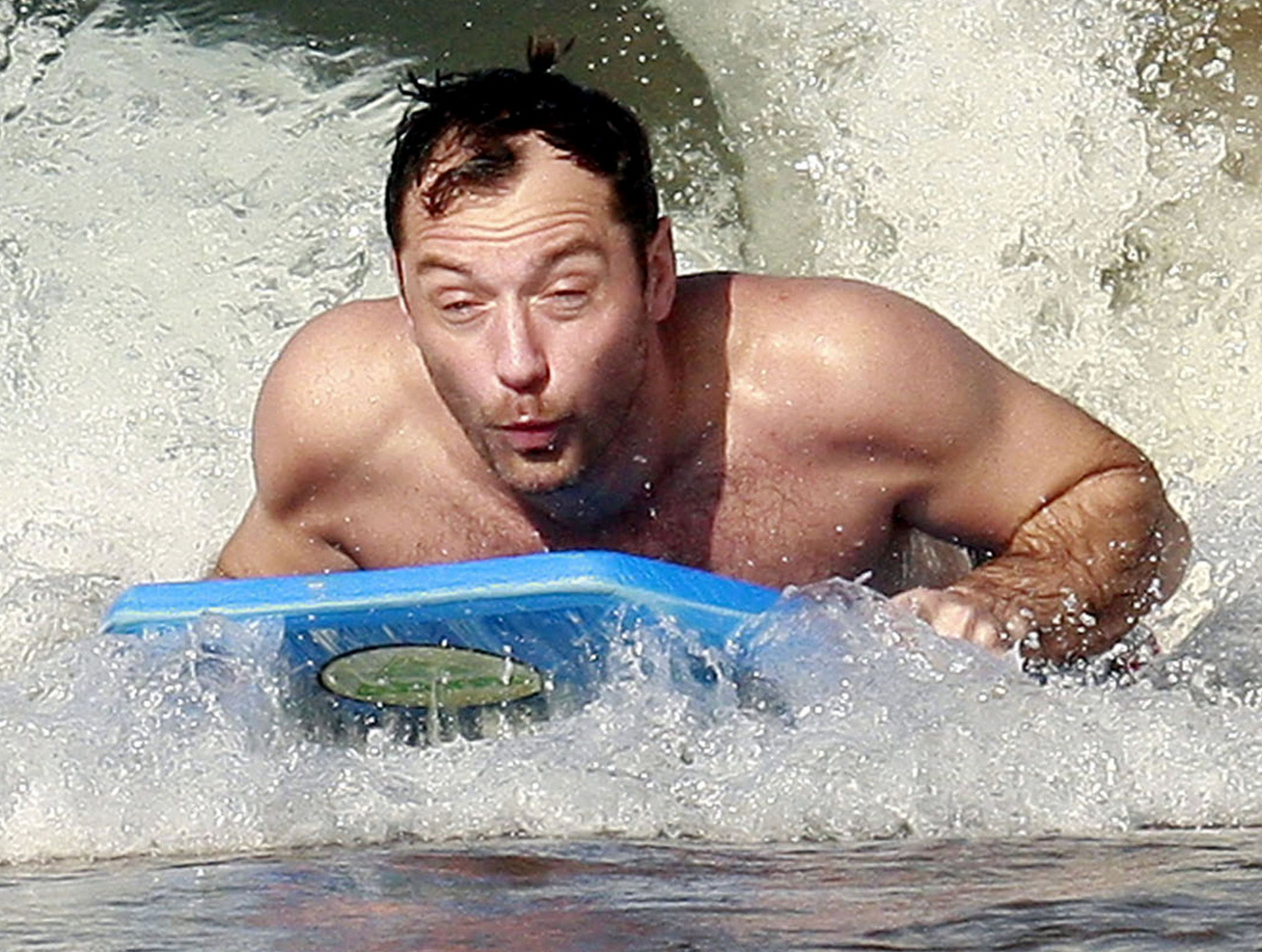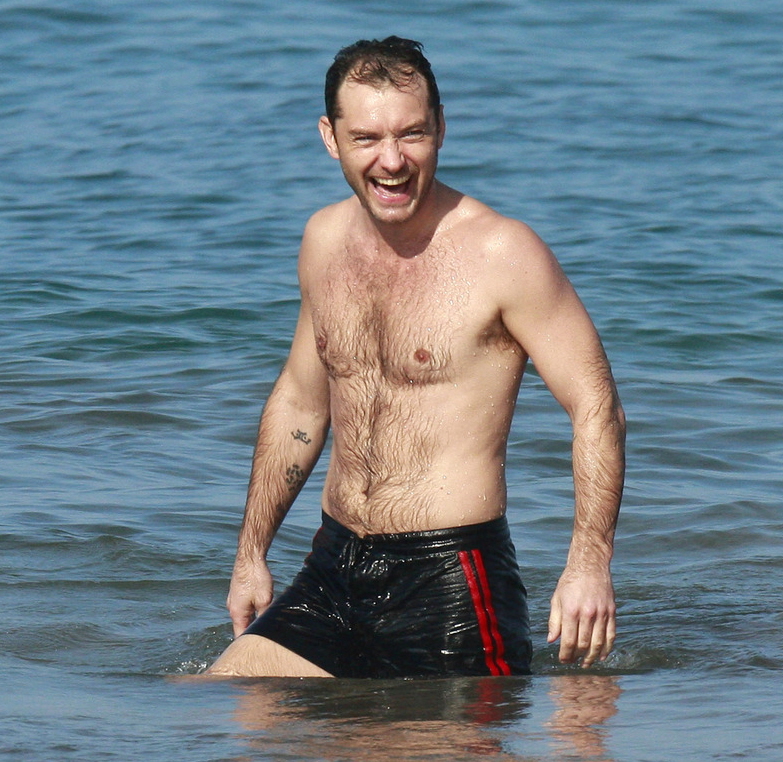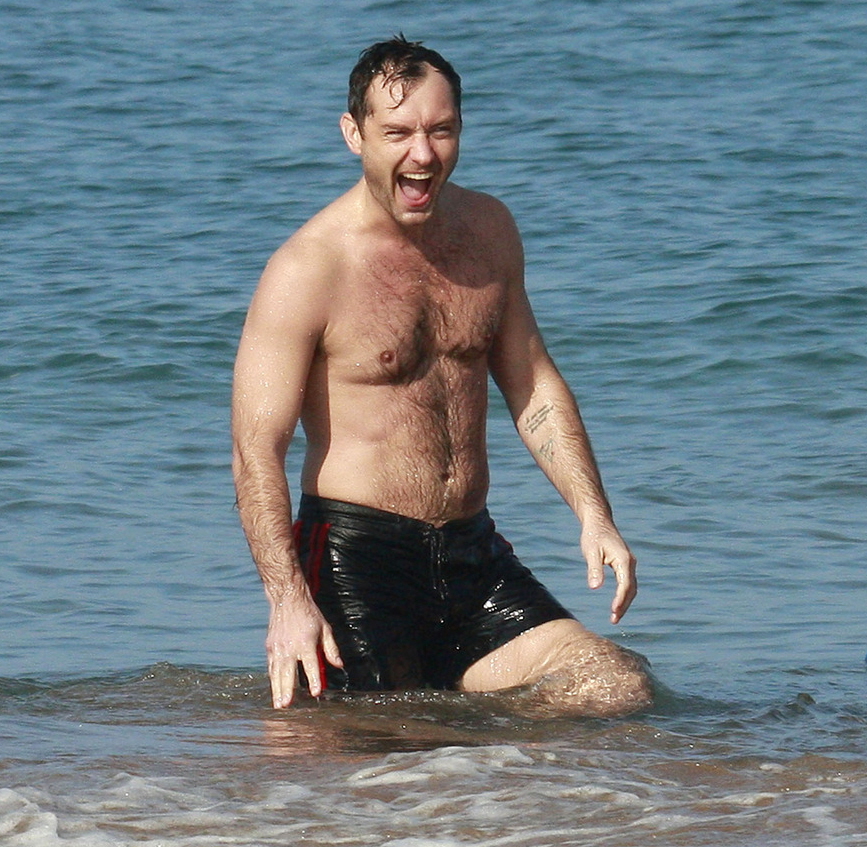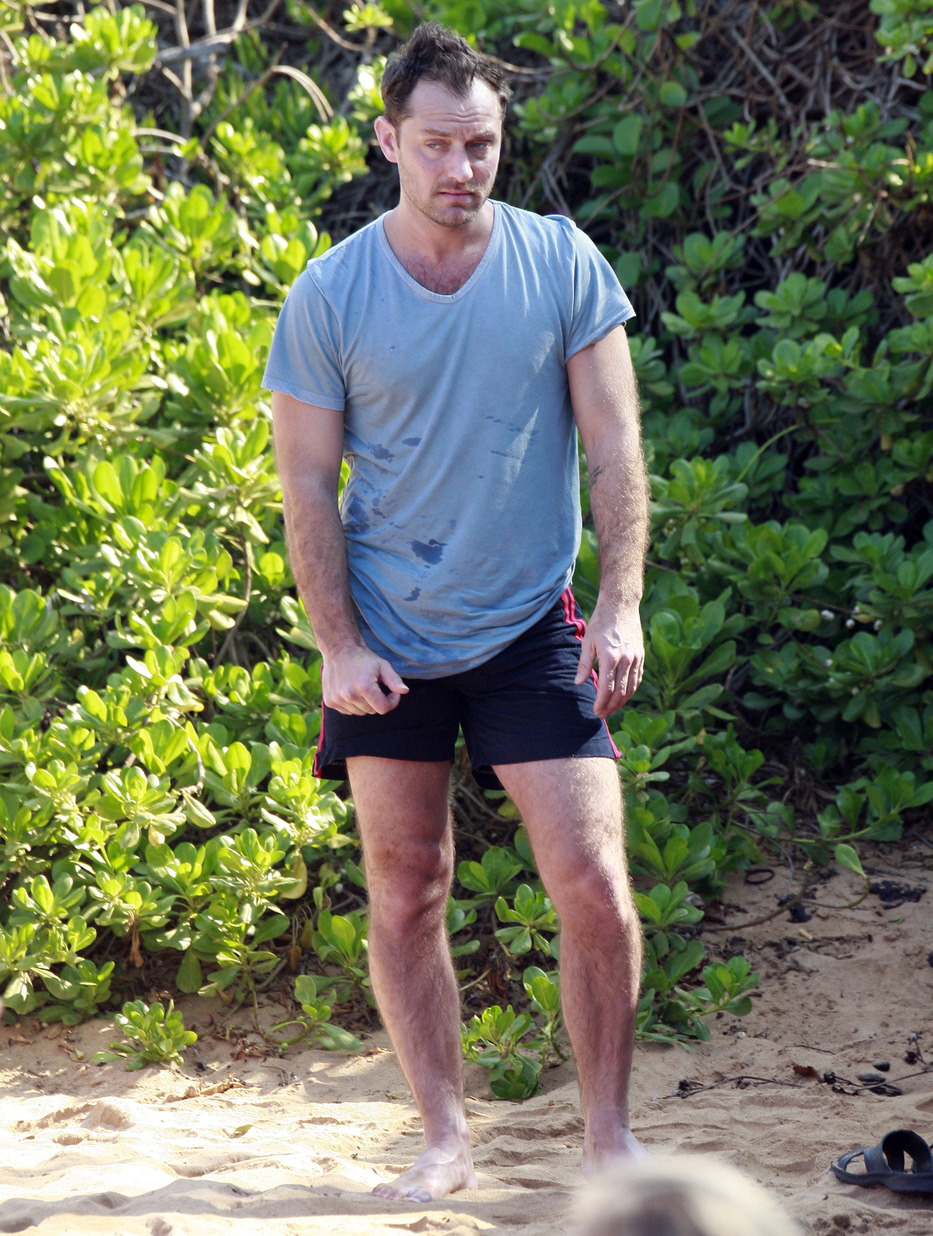 Photos courtesy of Pacific Coast News.