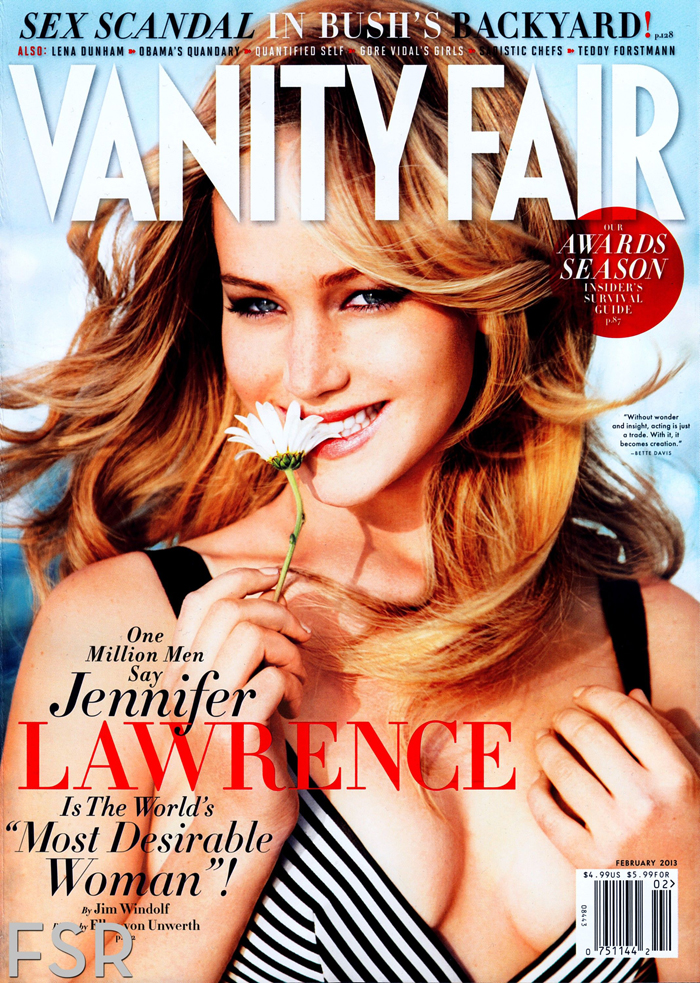 Yesterday, we covered Jennifer Lawrence's cover photoshoot for the February issue of Vanity Fair, and there was no shortage of cheesecake booty pictures with a very promising headline of "most desirable" to boot as well as an intriguing combination of Bar Rafaeli and Brigitte Bardot vibes thrown in for good measure. Now we have some more of the (tentatively) promised excerpts from the full VF piece, and let me warn you that the interview frames Jennifer in terms of a "no holds barred" sort of piece.
Naturally, I don't believe that it's possible for anyone who's been in Hollywood for longer than, say, one (financially or critically) successful film to be truly uncensored; that is, unless we're talking about Bill Murray, who has been around long enough to know that a publicist is not nearly as important as one's own personal 800 number. As for Jennifer, she's still got studio publicists around which to tiptoe, so let's take this interview with a grain of sea salt. Here are those aforementioned excerpts:
She used her Katniss bow & arrow for good: "One time I actually used it for defense. I pulled into my garage and I heard men in my house. And I was like, 'I'm not letting them take my stuff. I had just gotten back from training, so I had the bow and arrows in the back of my car. I went to my car and I put this quiver on me and I had my bow and I loaded it and I'm walking up the stairs. And I look, and my patio doors were open, and there were guys working right there, and I was like, 'Heyyy, how you doin'?'" Lawrence's friends were disappointed by the anticlimactic outcome of the event, the actress [explains]: "They were like, 'We've got to stage someone to break into your house and you can kill them!' That would be the funniest news ever. Katniss Everdeen actually kills someone with a bow and arrow!"

On her profession: "Not to sound rude, but [acting] is stupid. Everybody's like, 'How can you remain with a level head?' And I'm like, 'Why would I ever get cocky? I'm not saving anybody's life. There are doctors who save lives and firemen who run into burning buildings. I'm making movies. It's stupid.'"

On her idols: "Once I'm obsessed with somebody, I'm terrified of them instantly. I'm not scared of them–I'm scared of me and how I will react. Like, for instance, one time someone was introducing me to Bill Maher, and I saw Meryl Streep walk into the room, and I literally put my hand right in Bill Maher's face and said, 'Not now, Bill!,' and I just stared at Meryl Streep." So, did she meet Meryl Streep? "Of course not. I just creepily stared at her."
[From Vanity Fair]
I love the idea of Jennifer Lawrence as a fangirl — even if it is as clichéd as a Meryl Streep fangirl. Notice that (unlike Anne Hathway, for better or worse), Jennifer has not compared herself to Streep (either positively or negatively) in any way. She's merely drooling, right? At the same time, it's important to realize that both Anne and Jennifer are conducting Oscar campaigns in their own ways. One of them is comparing herself to the greats, and the other is comparing herself to the masses. So who shall win the race? Perhaps both of them will — after all, they are both running in different categories. We shall see.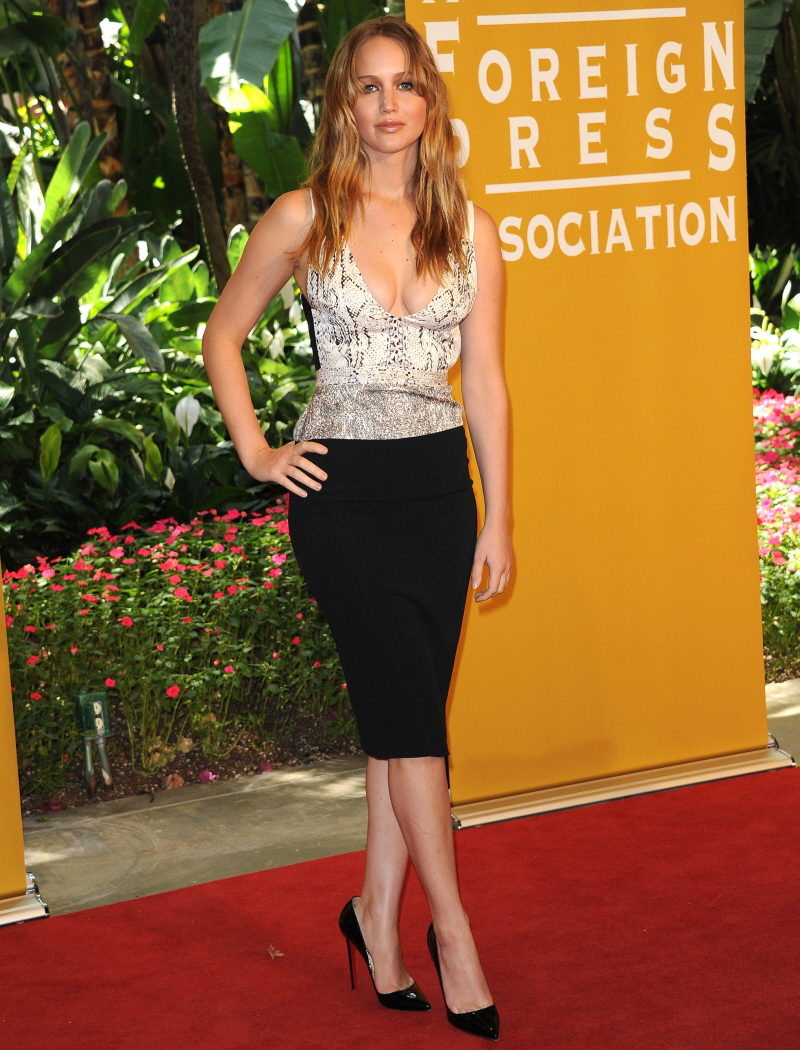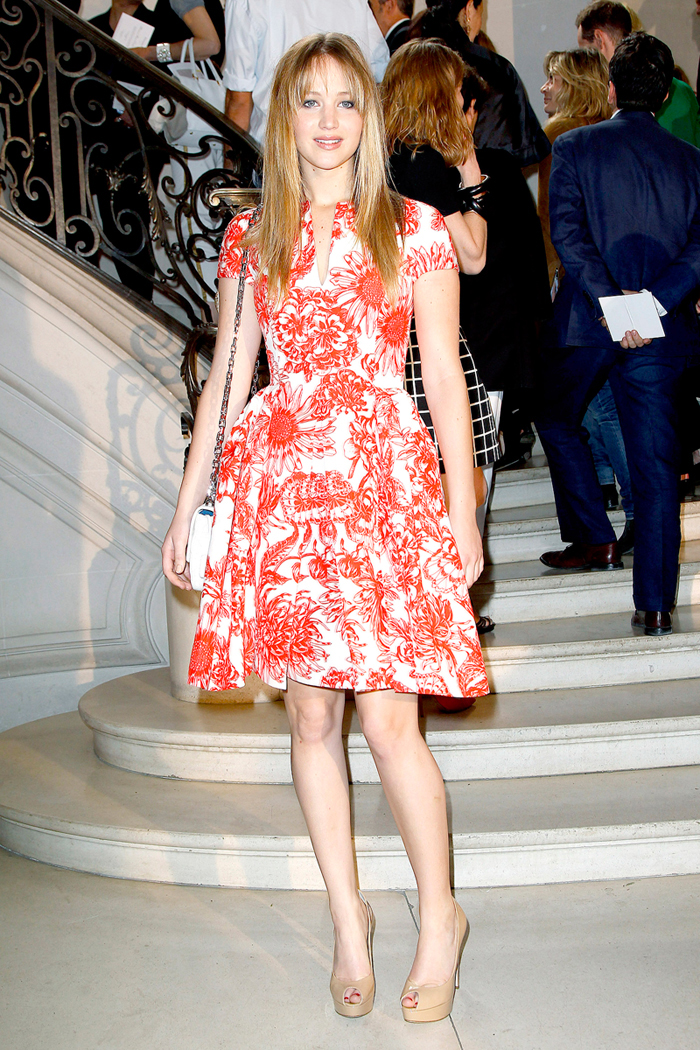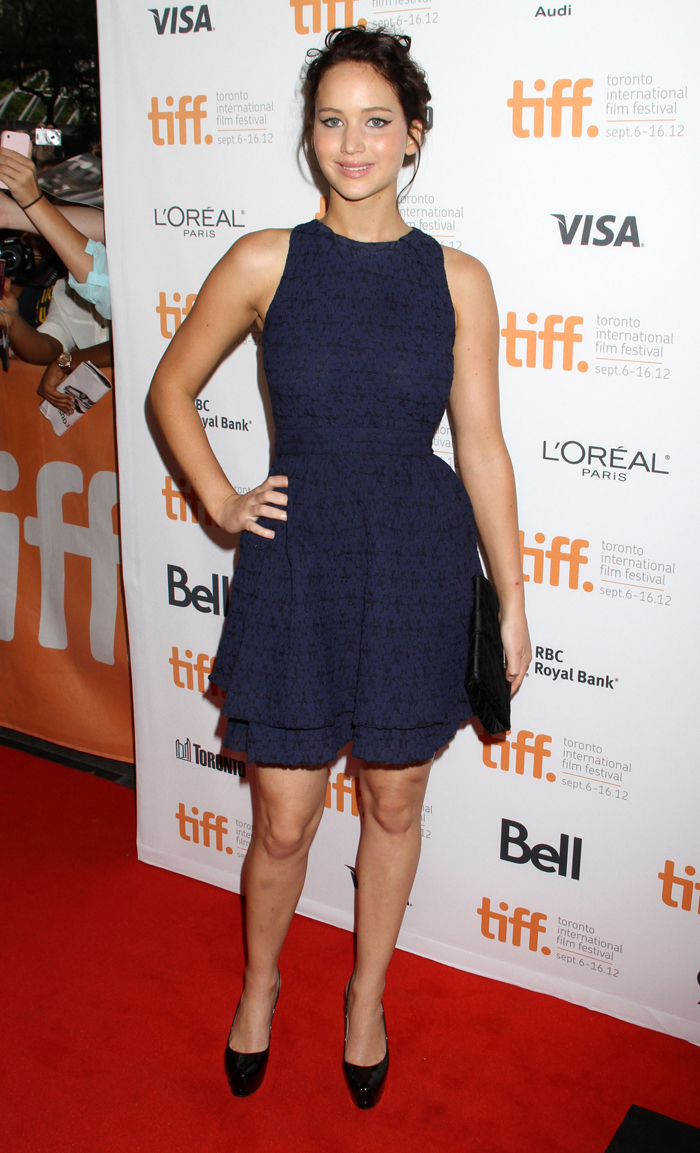 Photos courtesy of Fame/Flynet and WENN