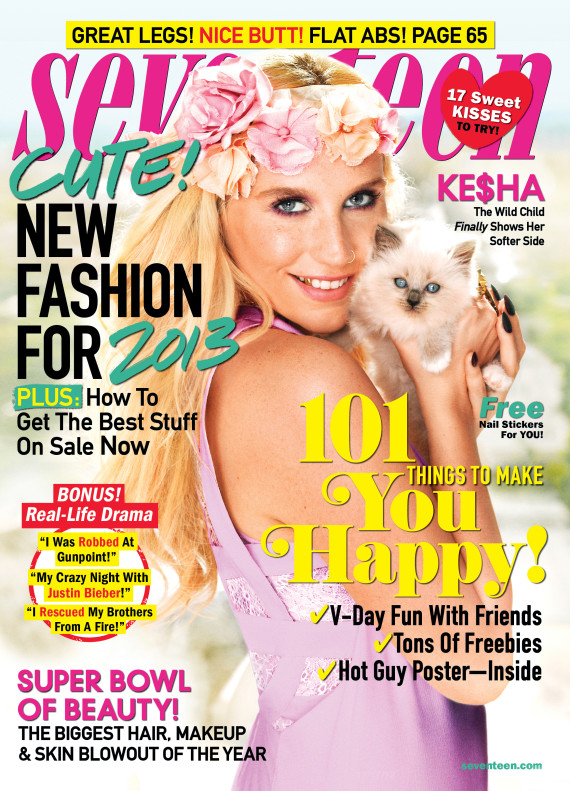 Ke$ha covers the February issue of Seventeen magazine, and she's clearly gotten a makeunder (like she did at the recent AMAs) for the this glossy magazine. While it's no surprise that Seventeen would want to tone Ke$ha's look a bit for their audience, I do find it a strange choice on the part of the stylist to have her holding a kitten. It seems weird, right? And kind of Kardashian. Not that I have anything against cats existing in this world. I grew up with cats, and they're a source of comfort and companionship to many millions of people.
I'm finding myself to be slightly at odds with Ke$ha lately (even though I still listen to her music during nearly every run because her songs are mindless fun that keeps my mind off the physical ouchies) ever since she claimed that she was "forced" to use the "Die Young" lyrics after her song was pulled from the radio in the wake of the Sandy Hook tragedy. She did further clarify her remarks to MTV: "'Forced' is not the right word. I did have some concerns about the phrase 'Die Young' in the chorus when we were writing the lyrics … because so many of my fans are young." I guess her explanation makes more sense, but the song itself is also called "Die Young," so I guess I feel odd about her discomfort coupled with the implication that she's merely a label mouthpiece when this was the lead single from her new album. Obviously, the song itself isn't about death — it's about embracing life — and it feels weird for a singer like Ke$ha, who has always owned her lyrics and attitude, to come out and pretty much say that her career is out of her control.
In this Seventeen interview, Ke$ha makes some unsurprising statements on her sexuality, bullying, and her "sh-t list." Here are some excerpts:
She's bisexual: "I don't love just men. I love people. It's not about a gender. It's just about the spirit that exudes from that other person you're with."

On bullying: "I'm all about standing up to gay/lesbian/transgender bullying, but it's also about my little brother. He's 13 and he gets made fun of because he has a stutter. I just have zero tolerance for people making fun of others."

Forget the haters: "I remember every person who told me I couldn't do something or that I was ugly or too fat. I have a 'S**t List' [of] people from my past who have been soulless and judgmental. Even after I got through my awkward phase, got my braces off, and figured out how to dress my body, people in the music business were like, 'You're never going to make it.' I see them now and I'm like, 'Ha!' That's one of the reasons I named my record Warrior. You can be a victim and let that eat your soul, or you can say, 'You're going on my list and I'm going to prove you wrong!"
[From Seventeen]
I love what Ke$ha says here about bullying because she hasn't turned herself into a victim for the purposes of making herself look good in an interview. These days, bullying is a very relative term that has been turned into almost a standard talking point for actors and singers alike. If someone claims to have been bullied, it makes them seem more like us, and I think using it as a talking point diminishes the reality of bullying when it does legitimately take place. But that's a conversation for another time.
However, Ke$ha's "sh-t list" is rather hilarious. I should make one of those for myself — honestly, it sounds like fun. And I'm not terribly surprised to learn that she's bisexual either. In fact, I always assumed that she swang both ways.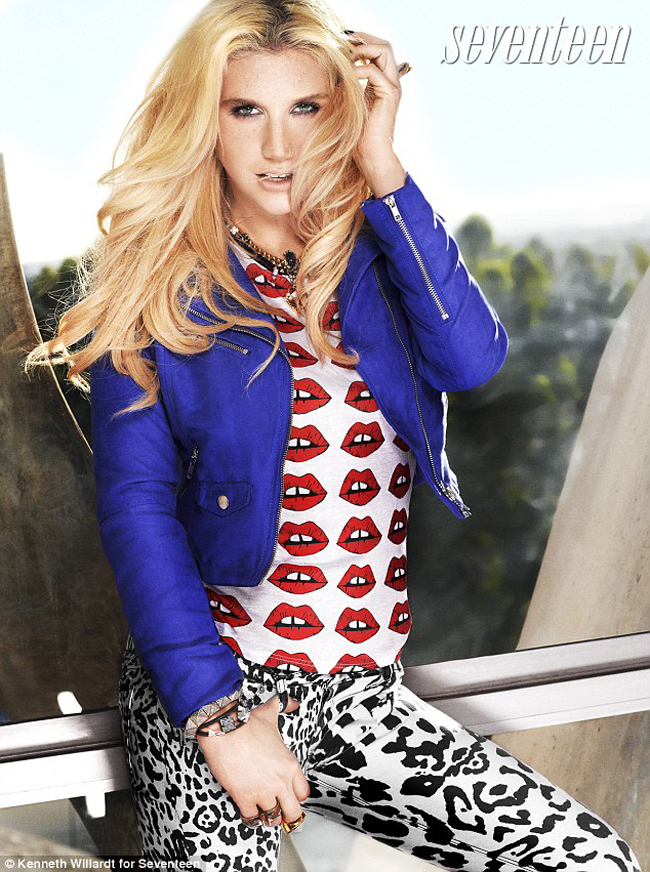 Photos courtesy of Seventeen