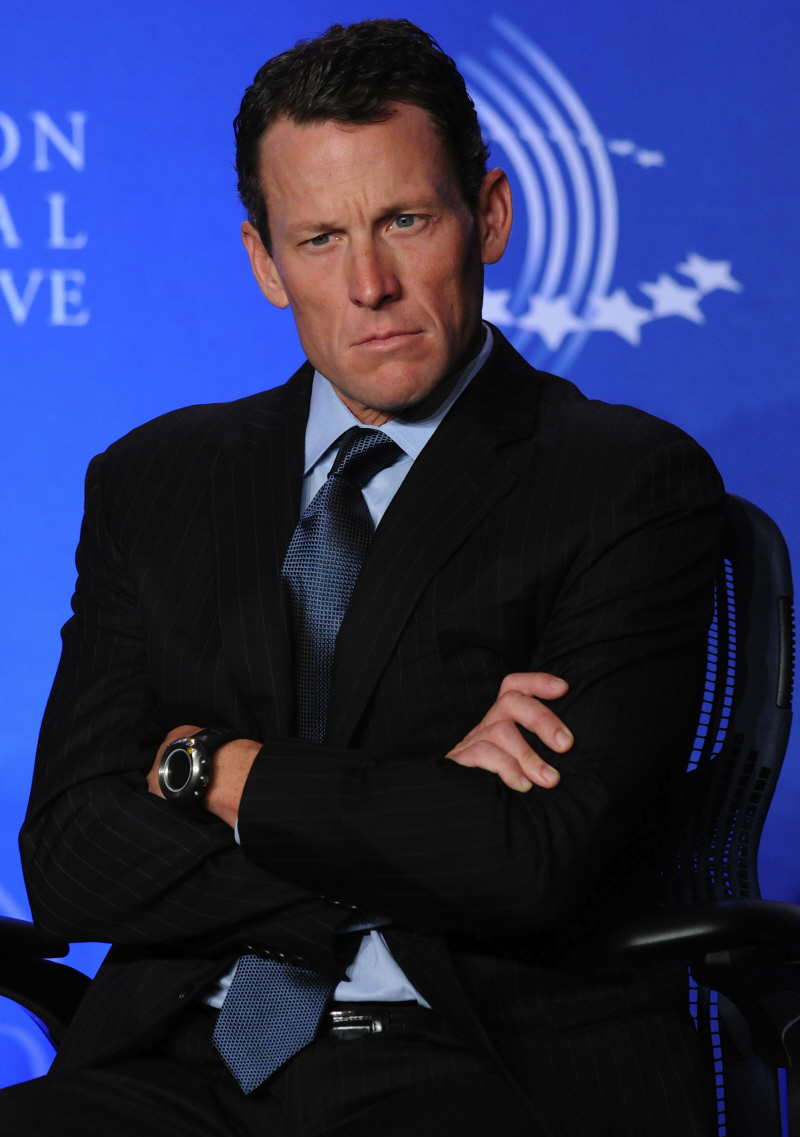 Back in August of last year, the US Anti-Doping Agency's years-investigation into Lance Armstrong and his team seemed to culminate in a rather spectacular turn of events. After several of Lance's former teammates confessed to doping and claimed Lance had been doping for years as well, Lance announced that he was no longer going to participate in the USADA's investigation, which led to the USADA stripping Lance of his seven Tour de France titles. Legal experts have been weighing in since then, and the basic gist is that Lance is in a lot of trouble, any way you look at it. His former endorsement partners can and might sue Lance (many had anti-doping clauses in their contracts), plus Lance's charity, Livestrong, is in serious jeopardy, and Lance had to step down from the board (of his own charity!). Plus, there's just a slew of criminal and financial issues for Lance.
So what will 2013 bring for Lance? Perhaps the ability to make some kind of f—ked up "fresh start". The New York Times reported a very curious thing over the weekend – this is very much a "trial balloon" sent out by Lance's people to gauge the public reaction to a possible new media strategy: Lance might publicly "confess" to doping to save (and then rehabilitate) his image. Eh.
Lance Armstrong, who this fall was stripped of his seven Tour de France titles for doping and barred for life from competing in all Olympic sports, has told associates and antidoping officials that he is considering publicly admitting that he used banned performance-enhancing drugs and blood transfusions during his cycling career, according to several people with direct knowledge of the situation. He would do this, the people said, because he wants to persuade antidoping officials to restore his eligibility so he can resume his athletic career.

For more than a decade, Armstrong has vehemently denied ever doping, even after antidoping officials laid out their case against him in October in hundreds of pages of eyewitness testimony from teammates, e-mail correspondence, financial records and laboratory analyses.

When asked if Armstrong might admit to doping, Tim Herman, Armstrong's longtime lawyer, said, "Lance has to speak for himself on that."

Armstrong has been under pressure from various fronts to confess. Wealthy supporters of Livestrong, the charity he founded after surviving testicular cancer, have been trying to persuade him to come forward so he could clear his conscience and save the organization from further damage, one person with knowledge of the situation said.

Several legal cases stand in the way of a confession, the people familiar with the situation said. Among the obstacles is a federal whistle-blower case in which Armstrong and several team officials from his United States Postal Service cycling team are accused of defrauding the government by allowing doping on the squad when the team's contract with the Postal Service clearly stated that any doping would constitute default of their agreement.

Herman said the option to confess to antidoping officials was not currently on the table. However, the people familiar with the situation said Armstrong, 41, was in fact moving toward confessing and had even been in discussions with the United States Anti-Doping Agency. Armstrong had met with Travis Tygart, the agency's chief executive, in an effort to mitigate the lifetime ban he received for playing a lead role in doping on his Tour-winning teams, according to one person briefed on the situation.

Armstrong has hopes of competing in triathlons and running events, but those competitions are often sanctioned by organizations that adhere to the World Anti-Doping Code, under which Armstrong received his lifetime ban. According to the World Anti-Doping Code, an athlete might be eligible for a reduced punishment if he fully confesses and details how he doped, who helped him dope and how he got away with doping. But a reduced lifetime ban might decrease only to eight years or four, at best, antidoping experts said.

Armstrong is also facing two other civil lawsuits, one that involves the Dallas-based insurance company SCA Promotions, which is trying to recoup millions of dollars it covered when Armstrong won multiple Tours. The company withheld a $5 million bonus from Armstrong after he won the 2004 Tour because of doping accusations that surfaced in the book "L.A. Confidentiel: Les Secrets de Lance Armstrong," which was published in France. Armstrong sued the company, and the case was settled for $7.5 million. SCA Promotions is now asking for $12 million back — the $7.5 million plus $4.5 million it paid for Armstrong's other Tour victories.

Armstrong is also being sued by the British newspaper The Sunday Times for more than $1.5 million over the settlement of a libel case. In that matter, the newspaper had paid Armstrong nearly $500,000 after it published claims from "L.A. Confidentiel" that he had used performance-enhancing drugs.

But what worries Armstrong and his lawyers most, two of the people with knowledge of the situation said, is that he could face charges of perjury if he confesses because in sworn testimony in the SCA case he said he had never doped.

Before coming forward, Armstrong would need assurances from the Justice Department that he would not be prosecuted for those crimes, those two people said.

Herman said he has plans to discuss Armstrong's next move when Armstrong returns from Hawaii, where he has been spending time with his family out of the public eye. He has been in limbo since antidoping officials issued their report on him. A week after the report was released, Armstrong's sponsors, including Nike and other longtime supporters, abandoned him. Soon after, he cut all ties with his charity.

"He's doing O.K. for a guy that has had his livelihood and his life torn from him, but he's very strong," Herman said.
The NYT also says that Lance is skittish about whether or not the Department of Justice is going to get involved, and I'm assuming Lance is really just trying to figure out the best way to completely limit the damage. I kind of think it's a pipe dream for Lance if he thinks he's going to be able to in any way rehabilitate his image, or to even be able to get out of this mess without doing jail time (for perjury, maybe even for fraud) and huge financial losses, not to mention the complete loss of respect by the public at large. He became the face of the "falsely accused of doping" for a decade, and the bigger they are, the harder they fall.
Just to give you a taste of how angry people are – and how angry they will continue to be – I was watching CNN's Reliable Sources yesterday (it's the Howard Kurtz media-watchdog show), and Kurtz (who is normally mild-mannered and wonkish) was pissing mad about this NYT story. Kurtz called it out for what it was – Lance trying to see what the public reaction would be to a full (or partial) confession. Kurtz recalled the times he interviewed Armstrong and said that the stunning realization that Armstrong had repeatedly and unblinkingly LIED HIS FACE OFF was not pleasant, and a mea culpa tour would not cover the betrayal many feel. Kurtz also published a piece on the Armstrong thing here, at The Daily Beast.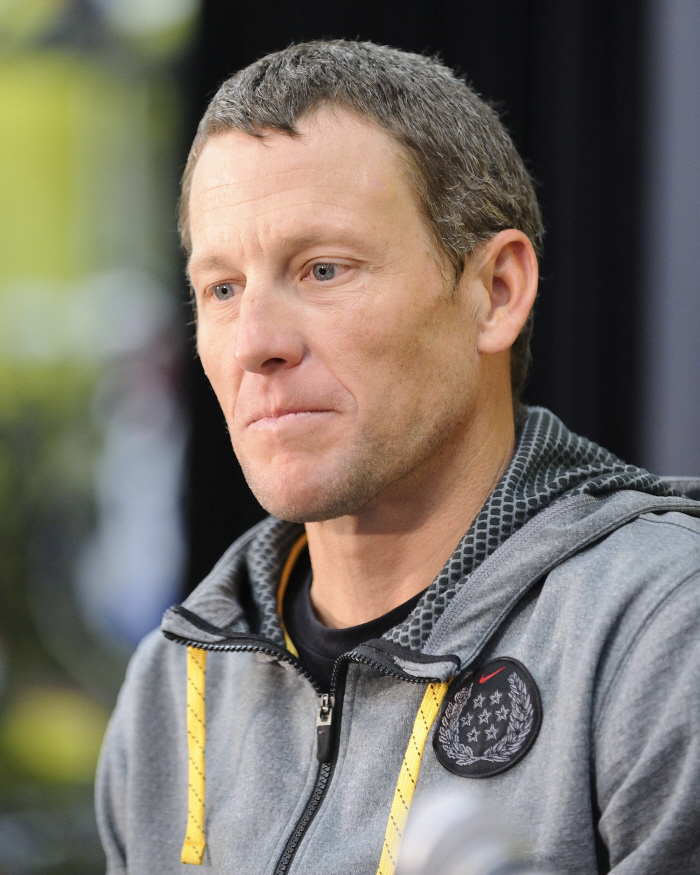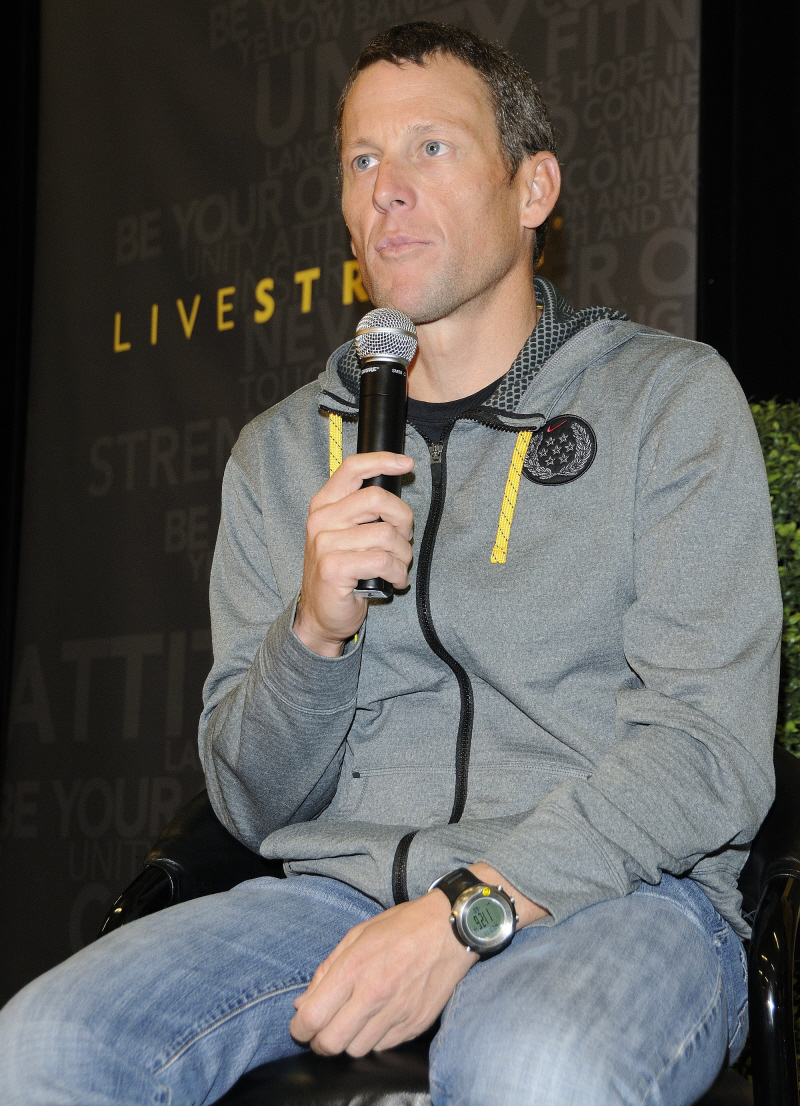 Photos courtesy of WENN.