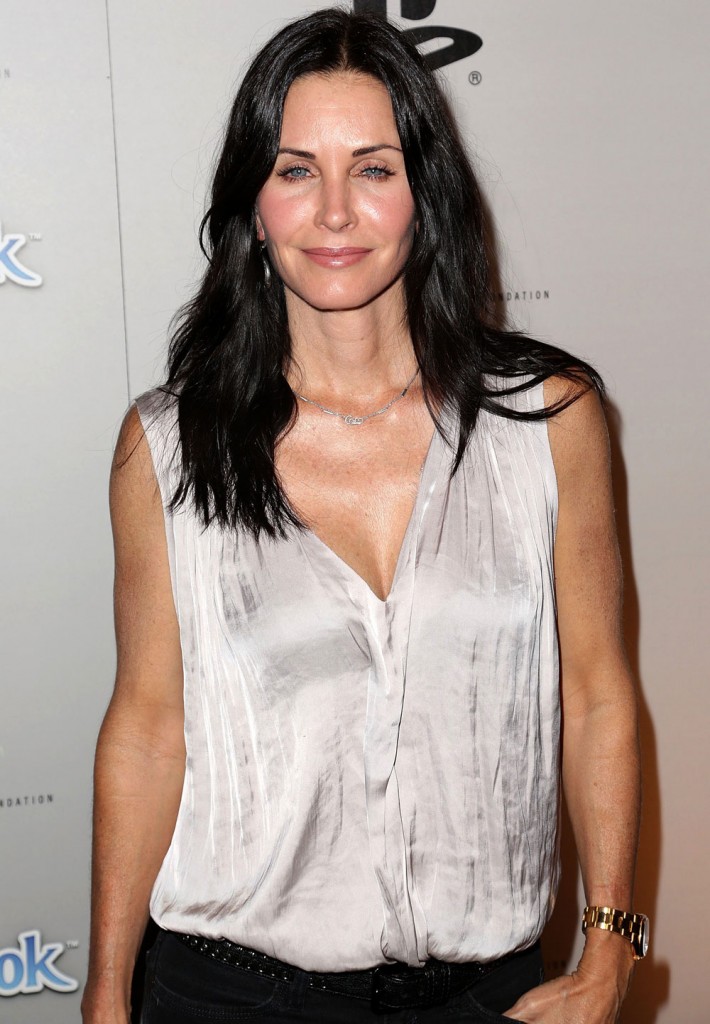 Courteney Cox appeared in an interview to air on the Ellen Degeneres show today. (Video is here.) A lot of outlets are focusing on how Courtney called her ex, David Arquette, her "best friend in the world" and said that she appreciates him "now more than I ever did." It was a nice reminder that not all Hollywood divorces are acrimonious. I just found myself sad for Courteney and David that they weren't able to make it work.
The thing that struck me about the interview was how plastic Courteney looked. It's true, there's no way to skate around it. I don't watch "Cougar Town" and I haven't seen Courteney in motion in some time. On Ellen only Courteney's lower lip moved, I swear. She also revealed that she recently had laser treatment on her hands to make them look younger. They were peeling from the treatment I guess and she was self conscious about it. She said the result should be worth it.
Courtney: "It's called a dual fraxel. I always think my hands look old anyway. Now they literally look like a 95 year-old…. [afterwards] you look like a 21 year-old."

Ellen: "Your hands and your elbows age faster than any part of your body. I don't know why. But elbows and hands are horrible, aren't they?"

Courtney: "Yeah, it's a giveaway. Elbows, hands and necks… Those little fingerless gloves, I'm going to wear them in the summer."
This just makes me wonder what she's done to her face. Will it settle for her, or will she have to keep getting maintenance work? It sounds like she's doing whatever it takes to look "younger," but she's just getting that homogeneous look that makes her real age impossible to tell. I want to have a little something done, I'll admit it, but I'm so scared I'll end up looking like a real housewife.
Courteney also said that she has a new condo closer to David's house in order to co-parent with him. She has two dogs, a 9 and 10 year-old named Hopper and Harley who are both Cavalier King Charles Spaniels. She told a weird story about how she had to buy a square of doggy grass to put on the balcony of her new place, and how she had to personally pee on it in order to get the dogs to go there. Ellen schooled Courteney that when the new doggy grass comes she can just pee in a jar inside and pour it on. The things people do for their pets.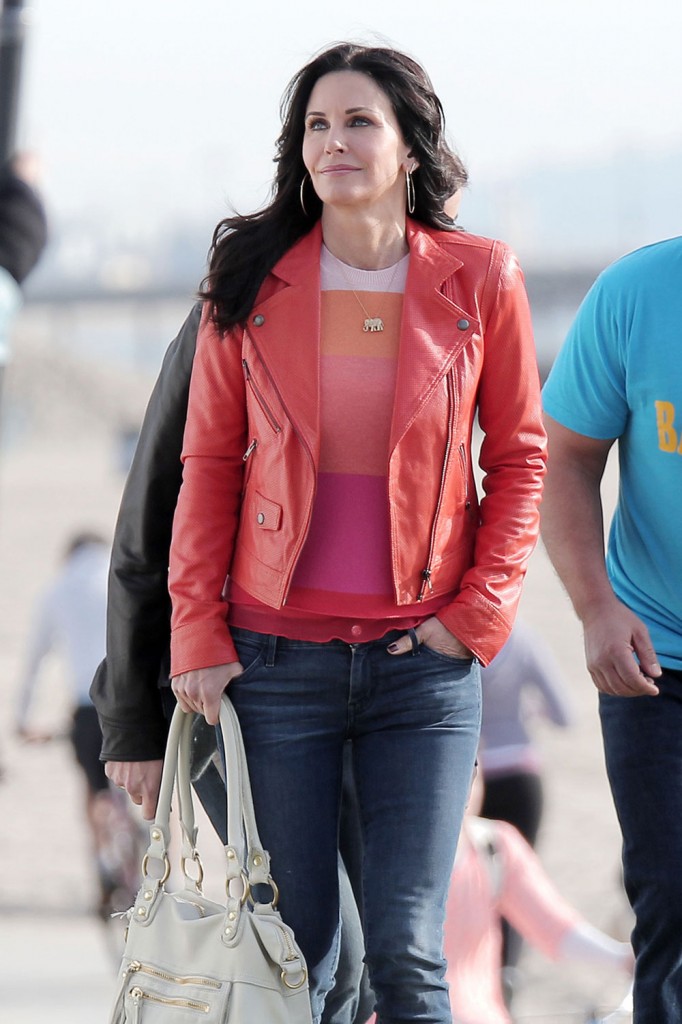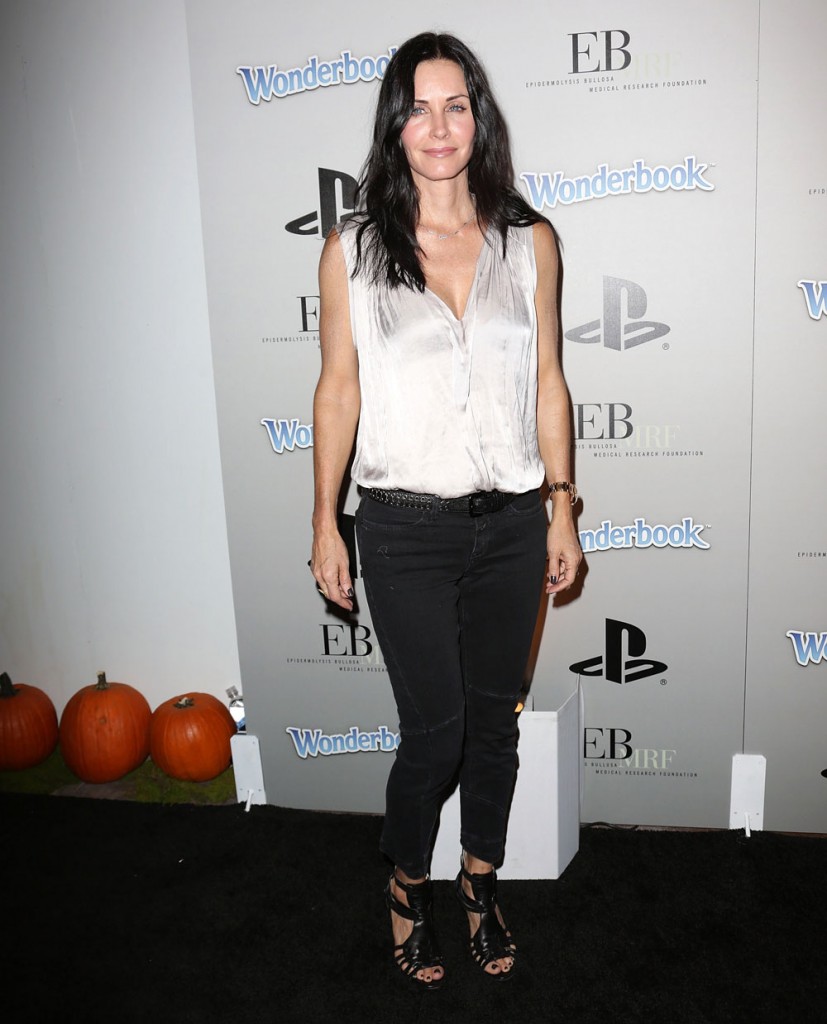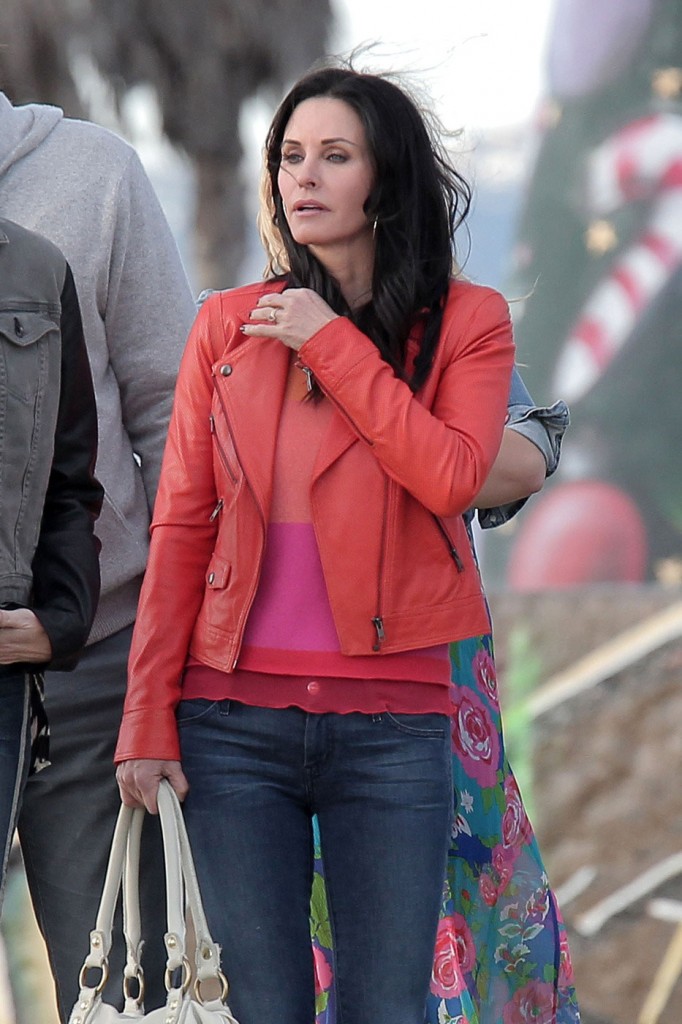 Courteney is shown on 10-27 at a Playstation Event and on 12-21 filming scenes for Cougar Town. Credit: WENN.com and Gaz Shirley, PacificCoastNews.com