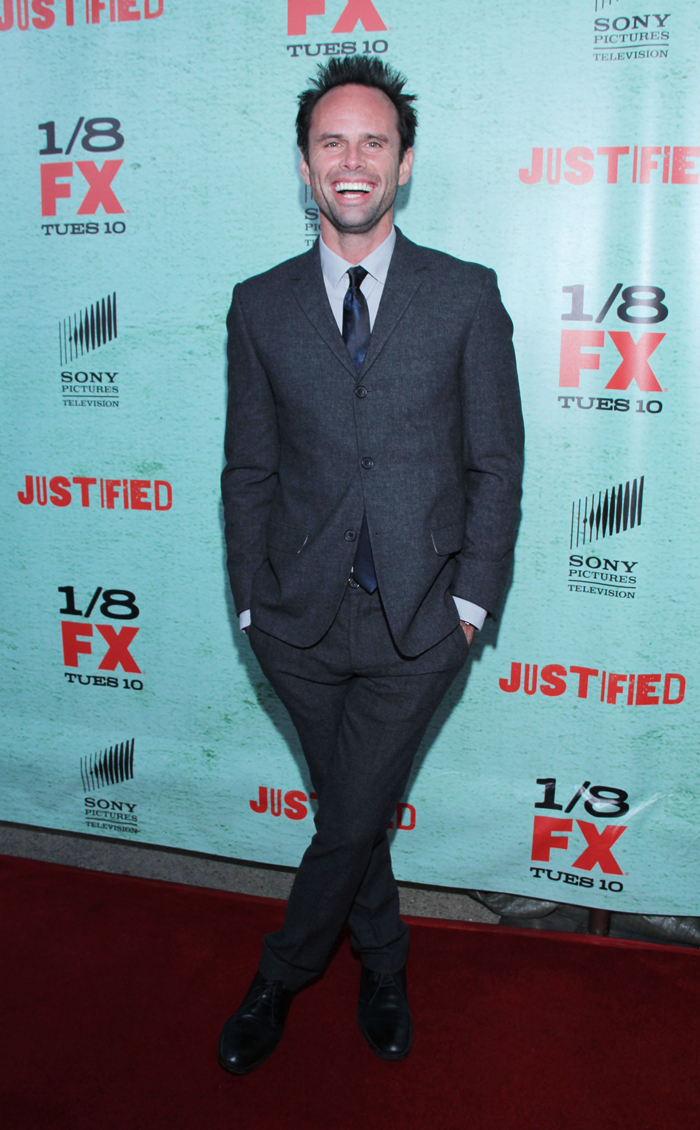 If aren't familiar with FX's "Justified," Walton Goggins (who plays the charismatic Boyd Crowder) is quite seductively hot when in motion and especially while speaking. Unfortunately, the man does not photograph terribly well as evidenced by these photos of Walton at the Season 4 premiere in Hollywood on Saturday. From the show's pilot episode, Walton's Boyd has steadfastly held onto one end of the gravitational pull of the show, and certainly, Timothy Olyphant must both fear (as an actor) and appreciate (as a producer) what Walton brings to the show. In other words, if there was no Boyd, there would be no "Justified," and I'm entirely grateful to Elmore Leonard for recognizing that the character should live on past the first episode, or else Boyd would have immediately perished, and the show would not have been nearly as successful as it is today.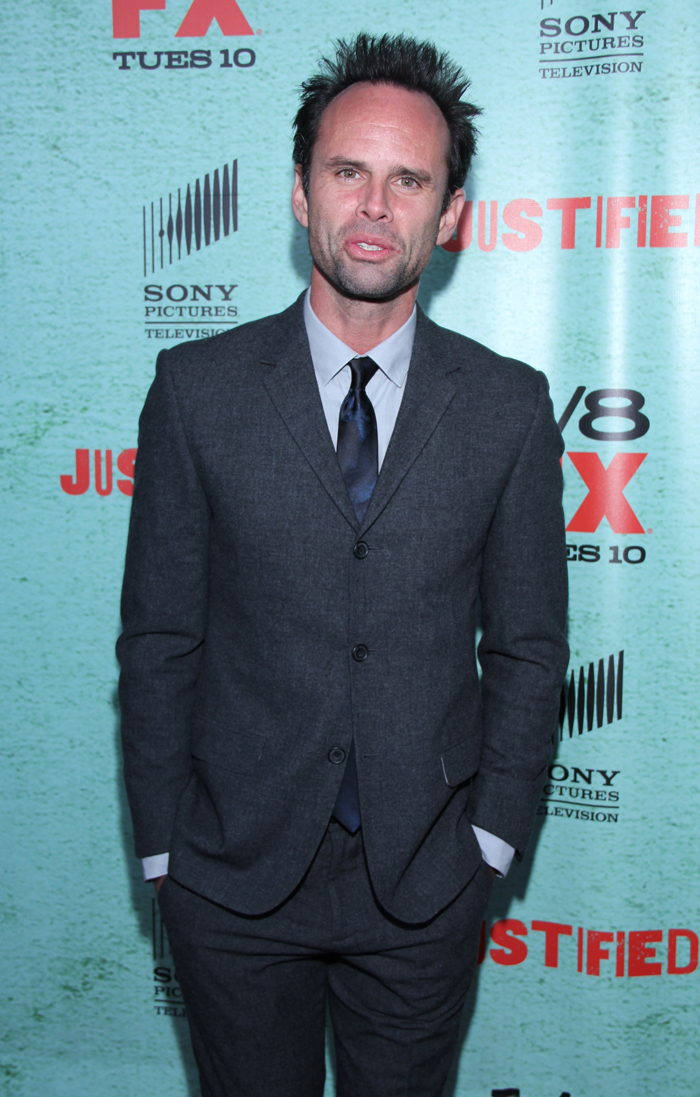 As a momentary diversion before we get to the meat of this story, I recently had the good fortune to watch the "Sons of Anarchy" episode where Walton appears as a transvestite prostitue named Venus Van Dam. Is it just me, or is he surprisingly hot as a woman? That rack looks really authentic too. Poor guy must have sat forever in the make-up chair for this set of girls.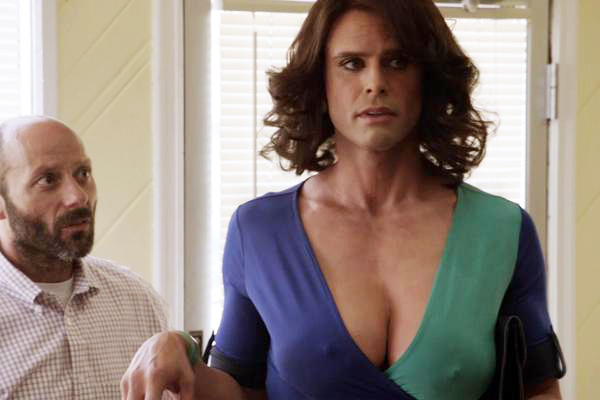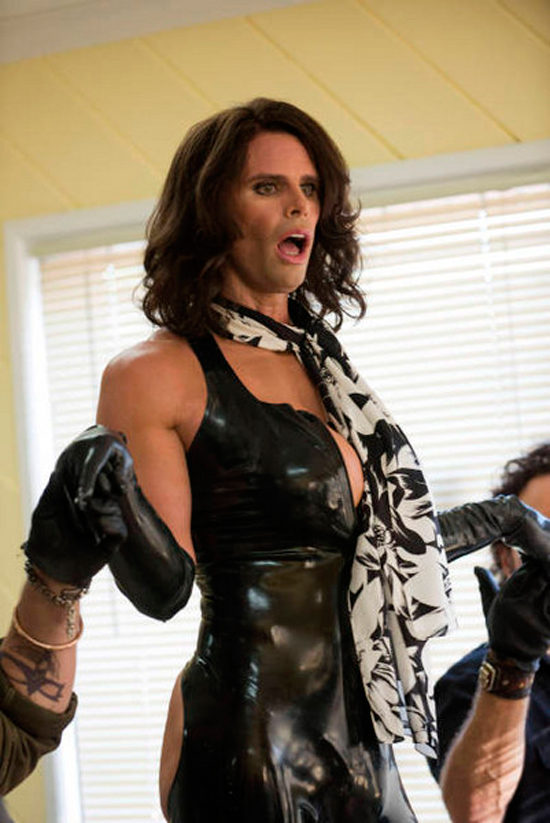 In addition to being the most photographed dude at the "Justified" premiere (we got one picture of Olyphant, which I'm including at the bottom of this post), Walton has also sat down with NY Mag to promote all sorts of projects. In addition to my favorite show on television right now, he's starring in Lincoln (as a proponent of the 13th Amendment) and Django Unchained (as a keeper of the status quo involved between plantation owners and their slaves). In other words, his career is on fire (in the hole) even if his roles seem slightly contradictory at present. Here are some excerpts:
He's grateful for his success: "I would never have gotten the jobs I did without the advent of cable television, which brought back the kinds of raw, authentic leading actors you had in the seventies: Duvall, Ed Harris, Tommy Lee Jones."

He has input on Boyd's evolution: "Tim and I butt heads. He keeps his compass on the Elmore Leonard of it all. He understands the balance between the absurd and the violent. But I am constantly battling for the heart, the raw feeling behind what Elmore is saying. I want to know what's going on ten feet down. There's nothing open about Boyd."

Boyd Crowder isn't a white-trash caricature: "I played a lot of those characters early on, when I needed to feed myself. And I understand how the South is perceived by people like my wife, who is from California and got all of her information from movies and articles. But where I grew up, the black experience informed the white experience, and vice versa. There was a simpatico completing of cultures. So I don't want to be perpetuating those old stereotypes. Of course, here I am doing it again in a Quentin Tarantino movie."

Gowing up Southern: "I was known as the kid who raised himself." After his father left, "my mother wanted to party and have a life. She was young. I grew up with people smoking dope on the porch. I'm not sad about it at all. And she's really showed up since. But when I was young she didn't do a lot, other than making sure I had clogging lessons. It's the low-rent version. Charleston, South Carolina, where the Goggins clan came from, was a big portal for a lot of Irish."

Spielberg vs. Tarantino on set: "Working with Steven is like being at the best dinner party you've ever attended. You're sitting in an intimate booth with jazz playing in the background. All is calm and measured and quiet. Working with Quentin is something like going to war, with Rick Ross D.J.-ing. It's hard to return to civilian life after a Tarantino film. You can't talk about it when you get home. Going forward, I want to stay out of the 1860s for a while."

Stop grooming down there, ladies: "Can I tell you how much I miss pubic hair? My mom was a bit of a hippie, and I grew up seeing it on her and her sisters. It's so beautiful, so feminine. To me, if the size of a p-nis dictates virility, the length of a woman's pubic hair dictates her femininity. Men don't even want hair on their bodies anymore. What's going on? We're animals, man! It's really f**king weird."
[From Vulture/NY Mag]
Man, Walton is not shy when it comes to talking about hair down there, is he? We've already discussed the mutual revulsion of other celebrities who dislike "a clean slate" on a woman as well — Janeane Garafalo believes it's a problem, and Daniel Radcliffe thinks it's f***ing creepy when a woman goes hairless. But Walton phrases his opinion in a more flattering manner. He just likes the way an ungroomed lady looks, you know? Although it's a bit strange that he often saw his mom and his aunts walking around naked while he was growing up, but to each their own, I guess.
Here's that photo of Timothy Olyphant. Admittedly, his hair looks pretty awful slicked back like this, but damn, nice bulge.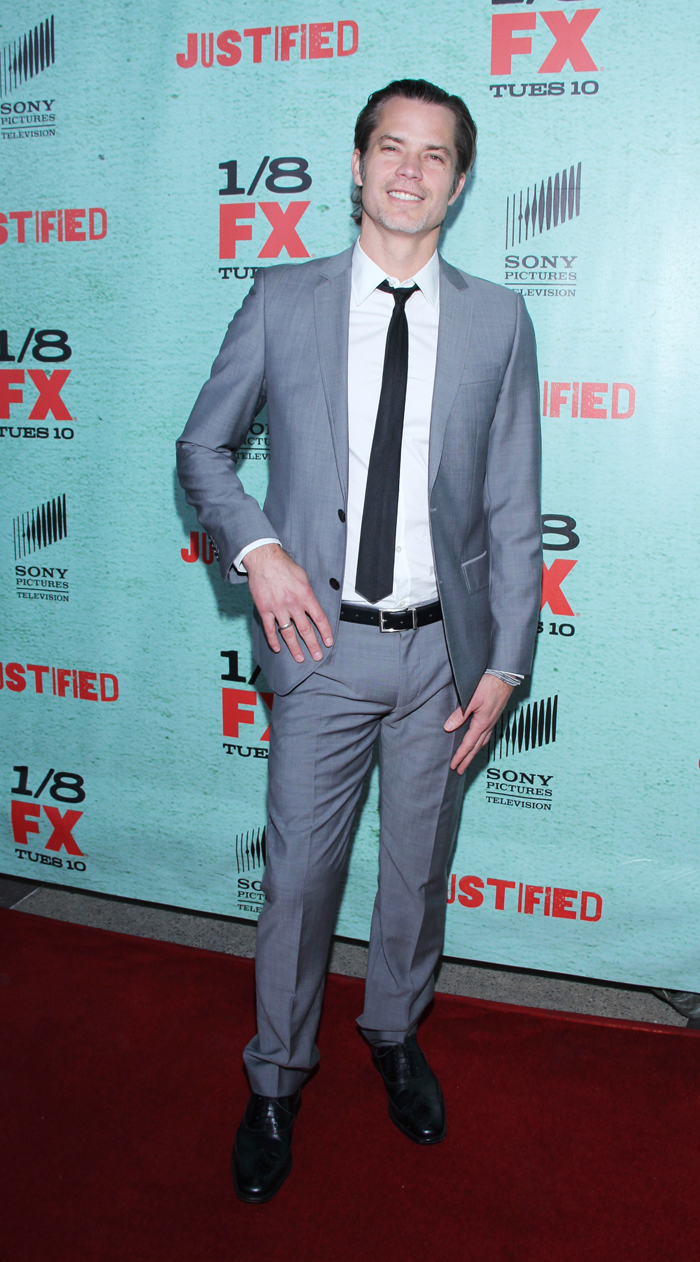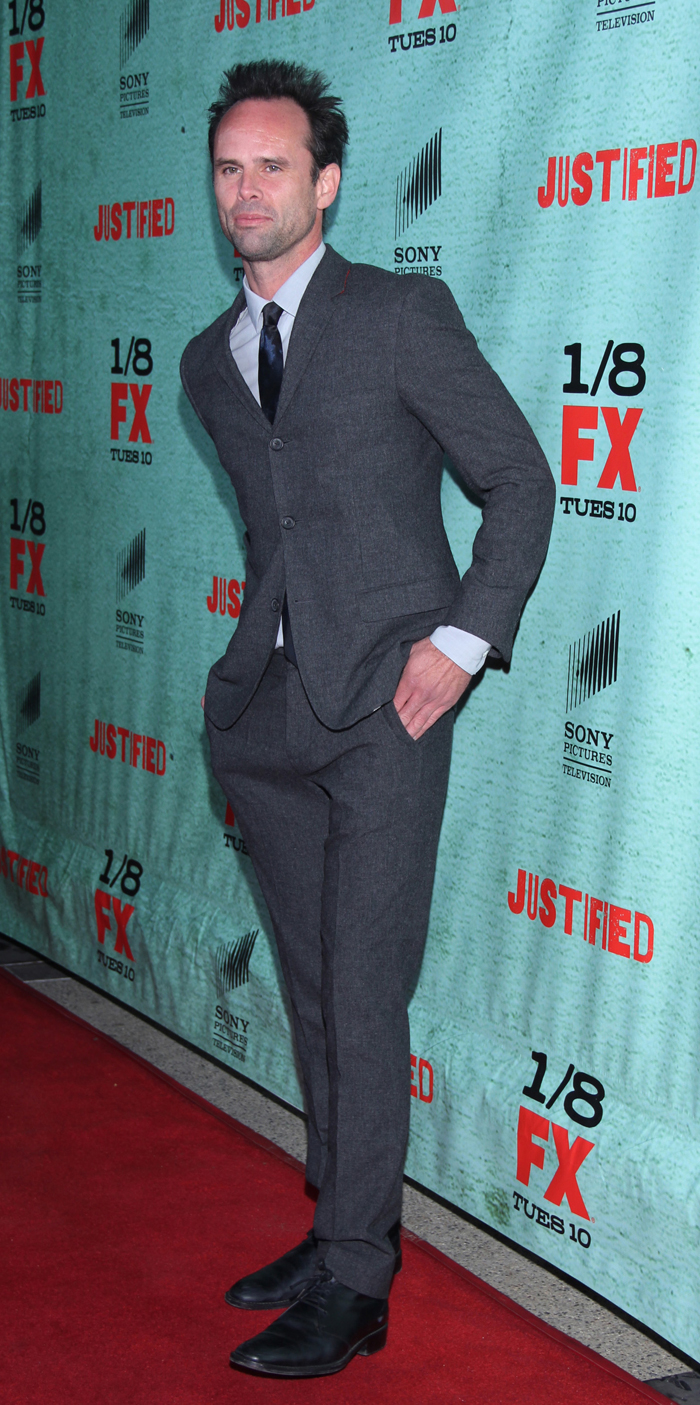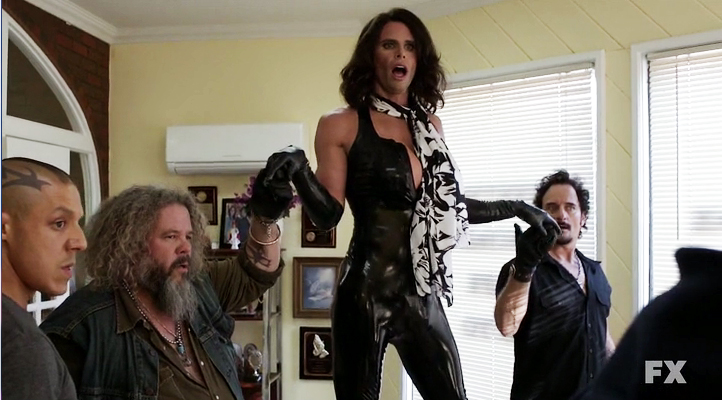 Photos courtesy of FX and WENN