Jodie Foster looked absolutely spectacular at the Golden Globes last night while in attendance to accept the prestigious Cecil B. DeMille Award. Can I say that she looked "divine" without sounding too try-hard? Because Jodie was divine last night. I know her career has been on the downswing lately, but she's enjoyed such a long period (several decades, in fact) of enduring success, and her confidence last night really shone through on the red carpet. Oh, and Jodie may be 50 years old but looks at least a decade younger, don't you think? And it's so obvious that she hasn't become a plastic surgery victim to get there. Of course, Jodie has done the requisite nose job (when she was much younger) and probably touched up with a little bit of Botox in the forehead area for last night's event, but she looks very real, which is a major accomplishment in Hollywood.
Jodie wore a beautiful blue Giorgio Armani gown that bucked today's fleeting trends in favor of old-school glamour. She chose a dress with just the right amount of shimmer and cling, and the straps gave the gown a very age-appropriate air. With her trademarked cute little bob and understated makeup, Jodie knew she was in charge of her look last night. I might have gone a little bit more adventurous with the lipstick, but I can't really complain too much here.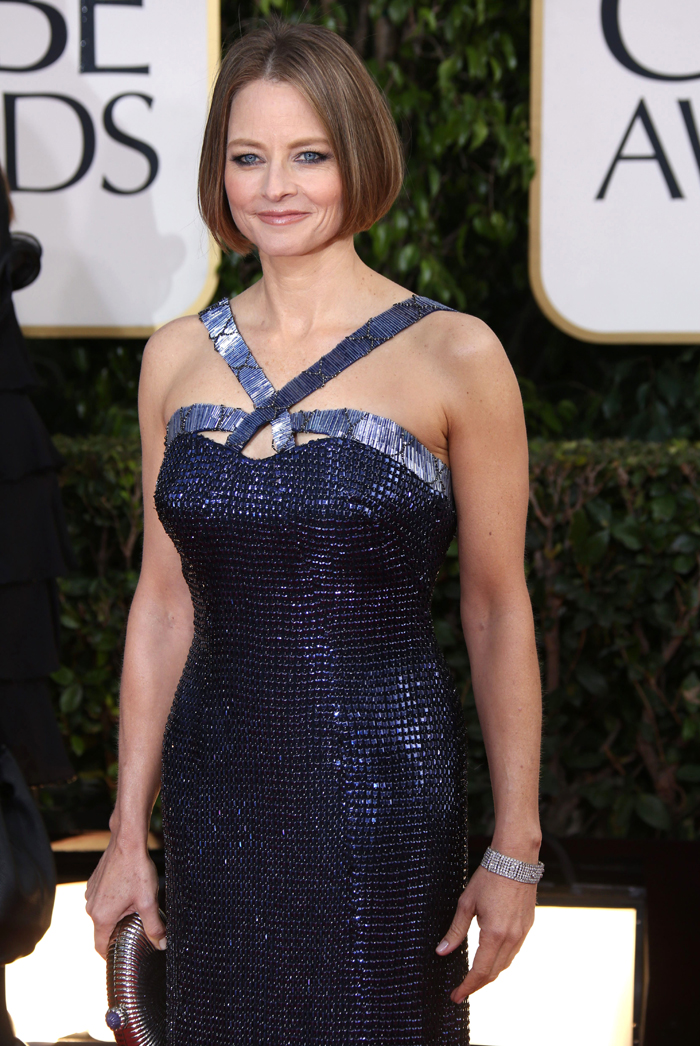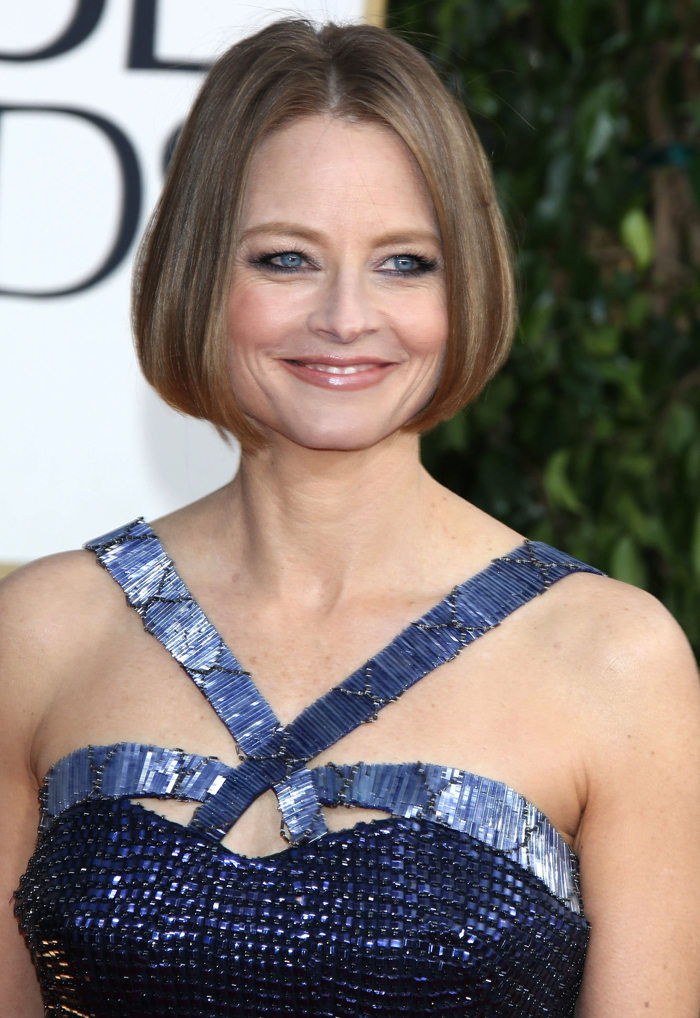 Jodie's speech was a whole lot of things rolled into one — candid, emotional, and a little bit awkward too. After she started to talk about her "big announcement," Jodie seemed to backtrack on her original script a bit. I think we all expected her to make a "loud and proud" announcement about her orientation (?), but then she made a joke out of the moment by simply stating, "I am single." Then she went on to make a point about privacy and how "I am not Honey Boo Boo Child." I see what she's saying here, and Jodie has spoken before on the topic of privacy in terms of the Kristen Stewart scandal. Jodie is perfectly entitled to say whatever she wants in her Cecil B. DeMille speech. God knows she's earned it. Jodie also went on to utter some amazing, emotional lines about her mother, and then she made an allusion to a new chapter, which I suspect means life behind the camera. Here's a clip.
Jodie's speech was offbeat and kind of amazing in a stream-of-consciousness sort of way. I suspect that she scripted it that way on purpose. If only she hadn't mucked up the occasion with all of that Mel Gibson talk. I know Jodie prides herself on being one of Mel's only (or even possibly his lone) supporter, but this friendship and working relationship only taints her otherwise illustrious career. In response, Mel let out a wolf whistle. Ugh.
Now back to THAT SMILE.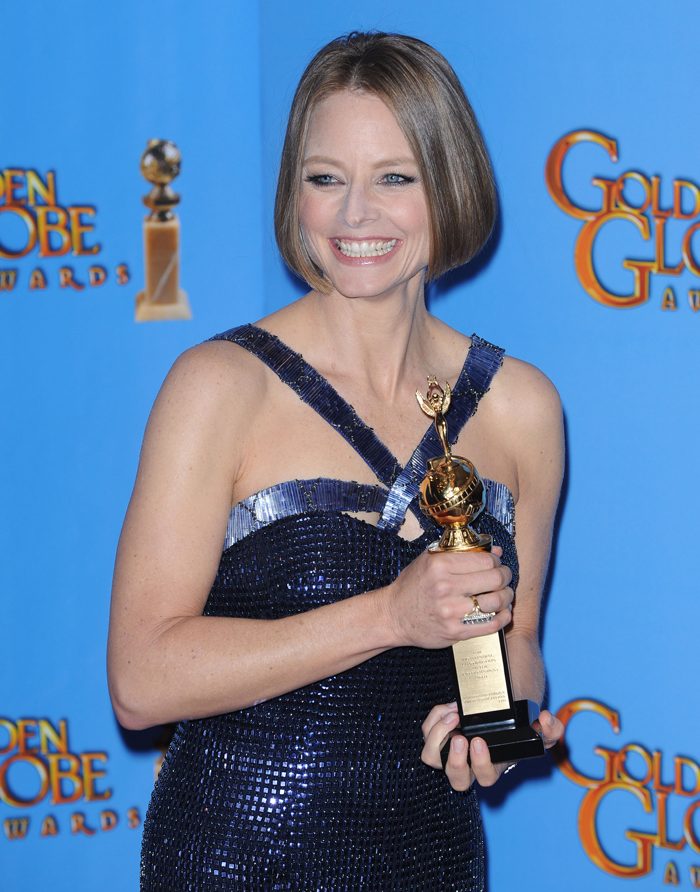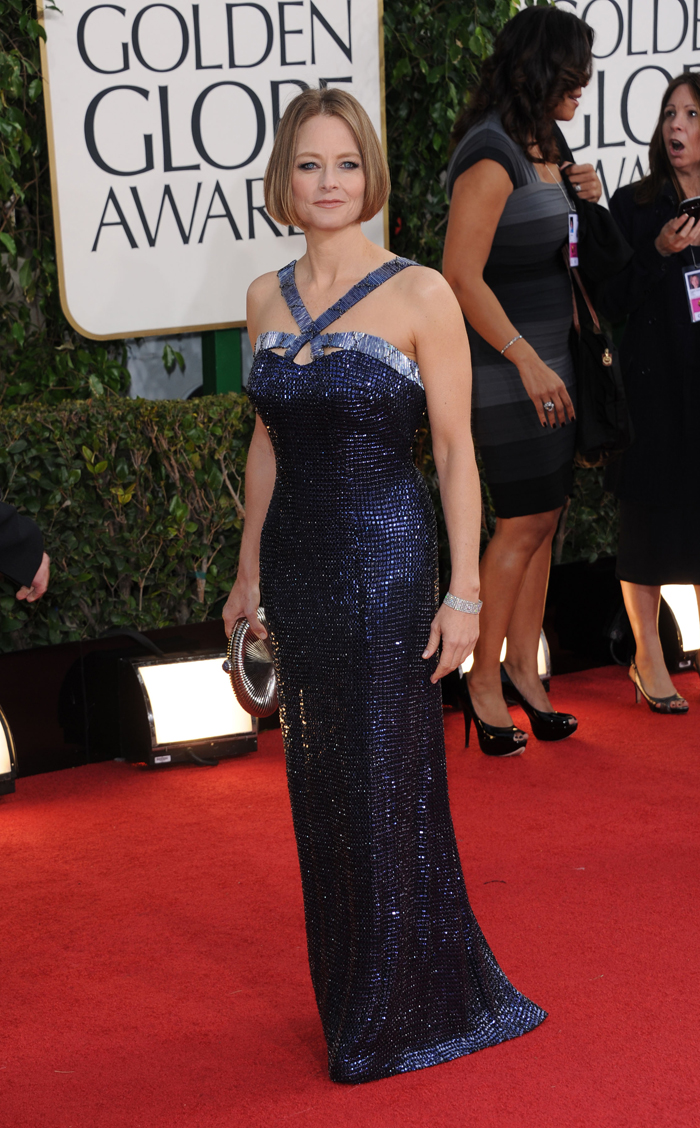 Photos courtesy of Fame/Flynet and WENN