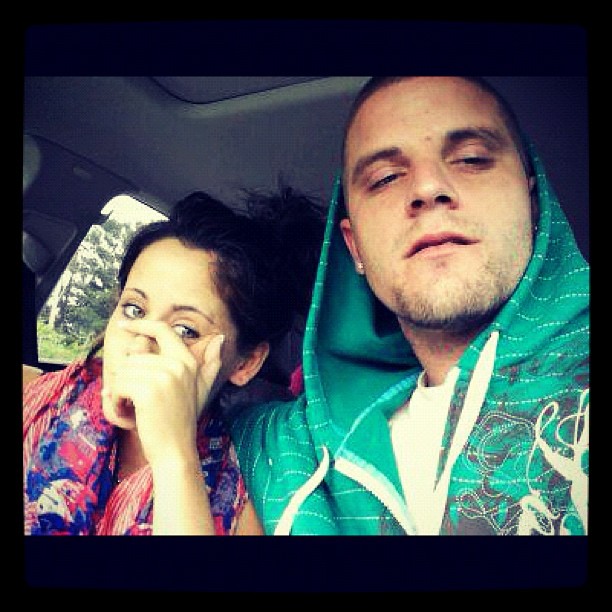 Honest question: do you guys know anyone in real life that is as messed up as Jenelle Evans? Before I was introduced to people like her and Tila Tequila, thanks to the wonders of the Internet, I didn't fully grasp that people like that existed. Maybe I live a sheltered life, maybe my friends and relatives are drug and mental-illness free for the most part and stay out of trouble with the law. Maybe they're just good at hiding things. I've never known someone who fights as much with their significant other, who gets in so much trouble and whose life is in such turmoil.
So Teen Mom 2′s Jenelle Evans got in a big fight with her husband Courtland Rogers (of six weeks) over the weekend after he went out until 3am. She accused him of cheating, he denied it, and things escalated from there. She's also seven weeks pregnant and had a miscarriage scare, for which she went to the hospital. Her husband wasn't around for that, he had gone out of town (probably to score drugs or some strange) so she tweeted that she was divorcing him. Then she marched down to the courthouse and filed five assault charges against him. It's unknown what went down, the guy denies beating her but her face is allegedly bruised.
The assault charges are "four charges of assault on a female and one charge of battery of an unborn child." So I guess she didn't have a miscarriage. Jenelle's lawyer tells E! that his client was "physically assaulted over a period of time." That sounds to me like these are older abuse allegations and she's just getting around to filing charges now that Courtland is on her sh*t list. "Older" is of course relative given the amount of time these two have been together.
Again: who lives like this? This is crazy. This girl must not have the slightest ability for self reflection. I'm not saying she shouldn't divorce this guy, especially if he abused her in any way, but one minute she was declaring how mature and in love she was and now this public drama less than a week later. The thing is, she's pregnant. She can get a divorce but if she has the baby and this guy takes his parental rights seriously he's going to be in her life forever. Who am I kidding, he's not going to give a sh*t about the kid and Jenelle's mom will end up raising it. Given how unstable she is that would be the best outcome. Actually adoption would be the best outcome, if they can keep her on lockdown so she can't drink and do drugs while pregnant.
After I wrote all that, I found this story on Radar that points to a video from last December in which Jenelle's husband, Courtland Rogers, admits to having smoked crack in the past. He says he no longer smokes crack, but claims "Every once in a while I take Percocet because I just like to float, and I use xanny bars (a 2mg dose of Xanax in a bar-shaped pill form). But I'm okay with that! And I smoke kush." Father of the year. He also brags about women chasing him because of his fame. I don't want to repeat it all, it's just drugged out trash talking.
Jenelle has posted messages on Twitter from Courtland's baby mama claiming that he's still sleeping with her. Then she had the audacity to tweet this message: "so sad how all this drama is all over the web ." You put it on Twitter and you have 620,000 followers dumbass. These people are stupid and arrogant beyond comprehension.