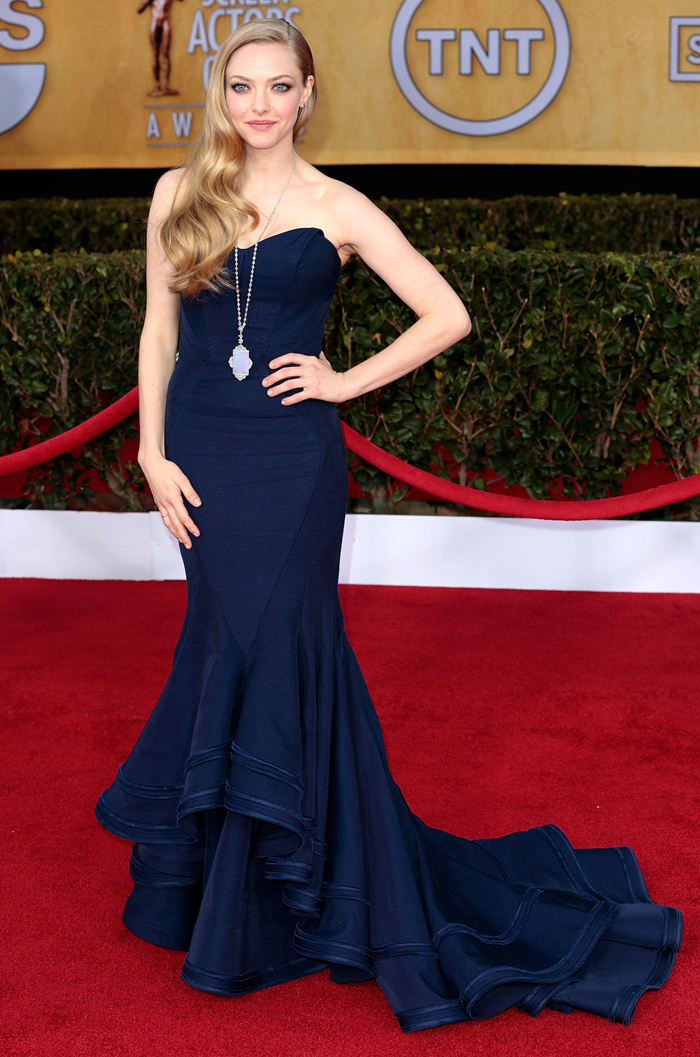 Amanda Seyfried went for glamour at the SAGs last night with a gorgeous midnight-blue-colored Zac Posen gown with tastefully ruffled hemline that led into a bit of a trail. This is exactly the kind of dress that Amanda looks great in, and it's not too cutesey like she tends to do sometimes. She also seems pretty happy here, so I'm also guessing that she didn't have a fight with her stylist over this dress, which is just perfect and nearly impossible to pick apart.
Amanda was on hand as part of the best cast nomination for Les Miserables, and I have to wonder whether she's gritting her teeth at this point over Anne Hathaway's "look at me" behavior during this awards season. She certainly has more patience than I would have in the same situation, and at least Amanda can rest assured that her SAGs dress was a lot better than Anne's. I also really like Amanda's long, silver pendant necklace here, which is a very atypical choice, but it fits the dress quite well. The beautiful-Rapunzel, wavy hair and tastefully bold makeup were perfect for this gown. Amanda might be slightly dull during interviews, but she looks pretty perfect here.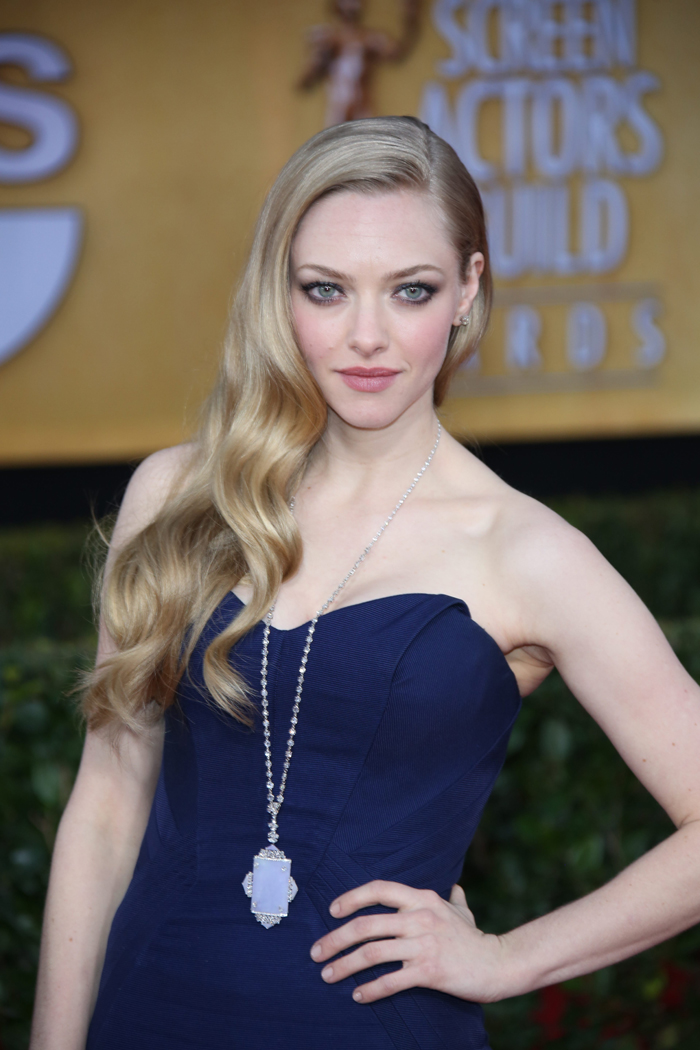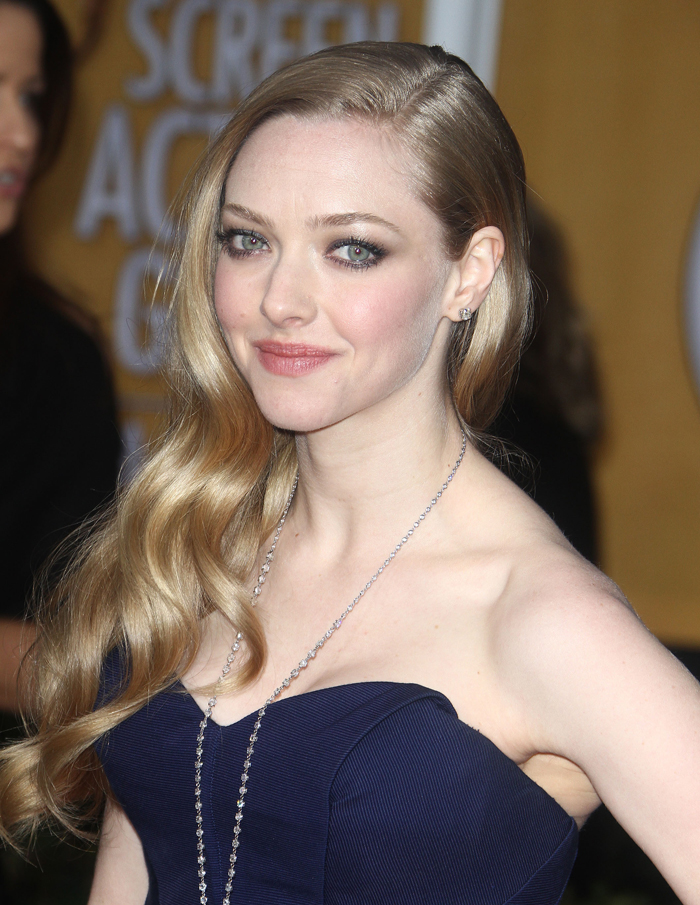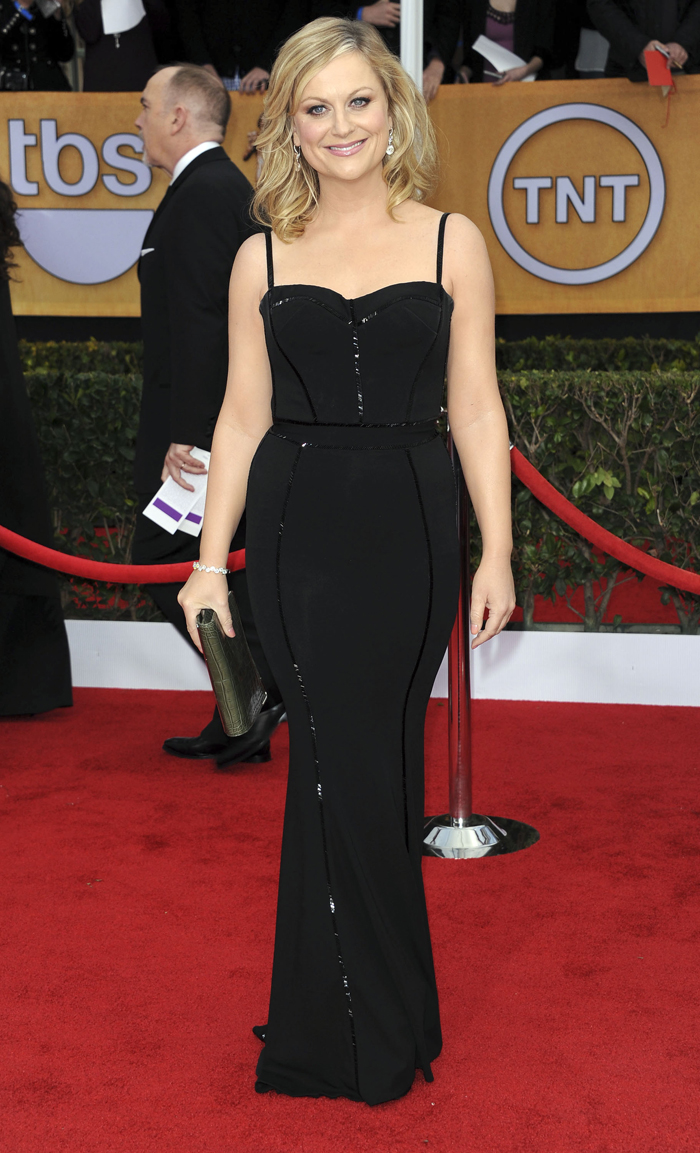 Amy Poehler wore a black Zuhair Murad gown that was a little bit sparkly but mostly just there although it made her bod look really good. Amy was nominated for best actress in a comedy for "Parks and Rec," and I would have loved it if she'd been a little more daring for the SAGs like her good friend, Tina Fey, below. I'd also like to see Amy do something different with her hair. Maybe go very sleek and straight or go for an updo. Amy wears her hair like this a lot, right? She's still gorgeous, and Will Arnett is probably still crying in his chicken soup over her.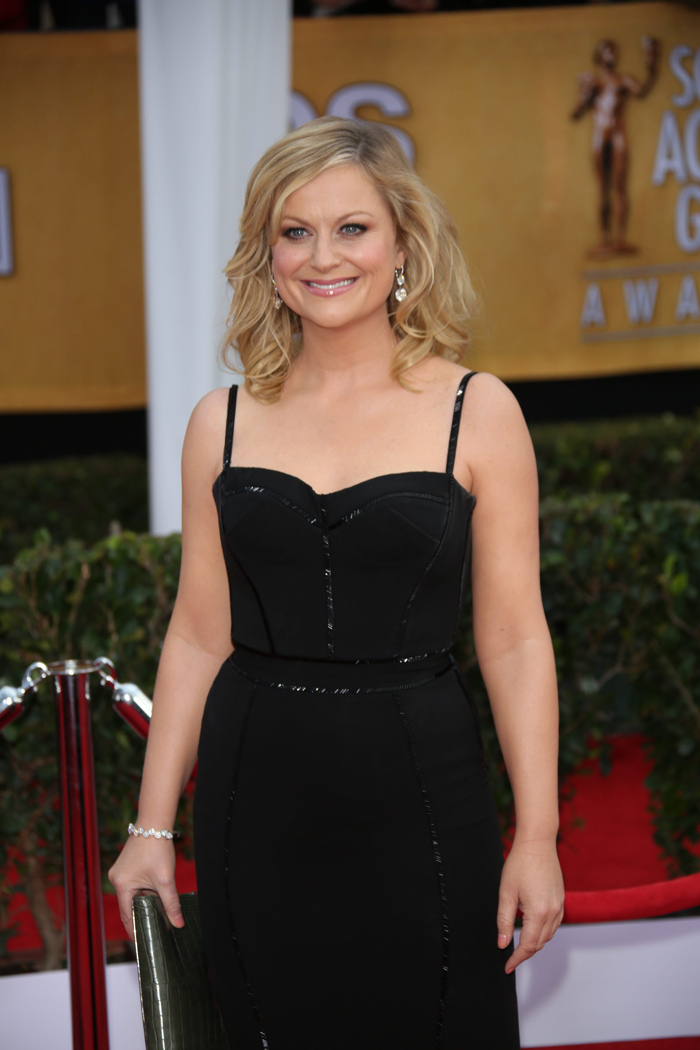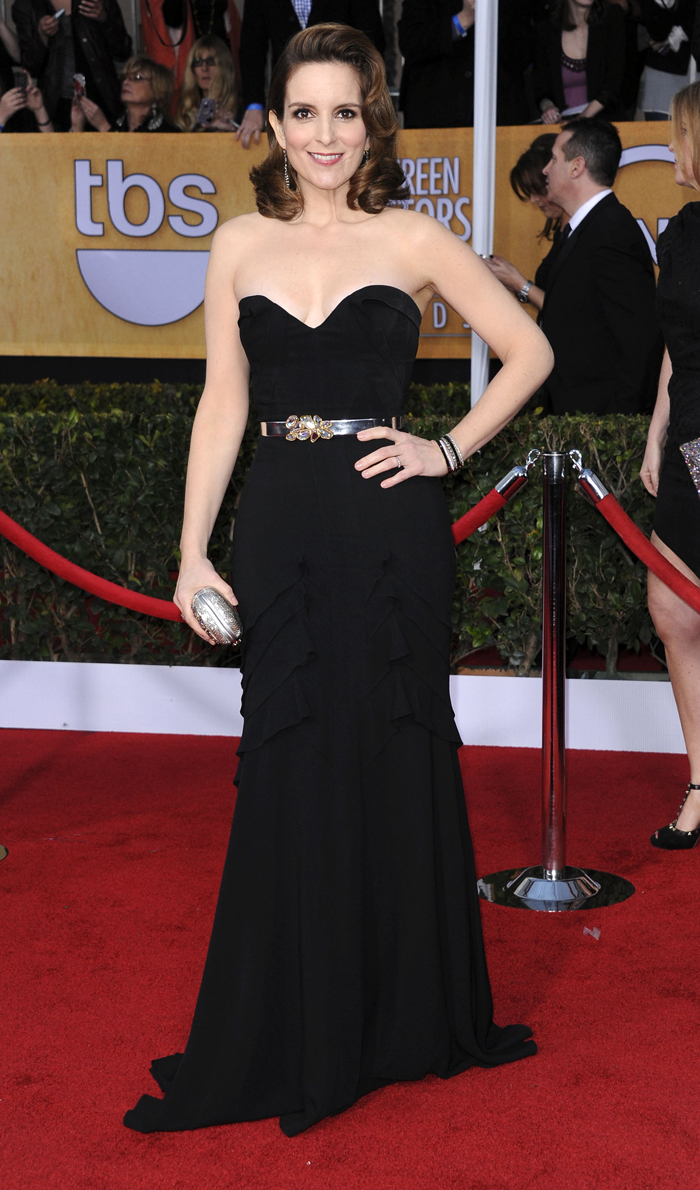 Tina Fey was rocking the Oscar de la Renta last night. I almost didn't recognize her at first because this is a very adventurous look for her! Tina went strapless in a well-fitted black gown with an embellished metal belt and very dramatic eye makeup to match. I really like her hair all wavy like this. This is a great look for Tina, and she killed it on the red carpet and also while taking home a SAG for leading comedy actress in "30 Rock."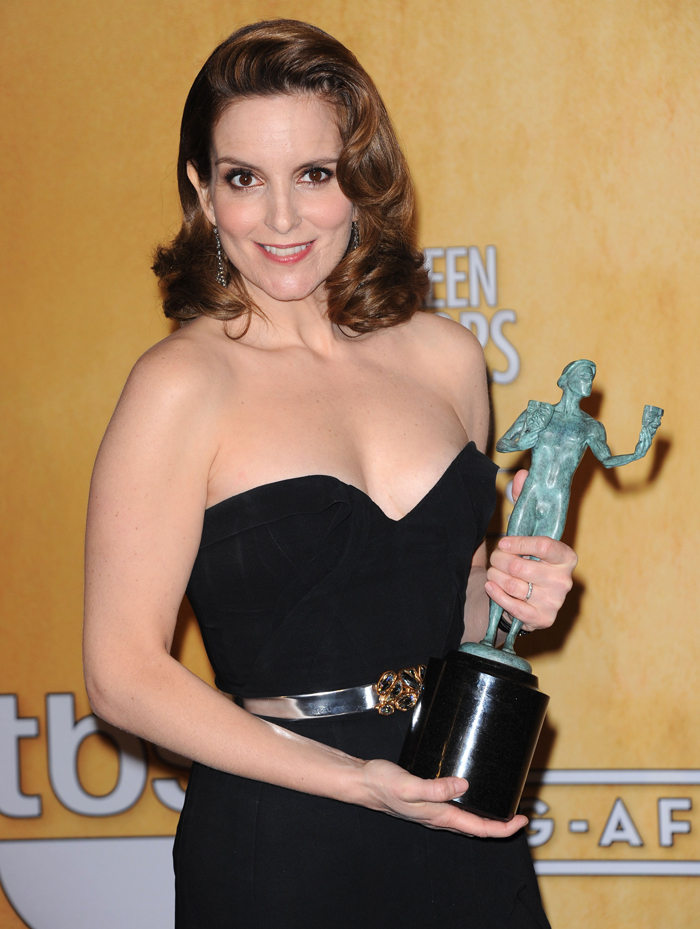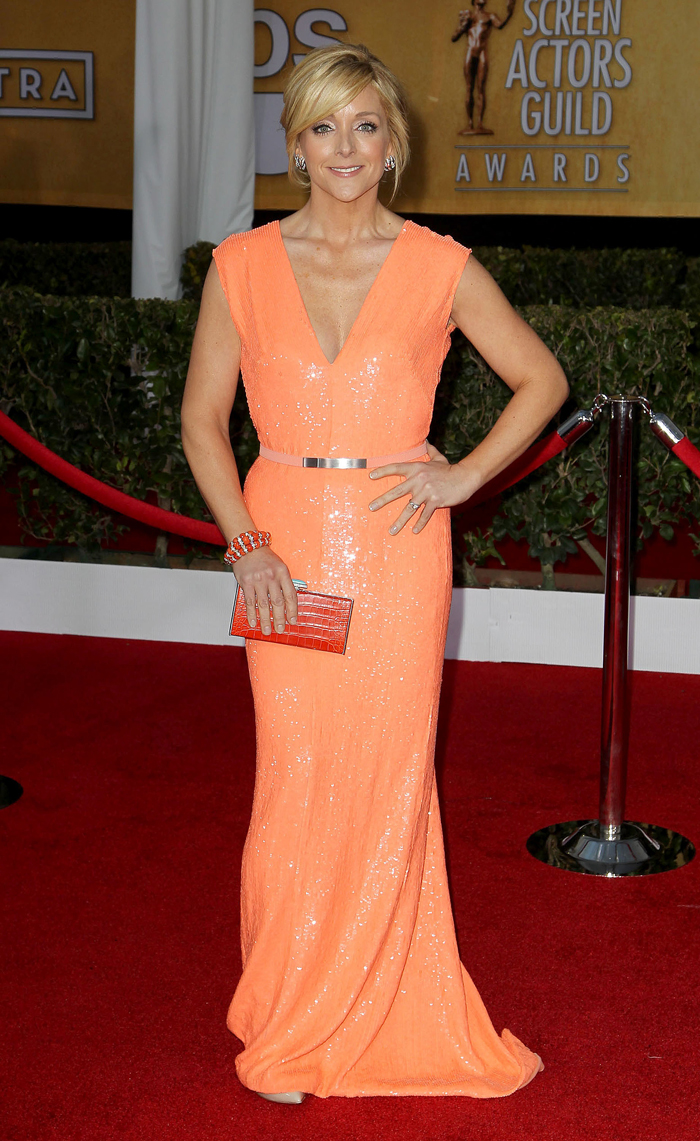 Jane Krakowski wore an "orangey sherbet" (according to her) Kaufmanfranco gown that I wasn't crazy about, but she could have pulled it off with a more retro hairstyle and maybe in a different color that didn't closely match her own skin tone. The silver buckle on the belt is a nice touch though, and we've seen Jane go much, much gaudier at previous award shows, so this is probably a "win" for her.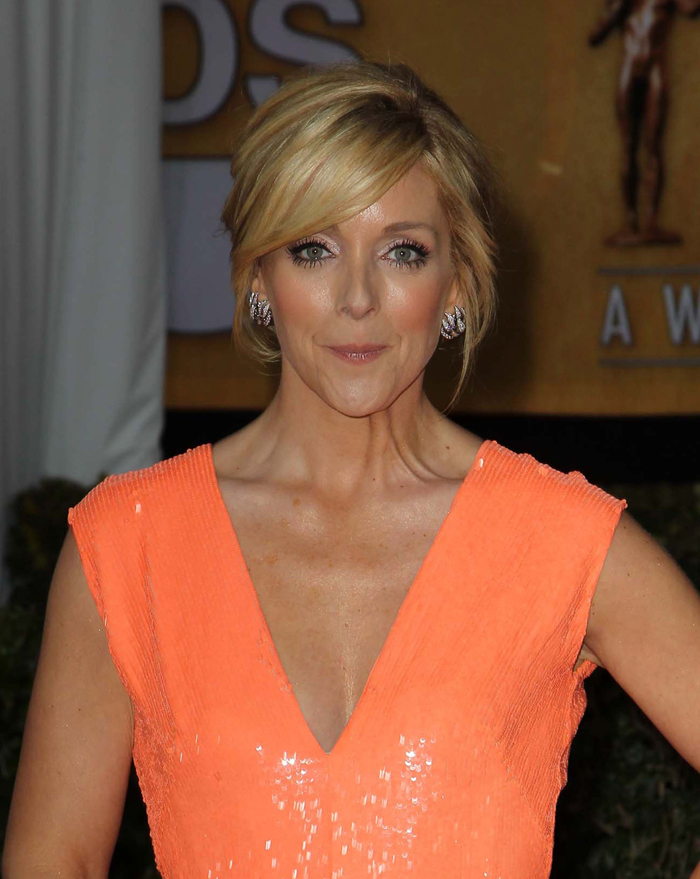 Photos courtesy of Fame/Flynet and WENN