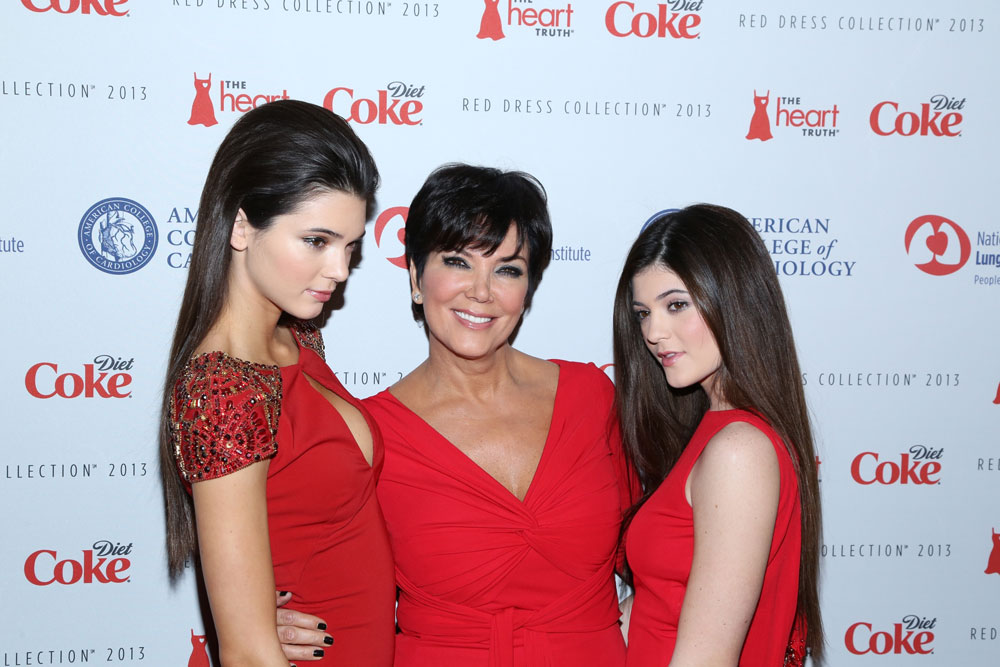 Kris Jenner was a guest co-host on The View yesterday, (video is here) where she addressed the ongoing rumors that she's about to divorce her husband of over 20 years, Bruce Jenner. According to Kris, none of that is true, and she wants to stage a photo op to show that they're doing fine. Yes some staged photos will make all those tabloids stop reporting that she and her husband hate each other. They haven't gone to an event together or been spotted out together in months, but all they have to do is call the paps and everyone will shrug and think they're fine.
On if she's getting a divorce
No we are not getting divorced. Not in a million bazillion years.

I want to do a photo shoot and send the magazine like really great photos and say "the next time you just make up a story, use this photo, this is the one I like." They're crazy.

On if Kim is under stress during her pregnancy
That one's actually true, you know Kim has been going through this divorce. For 71 days they were married and it's been months and months of trying to do that [divorce]. So she has been under a lot of stress because of it, and so the doctors just told her… the stress is going to be a big problem if she doesn't be careful.

On an annulment for Kim vs. a divorce
I don't think she would mind getting an annulment, but in order legally to get an annulment you have to prove fraud. She was in love and she got married.

I don't really see the point because she got married for the right reasons at the time, and he's a great guy. He always seemed very nice and I just wish that everybody would move on.

On getting her own talk show
I am, I'm excited about it… I need some pointers, you guys are going to have to give me some advice… We had our first big network meeting over at Fox on Friday and it was literally a dream come true.
[From The View, video on ABC.Go.com]
Note how Kris talked way more about her daughter's divorce, and her daughter's estranged husband (I mean that's what he is) than she did her own husband. She didn't say anything positive about Bruce or mention that she's been with him for so long and they still love each other, she just said they're never getting a divorce and they're going to stage a photo op to prove it. That's what matters in this woman's world – appearances.
I'm just disappointed that the new In Touch cover article hadn't come out prior to The View being taped. I would have loved for Kris to have to address how she allegedly abused her kids in the 90s and is a narcissist and a neglectful mom. She just could have staged a photo op hugging up on her daughters to disprove all that. That's pretty much how she does everything.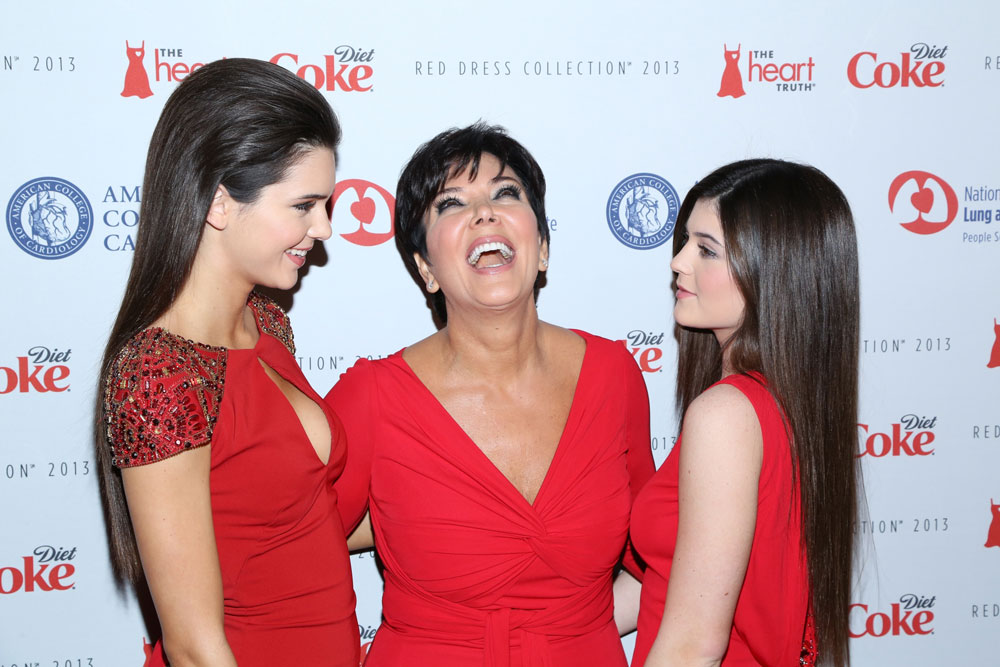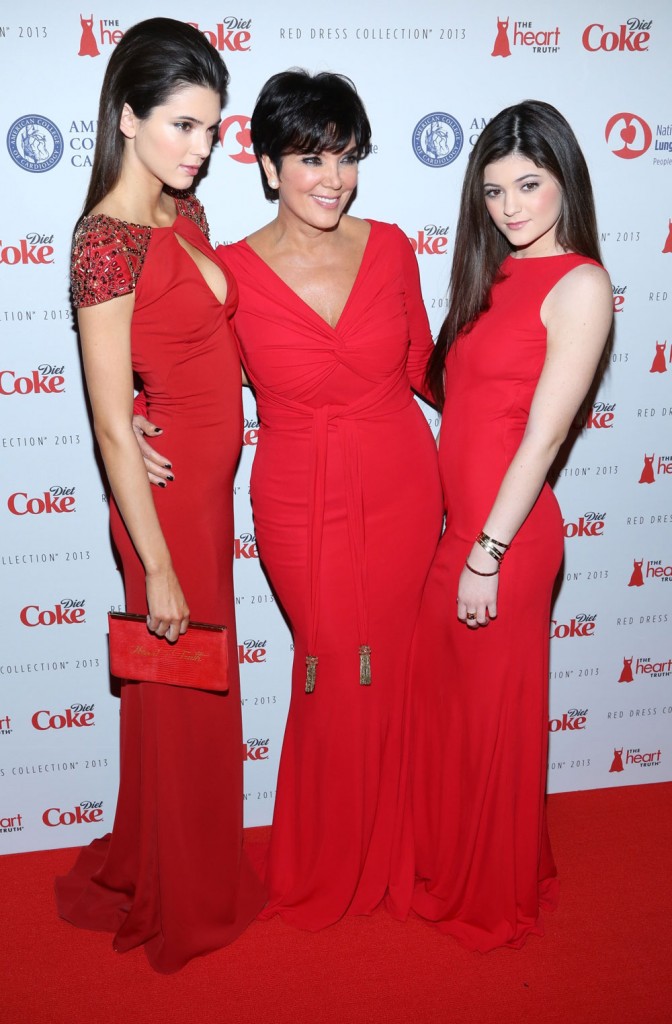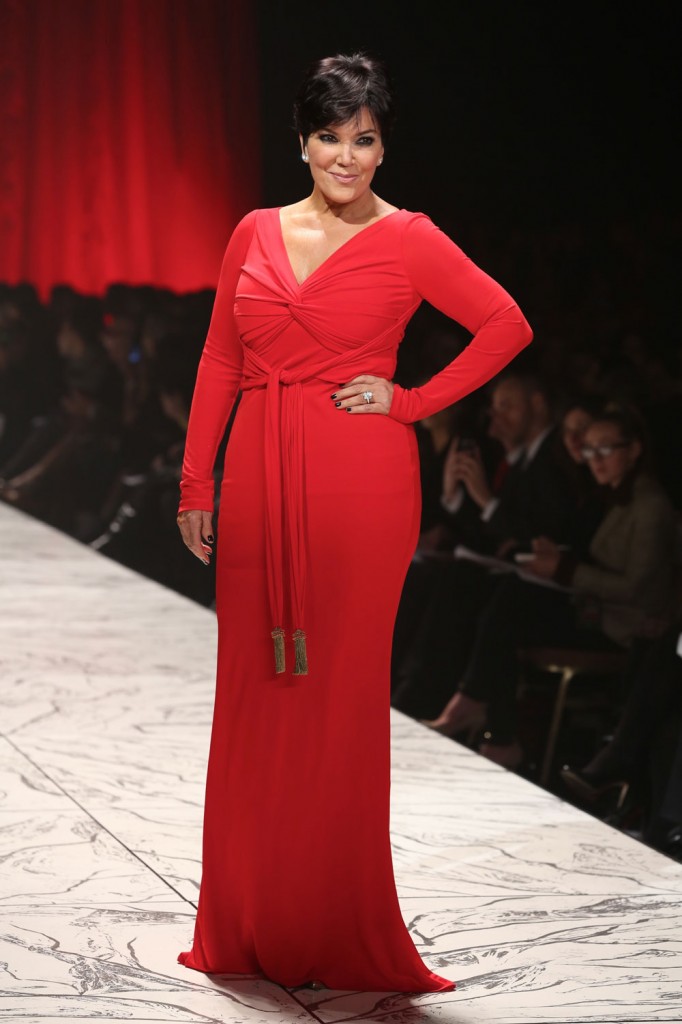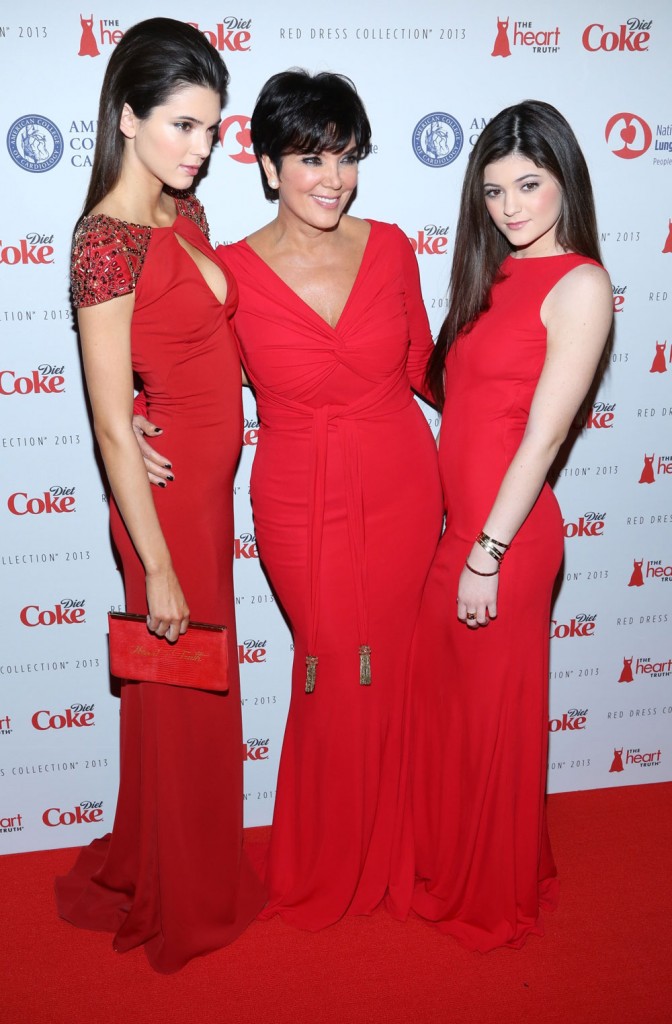 Kris Jenner is shown hugging up on Kylie and Kendall yesterday, 2-6-13, at The Heart Truth's Red Dress Collection in NY. Credit: Andres Otero/WENN.com