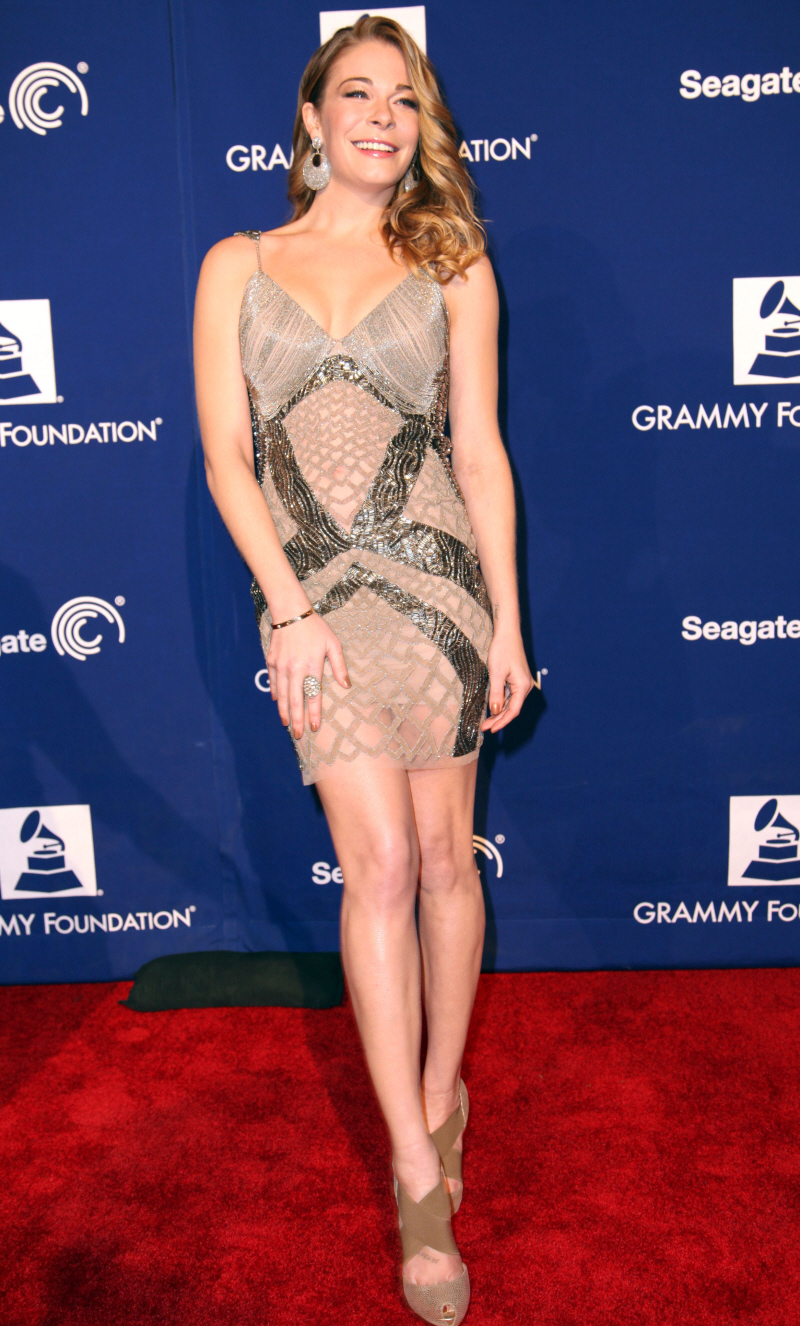 Once again, I'm going to ask all of you to stop with the trolling. We can talk and laugh about LeAnn Rimes and this whole budget mess/situation without everybody ganging up on LeAnn or each other. These are new photos of LeAnn last night at a pre-Grammy event for the Music Preservation Project 'Play It Forward' Celebration. I can't find the designer ID for her dress, so I'm sorry about that. I don't like the dress very much at all… the design doesn't flatter her figure and that beige-y color doesn't suit LeAnn's coloring either. She would look so much better in jewel tones. And I'm sorry, but those shoes look like bandages.
LOL – I just realized that you can completely see through the midsection of the dress – you can see LeAnn's belly button! That's so… ugh. I mean, it's for a pre-Grammy event so it's not like people were walking around in ball gowns or anything, but this feels like a really trashy style choice. Also: where was Eddie? He didn't come or he didn't walk the red carpet with her? Maybe he had to stay home and spend the evening taking down his Instagram account. LOL.
I'm also including two of LeAnn's Twit-pics from last night. The closeup is tagged "Glamour night!!!!" and the red carpet photo is tagged "Grammy Foundation carpet craziness" only that carpet looked pretty subdued to me. I looked through the red carpet photos too, and LeAnn was seriously the biggest name there, except for maybe Emmylou Harris (whom I love). LeAnn tweeted: "Tonight, "Play It Forward" for the Grammy Foundation kicked serious ass!!! I adore Kenny Wayne Shepherd It felt soooo good to just sang!" To just sang? Epic.
LeAnn has also been tweeting some cryptic stuff, directed at no one and everyone I suppose. Yesterday she tweeted, "To deflect the truth is just plain admission". Was she saying that to herself or Brandi? LeAnn also retweeted this: "Hurt people hurt people, n she is so hurt that she wants u to feel that pain and its killing her that u are happy. @leannrimes". SMH. I think my favorite is this though – from today: "'Too often we… enjoy the comfort of opinion without the discomfort of thought.' John F. Kennedy". LeAnn is so deep.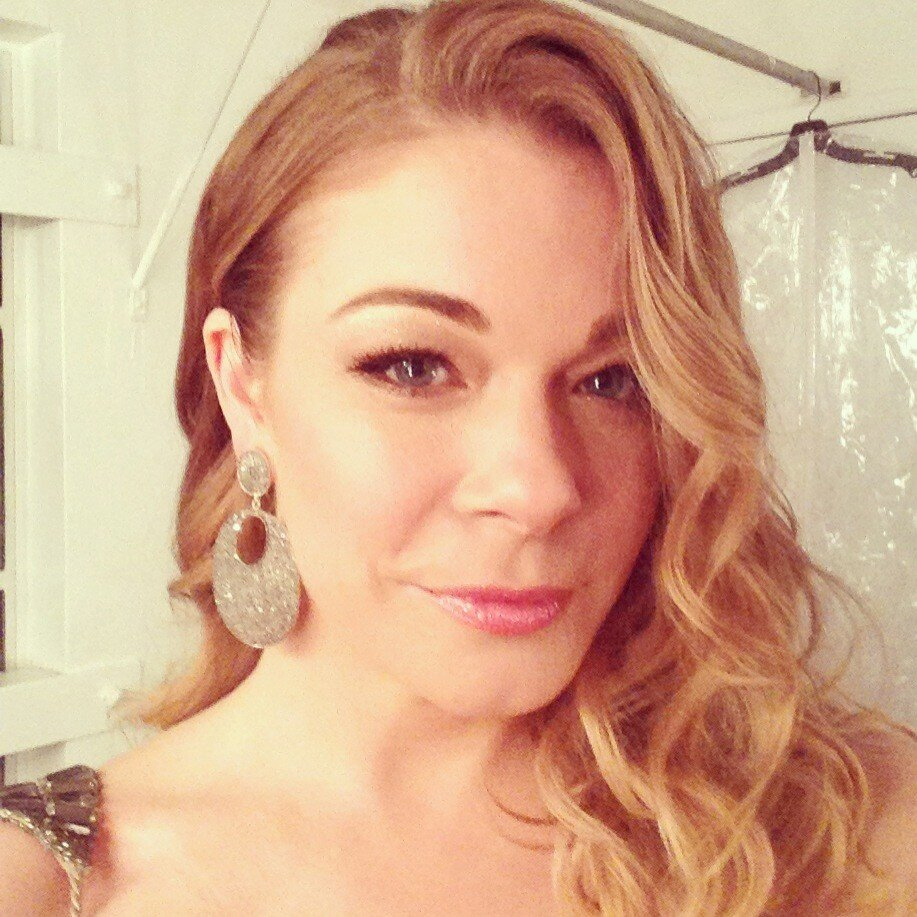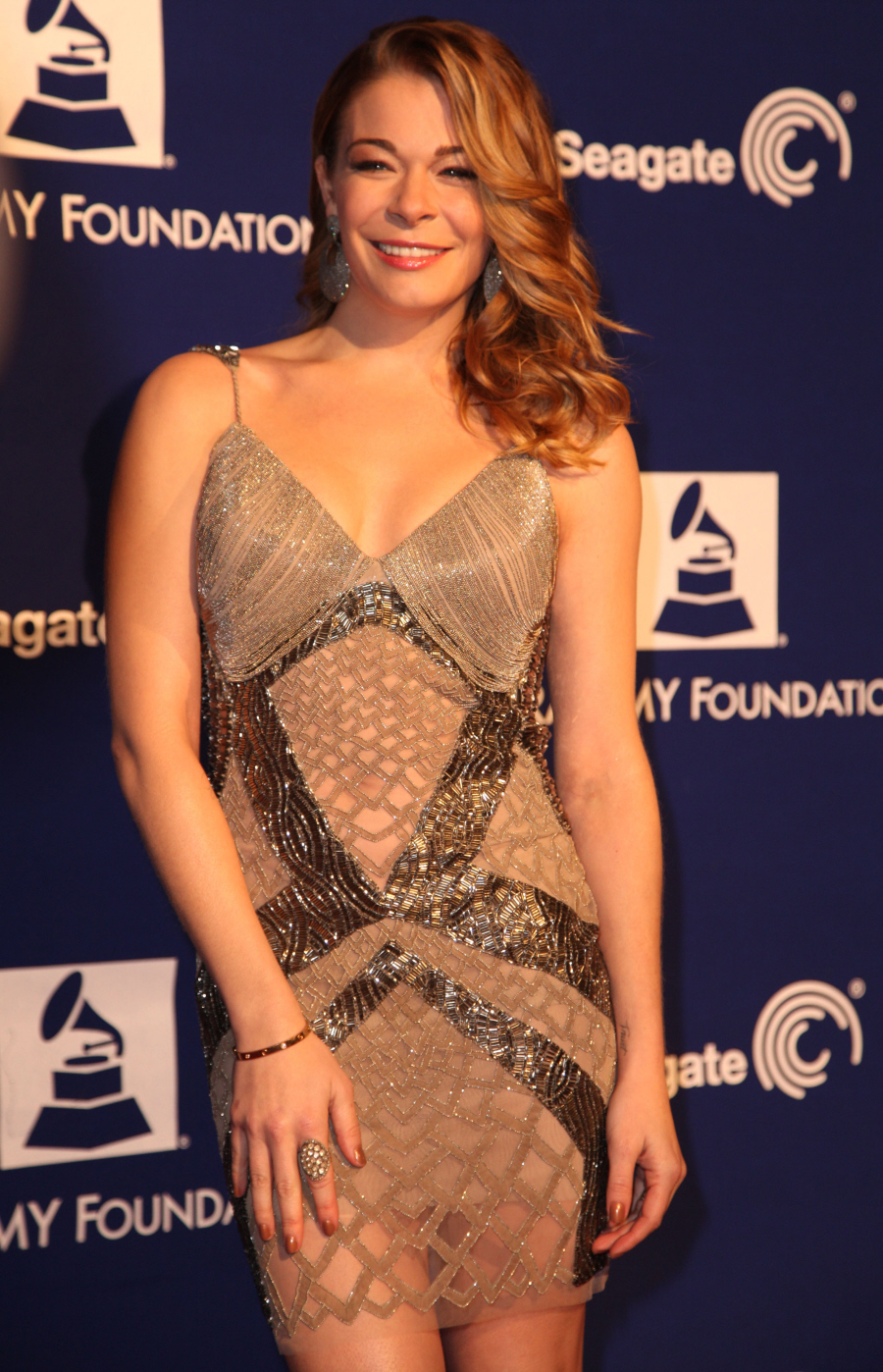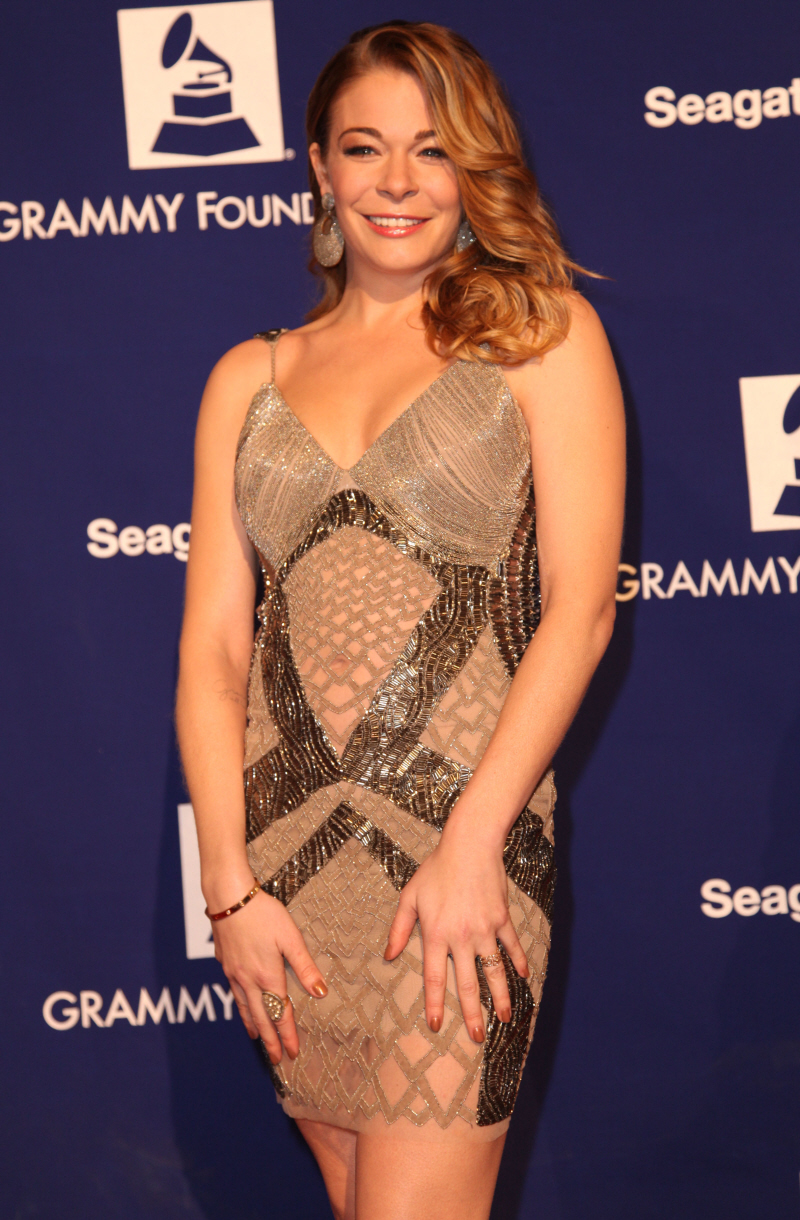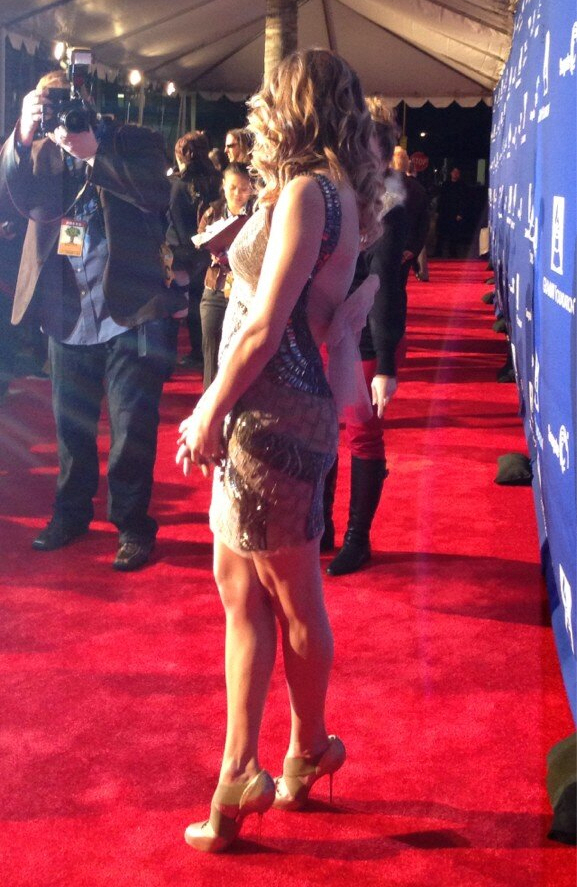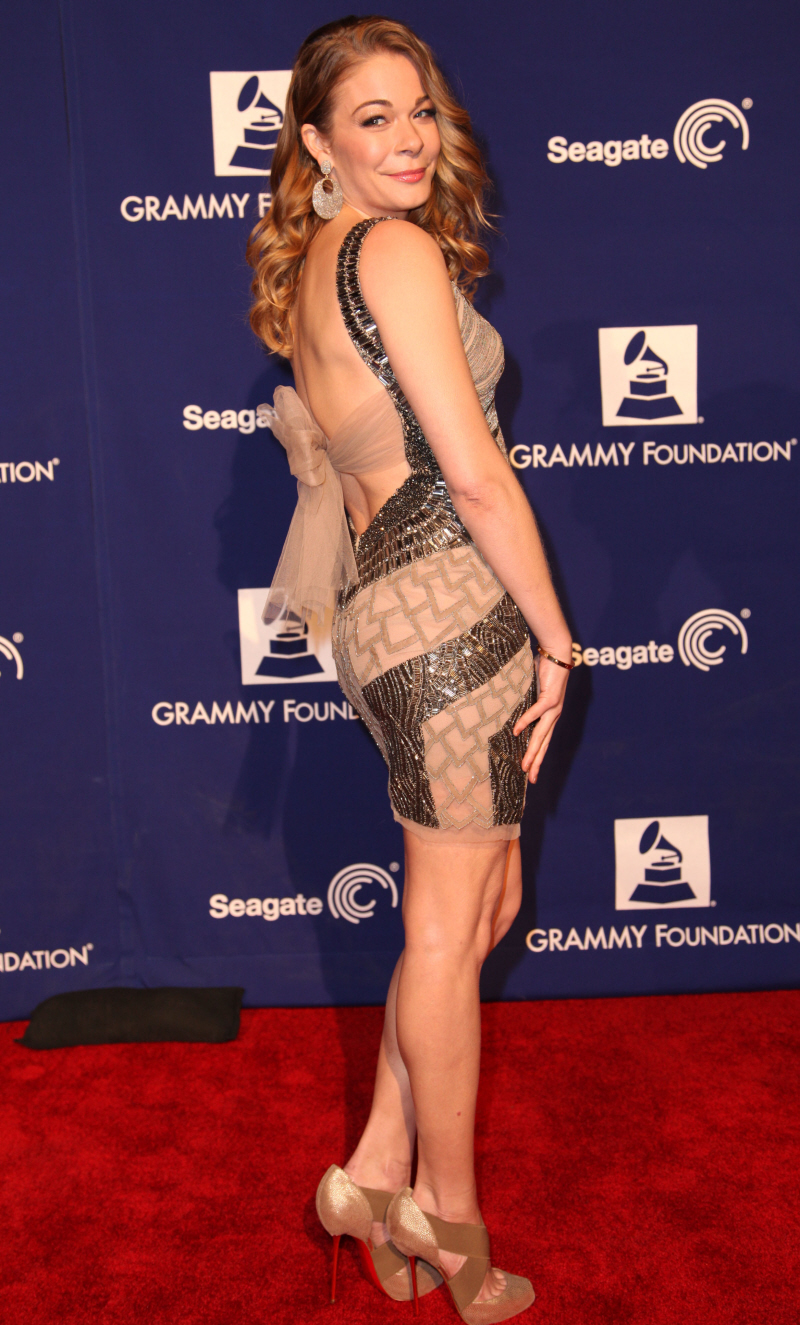 Photos courtesy of Try CW/WENN.com.