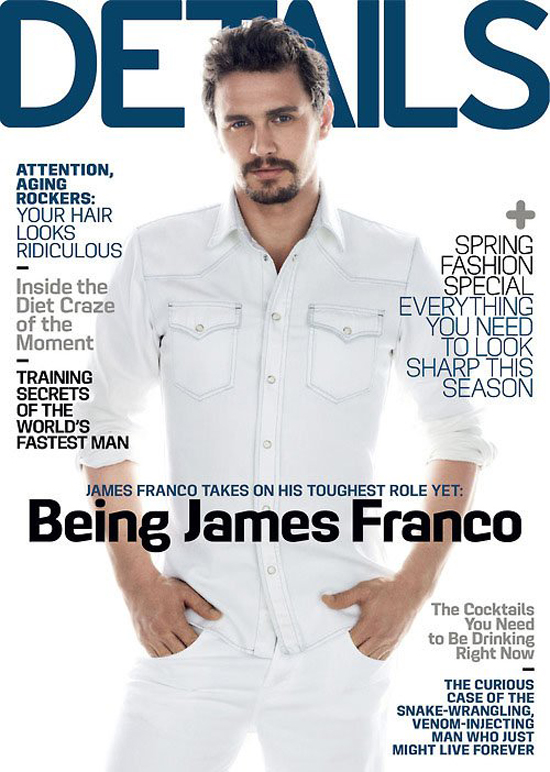 The insufferable James Franco covers the March issue of Details to promote two of his upcoming projects, Oz: The Great and Powerful and Spring Breakers. These two movies — a $200 million-budgeted Disney film and an indie flick designed to exploit post-Disney starlets — perfectly summarize the dichotomy of wacky artiste Franco.
The Details cover is rather unremarkable, the photoshoot makes him look like a 1970s pr0n star, and the interview is typical Franco meta-nonsense. For the vast majority of this five-page article, Franco flits to various locations without saying hardly anything while the poor journo is left to summarize Franco's pseudo-illustrious career in several different disciplines. At one point, a list is actually constructed to display all of Franco's accomplishments, and mention is made that he often burns the proverbial midnight oil and falls asleep on his film sets just like he falls asleep in class. Overall, the piece frames "Being James Franco" as the toughest role in the world to fulfill. At one point, Franco even starts answering questions in quatrains of Petrarchan sonnets. Seriously: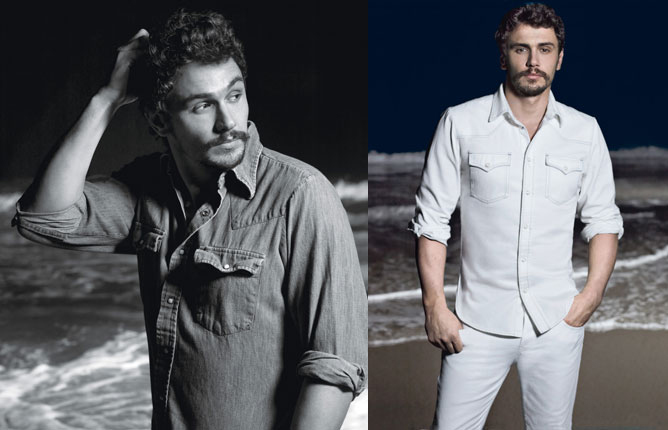 He's realized the power of Being Franco: "As soon as I embraced it — like all of us, essentially play ourselves, to some extent — it gave me this incredible energy."

Do his good looks diminish his work?
"I accept what I am, on the inside and out. I love me.
But I also know that me is something other than me;
A figure that is created by forces outside me. That me
Is a me I can f–k with, and in that way I'm new, I step
Aside and rearrange the parts of the old me, the Spiderman-
Ginsberg-Pineapple-Freak into something else: the Fairy King."

A reminder of how profilic he is at 1,500 different things: "I'd become incredibly frustrated staying in the lines of my job description as an actor. I was making it hard, not only on everyone else, but on myself as well." In the six years since he quit being a movie star, enrolled in UCLA, and majored in English, he has
* done M.F.A. work in five graduate schools: Columbia and Brooklyn College for fiction, NYU for film, Warren Wilson for poetry, and Rhode Island School of Design for digital arts
* published a half-dozen books
* exhibited in about as many museums and galleries
* appeared or collaborated on a dozen gay-themed projects, including appearances in drag, leading to great confusion about his sexuality
* taught in a widening number of universities, graduate programs, and acting schools
* written and/or directed numerous conceptual-art features and short films, as well as advertisements and a music video
* kept up the day job–indies, bit parts, cameos, and pseudo-cameos online and on TV (including Franco, the dashing and possibly homicidal conceptual artist on "General Hospital")
* ascended to largely A-list roles: As Sean Penn's lover in Milk and as Julia Roberts' in Eat Pray Love. As the climber who escapes certain death in a Best Actor Oscar-nominated turn in 127 Hours and as the geneticist who dooms mankind in Rise of the Planet of the Apes . . .

Yet he secretly longs for stability: "I wish I could call New York home"–his first and only admission of the wear that all these jobs and 19-hour nonstop days must take on a body.

He can't stop trying to do everything: He "fights sleep every night," considering it "a defeat."

Mila Kunis says he falls asleep on set: "We were at the end of a 17-hour day on Oz doing this carriage scene, with real horses. The set was so long they couldn't turn the horses, so we'd just leave the set, circle, and reshoot. James just fell dead asleep after a take. I mean, nothing I could do would wake him up. We came around for a take, everybody saw, and they just kept the cameras rolling."
[From Details]
The piece also goes into great detail about how Franco repeatedly deep-throats pistols at one point during Spring Breakers when Selena Gomez and Vanessa Hudgens shove their guns into his mouth. Sounds like a really classy movie, right? I guess I just don't understand AAART.
As for Franco's insistence on doing all of his various endeavors at once to the point where he's actually falling asleep on the job, well, maybe he should cut back just a little bit. After all, there's no point in doing everything when you can't do it even slightly well.
Here's some photos of Franco at the Berlin film festival last weekend for the premiere of Lovelace, in which he plays a young Hugh Hefner. Naturally.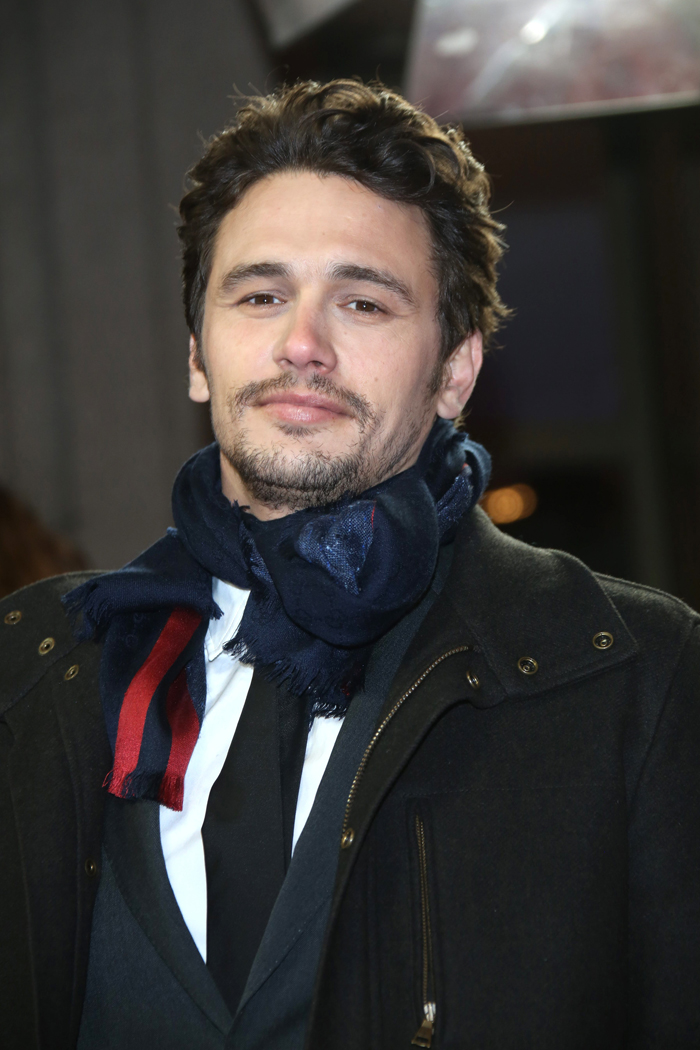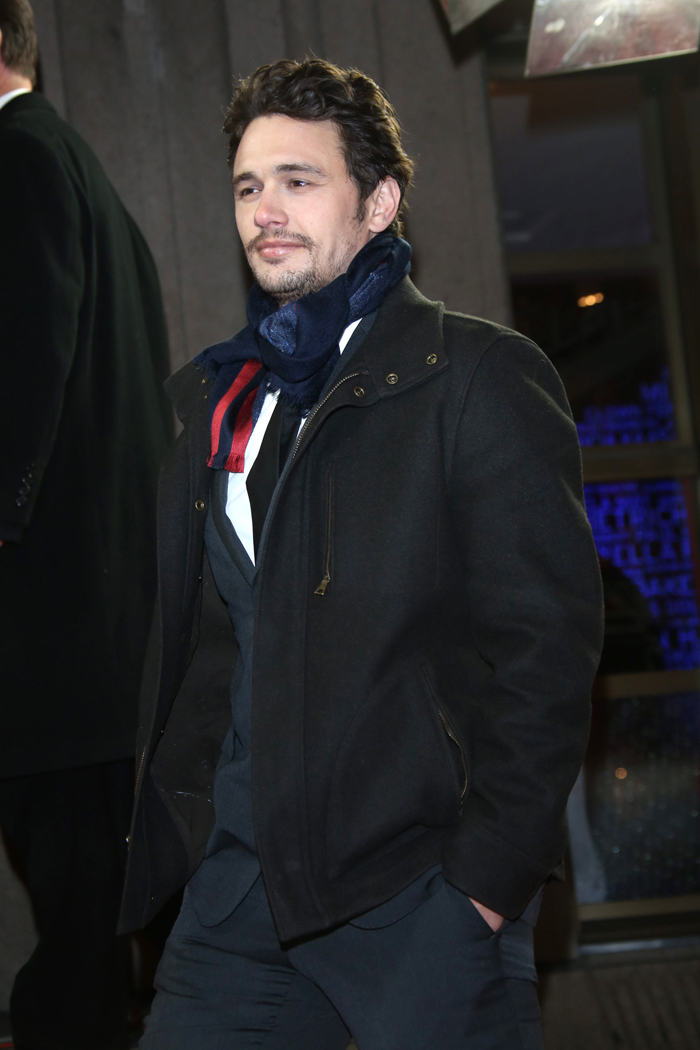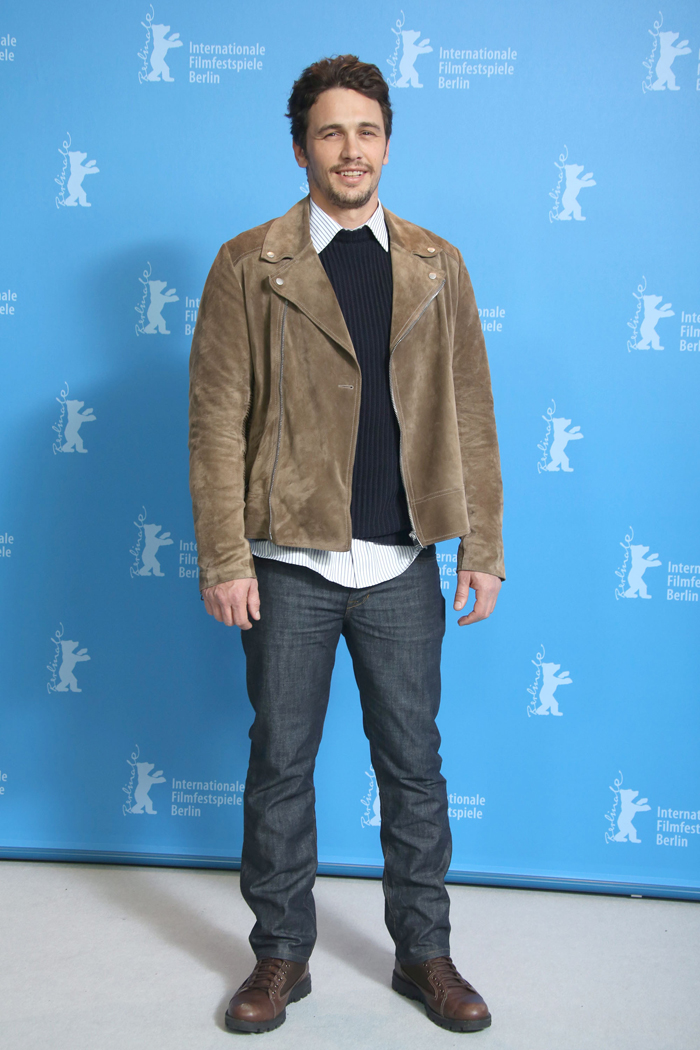 Photos courtesy of Details and WENN