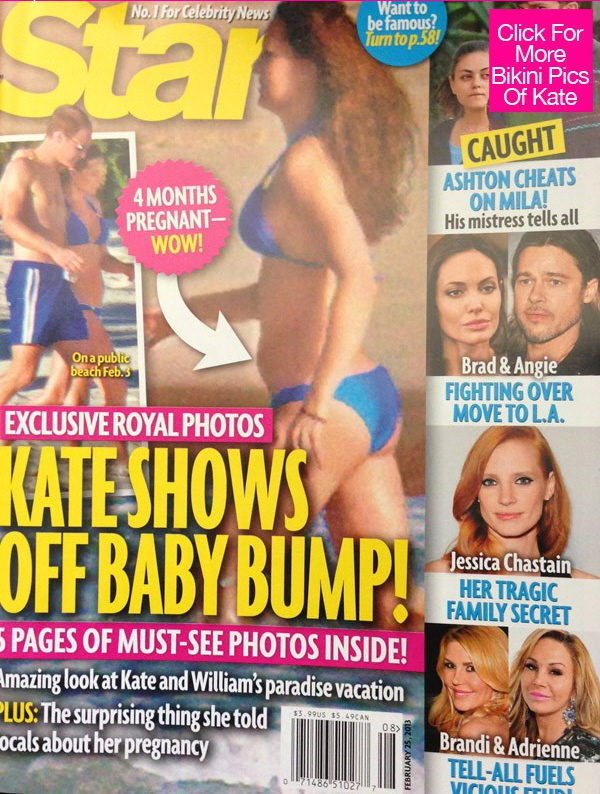 I already covered Part 1 of The Great Waity Bikini Photo Flap of 2013. This is Part 2, wherein various tabloid editors push back against the Palace and Prince William's friends start whining about Will and Kate's treatment. Lost in the discussion, as always, is the conversation people should be having about how many vacations Will and Kate take and how extraordinarily lazy they are. To recap, while on vacation in Mustique with the Middleton family, Kate was photographed in a bikini on the beach. Sources now claim that it was a non-paparazzo who photographed her – like, it was just some resident or vacationer on the beach who snapped the photos and sold them. And they did get sold – to tabloids in four different countries (and counting). Star Mag put the pics on their cover this week, as did Chi (an Italian 'bloid) and Woman's Day (an Aussie 'bloid). Here's more:
The Duke and Duchess of Cambridge faced fresh anguish over privacy today after Italian and Australian magazines published photographs of pregnant Kate in a bikini and more publications round the world lined up to do the same. Palace sources condemned the 'violating' pictures, which show the couple walking along a beach while holidaying on the secluded Caribbean island of Mustique. MailOnline understands publishers in the United States, France and Germany have also bought the set for more than £100,000 in total.

Italian gossip magazine Chi, which caused outrage when it published a photograph of Princess Diana as she lay dying, splashed pictures of the duchess and her growing baby bump across its front page. Australian magazine Woman's Day has also printed the pictures, as well as photographs of Kate's sister Pippa in a bikini, claiming they were taken by a member of the public on a public beach.

Editor Fiona Connolly said the royal couple are not a 'protected species' outside Britain adding: 'This is not a hard decision. Kate's on a public beach, there are other holiday-makers there and she looks fabulous.'

However, Mustique is a private island and there is an expectation of privacy for anyone holidaying there because the paparazzi is banned. The headline on the front of Chi, which goes on sale today, reads 'Kate and William – honeymoon for three'.

Woman's Day editor Fiona Connolly said she had no qualms about running the pictures, insisting they were taken by a fellow tourist on Mustique – and not a paparazzo. They have published a poster today showing pictures of Kate to promote their next edition, which is out on Monday.

'She is on a public beach and she was mingling with holiday makers,' she said. She told News Ltd that there were other tourists in the photos and 'it's a very different situation to the nude photos. There is no photographer hiding in the bushes and she is not inside a private villa,' said Miss Connolly.

But Miss Connolly said Australians did not view the royal family as a 'protected species' like the British. 'The British have a great deal more sensitivity to royals than we do here in Oz,' she said. 'As Australians, we see this every day. We see pregnant women in bikinis on the beach – and a public one at that – so we are a lot less sensitive here. Our readers are going to love these photos. I don't expect any backlash at all really. I think she's looking fabulous and healthy and (with) a beautiful bump, like we haven't seen her before. Kate looks so much better than the poorly and sickly woman we saw coming out of hospital, which makes these photos more of a celebration.'

It is not known how much the magazine has paid for the exclusive Australian rights to the photos, which, said Miss Connolly, would eventually be published around the world. 'Everyone but the UK has or will publish these pics,' she said.

Last night, royal sources said William, in particular, still felt 'very bruised' about the fresh breach of privacy so soon after the same magazine splashed topless photographs of Kate across its front page beneath the headline 'the queen is naked'.

The source said William felt very strongly at the time that he had somehow 'failed' to protect his wife.

The photographs are believed to have been offered to several other magazines around the world and could fetch up to £250,000.

A palace source said: 'It's violating'. The duke and duchess, who are expecting their first child in July, flew to a £19,000-a-week luxury villa on the island of Mustique last week.
Again, she's in a bikini on a public beach of a private island. If you don't want to be photographed in a bikini, don't wear a bikini at the beach. #pippatips Also: Kate has a long history of being bikini-clad. For years, the tabloids ran photos of bikini-clad Kate on vacation in various tropical locales. Why all the angst this time? Because now she's a duchess? Because she's pregnant? Because she's still always on vacation? I like what the Aussie editor had to say, and I'm looking forward to some international push-back against William and Kate.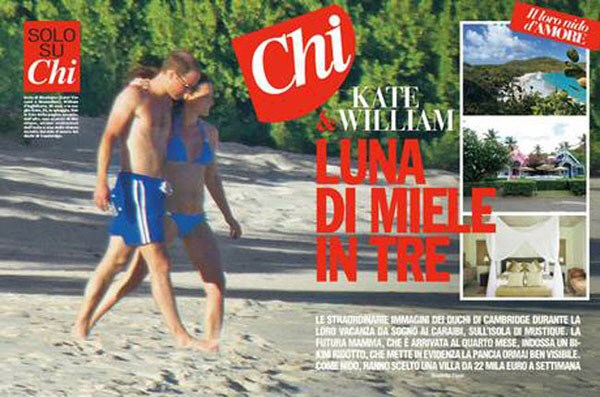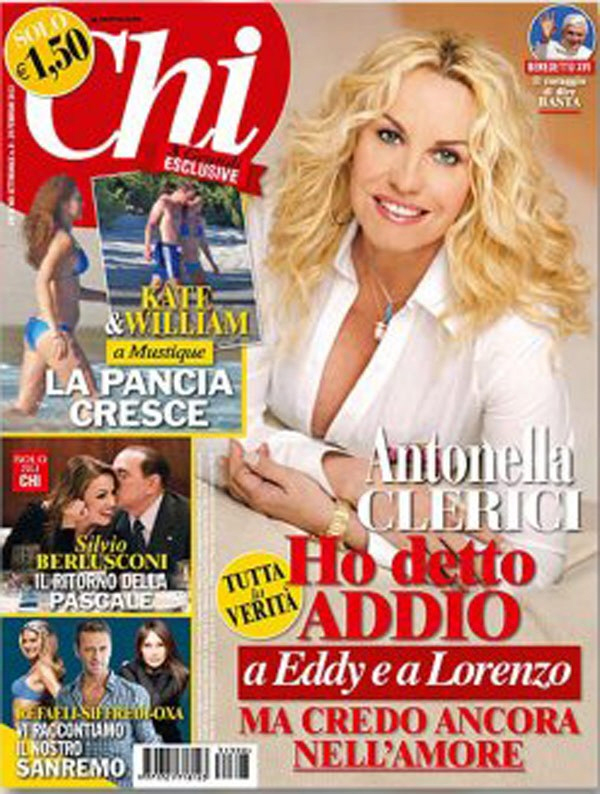 Some 2006 photos of Kate in a bikini: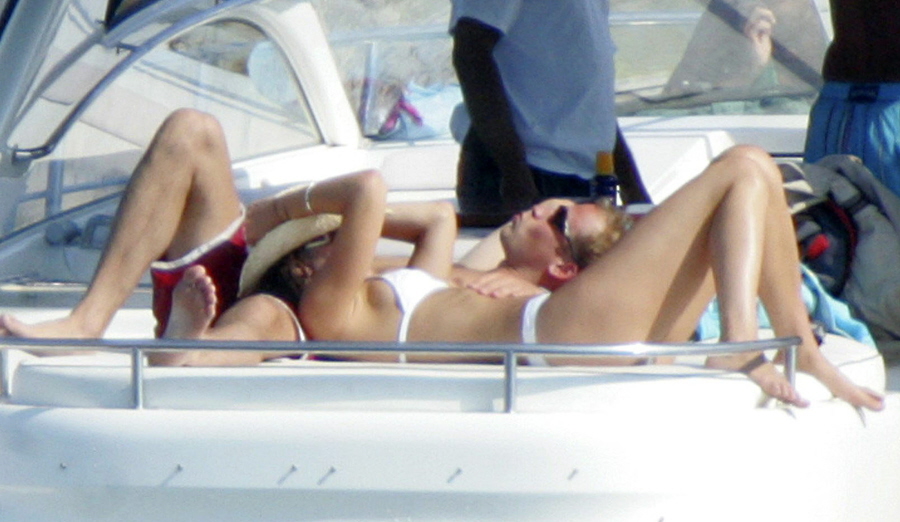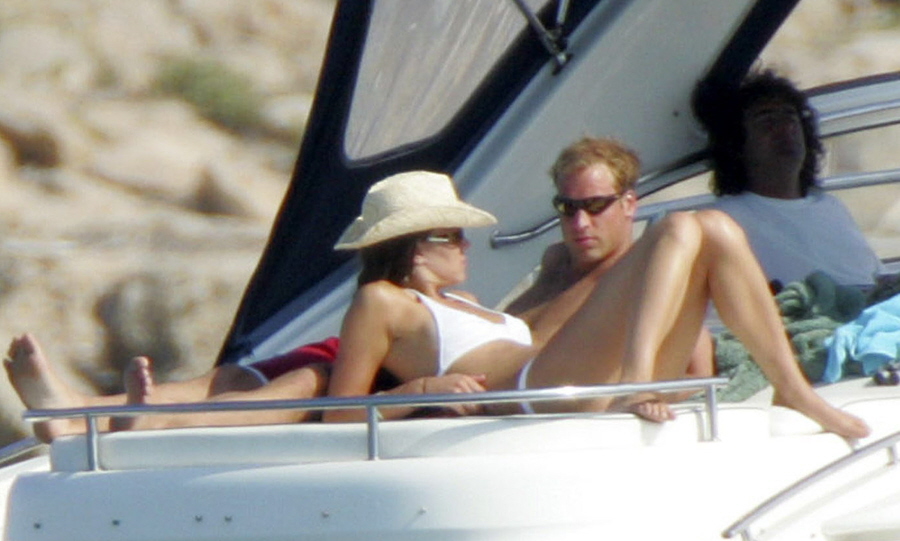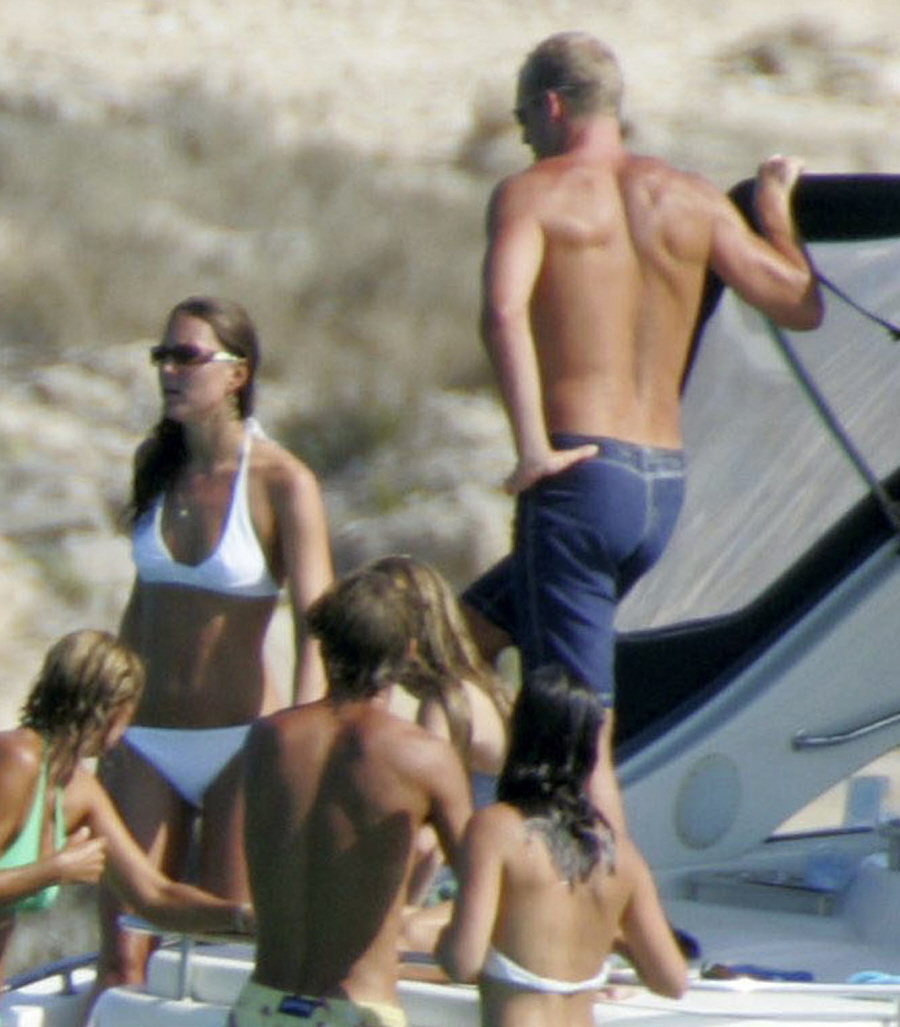 Photos courtesy of Chi, Star Magazine, Fame/Flynet and WENN.