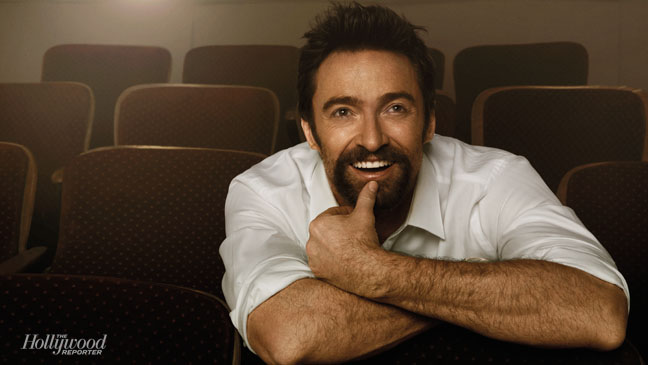 Hugh Jackman has a new cover story and profile in The Hollywood Reporter. I was surprised and delighted to learn a few new things about one of my favorite male celebrities. The last big interview we covered with him was on 60 minutes, and he covers some of the same ground here, but in a slightly different way. When you consider Hugh's low key Oscar campaign and compare it to his co-star Anne Hathaway's ubiquitous "be everywhere, talk to everyone" approach, or even Ben Affleck's constant "happy family" photo ops, you have a new appreciation for what a classy guy he is, and how he doesn't seek the spotlight. It might not pay off for him in a couple of weeks though, odds are that the Best Actor statue will go to Daniel Day Lewis, considering how he's pretty much swept this awards season. (And you don't see DDL doing any press, do you?) I hope I'm wrong as I'd really like to see Hugh take home his industry's highest honor. Here are the highlights from his interview, with more at the source:
He worked with Tony Robbins to prepare for Les Mis
Robbins suggested the strapping 6-foot-3 superstar name the secure and insecure sides of his personality. "Frank was the more confident, and Charles was the other," says Jackman.

"I always thought strength came from getting rid of that fear," he adds. "And Tony said: 'Charles is your sensitivity. Charles makes you question. Charles makes you work harder. When you walk on set, thank Charles for everything.' " He pauses. "Tony really transformed my life."

He meditates for 30 minutes, twice a day
Today, he is not particularly religious and says he never prays, though he believes in some form of God and afterlife and meditates twice daily for 30 minutes. "It is about quieting that part of the brain and just seeing and being," he explains.

On realizing his mother was never coming back
Open and immensely likable, he describes being 8 years old when his mother, Grace, abandoned him and his four elder siblings, leaving them in Sydney with their father, Christopher. His mother's departure never was fully explained to him, and indeed Jackman only realized it was permanent when he was 13 and his father's attempt at a reconciliation failed.

"Dad went off to England to bring her back, but by this point she was married to someone else, with a kid," he says. "It was really complicated. So when Dad arrived back — not three weeks later, as planned, but five days later — I just knew. I was old enough to go, 'This is not happening.' "

On his wife being bothered by rumors that he's gay
Jackman admits rumors about his sexuality have taken a greater toll than previously acknowledged, especially on his wife. "Just recently, it bugs her," he says, blaming the Internet, which she frequents more than he does. (Jackman largely sticks to cricket sites and The Economist.) "She goes: 'It's big. It's everywhere!' "

His X-Men producer Lauren Shuler Donner shrugs off the gossip. "I have seen him with Deborra since the beginning of their trip to Hollywood, and I've been on five movie sets with him and have never seen him stray, have never seen him eye anyone. I met him when he did Oklahoma! [at London's Royal National Theatre in 1999]. He was genuine, hugely talented. He was in love with his wife that day and still is."

He turned down consideration for James Bond!
[He] declined to be considered for James Bond around the time of the first X-Men. "I thought it would box me in too much," he says. "My natural instinct is to keep as many doors open as possible."

His diet regimen for the next X-Men is crazy
Now he is contemplating his future. He is preparing for the next X-Men, which involves a very different regimen from the one for Les Mis — including consuming vats of food for eight hours straight, then going without any for 16 hours. "Your body learns to burn fat in that 16 hours," says Jackman, his physique at its finest beneath his casual blue T-shirt. "And I sleep better."
Hugh has spoken in earlier interviews about how he was affected by his mother abandoning him and his four siblings when he was just eight years old. I've never heard the part about how she had another baby and partner over in England, and how Hugh expected her to return for years. As for his wife being affected by all the fake rumors that he's gay, she's admitted that before too, at least a couple of times. It makes me sad that she's looking up this stuff online and getting bothered by it. They seem so solid to me. He even gushed about her in this interview. (That's here, I didn't excerpt that part because he always does that. He loves the hell out of his wife.)
The James Bond story was new to me, but I googled it and apparently Jackman has mentioned before that he passed up consideration for the role and has joked that he regrets it. He would be such an excellent Bond, I feel robbed now!
The photo spread accompanying this interview is incredibly hot, as we've come to expect from Hugh. I would prefer that it be shirtless, but in those photos of him in a shirt and tie I can imagine that he's sitting across from me at dinner, gushing about me like he does his wife. If we can't have an Oscar-winning Hugh this season, at least we have these wonderful interviews with him, in which he comes across so consistently grounded and genuine. He can't fake that, no matter how excellent an actor he is.
The Hollywood Reporter also has a great behind-the-scenes interview with Jackman on the set of their cover shoot. What a treat this was.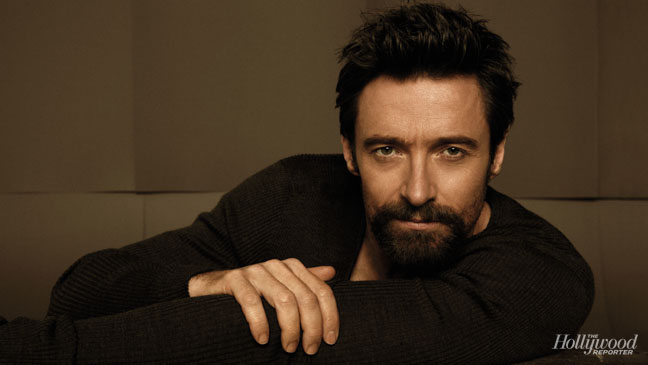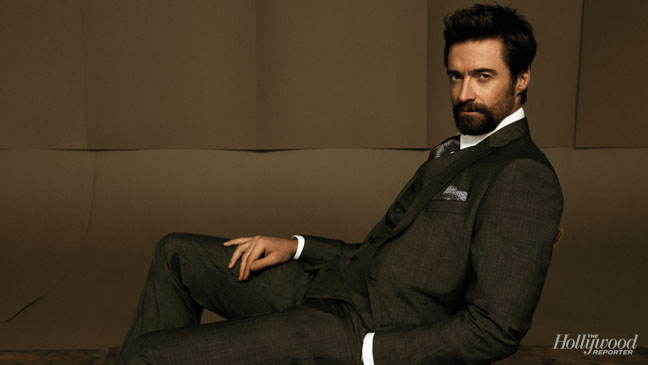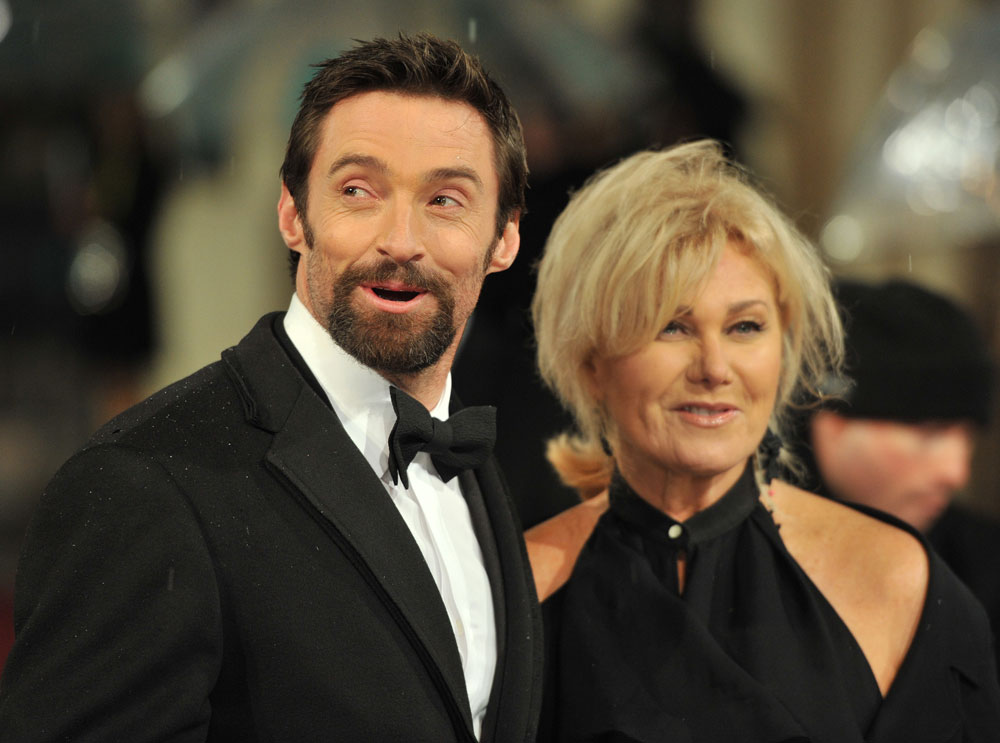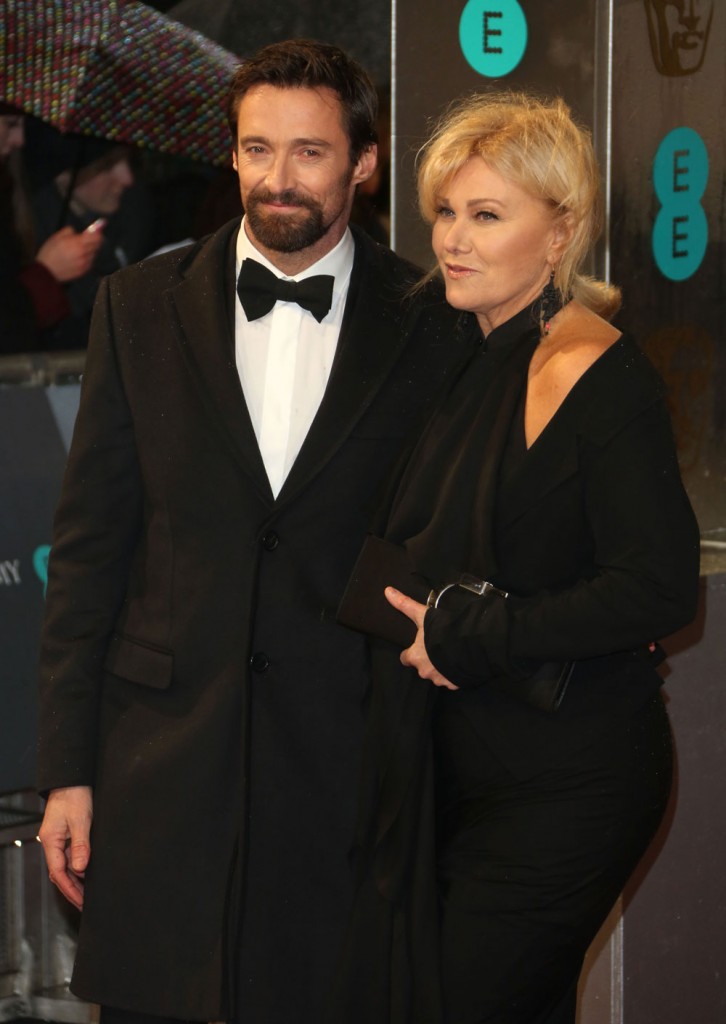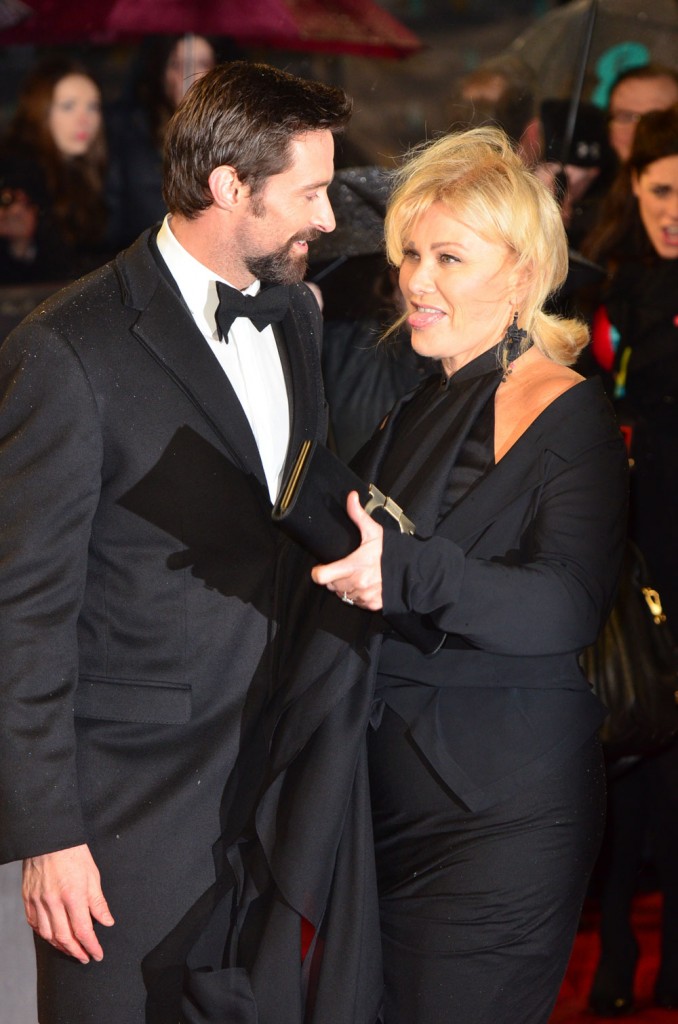 Photos credit: Ruven Afanador/Hollywood Reporter, where there are more. BAFTA photos credit: WENN.com