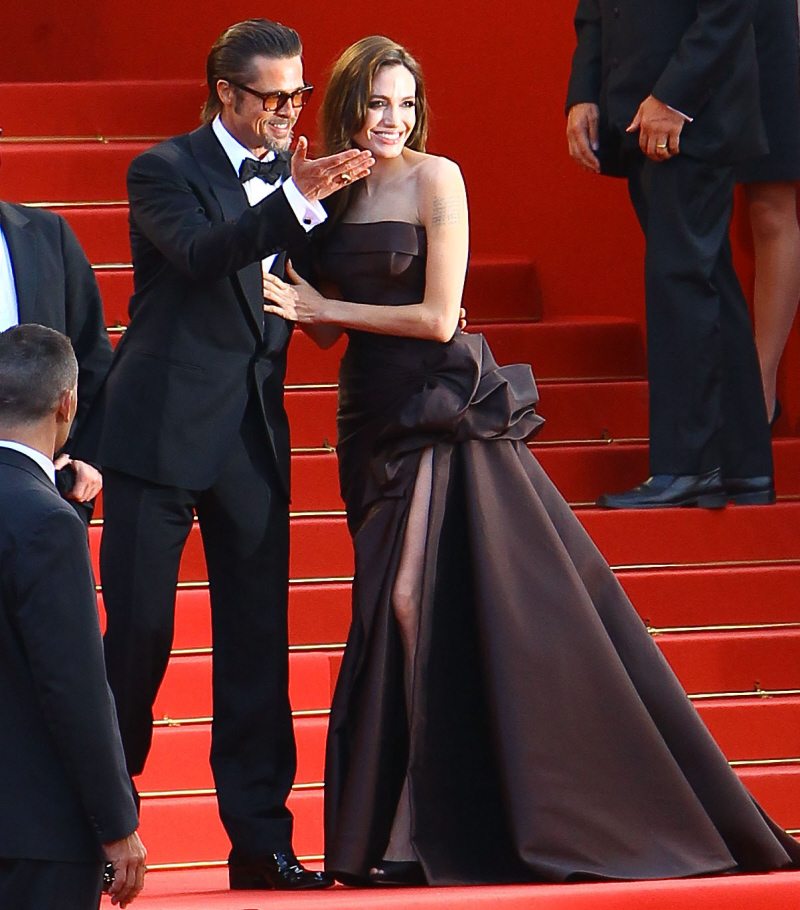 This week's National Enquirer has a lengthy story about Brad Pitt and Angelina Jolie. I'm not going to transcribe it because… it was exhausting. The basic gist of the story is that Brad got incredibly drunk and he confronted Angelina about her relationship with Colin Farrell – a relationship that ended more than eight years ago. Apparently, Angelina still says Colin was her "best ever lover" and Brad had to get drunk and cry about it. Brad's drinking is a common enough theme of the Brangelina tabloid stories, but it's a chestnut they haven't used in a while. I have a feeling that's about to change because Brad and Angie are officially releasing their own brand of wine made at their French chateau, Chateau Miraval.
Next time you make a toast, think of Brad and Angelina. The engaged couple, who have owned an 1,000-acre estate with vineyards in southwestern France since 2008, will be releasing wine in the United States beginning March 15 bearing the estate's name, Miraval.

The first wine will be a 2012 vintage pink rosé, and it will feature the label "Bottled by Jolie-Pitt and Perrin."

Perrin refers to Marc Perrin, a French winegrower who was introduced to the famous couple by mutual friends. His family is well-respected in winemaking circles, and Perrin and the Jolie-Pitts are expected to release a line of organic white and red wines later this year.

In the meantime, the rosé will feature an elegantly shaped bottle with a round label. It is also due for review in an upcoming edition of Wine Spectator.

Perrin met the couple on their estate last summer to discuss expanding their production and distribution. Jolie and Pitt consulted on the new bottle and redesign.

Miraval is located in Provence, in a wine-growing valley at an altitude of 1,150 feet. The estate includes over 75 acres dedicated to the cultivation of Syrah and Cabernet Sauvignon grapes operated in accordance with organic farming. The estate's previous owner grew and released several prize-winning wines including Miraval's predecessor rosé: Pink Floyd. The name was a tribute to the legendary rock band which recorded tracks for The Wall in studios located on the French estate grounds.

As for Pitt and Jolie's involvement, Perrin told French business magazine Challenges, "We talked a lot and did the first harvest together. They are very demanding in seeking excellence in the quality and character of their wine."
There is some confusion as to whether this is just going to be a "re-branded" version of the Pink Floyd label, but I think it's actually going to be a different wine, right? As for the Jolie-Pitts becoming a wine-making family… sure! Why not? I feel like it's just kind of a fun thing for them to do in their spare time, it's not like they've renounced Hollywood to soak in their grape harvest, you know? And I think it's nice that they own a property which is actually a working estate that makes a product.
As for the state of the Jolie-Pitt union, Us Weekly had a weird story about what Brad gave Angelina for V-Day. Hint: it was NOT in his pants.
No flowers, diamonds or chocolates for Angelina Jolie this Valentine's Day. In honor of the romantic Feb. 14 holiday, the actress' fiance Brad Pitt gifted her with . . . breath mints. The World War Z actor, 49, didn't bestow his love of nearly eight years with everyday Tic-Tacs or Altoids — instead giving the 37-year-old mother of his six kids with Eat Whatever, a breath-freshening product that includes one swallowable gel cap and a mint to suck on.

"It is sort of a joke — and not," a source close to the superstar couple tells Us Weekly of the vegan, gluten-free, sugar-free product. "He always teases her that she has bad breath."

Insists the source: "It's a joke gift . . . he'll also get her something more serious."

He better. After all, Jolie has long lavished her man with treats a lot more impressive than breath-freshening products. Back in 2011, the Maleficent actress gave Pitt a diamond pendant worth six figures — and engraved with a microscopic love note. In December of that year, as a combo birthday and Christmas present, the Oscar winner spoiled her hunk with a California waterfall for Pitt (the couple plan to build a house above it).

For Valentine's Day 2010, she surprised him with an $18,500 200-year-old tree on their Chateau Miraval compound in the south of France. Last spring, the In the Land of Blood and Honey director reportedly splurged on a $1.6 million helicopter — plus flying lessons — for her beau, already licensed as an airplane pilot.

Of the couple's engagement and hush-hush wedding plans? The source predicts to Us Weekly they'll get married "definitely this year."
Is it just me or is Angelina a really good gift-giver? A waterfall, diamonds, helicopter flying lessons (and a helicopter), a really old tree… Angelina is the best. Brad better give her more than some f****** breath mints. Even if it is a "joke" or something he "teases" her about. How douchey!! Dear Brad: Diamonds. Roses. And a baby. Knock her up for V-Day!!!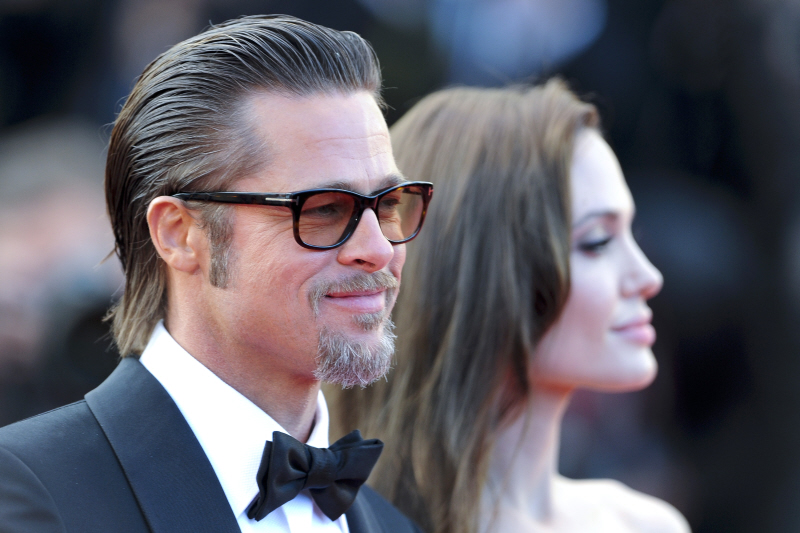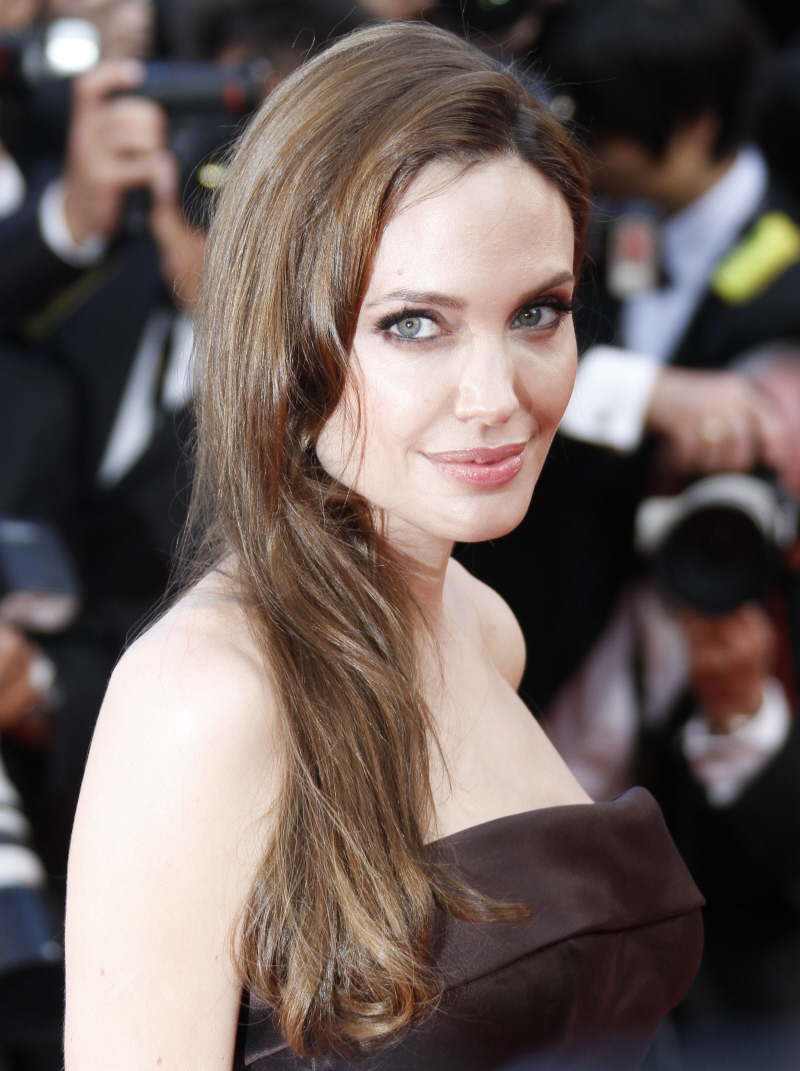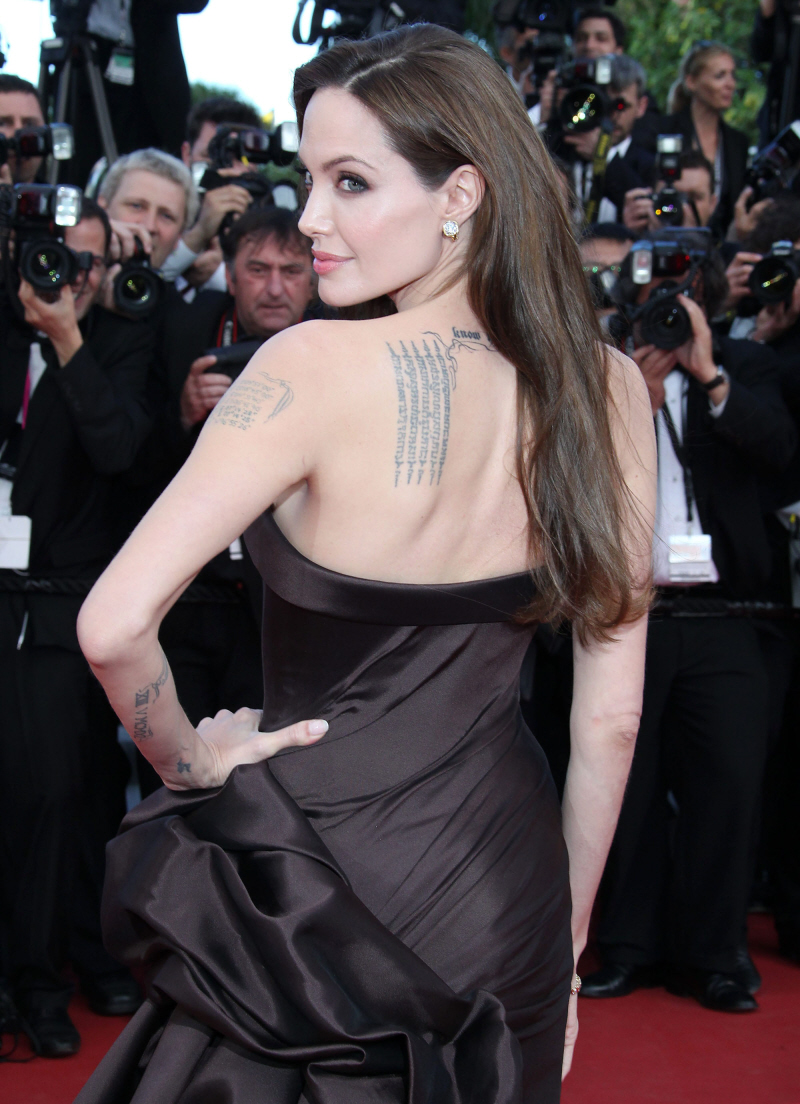 Photos courtesy of WENN.