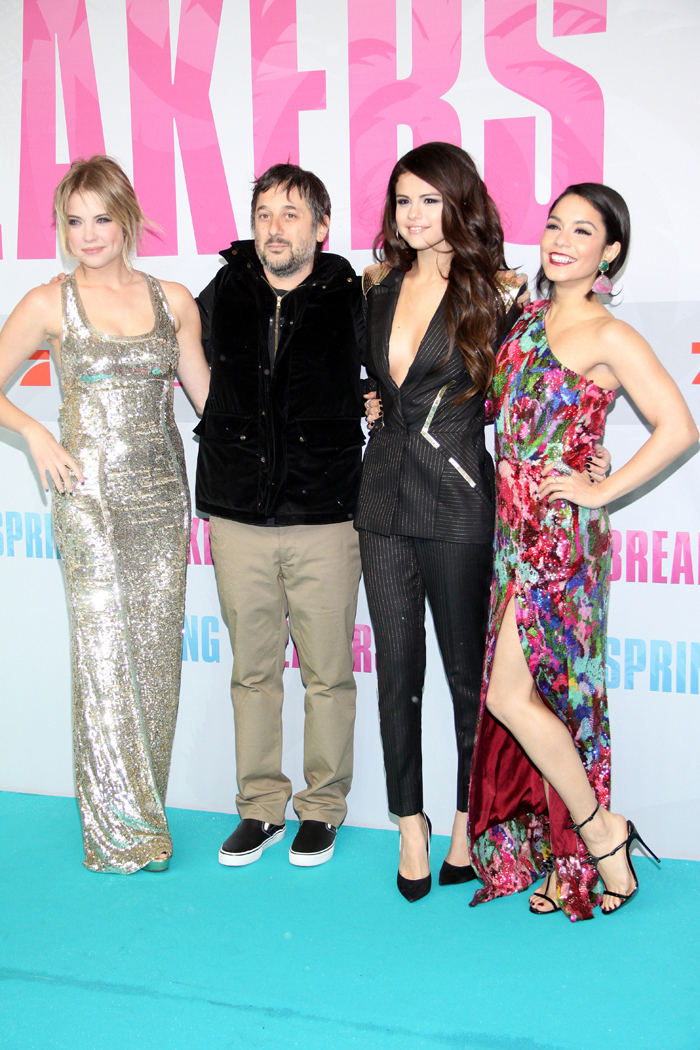 Here are some photos of the German premiere of Spring Breakers, which is getting quite the fancy, worldwide rollout for a bikini exploitation flick. Just the mere sight of Harmony Korine is enough to make my skin crawl, so we won't talk about him any more except to say that his wife, Rachel Korine (who also stars as one of the fab four bikini chicks) is suspiciously missing from this red carpet lineup. Oh wait, she's out sick, so I guess there's no real conspiracy there.
Likewise, James Franco was not present for this premiere either because he's still promoting bigger and better (i.e., more expensive) things (Oz the Great and Powerful) instead of his gross turn as K-Fed squared, so we'll just have to make do with Selena Gomez, Vanessa Hudgens, and Ashley Benson. Altogether, the three ladies look better and less prom-y than for the French premiere, so let's do some fashion.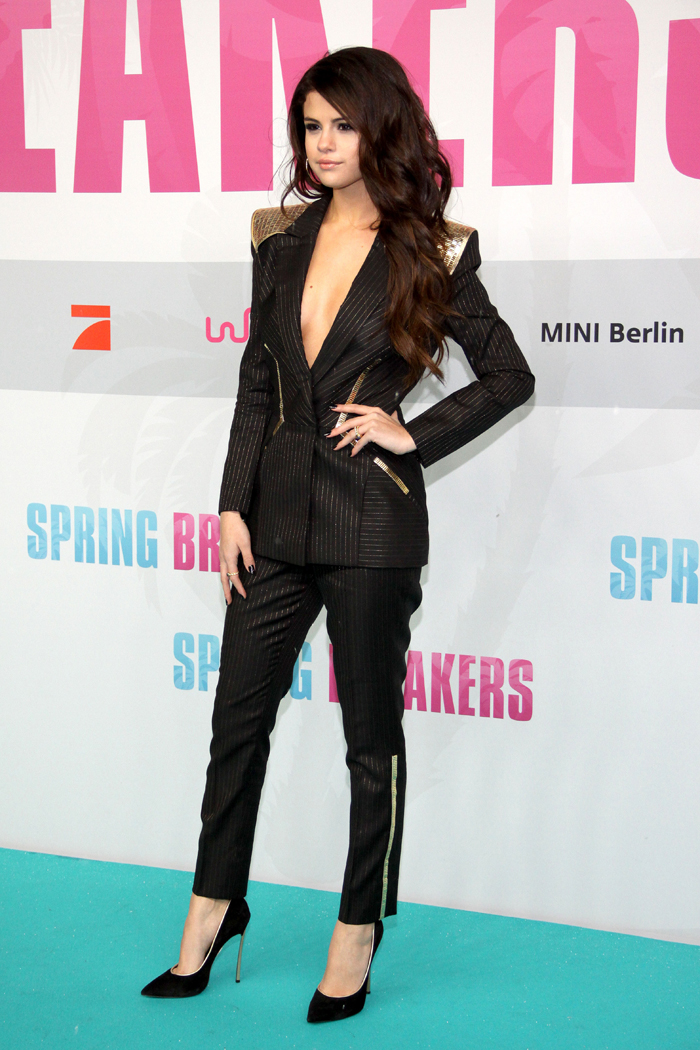 Selena Gomez went very mature while sporing a black Atelier Versace with a plunging neckline that reached almost all the way to her belly button and easily revealed she was most definitely not wearing anything underneath that blazer. This is a very hopeful-grown-up look for Selena, and I'm not crazy about all the gold and the weird plunging backline as well. All the same, she's not really showing any controversial section of her body, and her boobs aren't flopping out for all the world to see. So this look isn't that bad although yesterday's flirty Gucci dress was more enjoyable. I would have gone for more dramatic makup (or at least a pop of lip color) with this suit for sure.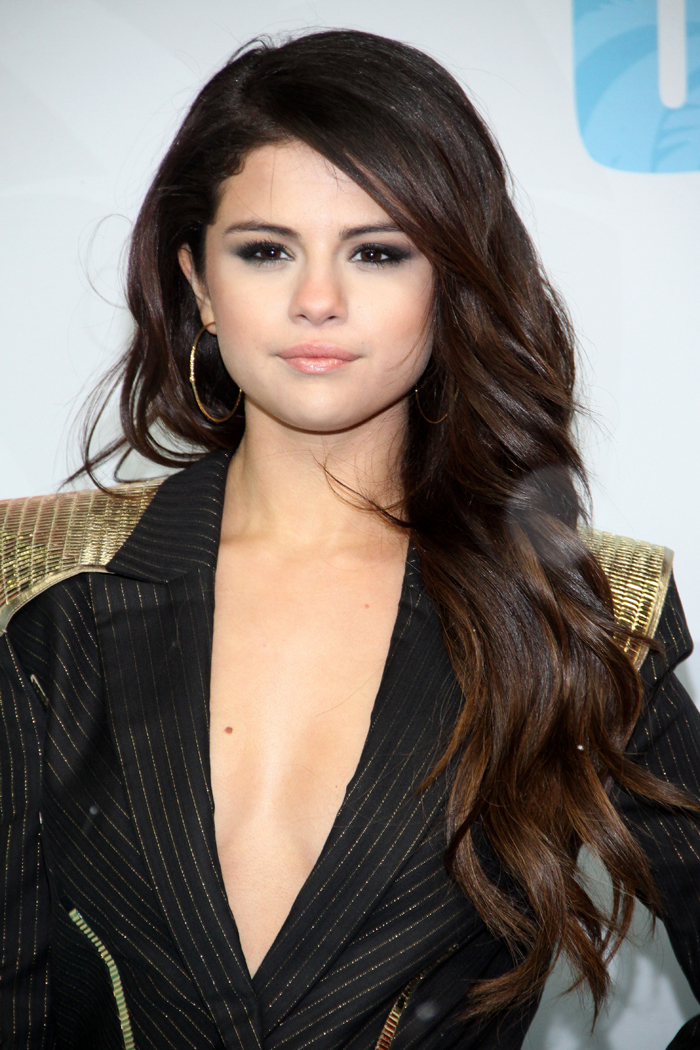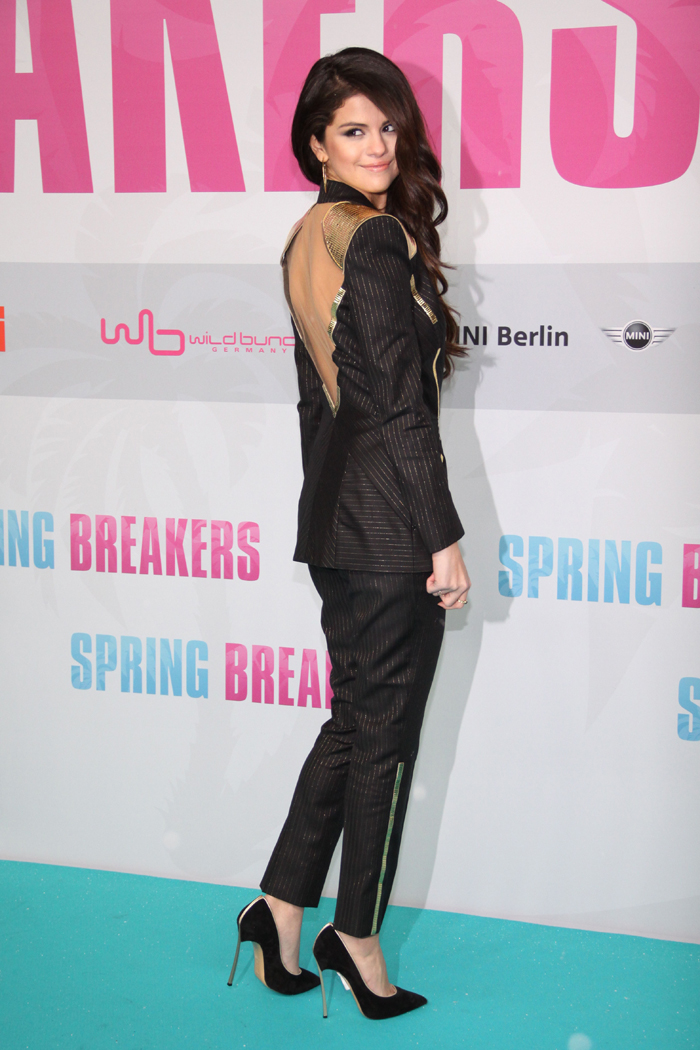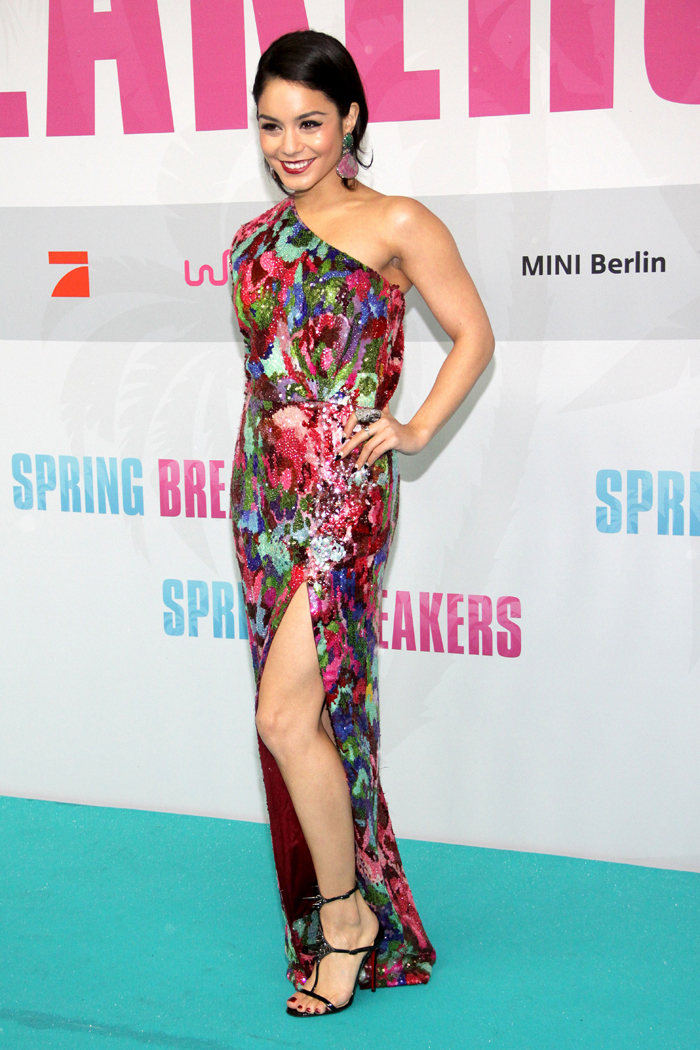 Vanessa Hudgens looked better than she did in Paris. She wore a very colorfully floral Naeem Khan dress that was covered in sequins, and the colors provided a very lovely contrast against her skin and dark hair with very effective makeup and understated hair. She looks cute and a little bit mature, but she's obviously having a lot of fun in this dress. Those earrings are way too much though.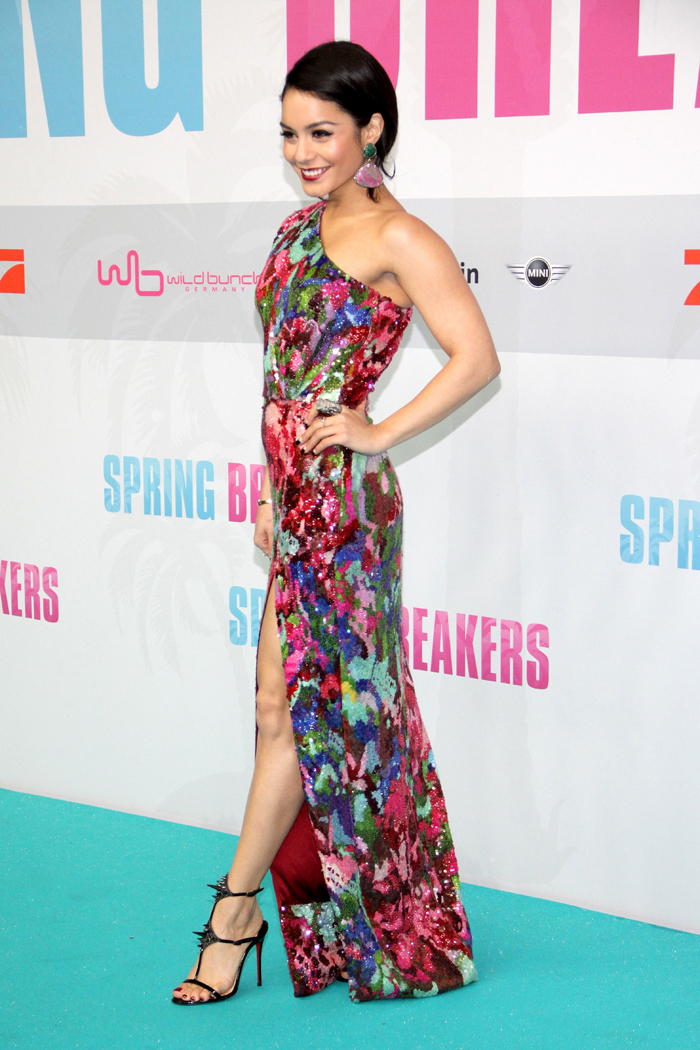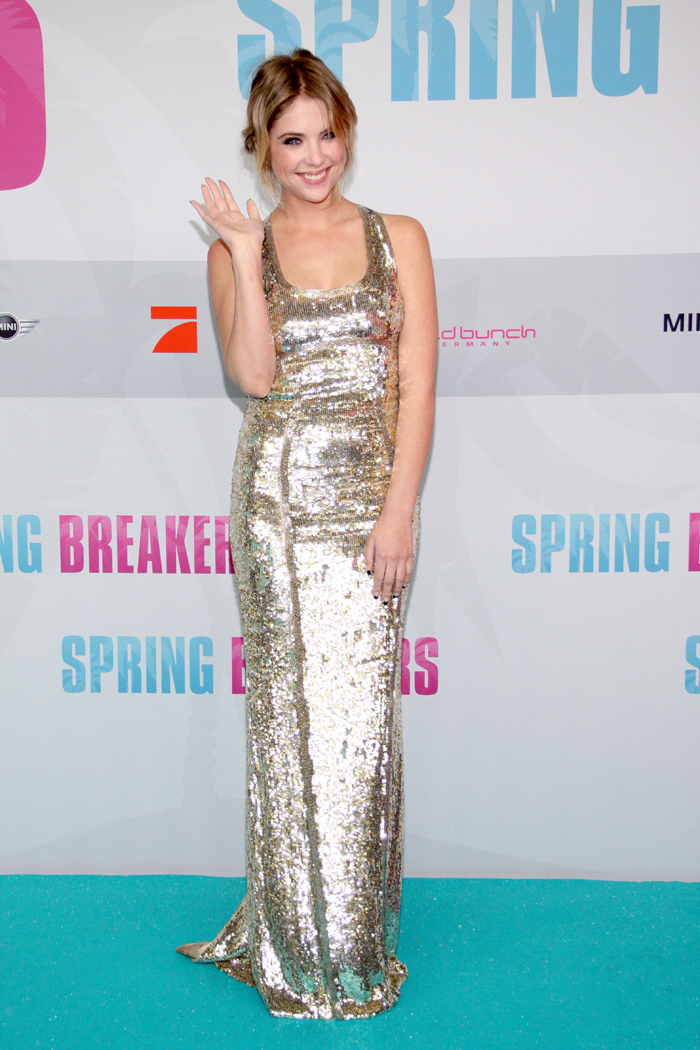 Ashley Benson looked — sorry to say this — like a decorative addition to a Vegas casino party. This gold monstrosity did her no favors at all. Such a poor choice for a premiere dress, but hey, this is Spring Breakers we're talking about, so maybe Ashley wins for most appropriate attire.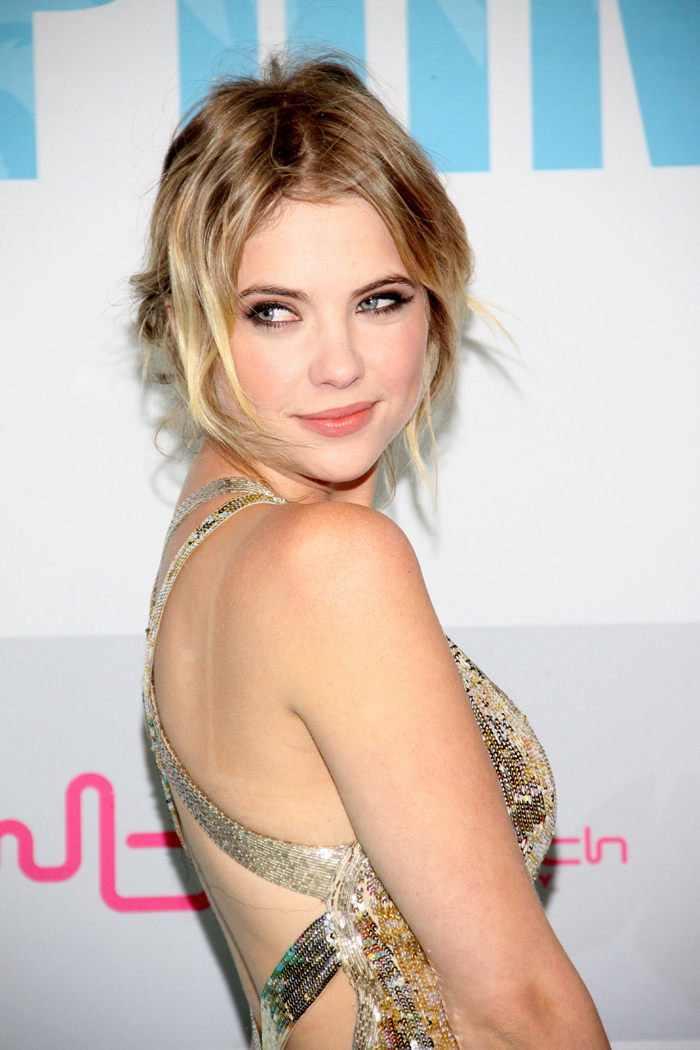 Photos courtesy of WENN