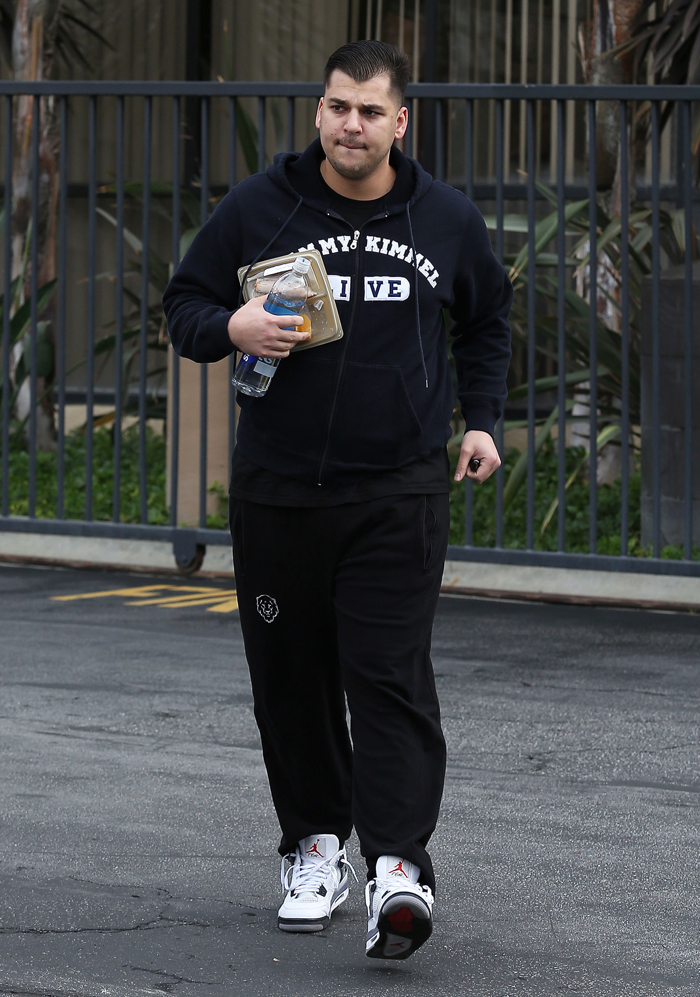 Here are some photos of Rob Kardashian yesterday visiting "Kris Jenner's office" (I know, right?) while carrying a small, prepackaged meal of some sort and a large bottle of water. Now, the dude has never been a good-looking guy that could stop traffic, but he does look a bit heftier lately. Rob himself has noticed too, which may account for the sudden healthier eating kick. In fact, he claims that he's gained forty pounds in the past two months since he and Rita Ora broke up. If you'll remember, that was a very messy breakup with Rob having some form of Twitter meltdown and blaming Rita for sleeping with the whole of England or something. And Rob says that, in the aftermath, he's gorged himself on crappy food and basically lost his girlish figure. I hate to pick on anyone for their weight, but this couldn't have happened to a nicer guy.
Is it even possible to gain forty pounds in two months? I can see where it could happen if someone intentionally wants to pack on a lot of muscle and decides to hit the protein shakes and weight-gaining supplement powder pretty hard. Just ask Hugh Jackman. But Rob's case seems like mindless comfort seeking with a ton of junk food. I suppose he could be telling the truth about forty pounds. Here are the details of Rob's weight gain: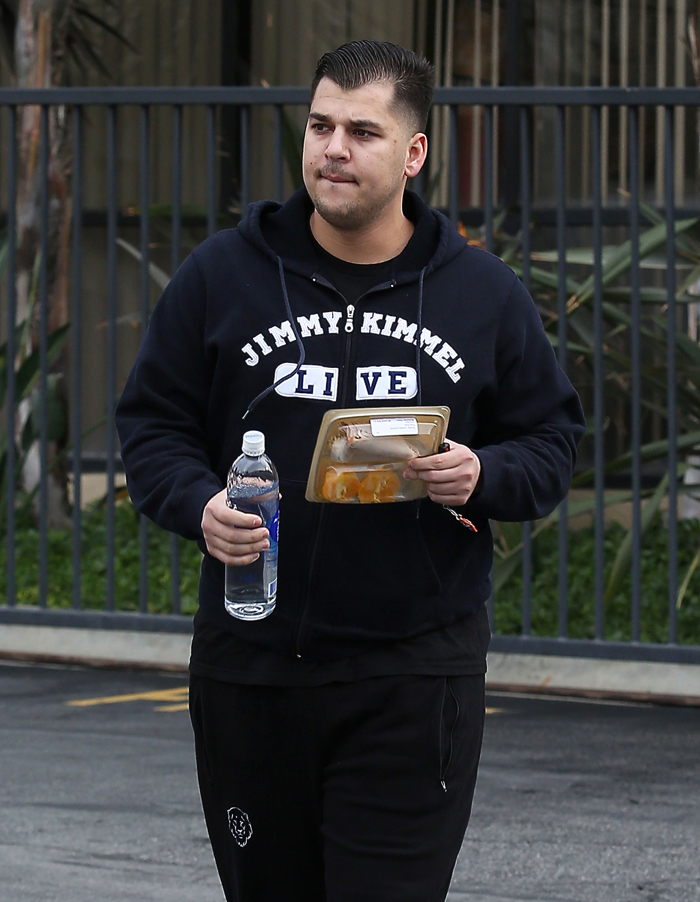 Rob Kardashian stepped out in Los Angeles yesterday (Feb. 19) after revealing he's packed on 40 pounds since splitting with Rita Ora in Dec. 2012 on the latest episode of "Kourtney & Kim Take Miami."

The 25-year-old admitted that he hadn't been taking care of his body during or after his romance with 22-year-old Ora, confessing his love of comfort food and random sex on the Feb. 17 episode.

"All I did was waste a lot of money and gain 40 pounds," Rob told his sisters over dinner. "I need to focus on me. That's all I wanna be about."

"Rob got out of a really weird relationship. They were actually together for about a year but Rob was never allowed to admit that they were actually an item," Khloe explained during the show. "Because she's in the entertainment industry, she wanted to present herself to the world as a single girl. I think Rob got really depressed through this relationship."

Rob, who famously lost a ton of weight while competing on "Dancing With The Stars" in 2011, wants to get back in the gym and try his best to move on from Ora.

Addressing his tweets about her their breakup (in which he claimed Ora cheated on him multiple times), Rob said, "I posted what I posted to keep myself from taking her back. Every time she messed up, I took her back for over a year now. I just had to do that to make her hate me."

But as Khloe said, "The best form of revenge is a good body!"
[From HuffPo]
I love Rob's explanation of how he only tweeted that Rita cheated on him with 20 men as a means of ensuring that he'd never take her back. I mean, there's no real reason why she went out with him in the first place, but I honestly doubt it was a case of them continually breaking up and him "taking her back" because she begged for it. Bitch, please.
These photos show Rob back in early October of last year. He wasn't exactly ripped back then, but he's definitely gained weight in the past few months.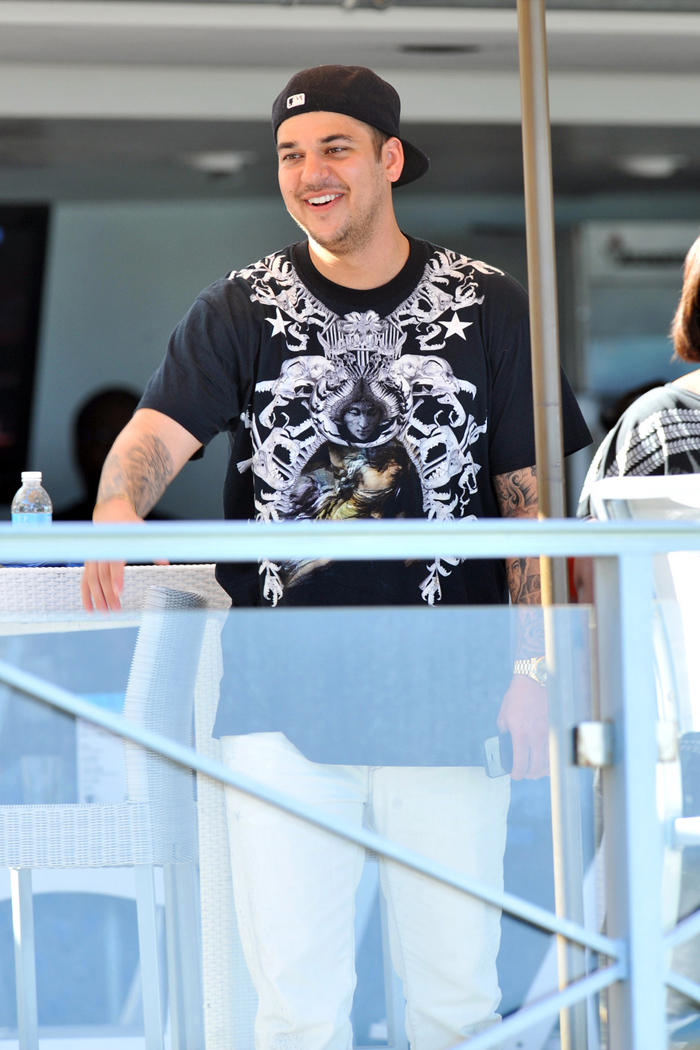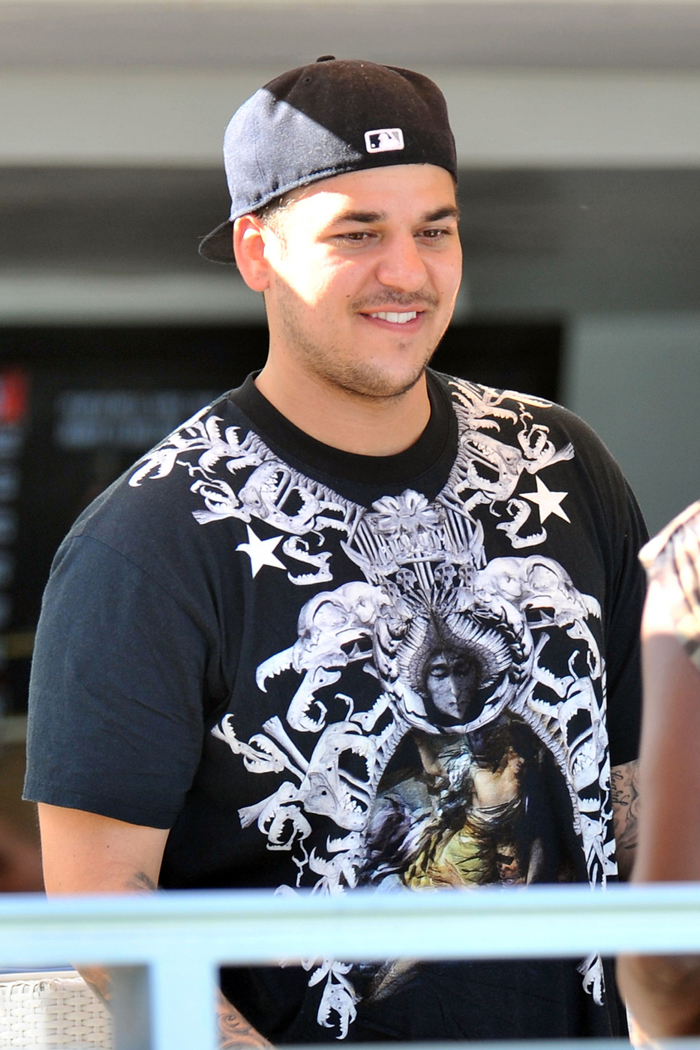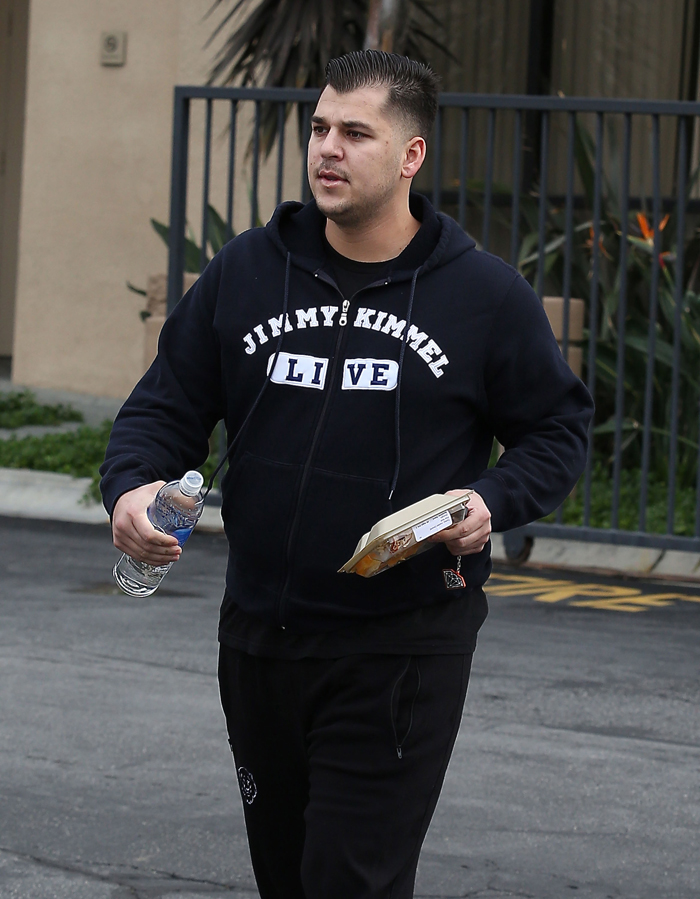 Photos courtesy of Fame/Flynet and Pacific Coast News