James Franco is blonde in Moscow at the 'Oz' photocall: would you hit it?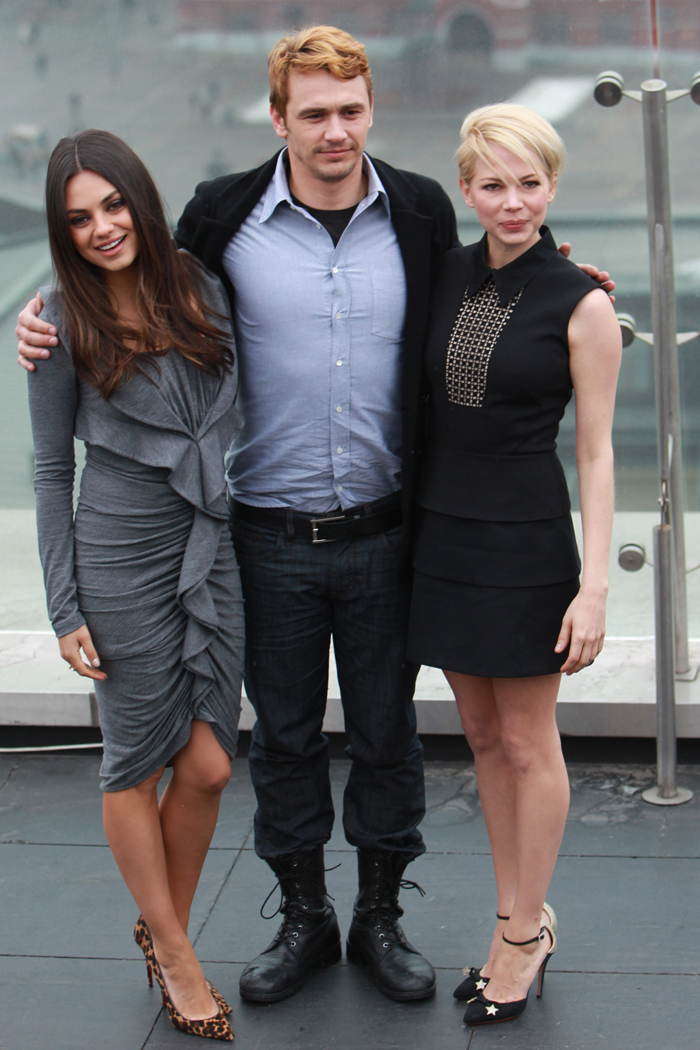 Here are some photos of James Franco, Mila Kunis, and Michelle Williams at the Moscow photocall for Oz the Great and Powerful. Yes, Franco has tucked his jeans into his combat boots. That's the artistic way to wear combat boots, don't you know? Poor Mila and Michelle are like, "Ugh, this douche" — see how Mila is leaning away from him? Mila even has her own douche at home, so the fact that she's unconsciously shrinking away from the Franco really says something. But both girls both look pretty cute. I think Mila's grey, ruched dress would have looked a lot better without all of those front, lateral ruffles that are a bit much, but the animal-print shoes are an interesting addition. Michelle's wearing a black Victoria Beckham getup, which is deceptively intricate with a suit-like top and a three-tiered skirt. She looks fresh and great here.
That's not the real story though. Franco has taken the peroxide plunge in a very bad way. Take a closer look: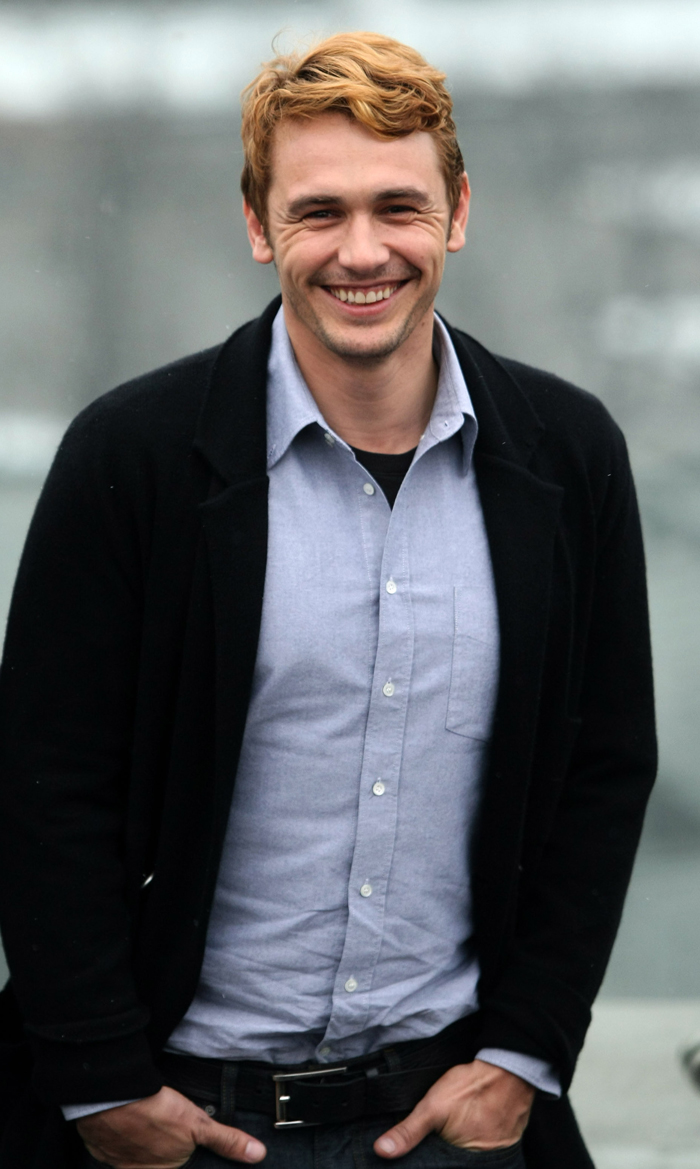 Pretty bad, right? I hope this new change is for a role. A lot of you begrungingly admit to finding James hot, but does he still do it for you while looking like your friendly neighborhood meth dealer? It honestly looks like he's been hitting the Sun-In pretty hard and didn't get the bleach job done at a professional salon. Like, he probably got stoned off his ass and decided to make his head into an art exhibit. Not pretty.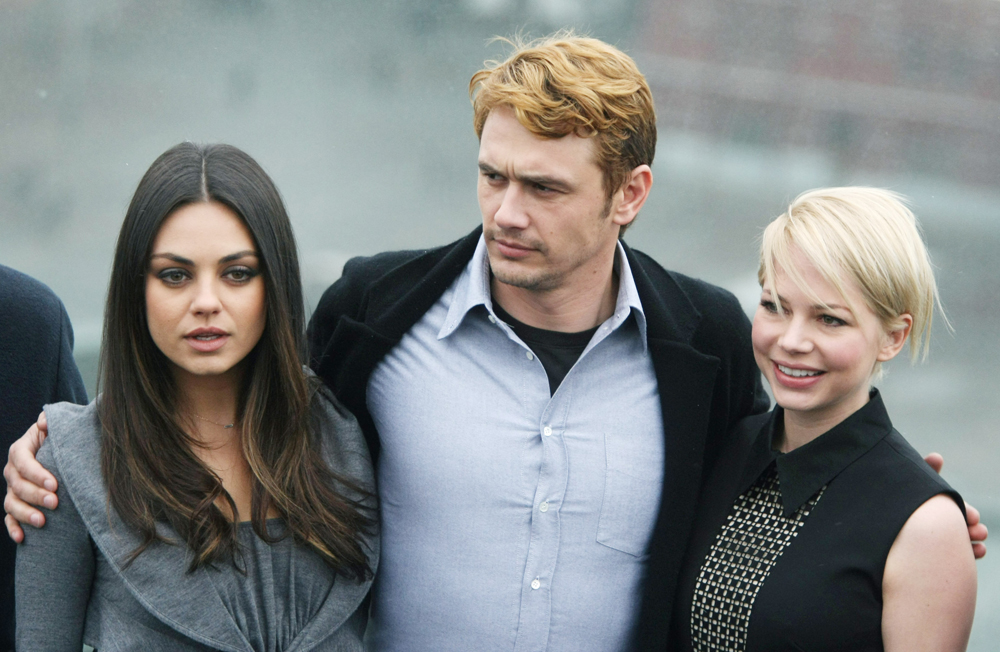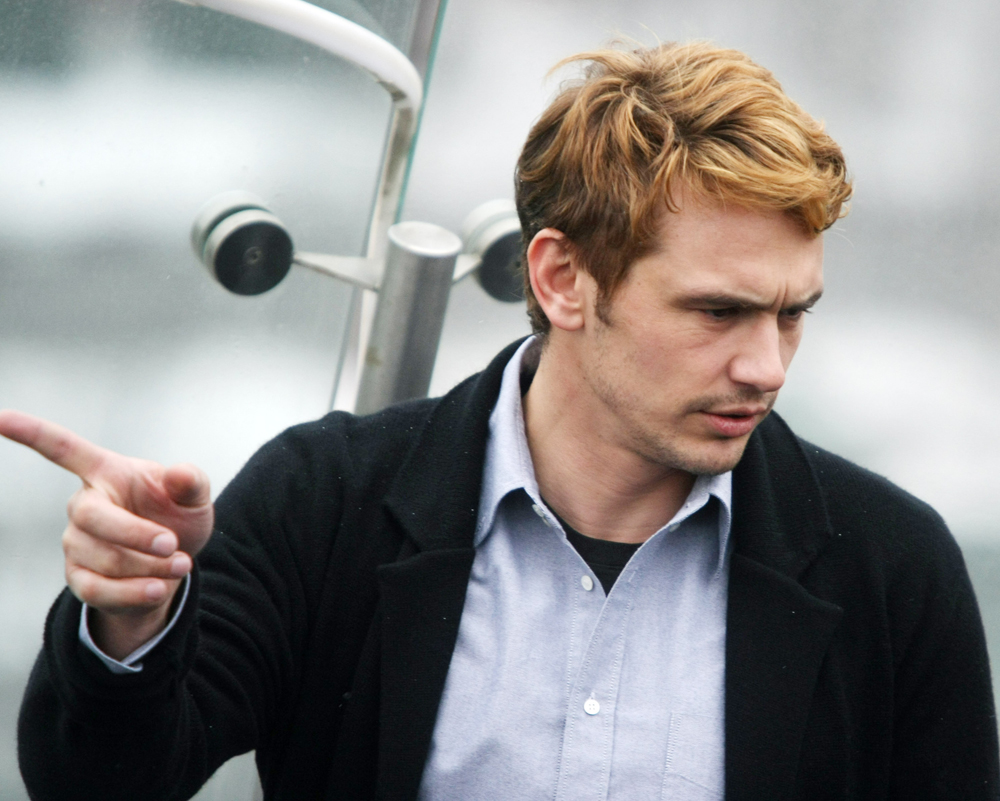 Here's a few photos of Franco acting as Grand Marshal for the Daytona 500 on Sunday. I'll be he turned that little, unassuming race into a work of pure art.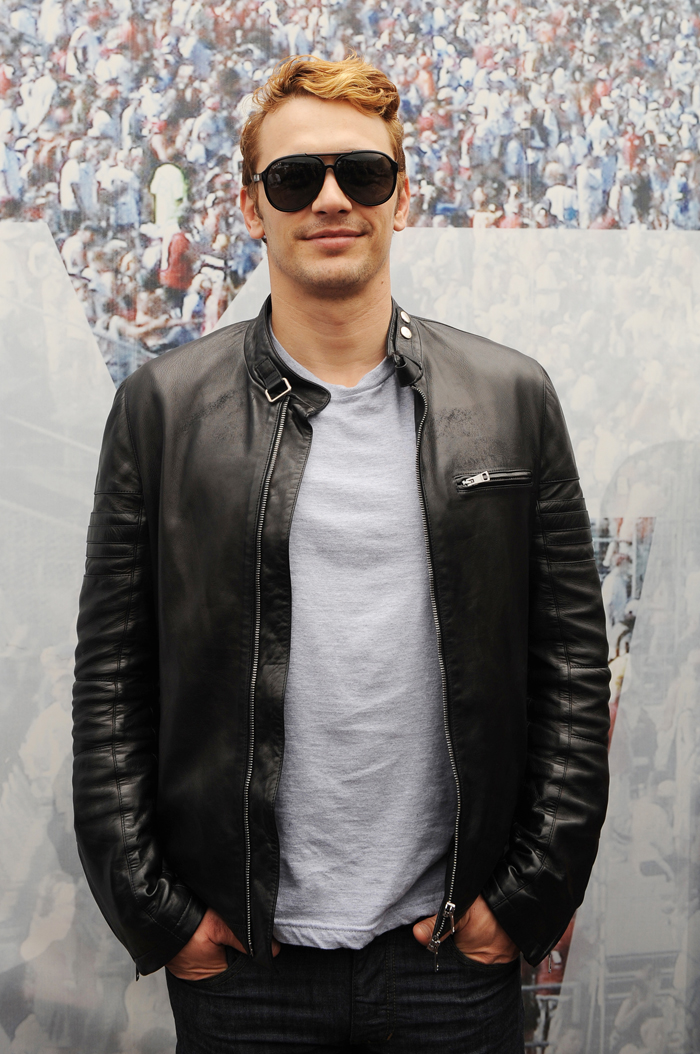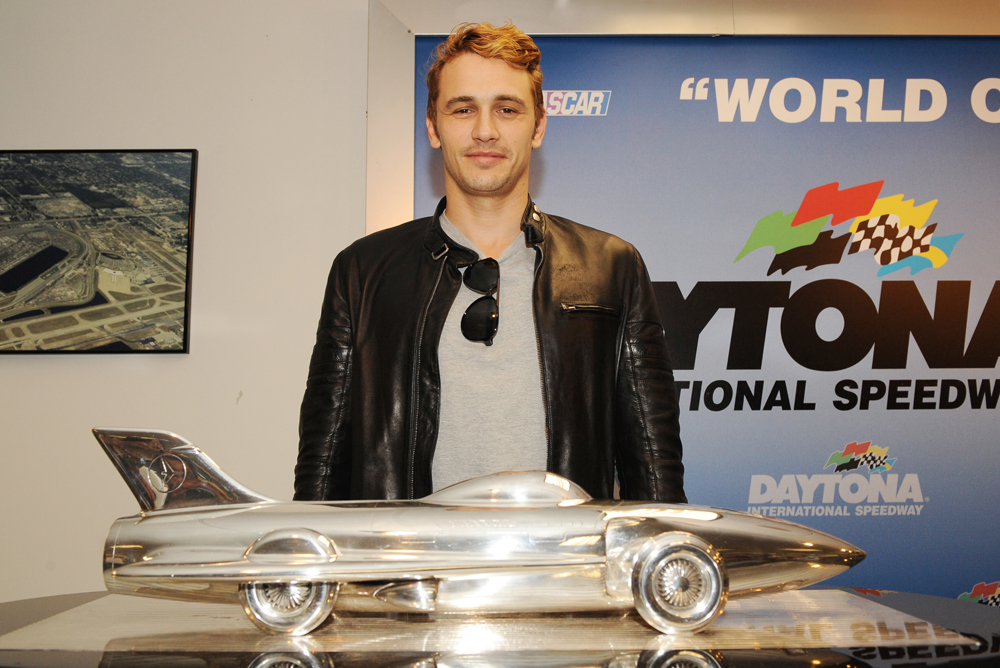 Photos courtesy of WENN
Written by Bedhead

Posted in Fashion, Hair, James Franco, Michelle Williams, Mila Kunis

- Harry Styles & Kimberly Stewart going strong [Lainey]
- Demi Moore's new man is gross [D-Listed]
- Fug or fab: Emma Stone [Go Fug Yourself]
- Arrest warrant issued for Jenelle Evans [Reality Tea]
- Only God Forgives review [Pajiba]
- Hugh Jackman, scooter master [Buzzfeed]
- Who does Drew Barrymore call her sister? [Evil Beet]
- Cannes couples past and present [Popsugar]
- Arrested Development supercut [CDAN]
- Lea Michele's see through skirt [Celebslam]
- Cheating wife's lover escapes out of window [Movin925]
- Joe Francis is crazy [Starcasm]
35 Responses to "James Franco is blonde in Moscow at the 'Oz' photocall: would you hit it?"