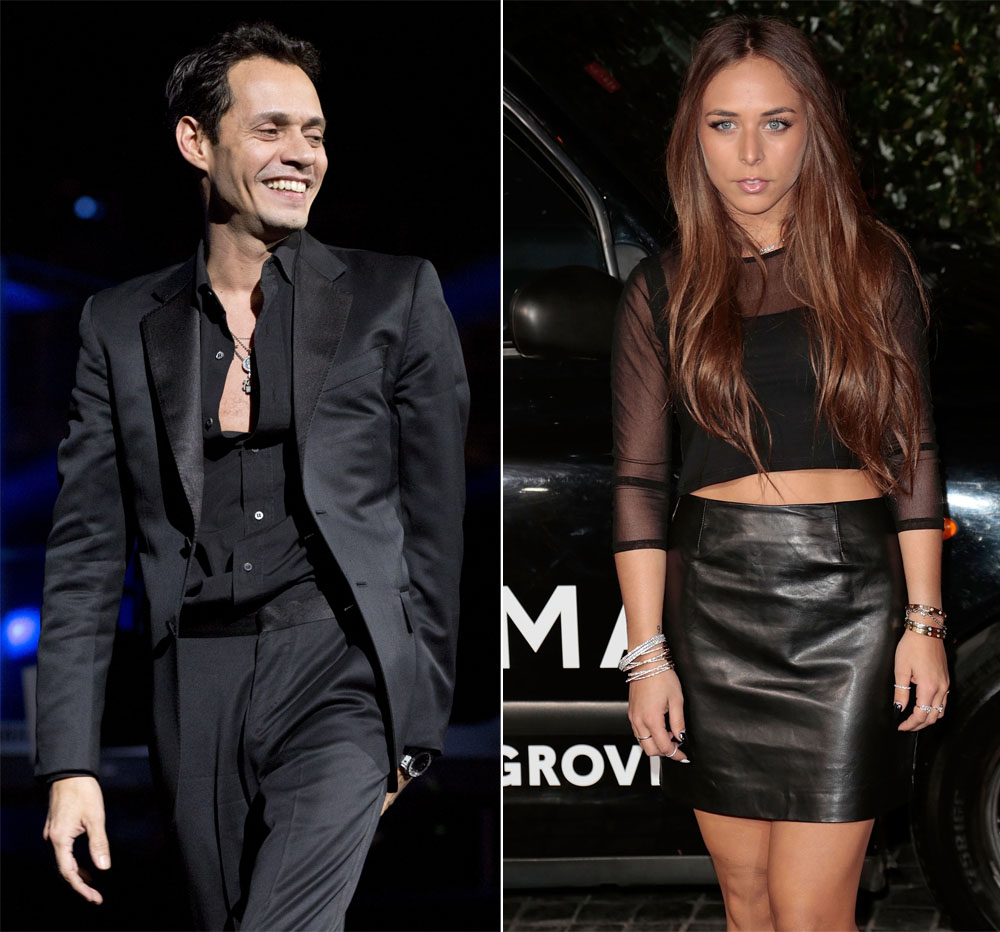 Make fun of Jennifer Lopez all you want for taking up with a 25 year-old backup dancer (and she deserves it). At least the guy was in his mid 20s and somewhat established when she met him, even if she was, and continues to be, his employer. In comparison Lopez's ex, Marc Anthony, 44, is now dating a 21 year-old British heiress, Chloe Green. He hasn't been with her for long, considering that he announced his last breakup, from 24 year-old model Shannon de Lima, just a month ago. Green is the daughter of TopShop founder Sir Philip Green, she has a shoe line and she stars on the reality show Made in Chelsea. (So at least she works, however much nepotism was involved.) She was spotted out with Marc at Disneyland with his two kids earlier this week. (The photos are here.) Marc was seen with his arm around her, so it's on.
Jennifer Lopez will now be forced to watch Chloe Green play mum to her children as her ex-husband Marc Anthony is dating the Topshop heiress.

Marc and Chloe, the daughter of Topshop boss Sir Philip Green, were snapped playing happy families with his and JLo's twins Max and Emme at Disneyland in California on Tuesday.

Their relationship is thought to still be in the early stages but already having a family day out suggests it's moving at rapid speed.

The Disneyland date comes just one month after the Latin singer, 44, split from his model girlfriend of one year, Shannon De Lima.

But it's clear she's now long forgotten as Marc looked more than cosy with Chloe, 21, as they walked hand-in-hand through the park, often stopping for hugs and kisses.

The pair, who have a 23-year age gap, looked relaxed in each other's company and seemed to be enjoying themselves on their first public outing since they began dating.

And Chloe seemed quite the natural at the step-mother routine.

She was seen laughing and joking with Marc's five-year-old twins as she carried them around the park, gave them lots of cuddles and sat next to them on rides.

Although they're not an obvious pairing, Marc and Chloe's romance probably won't come as too much of a surprise to Chloe's dad as the singer is an old family friend.

Back in April 2009, Marc and JLo were seen chatting away to Chloe and Sir Phillip during a Topshop dinner in New York.
So Marc knew Chloe from at least 2009, when she would have been 17 years old, and now he thinks it's totally appropriate to date her. Lovely. On this same Disneyland outing, Chloe was seen carrying Marc's five year-old daughter, Emme. So they've been dating a whole month and she's already caring for his kids. It's not like this is unprecedented in this family, Jennifer staged a similar family vacation photo op with Casper Smart and her kids less than a month after we first heard about him. These people are so mature, it's no wonder their romantic partners keep getting younger.
Here's Chloe on 2-14 at the Topshop opening in LA with her dad, Sir Phillip Green, and Kate Bosworth. She looks older than 21 but does that matter?! The image above of her was taken earlier this month too. Credit: WENN.com