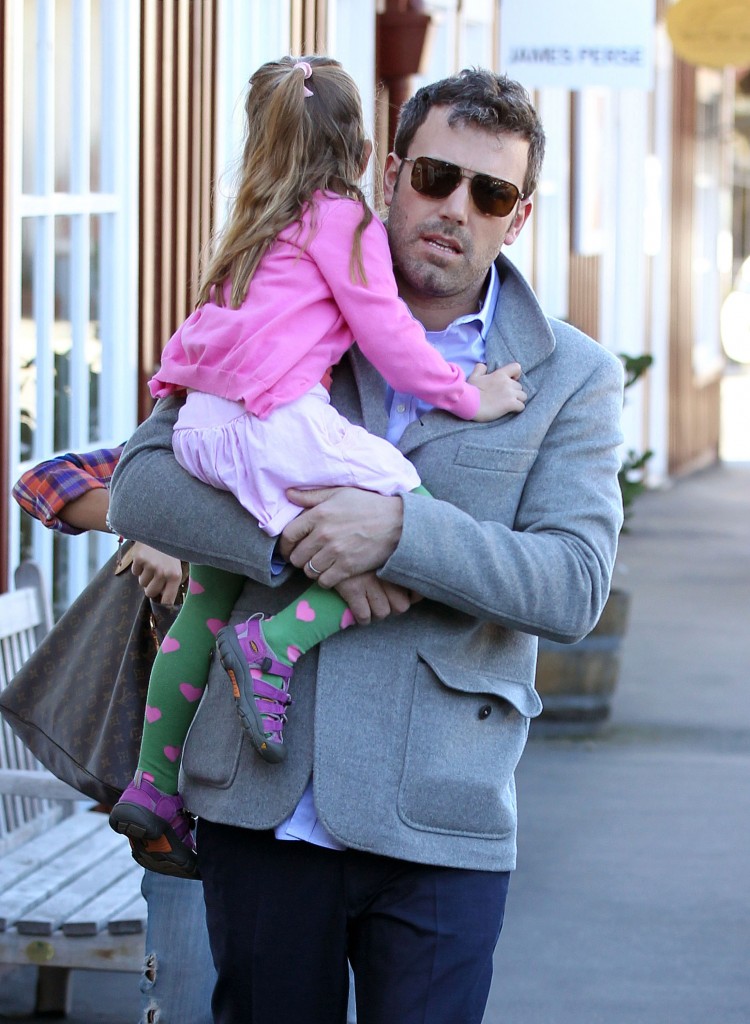 Ben Affleck had an incident with the paparazzi on Friday, an incident in which he got angry and yelled at photographers who were getting too close to him and his daughter, Seraphina, while he was picking her up from preschool. At one point Ben stuck out his leg to indicate a safe distance at which the photographers should stay. He allegedly did not kick anyone, and reports state that the paparazzi were yelling at his four year old daughter, as they often do with children and anyone they're targeting, when Ben's paternal instinct kicked in. Here's part of US Weekly's coverage:
On Friday, March 1, things got a little too close for comfort when he and his 4-year-old daughter, Seraphina, were swarmed by some particularly aggressive paparazzi outside her school.

A source close to the Argo star tells Us Weekly that photographers were "all over" the actor and his little girl — to the point that it was actually scaring Seraphina. "She was asking for them to stop," the insider says, noting that Affleck asked them repeatedly to back off. "The paps said they needed to be 'that close.'"

"They were really swarming his daughter and yelling at her — yelling at a 4-year-old," the source adds. Affleck, for his part, tried to protect Seraphina by picking her up and then using his leg to illustrate how much space he needed, but the "menacing" paps continued to close in.

The director and his wife, Jennifer Garner, are generally pretty accommodating when it comes to being photographed, even with their kids. (Seraphina is the middle child, between 7-year-old Violet and 12-month-old Samuel.) But this particular incident crossed a line, the Affleck source says.

"It's terrible…This is a 4-year-old we're talking about," the insider tells Us. "This is a preschooler on her way to school, not a star outside a nightclub."
TMZ has a follow-up with a photo of Ben sticking his leg out. They report that Ben told them "You need to be this far away" and that little Seraphina was so scared she was crying.
There's no need for paparazzi to be gathered outside schools, and especially to be yelling at little kids, and Ben has taken incident with this practice before. I found a video from 2009 in which the photographers were snapping Ben picking up his older daughter, Violet, from school. (One of many videos.) Jennifer Garner was pregnant with the couple's second baby, Seraphina, at the time and one photographer yells "Violet, what's the baby's name?" Ben very firmly says "You can talk to me. Don't talk to my kid."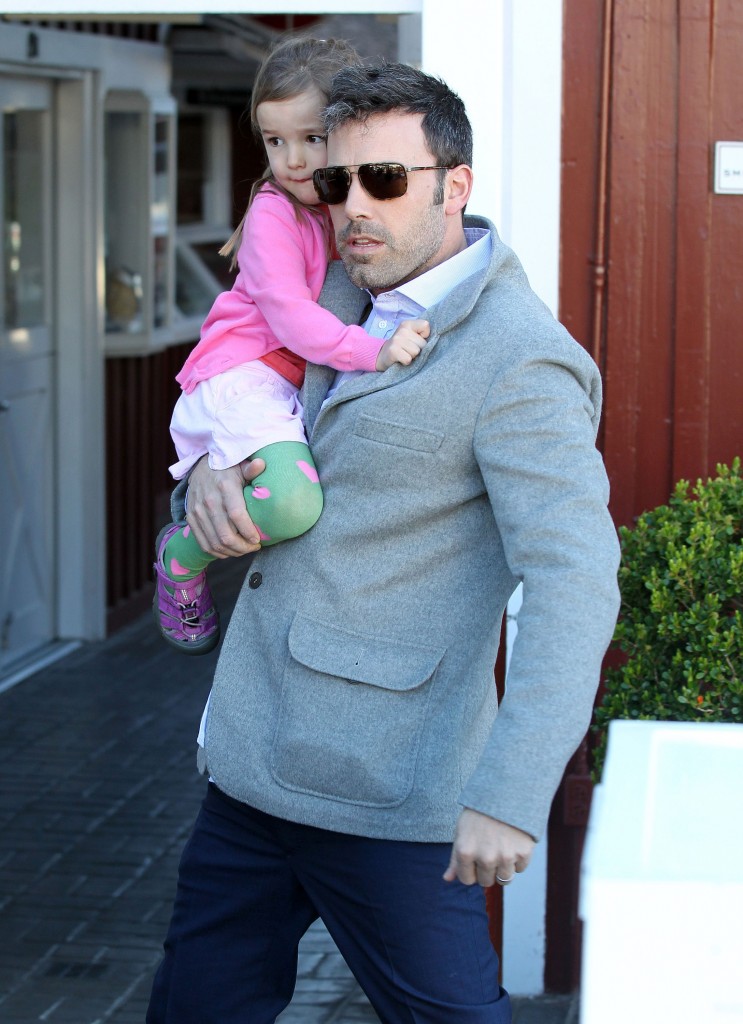 I'm surprised that paparazzi are even still gathering outside schools. There was an anti-paparazzi law passed in California in 2009, declaring that "A person is liable for constructive invasion of privacy when the defendant attempts to capture, in a manner that is offensive to a reasonable person, any type of visual image, sound recording, or other physical impression of the plaintiff engaging in a personal or familial activity under circumstances in which the plaintiff had a reasonable expectation of privacy."
The law is worded sort of vaguely, and I can't claim to understand the legal implications, but don't parents have a "reasonable expectation of privacy" when they're dropping their kids off at school? Isn't that a "familial activity?" They're not going out to lunch at the Ivy. That said, Ben did let us see him out with his kids many times in the lead-up to his Best Picture Oscar win. Some think he staged photo ops. It's not like he was getting mad at the paps when he was campaigning, but they weren't making his daughter cry at that point, either.
I wanted to mention that CNN ran a brief biography on Ben Affleck's career this weekend. It was called "Ben Affleck, Back on Top" and I DVRed it to see if they would cover anything I hadn't heard about. They didn't, and the only interview they had with someone close to Ben or Jen was with Victor Garber, who just confirmed that he officiated their marriage and said some nice things about them. The whole show was only a half hour and they didn't get into Ben's charity work. They did remind me that he was in plenty of stinkers besides Gigli, including Paycheck, Jersey Girl, and Surviving Christmas, not to mention Reindeer Games.
Ben and Seraphina are shown out at Brentwood Country Mart on 3-1-13. Reports say that this happened outside of Seraphina's school so I think these are different photos from the same day. All our our agencies had them, so it's safe to assume they were surrounded by paparazzi here. Credit: FameFlynet