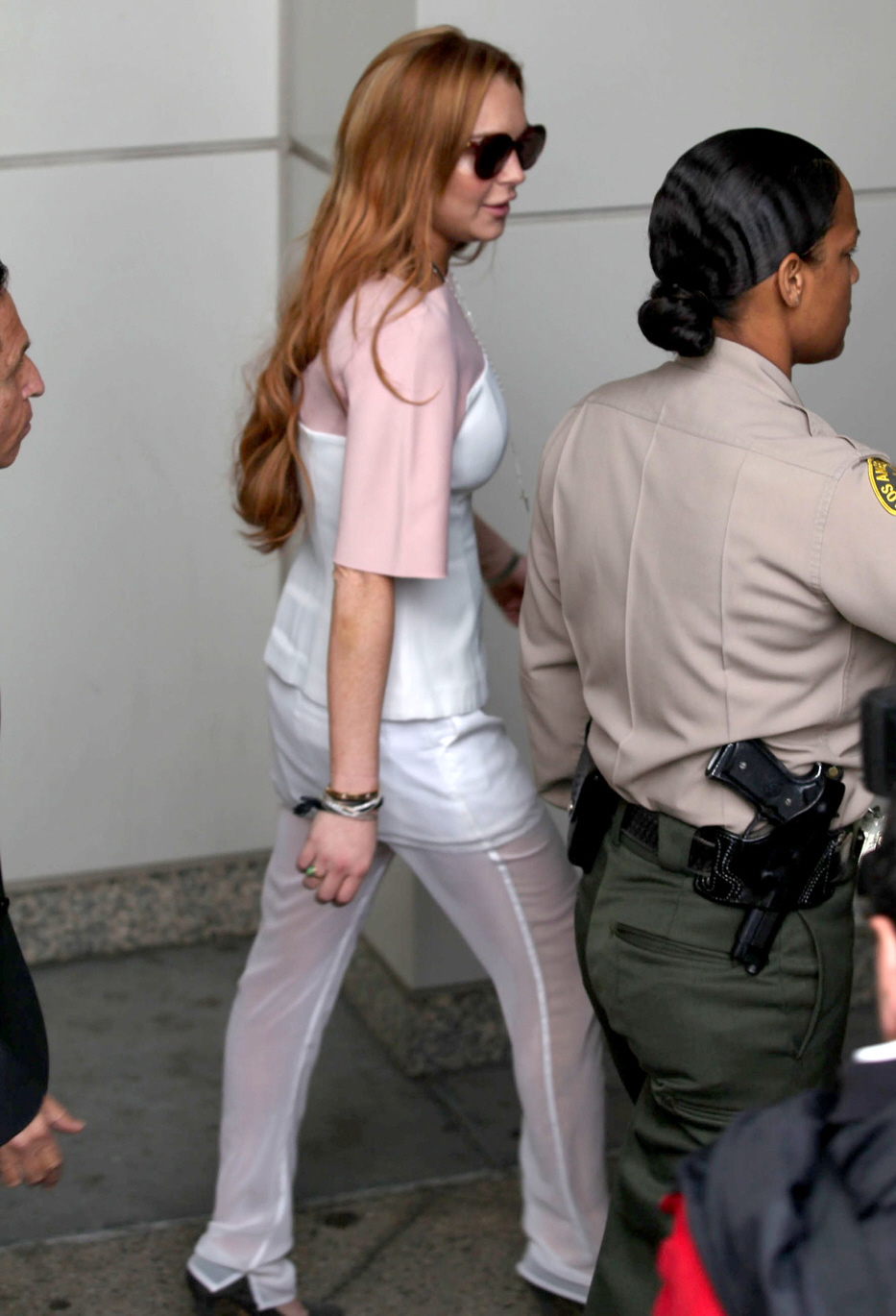 Okay, so Lindsay Lohan arrived 50 minutes late to her court trial, which was supposed to start at 8:30 am PST. After she arrived, I think she just sat in her seat and waited while her NY lawyer and her new LA lawyer (who is kind of hot, by the way) spoke to the judge with the prosecution about a plea deal. Literally three hours later, they had finally worked out a plea deal. Which is funny because the prosecution had allegedly offered LL a deal weeks ago which was a lot more lenient than the one she just accepted, so it seems her cracked-out legal strategy failed. I guess she was also surprised that the prosecution was ready to, you know, PROSECUTE her for the charges they brought. So here are the basics of what just happened:
*Lindsay pleaded "no contest" to two of the three charges, which is basically saying "Yeah, I did that but I'm not going to come out and say it and you can just punish me for it."
*Lindsay will spend 90 days in "lock-down rehab". Meaning that she will not get "day passes" to go out drinking. Allegedly. She was also given 5 days of jail, but her jail time has been "folded" into her rehab stay, meaning she won't have to go to jail at all. Also, LL can do her rehab in New York.
*Lindsay will need to perform 30 days of community labor after her lockdown rehab. She will also need to have 18 months of therapy, and her lawyer said that she already started two months ago, so it will be 16 months of rehab or something.
*Lindsay is required to submit to drug testing and to stay away from drug users (hahaha). The judge also told her "don't drive". But that's not part of her sentence, of course, because of course she's allowed to terrorize the streets of LA and NYC. She's the Cracken!
*As for her probation… I didn't really understand what happened there. TMZ says "she's also admitted to a probation violation in the jewelry heist case, she was sentenced to 180 days in jail, but that sentence was STAYED and she won't do time if she continues to obey all laws." That to me seems like the legal equivalent of "a friendly pat on the firecrotch". How could she be sentenced to 180 days in jail for obviously violating her probation but the jail sentence is "stayed" because… why again? Because she's a white woman with big boobs?
So, basically, LL strikes again. I have hope that "lock-down rehab" is more hardcore than I'm imagining, but let's face it – LL will probably get to go to some country-club rehab and Dina will smuggle in some Jim Beam. Same old same old.
PS… Don't even ask me about the disco outfit to court. She's so ridiculous. And this is one of the reasons she was late! She had to change into this horrible outfit. And her lips are flat-out disgusting.
PPS… Mark Heller is calling this a "validation of her sobriety". And now Michael Lohan is trying to fist-fight him. And now Michael is telling the press that Heller is being investigated for witness tampering (Gavin?) and that Michael is going to try to get Heller disbarred or something.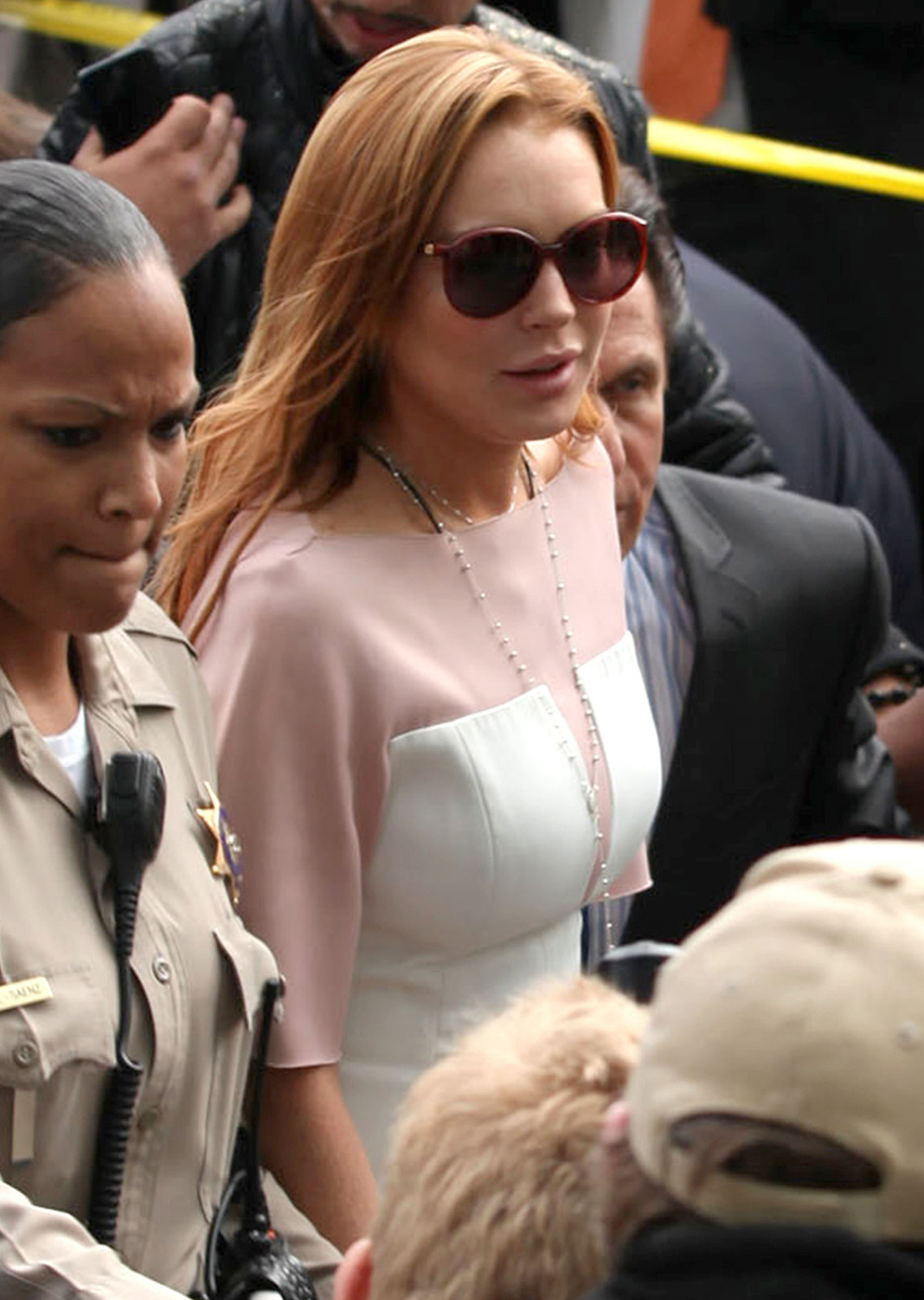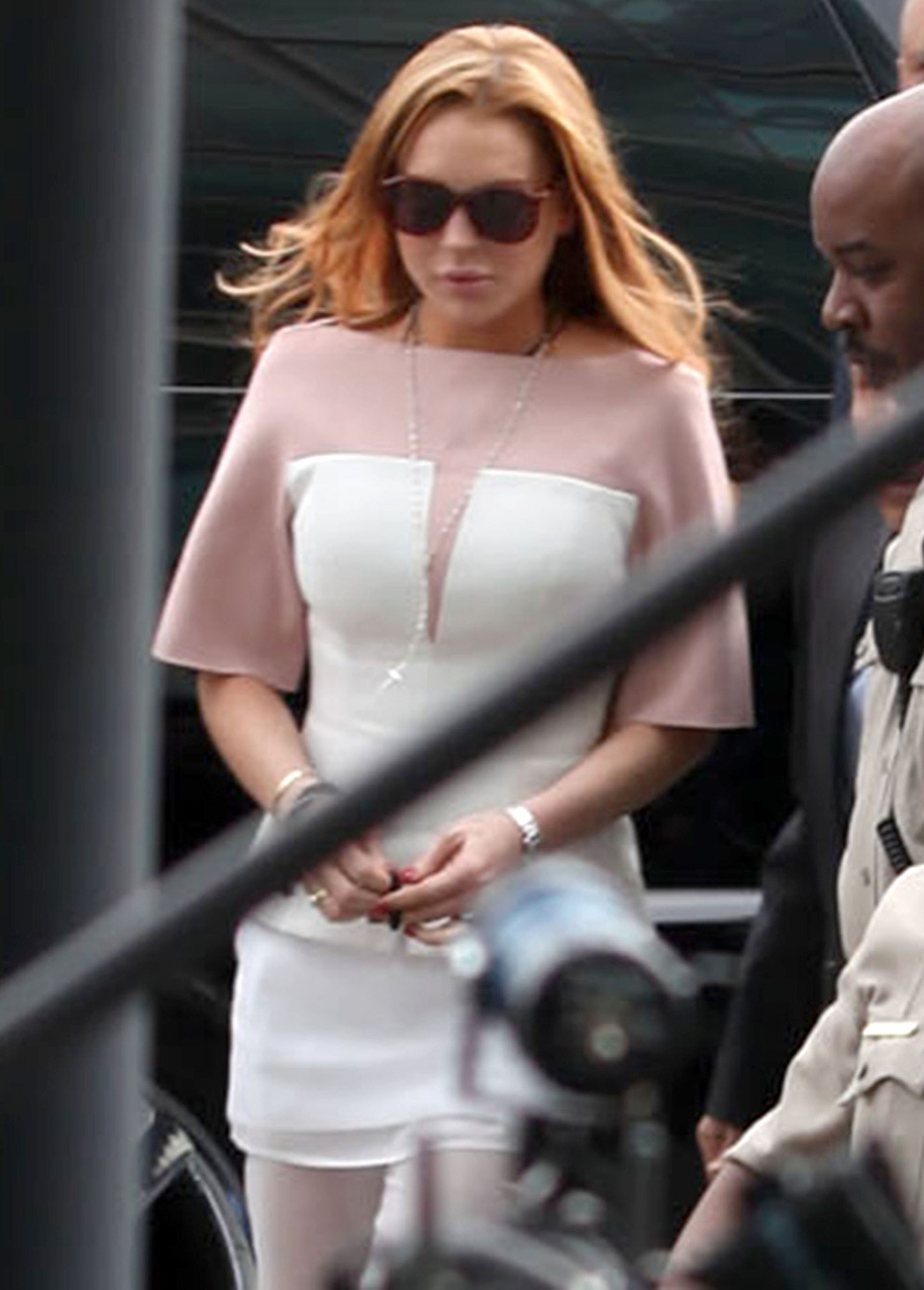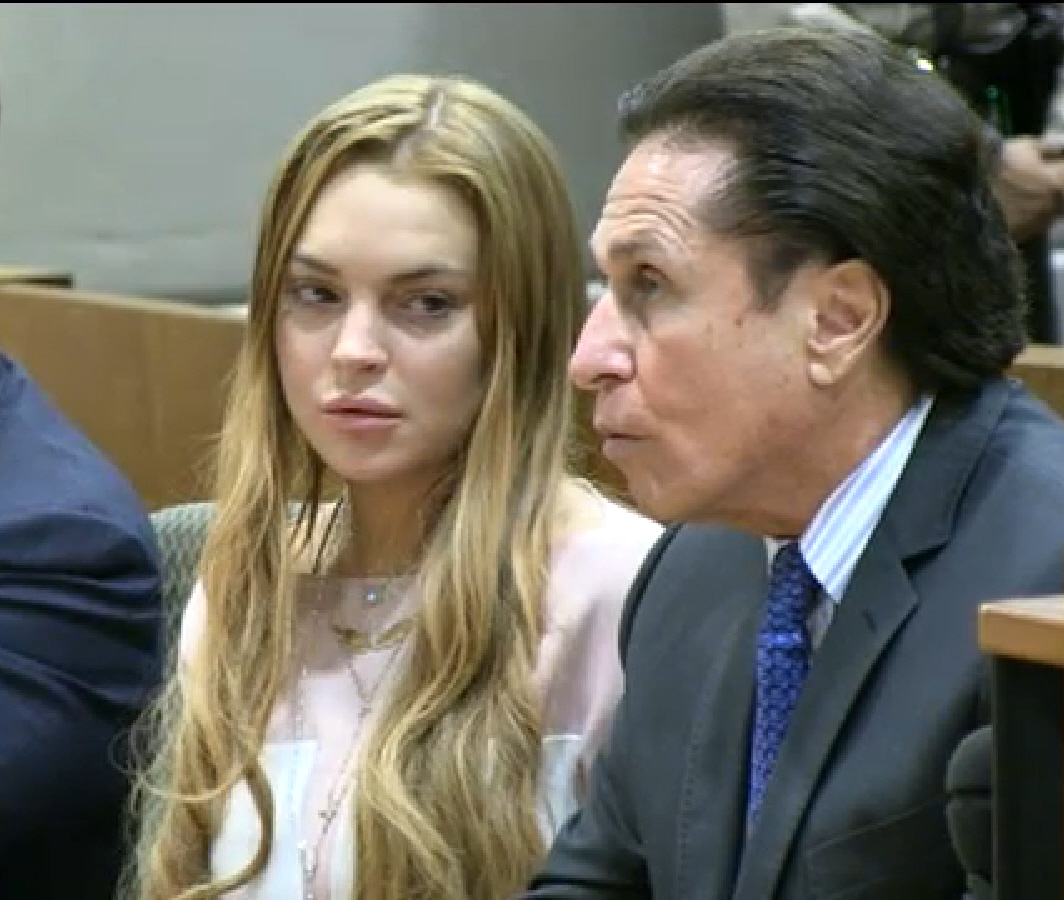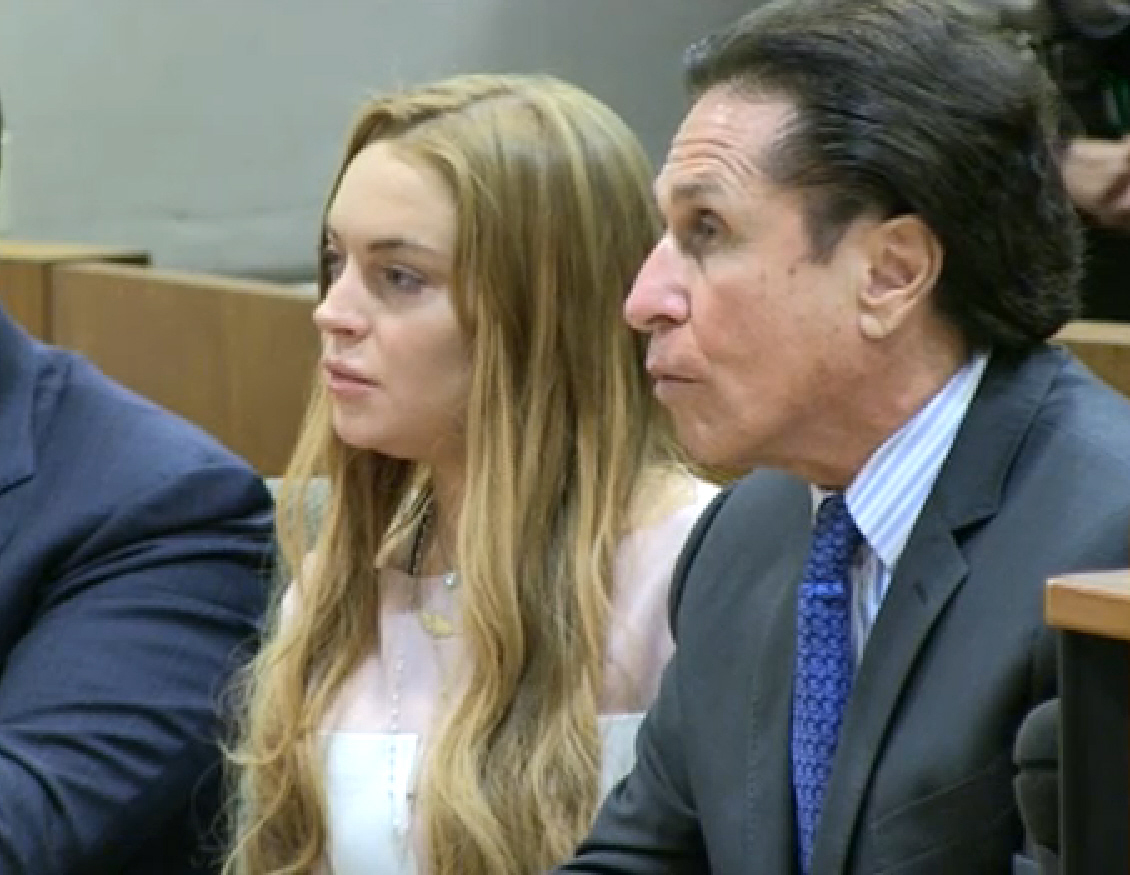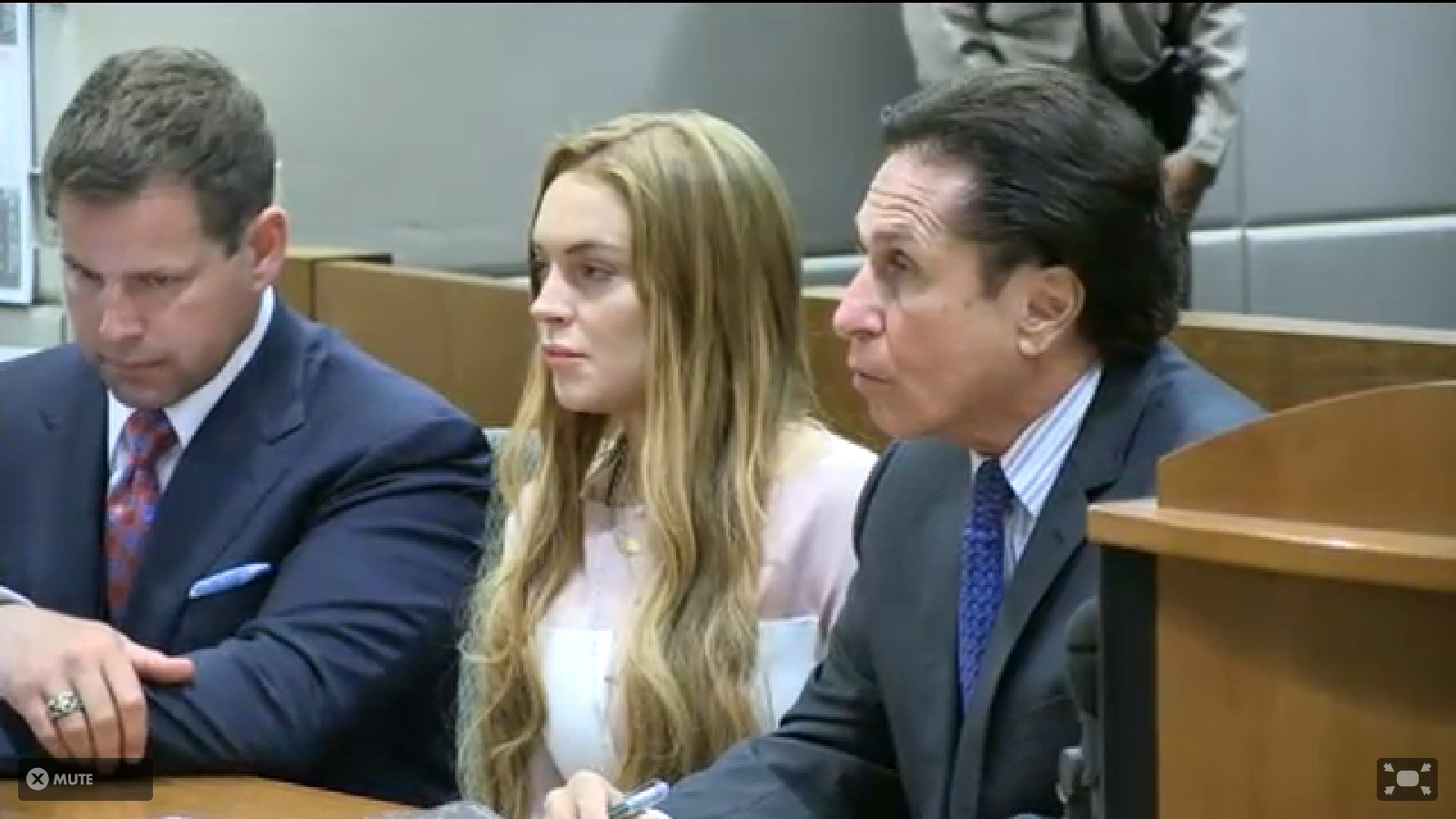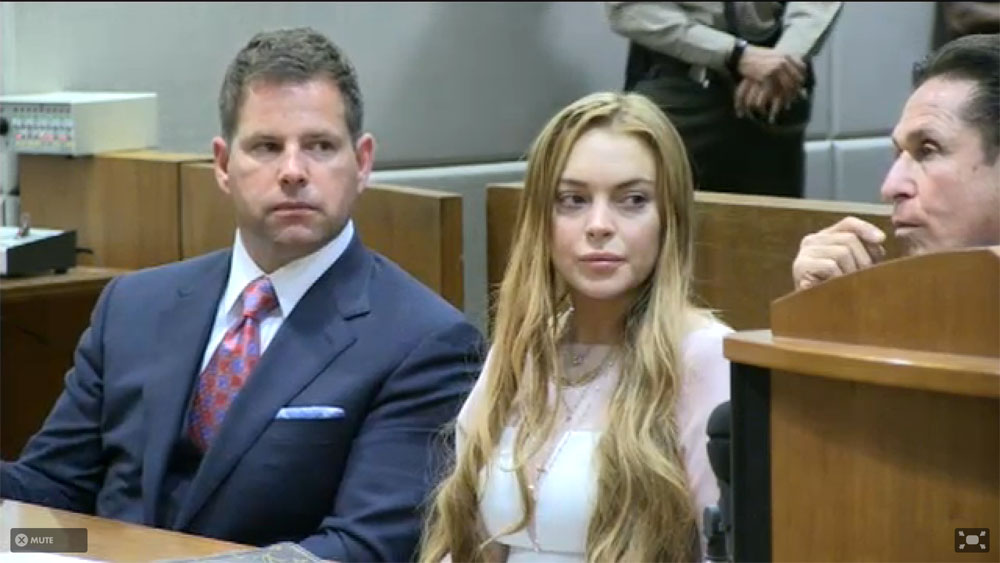 Photos courtesy of Pacific Coast News and screencaps from TMZ.