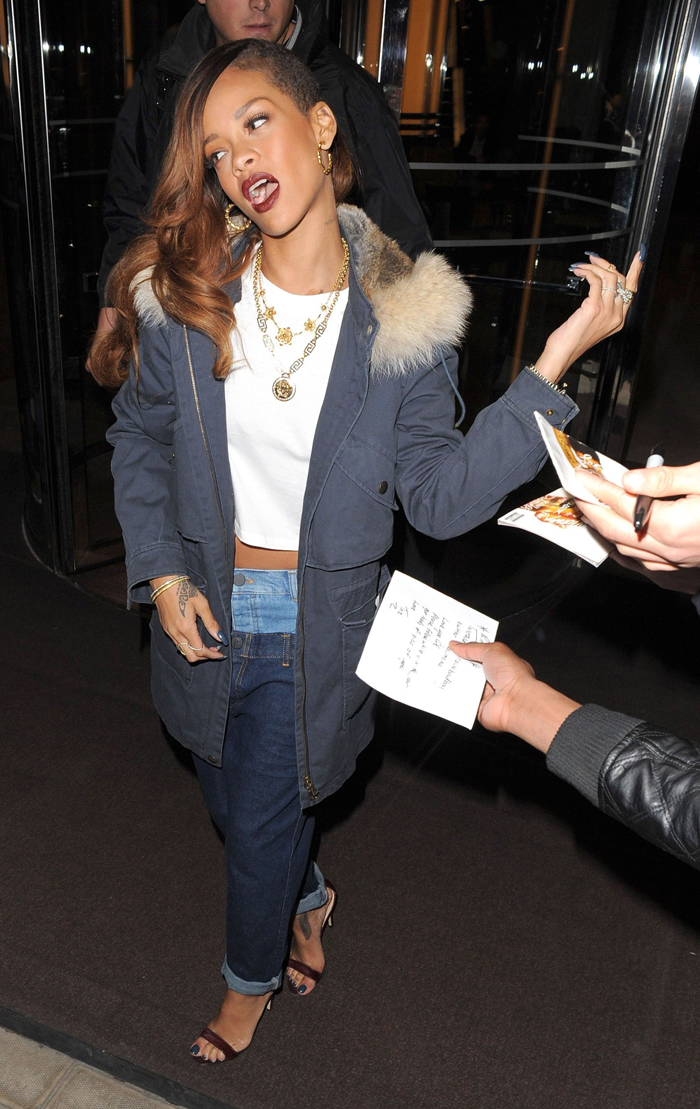 Just the very headline of this story might have made you roll your eyes in a "bitch, please!" sort of manner, but this story seems believable to me in a very strange way. That is, we all know that Rihanna has terrible taste in men. I mean, one only needs to consider that she's completely hooked on Chris Brown even though he beat the holy hell out of her a few years ago and hasn't even shown the slightest bit of remorse or even bothered to complete his community service in a legit manner. If you can even look past the dude's violent tendencies and well-documented behavior, then there's the fact that Chris has been regularly stepping out on Rihanna with Karrueche Tran for quite some time now, and that trend won't be stopping anytime soon.
Now the Enquirer has a new story that says Rihanna has found a way to get back at Chris for cheating on her with Karrueche and various other women. She's allegedly getting down with Dane Cook backstage after his shows and at her home. Do you find it hard to believe that Rihanna would be attracted to a misogynistic douche like Dane? I don't. Here's the story: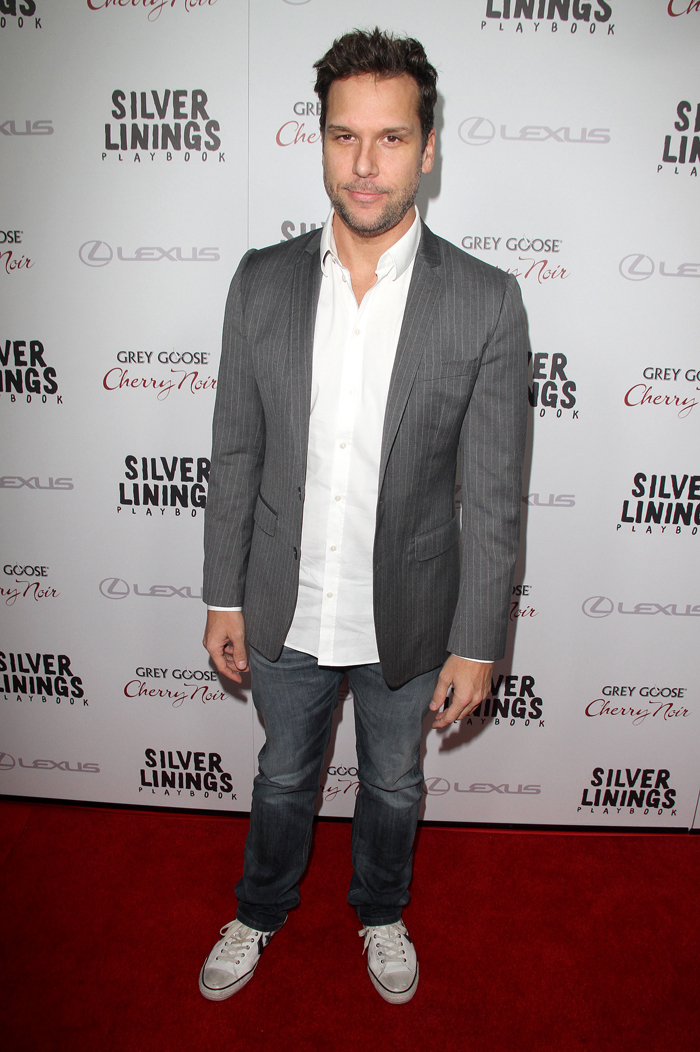 Rihanna has found a way to get back at her two-timing bad-boy beau Chris Brown by hooking up with comedian Dane Cook!

The gorgeous "We Found Love" singer and the quirky comic have been friends for years, and their riendship has heated up in recent months because Rihanna wants to show Chris Brown that she's still a hot commodity, say sources.

Rihanna met Dane after watching one of his shows andt he Laugh Factory, and they got along so well that RiRi now tries to chatch his act whenever she's in town, the sources add.

"They hang out in Dane's dressing room and sometiems he goes back to her Pacific Palisades home to party," revealed an insider. "They flirt like crazy, and Dane regularly sends Rihanna flowers and gushy emails.

"Rihanna's friends all think they're carrying on a romance, but she's very secretive about it. She wants to keep everyone guessing, especially Chris."

RIhanna, 25, and Chris, 23, began dating in early 2008 but split a year later afte rhe savagely beat her during an argument in his car. Chris was charged with felony assault. By the end of 2012, the pair had reuinited, but at the time Chris was still involved with aspiring fashion designer Karrueche Tran.

"Rihanna was hurt by Chris constantly cheating on her after they reconnected," the insider continued. "He kept running back to Karrueche and also picking up groupies in nightclubs." Meanwhile, Dane "makes her laugh and always leaves her feeling upbeat and good about herself."

Chris suspects there may be something going on between Rihana and Dane, 41, and the two have gotten into "horrible screaming matches" about it. But Rihanna's loving every minute of it, says the source. "The only thing she likes more than male attention is drama. She loves having Dane and Chris chasing after her at the same time."
[From Enquirer, print edition, April 1, 2013]
You know, it's a sad day when Dane Cook looks better than another suitor, but he definitely wins over Chris Brown in my book because Dane might specialize in sexist, disgusting, unfunny jokes, but at least he's never punched a woman. He did sort of tweet on the topic last year: "The only time domestic violence is acceptable is in the movie Mr. & Mrs. Smith. Then it's just master assassin-tastic!" So yes, the dude isn't funny, but considering that I'd prefer Rihanna with almost anyone but Chris Brown, I say she should go for the uberdouche instead.
Here are some photos of Chris on the set of his new video about a week ago. Look at how he runs! It's like he has hot sauce in his pants, and he's learning forward like that so it doesn't drip on his sparkling white shoes.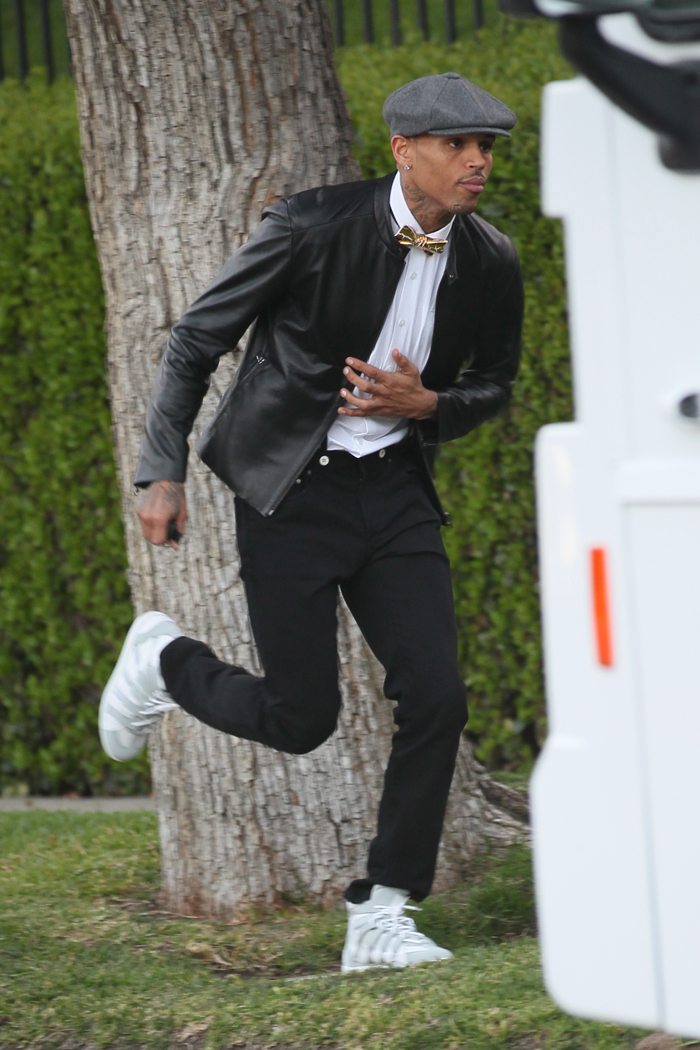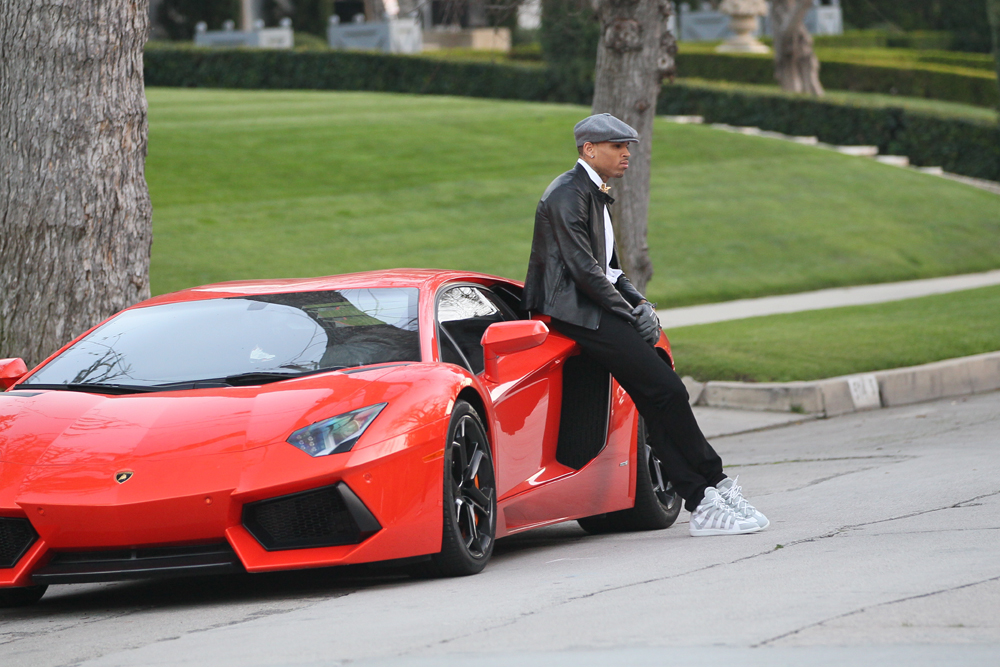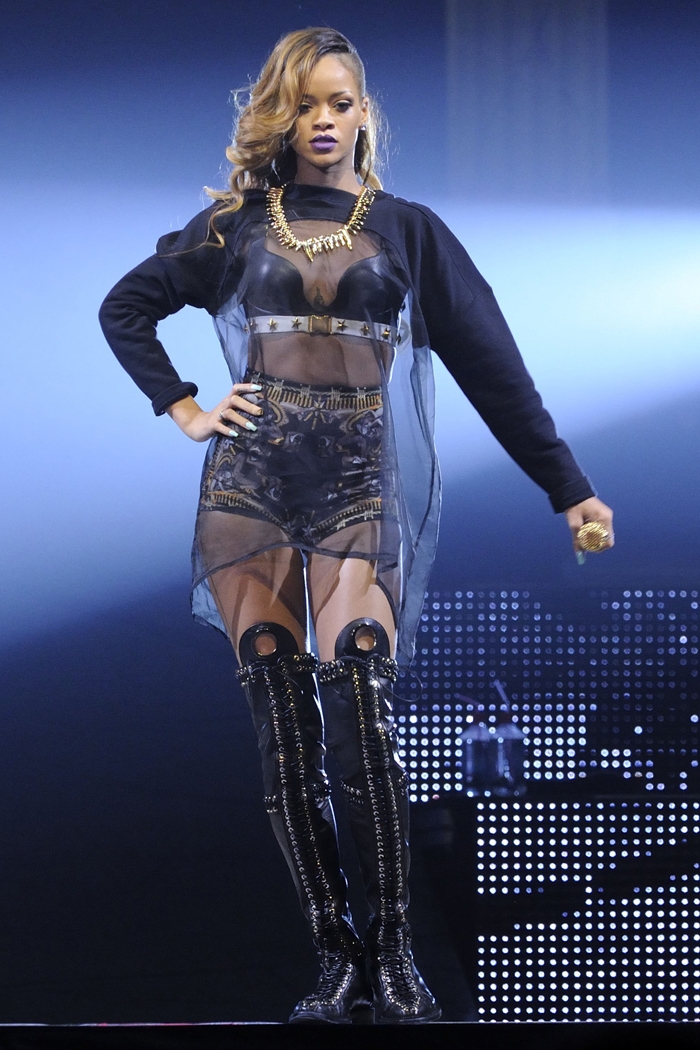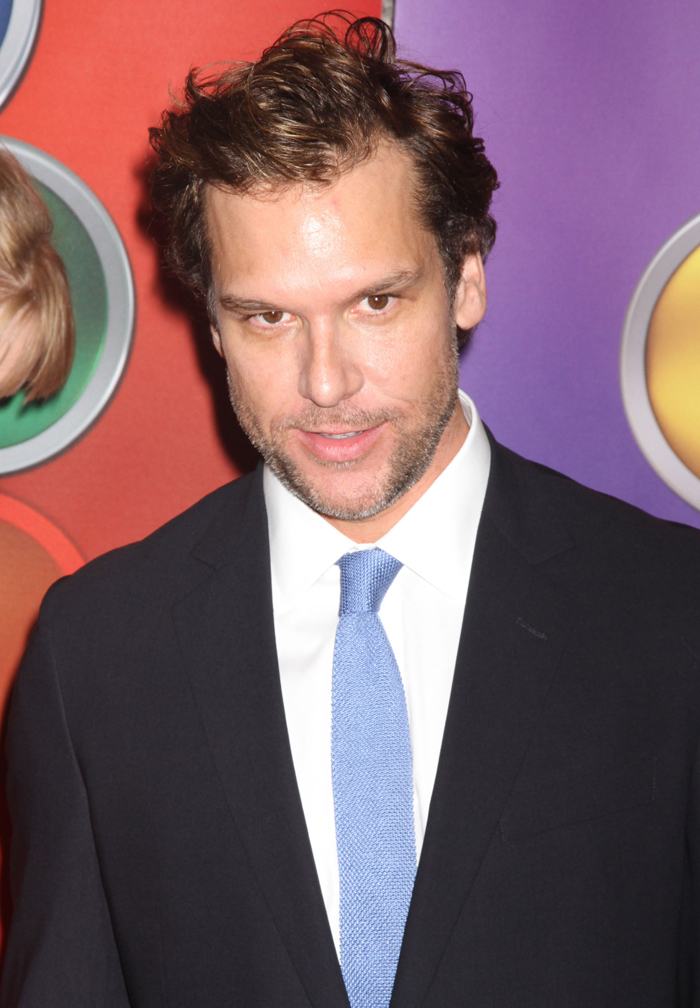 Photos courtesy of Fame/Flynet and WENN