Whenever I see Grumpy Cat, aka Tardar Sauce, I just want to hug and pet and love her. She's freaking adorable, especially in motion. Of course she looks like a sourpuss in still photos, which explains her astronomic rise to fame after her owners posted a photo of her to reddit back in September. Grumpy is an 11 month-old mixed breed who has feline dwarfism. She's launched countless memes in which she mocks and dismisses anything that people can come up with. In reality Grumpy Cat is a very docile, sweet cat who is happy to be held by her owners and fawned over by millions of fans. She'll sit through interviews, she'll grace SXSW with her presence, and she'll even let her owners bring her to Times Square for tourists to paw. That bothered me a little, and I'll talk about that in a moment.
Tardar made an appearance on Good Morning America today to promote her new collaboration with Friskies. It wasn't her first morning show appearance – she was on The Today Show last December. During her segment, they showed Grumpy cat accompanying her owners, Arizona based brother and sister, Tabatha and Bryan Bundesen, to Times Square. Grumpy was recognized by quite a few onlookers, who went on to fawn and pet her. This wasn't unlike her SXSW appearance, where people lined up around the block for her, and it bothered me a little. Her owners have heard those complaints, and insist that she's a normal cat "99%" of the time. Her website states that "99% of the time she is a normal kitty. She plays, hides, and acts as cats act. (She LOVES to hide behind the curtains!) She isn't in front of a camera all of the time like many people perceive."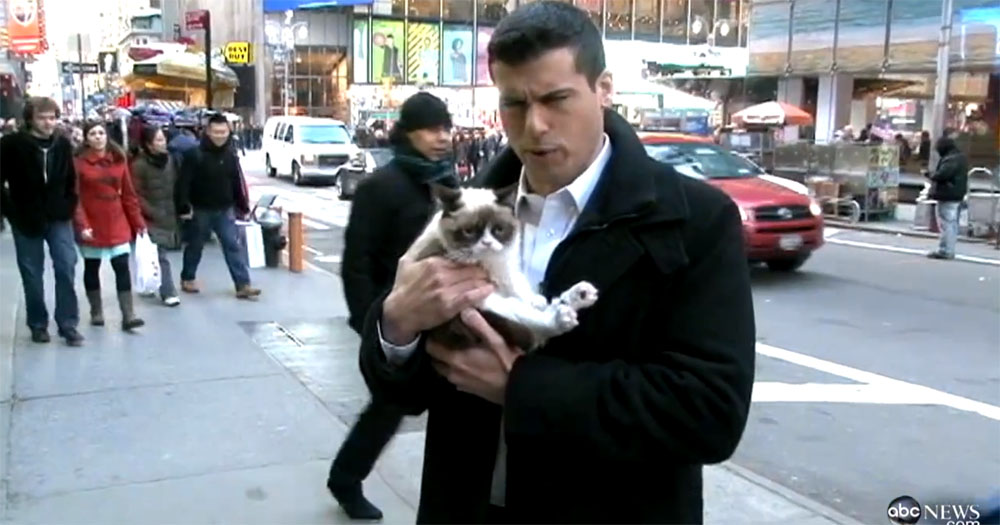 That's sweet and I'm sure she's a very pampered kitty. I've probably had about a dozen kitties living with me over my life (not at one time! The most I had at one time was three) with various roommates and boyfriends, and I don't think I've had one that would let you carry her out in public like that. Some were cool about being held, but they were all so headstrong that they would struggle away from you once you were outside or if they didn't want to be there. Tardar is just a rare combination of frowny cute and very docile.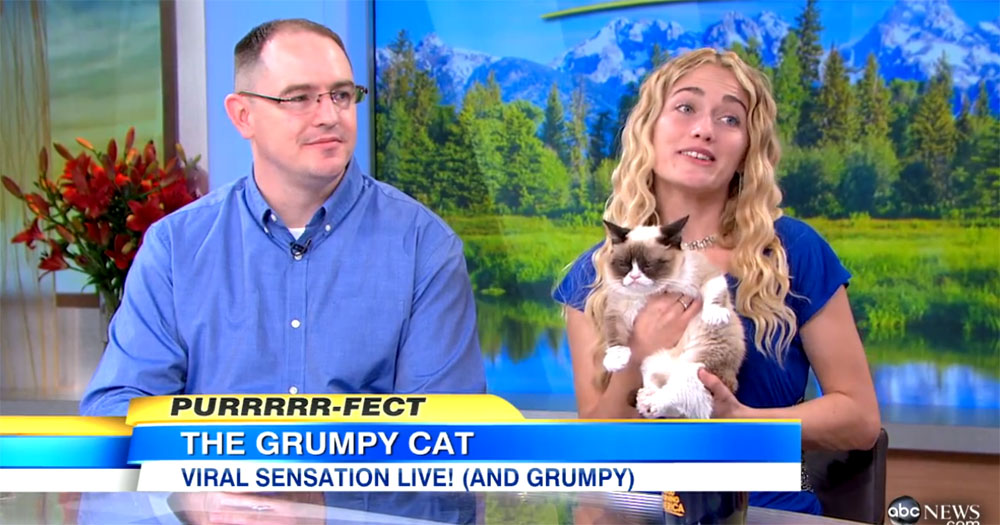 Here's Grumpy Cat's new Friskies web commercial. "Will Kitty Play With It." She looks kind of scared and like she's cowering! It makes me feel bad for her. She can't help her face, and she's just a very shy cat.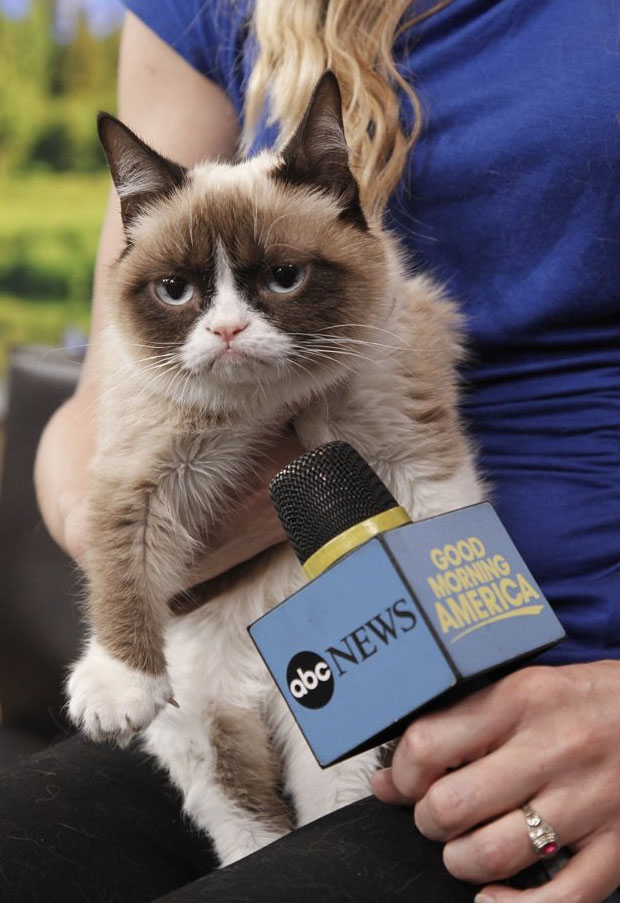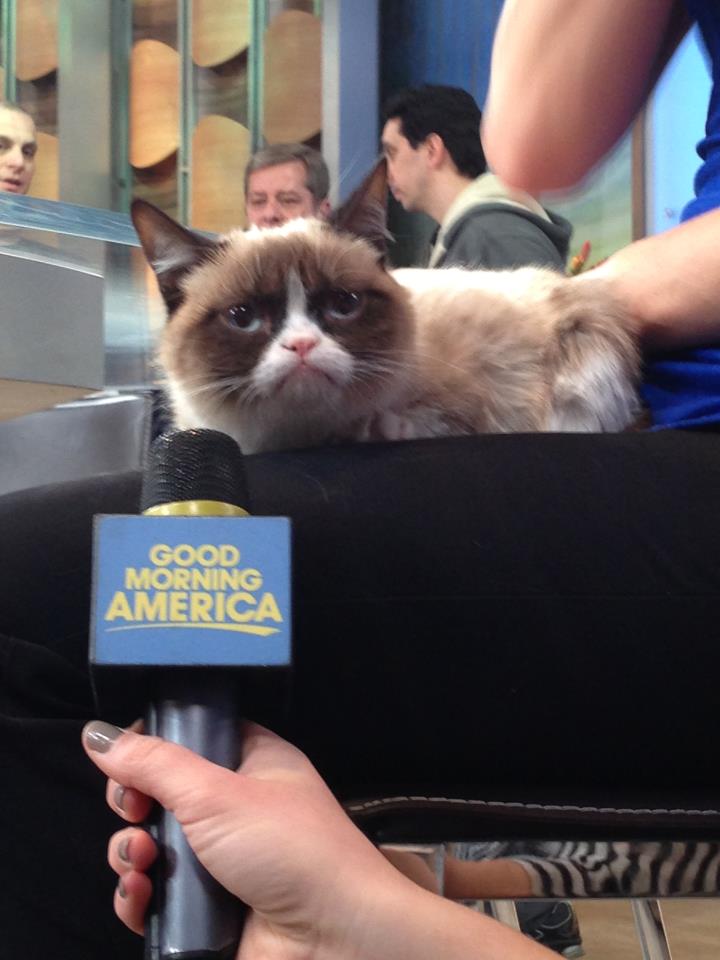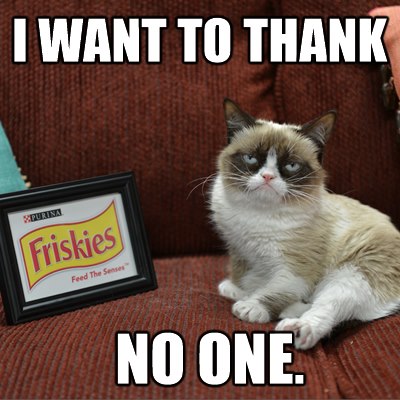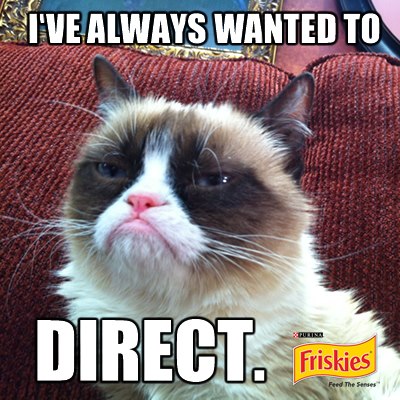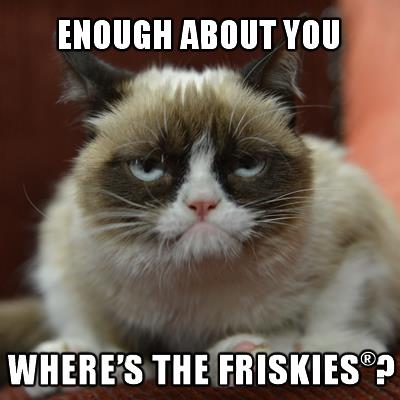 Photos credit: Friskies and ABC