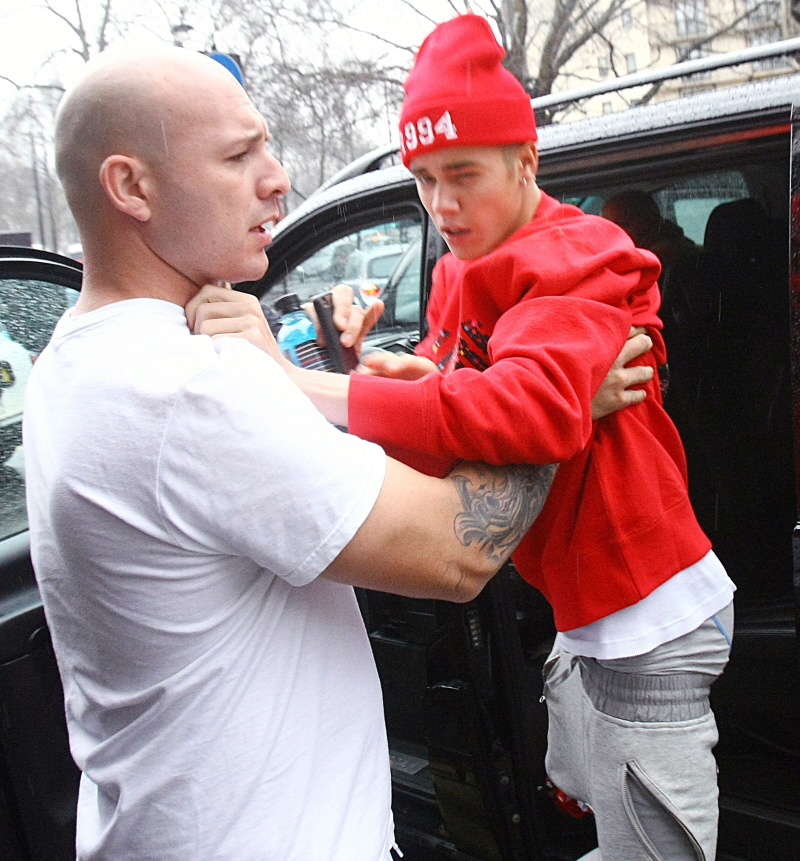 Y'all didn't seem to care about the Justin Bieber post yesterday. Maybe it wasn't shocking to think that Justin is just the kind of punk-ass who drives his Ferrari up and down his residential street at 100 mph. Maybe it didn't shock you to learn that Bieber maybe/probably assaulted his neighbor who was trying to get Justin to behave responsibly. I think it's fascinating, this month-long meltdown of Justin Bieber. I think it's a harbinger of things to come. I think it's only going to get worse. Here's an interesting addendum to the "Bieber accused of battery" story:
Justin Bieber spit in his neighbor's face and threatened to kill him, after the neighbor dared tell the singer he was driving recklessly … that's exactly what the neighbor told Sheriff's deputies.

Law enforcement and neighbors tell TMZ … Bieber hocked a loogie in the man's face during a heated confrontation Tuesday morning. We're told Justin's Ferrari had arrived on a flatbed truck at around 8:00 AM and Justin decided to take it for a ride in the gated community. A number of neighbors say Justin was driving insanely fast — the complaining neighbor says 100 mph.

The man — a 47-year-old successful businessman and father of 3 — went onto Justin's Calabasas property and screamed, "You can't drive like this!" The man told deputies, Justin responded by saying , "Get the f**k out of here," and then he spit in the guy's face and said, "I'm gonna f**king kill you."

The man filed a battery report and we're told he wants Bieber prosecuted and will not back down.

Sources connected to Justin's security team told TMZ there was no physical contact between the singer and the neighbor.
Aw, baby had some spit up!!! Baby gets so phlegmy. Baby gets so pissy when someone tells his he can't do something! That's why he wears a diaper, because he's so pissy. But baby is trying to do some PR clean-up! Justin gave an exclusive interview to Us Weekly, and I'm assuming this was conducted before he hawked a loog on his neighbor.
Justin Bieber on the verge of a breakdown? You better NOT believe it. After a series of bizarre incidents led to speculation that Bieber is heading for a meltdown, the 19-year-old pop star defends himself in an exclusive chat with Us Weekly's Entertainment Director Ian Drew.

"The biggest misconception about me is that I'm a bad person," confides Bieber. "I get upset about that. I have a big heart. I want to be a good role model, but some people want me to fail."

Not that he hasn't publicly stumbled lately. On Feb. 28, Bieber was photographed heading into his London hotel shirtless. "I still had part of my tour wardrobe on and was rushing into my hotel," explains the "Boyfriend" singer, who was photographed shirtless again in an airport in Poland on March 25.

He was also hospitalized in London March 7 after mysteriously fainting on stage, then walked the streets wearing a gas mask the same week.

But the "As Long as You Love Me," singer assures, "I passed out from the flu. The worst thing to me is disappointing my fans — we only had five songs left — so they gave me oxygen, and I decided to finish the show and then go to the hospital. The show must go on."

As for the gas mask, he says it's "a joke with my friends."

"I wanted to hide my face from all the cameras," he explains. "They got it as a joke. My friends and I like messing around.

That said, he admits he's far from perfect. "I'm young and I make mistakes. That's part of growing up," he says. "I mess up sometimes. It's part of growing up."

For now, the unattached heartthrob is tuning out his detractors. (He wraps up his nearly yearlong world tour in August.) "I know who I am and I'm not gonna let negativity towards me bring me down. I'm a positive person and I plan on staying that way," Bieber says. "This business can break you down, but I have a strong team around me, and my family and all the fans. The love overcomes the negativity. I'm not perfect but I'm growing and trying to be better everyday. That's part of life."

Still, Bieber adds, "I'm young and I want to have fun. I don't think there is anything wrong with that."

What's ahead for the star? "I'm thinking about my next album, next tour. Or maybe I'll take a break," he says. "I'm figuring it out. Isn't that what you're supposed to do at 19?"
I feel like this interview was completely cut-and-pasted from Lindsay Lohan's interviews over the course of the past seven years. These talking points are totally Lohan, RIGHT? Lindsay is still claiming that she's just an innocent crack baby and that she just likes to have innocent fun and she's still "growing up". Of course, Lindsay has seven years on Bieber. Seven Crackhead Years, which is like 40 human years. See what I mean? This is just the beginning with Justin.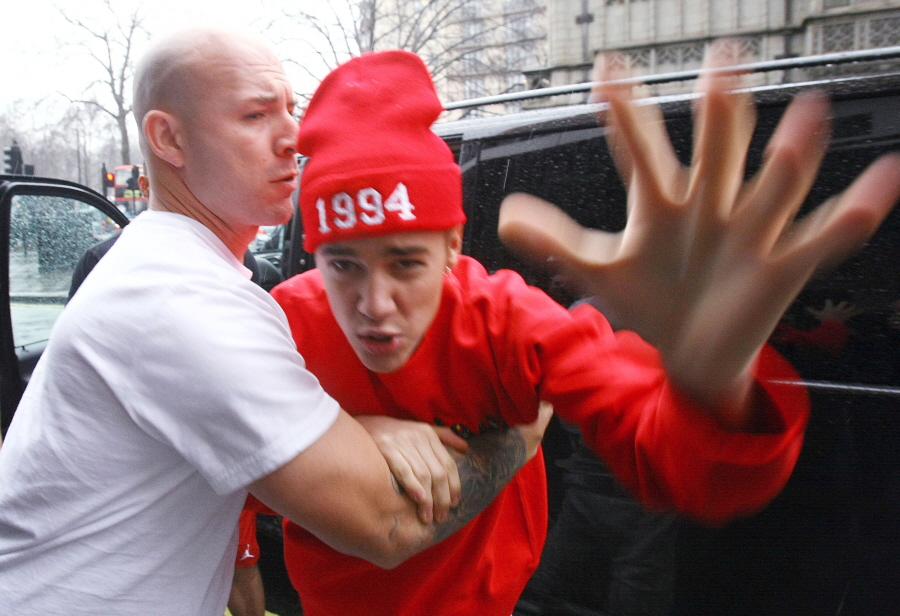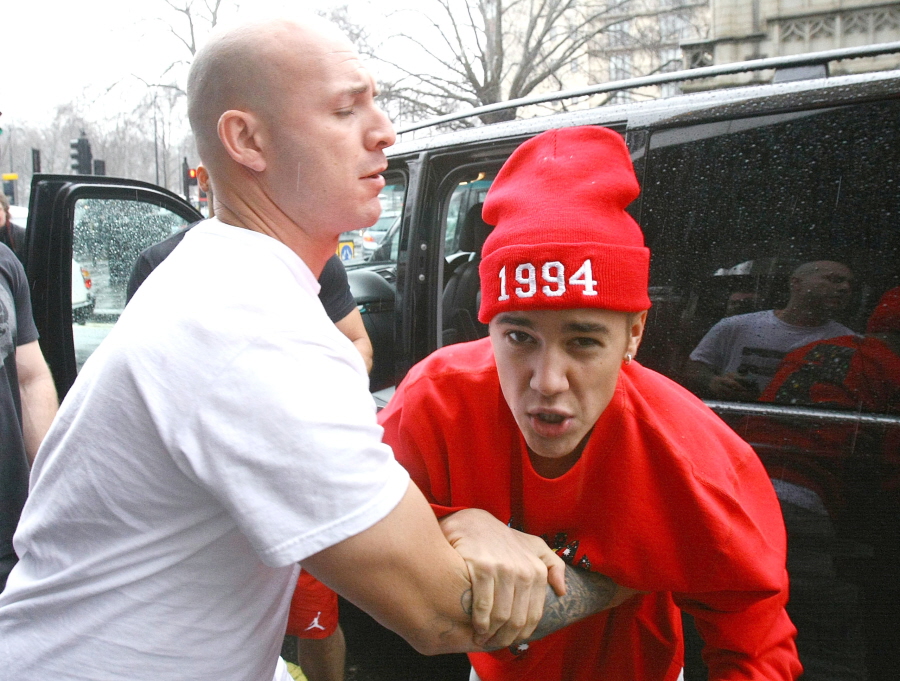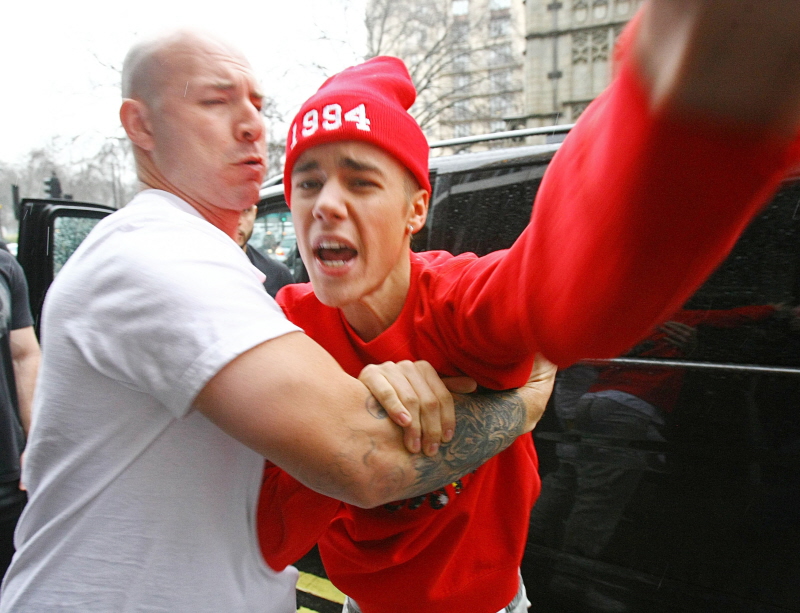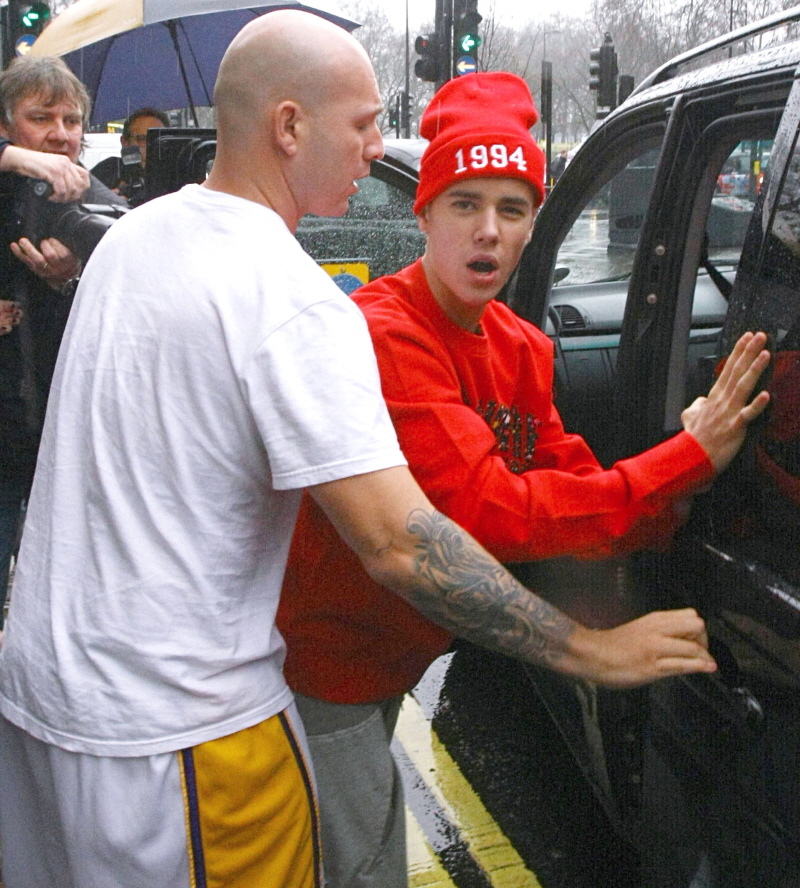 Your favorite Justin Bieber photos, courtesy of Fame/Flynet.