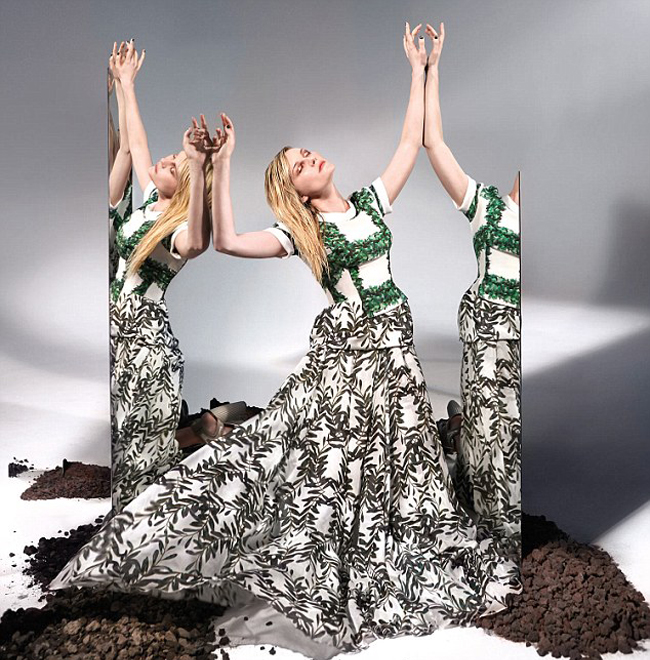 Kirsten Dunst appears in the April issue of Bullett magazine, and the end result is probably the most hideous photoshoot I've seen in at least a few years. Poor KiKi was apparently all for this spread and is quoted as exclaiming, "Come on, guys. Let's make this controversial. Let's sell magazines!" As such, she's allowed herself to be subjected to low-grade Photoshop skills that come off worse than an elementary school art project while wearing weird, ugly clothing and standing in piles of rocks. She's also throwing gang symbols while made up like a corpse (I think), and her fingers are actually twisted in the "blood" symbol. Terrible.
Whatever possessed Kirsten to entrust Bullett to make her look "controversial" in a weird-ass, faux-digitized manner, I'll never know. Maybe she's been hanging around Lars Von Trier for far too long a period of time, but at least Lars knows how to make things look pretty even when the subject matter is less than appealing. Oh well. Kirsten gives a mini-interview as well, and she discusses how little she enjoyed kissing Brad as an 11-year-old girl starring in Interview with a Vampire. I feel like I've heard that quote before, but I definitely didn't know that Brad was a big "Real World" fan. How strange: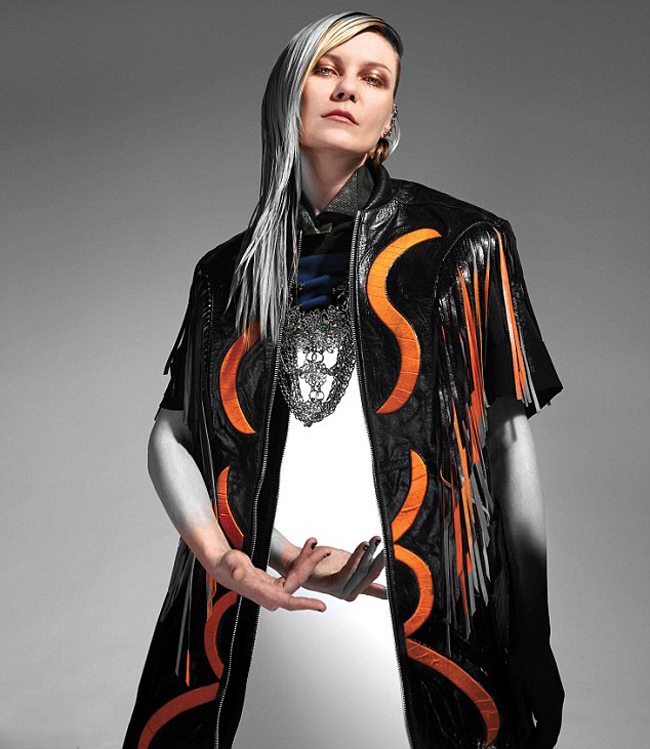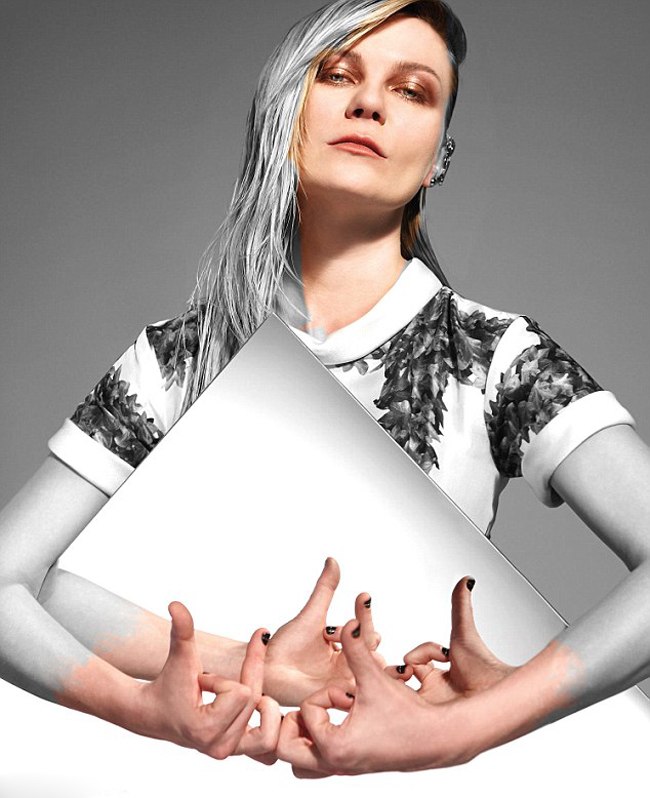 She hated kissing Brad Pitt: "It was just a peck. I remember Brad would watch lots of Real World episodes. He had this long hair. He was just a hippie-ish cool dude. Everyone at the time was like, 'You're so lucky you kissed Brad Pitt,' but I thought it was disgusting. I didn't kiss anyone else until I was 16, I think. I was a late bloomer."

She didn't take to early fame either: "People would stop to take my picture like I was Britney Spears or something. I hated the attention."

On being a movie star: "To so many people, I'm still 'that girl from Spider-Man.' I wish we could have done a fourth movie. We were like a family. Plus, those movies gave me the means to not work as much, help my family, and do little indie projects that I made no money on."

On being sexy for The Virgin Suicides: "I trusted Sofia a lot. It was the first time someone wanted me to be more sexual, to be the object of desire. I myself was starting to change, but I hadn't yet been able to express that in a film. Because Sofia was a woman, too, I felt so much more comfortable doing that."
[From Bullett Media]
Oh, I loved The Virgin Suicides, and I think that scene where Josh Hartnett's character is sitting in his car, and Kiki runs up to him and surprises him with a bunch of gooey kisses ("Come on home, girl….") is one of the best make-out scenes in cinematic history. Sofia Coppola made one hell of a movie there, didn't she? Too bad she's kind of gone down the tubes lately with Marie Antoinette, and The Bling Ring trailer looks really weird.
Now back to this terrible photoshoot. It's just awful, isn't it? The shots that show off actual outfits aren't as bad as the rest of them, but it still looks like amateur nonsense. Like, the art department of the magazine decided it would be a good idea to dress Kirsten up in weird "avant-garde" clothing and decorate the shoot in the same manner that you'd dress up a fish bowl. Lots of fruity-looking pebbles and mirrors, and ohhhh, my head hurts.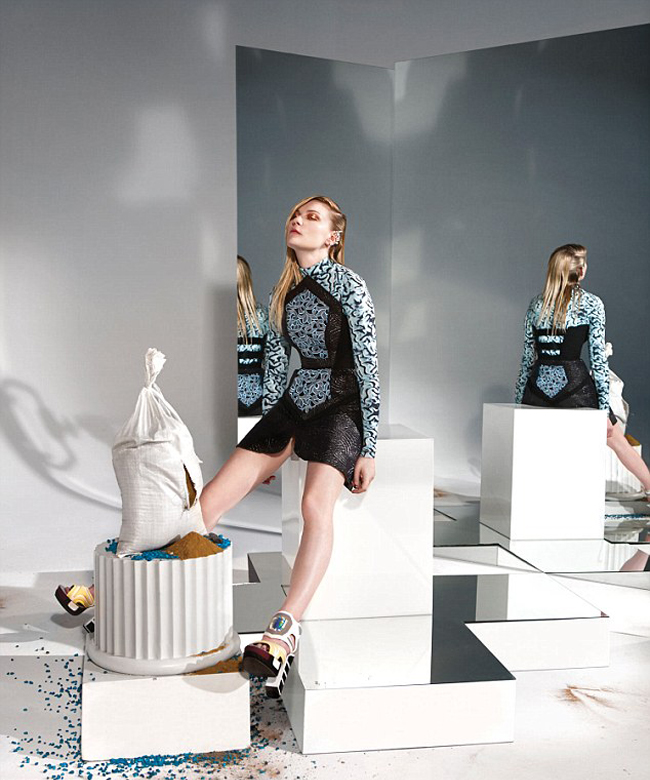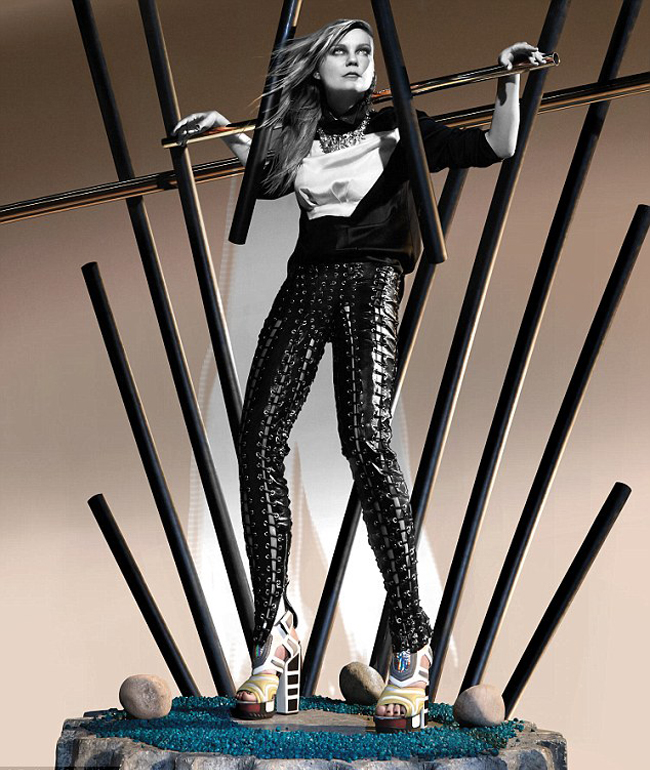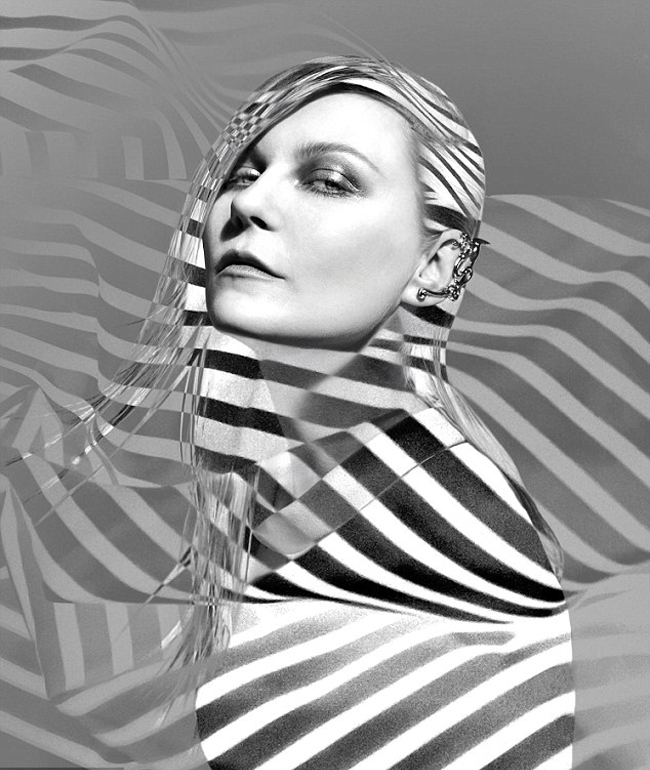 Photos courtesy of Bullett Media